My gluten free sundried tomato and basil turkey burgers are so simple to make, packed with flavour – plus they're lean, healthy and low FODMAP too! I've even thrown in a low FODMAP tomato relish recipe for good measure. The combo is to die for!
Why does nobody ever eat turkey burgers?! You'll seldom see them in supermarkets, you certainly can't order one at a restaurant and you never even see a recipe for them. Until now! Here's my gluten free sundried tomato and basil turkey burgers recipe with low FODMAP relish…

There's definitely a reason that most beef burgers are best served with just a pinch of salt or pepper. They simply don't need anything else to work!
(unlike me who needs several cups of peppermint tea to function)
But turkey mince is a complete blank canvas! It's ready and waiting for you to add your own wild and wonderful flavour combos. Plus turkey thigh meat is so moist and meaty – it makes the perfect burgers.
Also, turkey mince is so gosh darn cheap… have I converted you to turkey burgers yet?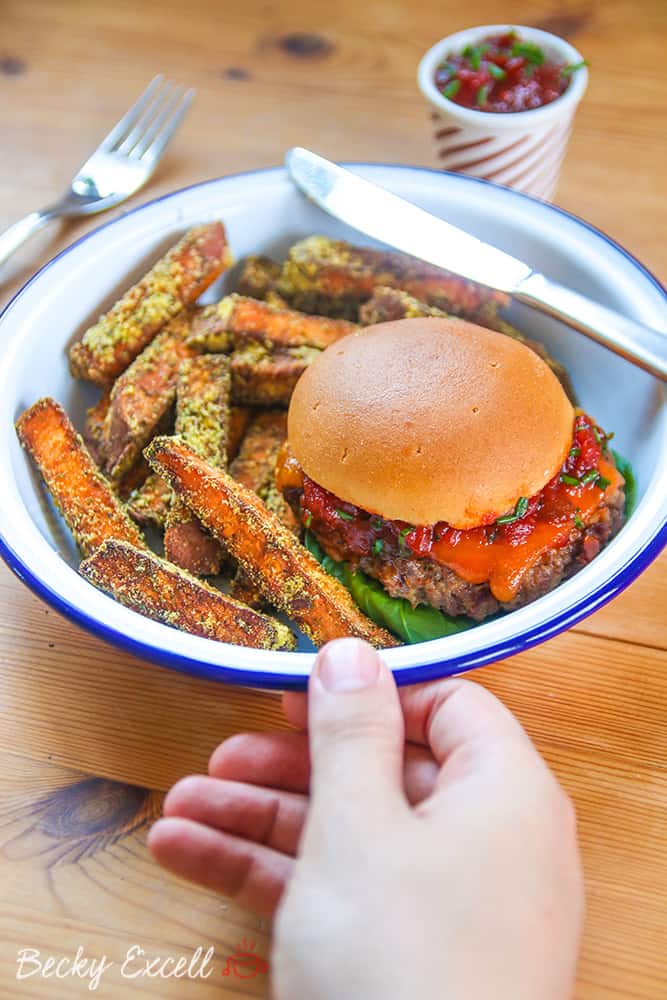 This recipe was created just from stuff we always had lurking in our cupboards – a jar of sundried tomatoes and a tube of basil puree. Throw in a little extra seasoning and some gluten free flour and… that's it!
This is the type of recipe that I really love because it's just so real. You don't always have time to plan, plan, plan (even despite what food bloggers might have you believe!) what you eat.
Sometimes you're forced to just 'make do' with what you have in your cupboards and I'm a firm believer that something amazing and mind-blowing is always possible with very little. All of my best recipes are made out necessity like that!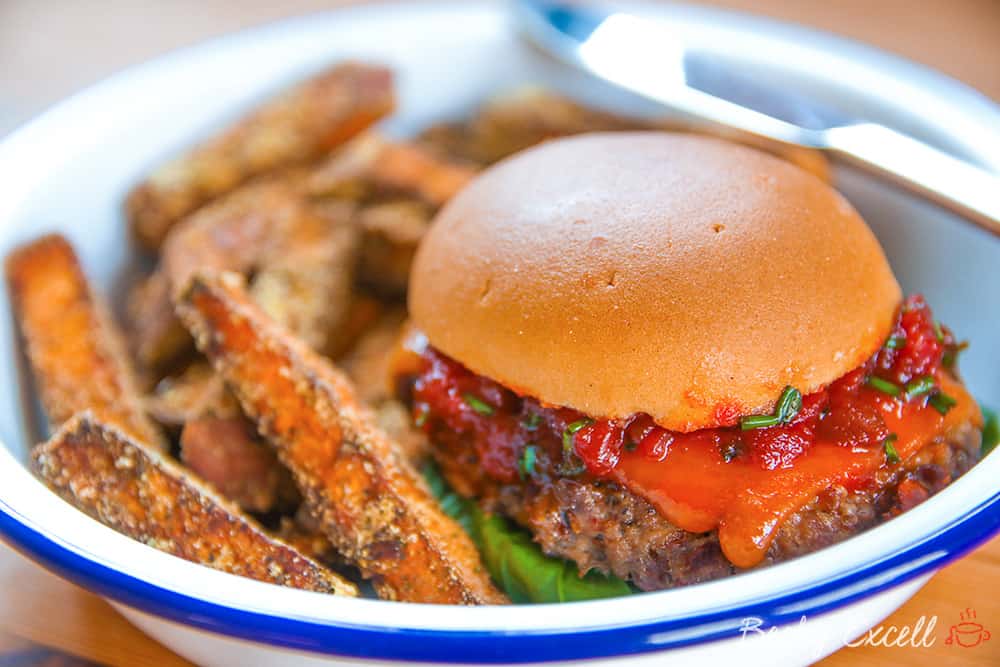 But for me – I really miss eating a damn good, sweet and sticky relish with my turkey burgers. I'm sure you can find some out there that are gluten free no problem, but for me, onion and garlic just do not agree with my stomach.
So that rules out pretty much every relish in existence then?!
Well, apart from one. This one!
After my turkey burgers recipe, if you keep scrolling, I'll put my low FODMAP relish recipe afterwards. Trust me, if you haven't been able to eat relish like I have, it'll change your life!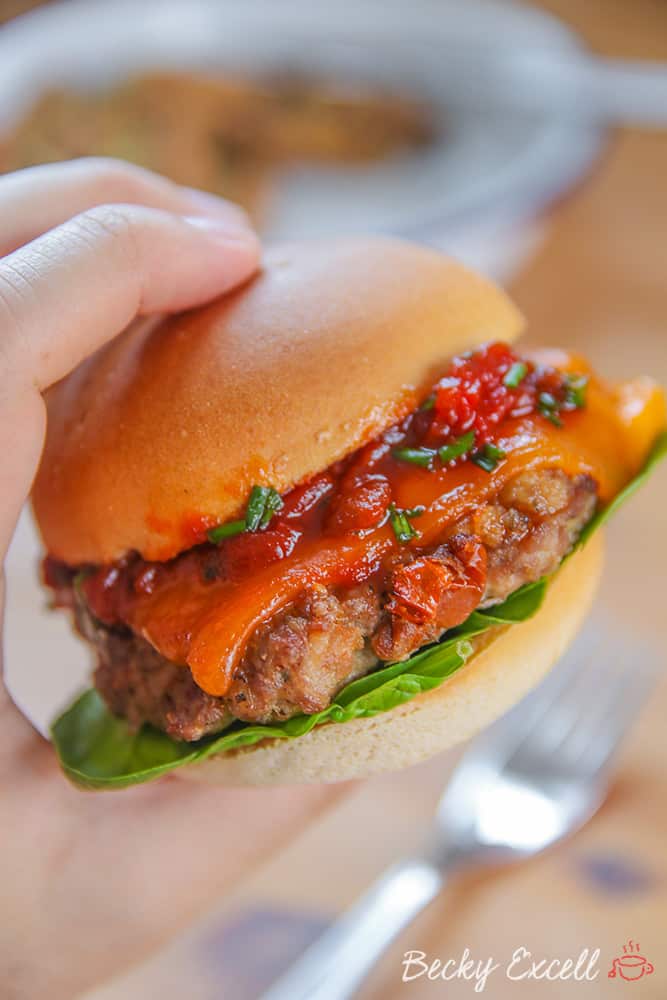 Now if you're not following the low FODMAP diet for IBS, then feel free to skip this part as it's probably all gobbledygook to you anyway!
So, is this recipe low FODMAP? Yes! A low FODMAP portion size of sundried tomatoes is 2 pieces, so one of my turkey burgers is definitely low FODMAP.
The same goes for my relish. A quarter serving of my relish is low FODMAP too – awesome!
But if you're combining the two together, you will easily bust the low FODMAP safe portion size of tomato. So I'd recommend not having more than one 1 tbsp of relish with your burger, then you'll be a-ok.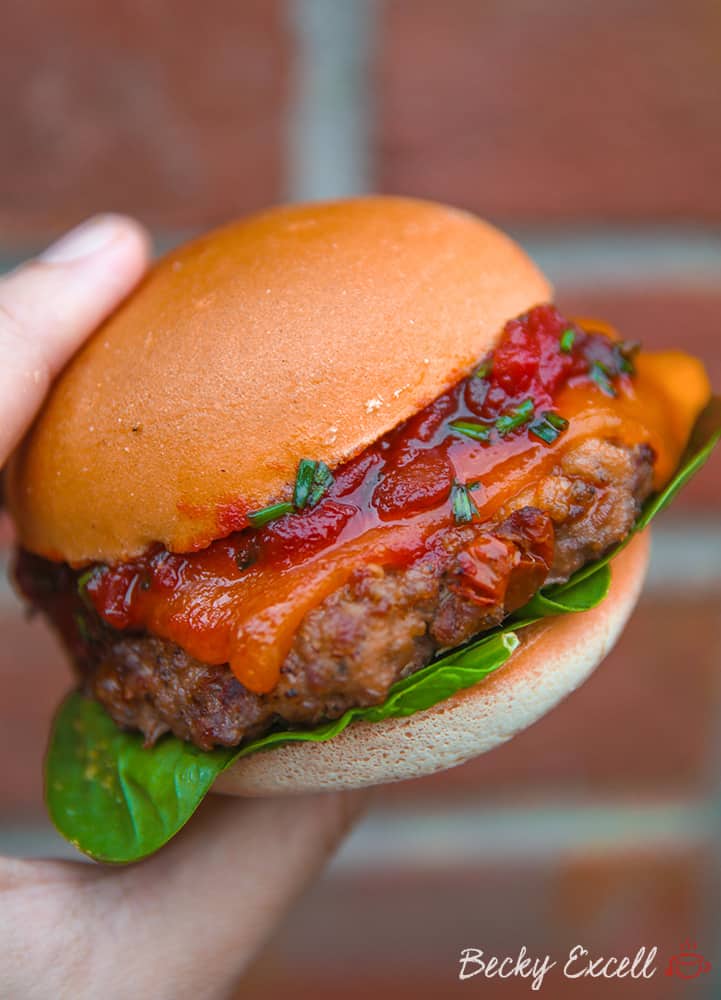 You might have seen in some of the photos that I served my burger up with some rather beautiful sweet potato fries. That's actually another recipe on my blog, so make sure you go and check out my sweet potato fries recipe with a herb and polenta crumb to go with your burger!
For now… just enjoy my sundried tomato and basil turkey burgers recipe!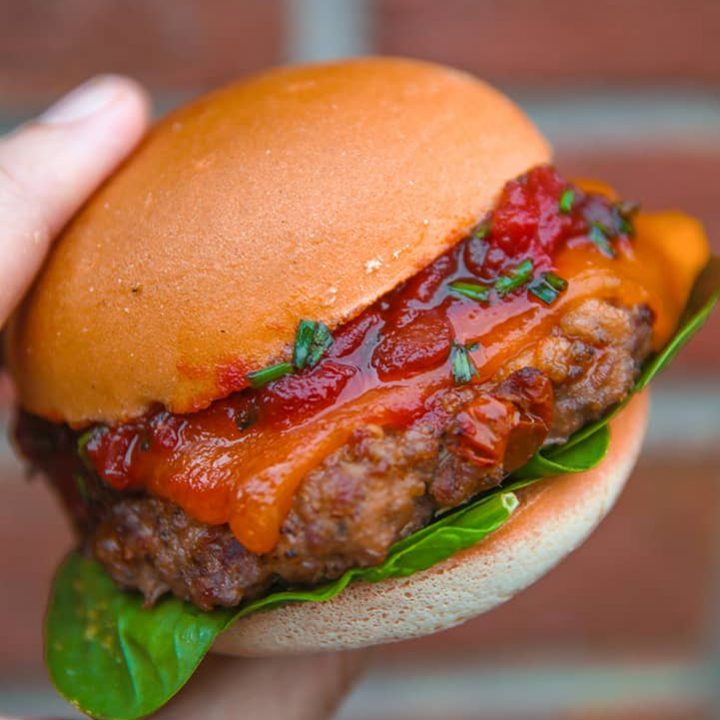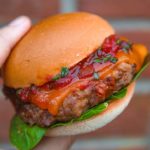 Gluten Free Turkey Burgers
Say hello to my gluten free sundried tomato and basil turkey burgers with low FODMAP ketchup relish! So easy to make at home with simple ingredients.
Ingredients
750

g

turkey thigh mince

100

g

sundried tomatoes

about 5 pieces

1

tbsp

basil puree

1

tbsp

gluten free flour

1

tsp

salt

1/4

tsp

pepper
Instructions
Preheat your oven to 200c and finely chop your sundried tomatoes.

Mix up everything in a big bowl until well combined.

Form into burger shapes (thin and flat is the aim as they'll bulk up a little when cooked and cook quicker) and place onto a baking tray.

Pop in the oven for 20-25 minutes.

Serve up with my relish recipe below, a slice of cheese, spinach and a gluten free burger bun. Enjoy!
Notes
A low FODMAP portion size is one burger.
And here's my low FODMAP tomato relish recipe!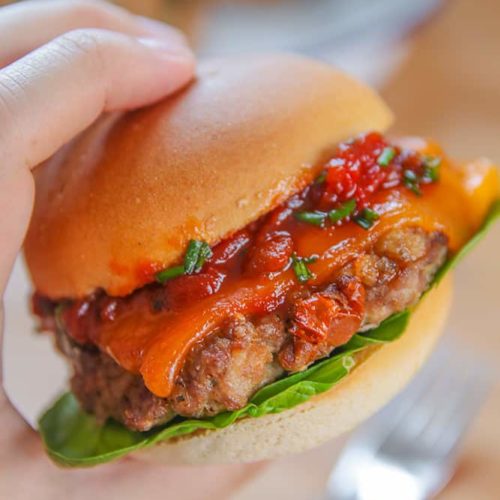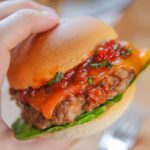 Low FODMAP Tomato Relish
A wonderful sticky and sweet relish that's low FODMAP and super-simple to throw together. Double the ingredients and keep it in a big jar up to one month!
Ingredients
400

g

tin of chopped tomatoes

100

g

brown sugar

60

ml

red wine vinegar

1/2

tsp

ginger purée
Instructions
Bung everything into a saucepan and bring to the boil.

Simmer for 30 minutes until reduced, thick and sticky.

Serve up with my delicious turkey burgers!
Notes
A quarter of this amount is low FODMAP on it's own. If eating with my sundried tomato and basil turkey burgers, I'd recommend eating a 1 tbsp portion to be on the safe side.
Thanks for reading how to make my sundried tomato and basil turkey burgers recipe and my ketchup relish recipe! If you make it, I'd love to see how it turns out. So absolutely make sure that you send me a pic using my social media links below…
Any questions about the recipe? Please do let me know by leaving a comment below or on Facebook / Twitter / Instagram!
Thanks for reading,
Becky xxx
Oh and don't forget to pin this for later!