My gluten free banana bread recipe is one of those amazing things that tastes delicious & you can eat as much as you want! My recipe is gluten free, dairy free & refined sugar free. It's perfect with a cuppa, as part of dessert or even to take out with you as a snack. This gluten free banana bread is so simple – you're going to love it!
So I love baking. I'd bake every day if I could. Similarly to so many folk I aspire to have my own little café one day… I can keep dreaming right?! I have definitely enjoyed baking even more in the past 6 years since gluten has been off the menu for me and dairy is a no for Mark. Myself and Mark also have a few other little issues to contend with. As you know, we both suffer with the 'wonderful' problem of IBS. For me I really struggle with too much sugar in foods, so this gluten free banana bread is a go to recipe for me.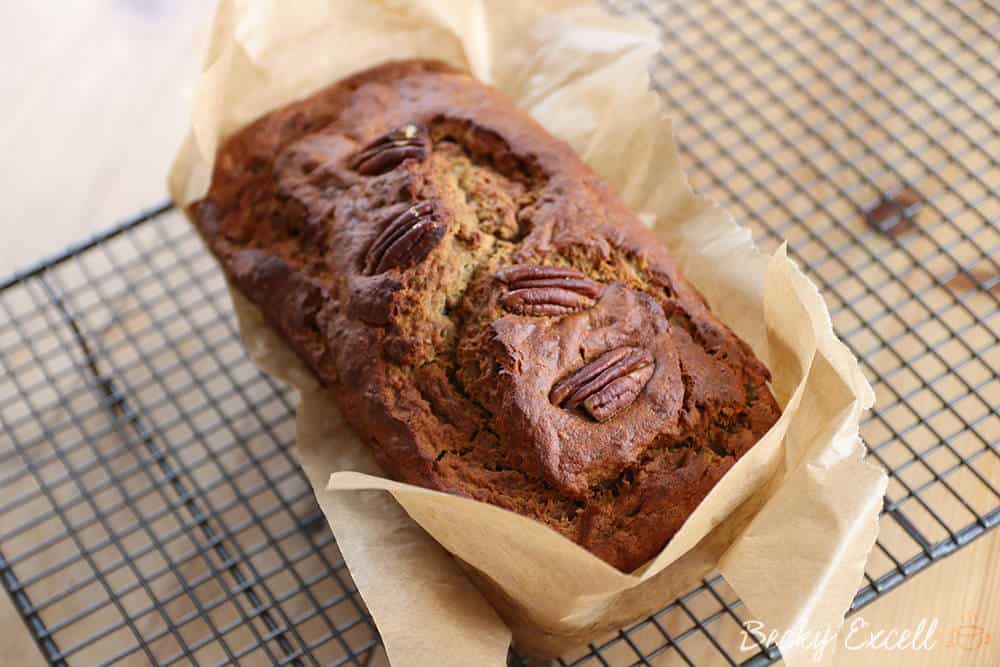 Instead, a favourite of ours is a tasty, gluten free banana bread recipe I recently came up with. I have seen many Banana Bread recipes over time and many of them seem fairly healthy, but I wanted to go one step further and make it entirely gluten free, dairy free and safe for our stomachs! That meant no additional sugar – the only sugar coming from the bananas and a very small amount of homemade apple sauce. Also the recipe contains no signs of any butter, margarine or oil. It seemed the perfect cake for us.
It is a very versatile recipe too. We like cinnamon in ours but you don't have to. You could add nuts if you wanted to as well, we always add chopped pecans. It tastes great cold with a comforting cuppa tea or, I have to say, I like to warm it up in the microwave with a little custard. This healthy gluten free banana bread loaf keeps moist and fresh for quite a few days, however, I guarantee, it will be eaten incredibly quickly! The combination of tasty and healthy makes you eat slice after slice… after slice!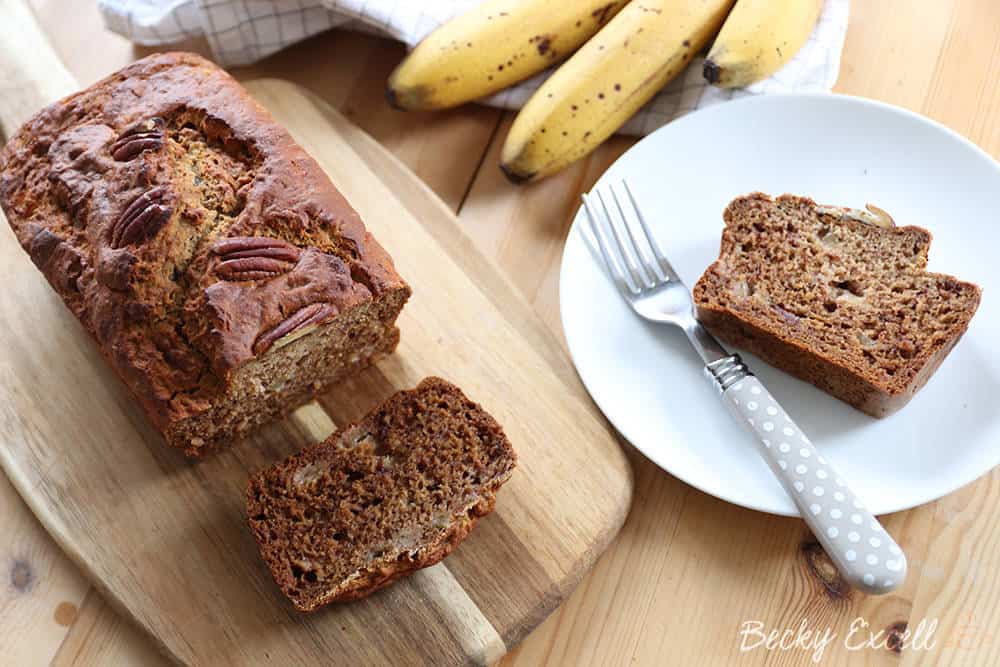 I guarantee this healthy gluten free banana bread recipe will go down well with those who are gluten free, dairy free & everyone else. It is a delicious, gluten free banana bread that we can't live without. I hope you get the chance to give this a go too.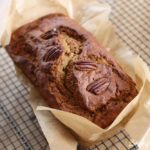 Gluten Free Banana Bread - Dairy Free & Refined Sugar Free
Ingredients
4

Ripe Bananas

mashed

4

Tbsp

of Apple Sauce

You can use shop bought, but making your own is so much tastier & simple by cooking bramley apples in a saucepan with a little extra water & cinnamon

200

g

Gluten Free Flour

1 ¼

Tsps

Gluten Free Baking Powder

½

Tsp

of Bicarbonate of Soda

Tsp

of Cinnamon

You can add more or less of this, to taste

2

Egg Whites

A handful of chopped Pecan Nuts

optional
Instructions
Preheat your oven to 180 C/ 160 Fan.

Prepare a loaf tin (I use loaf tin liners, they are amazing!)

In a large bowl, mix together gluten free flour, baking powder, bicarbonate of soda and cinnamon.

Add the mashed bananas, egg whites and apple sauce to the dry mixture and mix thoroughly, until combined. (I use a hand whisk but you could use a mix or do it by hand)

Bake in the preheated oven for 50 to 55 minutes. Check the loaf is cooked by inserting a skewer into the centre of the loaf and making sure it comes out clean.

Allow to completely cool before slicing up.
Recipe Notes
I add pecan nuts to my banana bread, I think it gives great flavour & texture.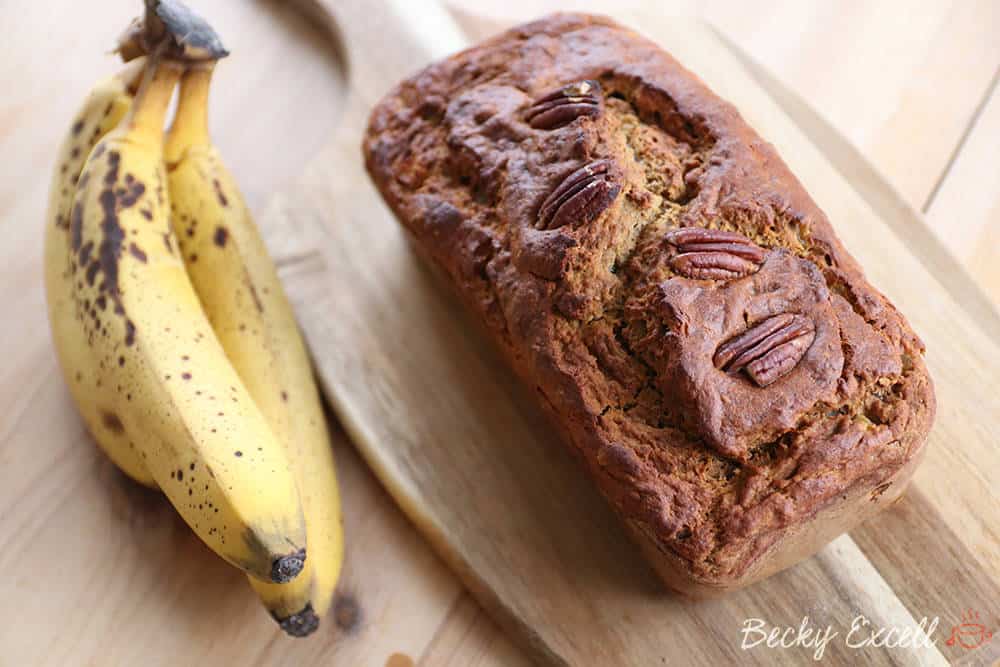 Let me know if you do try out my gluten free banana bread. & please let me know if you have any other delicious recipes that combine gluten free, dairy free & refined sugar free. Just leave a comment below, or on Facebook/Twitter.
Thanks for reading,
Becky xxx
Oh and don't forget to pin this before you leave!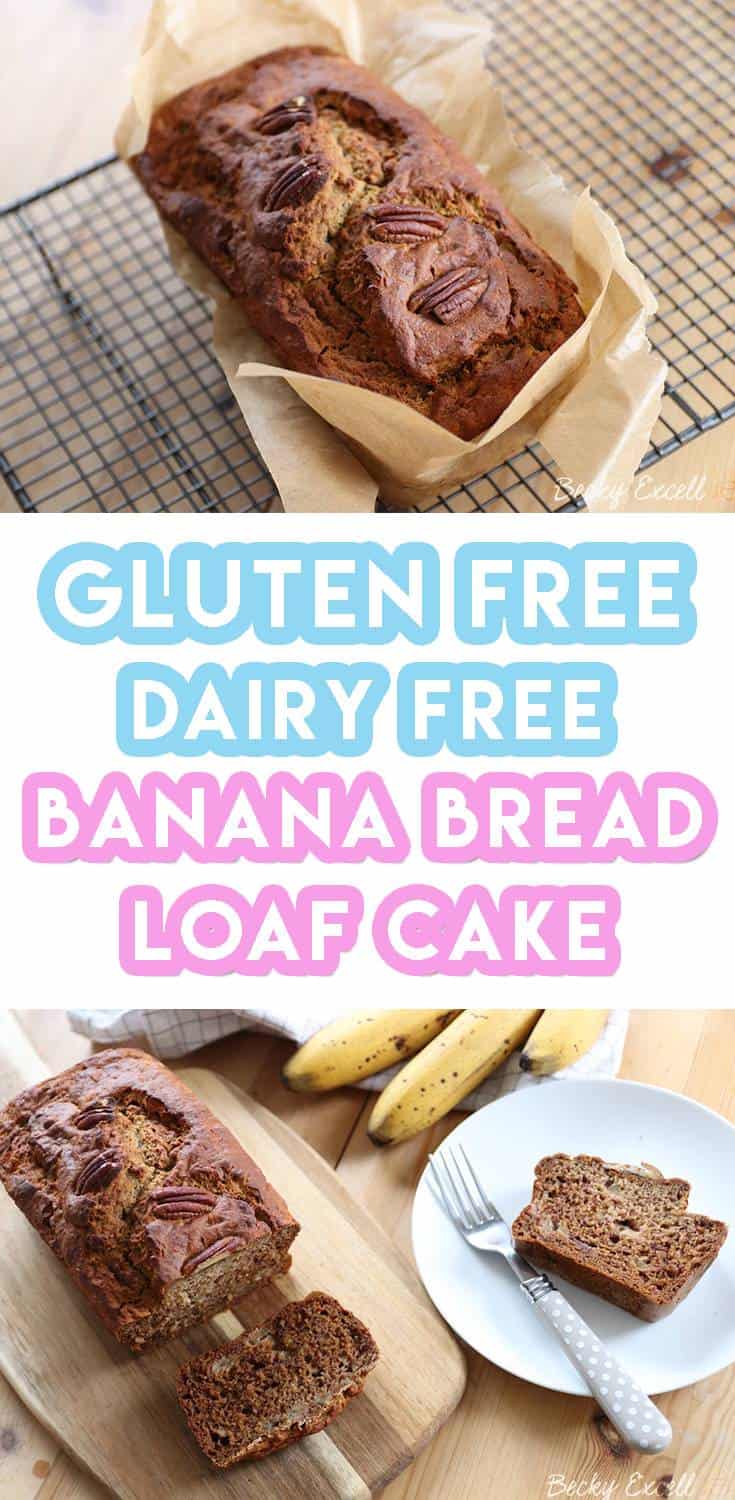 Comments