Gluten Free comes in all shapes & sizes in Brighton. Glutenwise, a lovely gluten free market stall run by the lovely Zarah.
So one thing I didn't mention in my Brighton post which I should of was the little Saturday market I like to go to when in Brighton. It's the Brighton Open Market. One of these food stalls is known as Glutenwise. It's probably one of the smallest stalls at this market, but it's so worth a little trip if you fancy a home baked gluten free treat! I've had a variety of cakes, biscuits and tarts from the stall in the past, most memorable to me are the gluten free battenburg cake and a large gluten free jammy dodger. The cakes seem to change each time we get a chance to venture to Brighton so it's always exciting to see what's on the stall every time!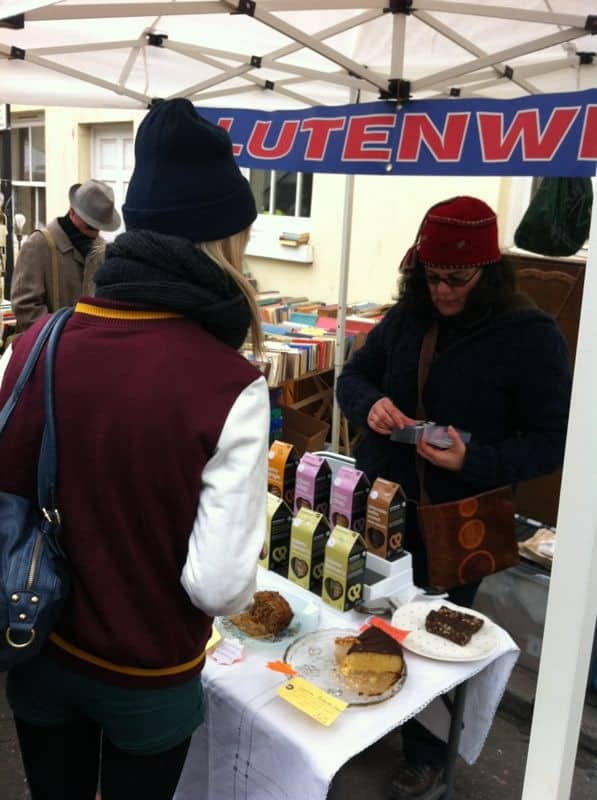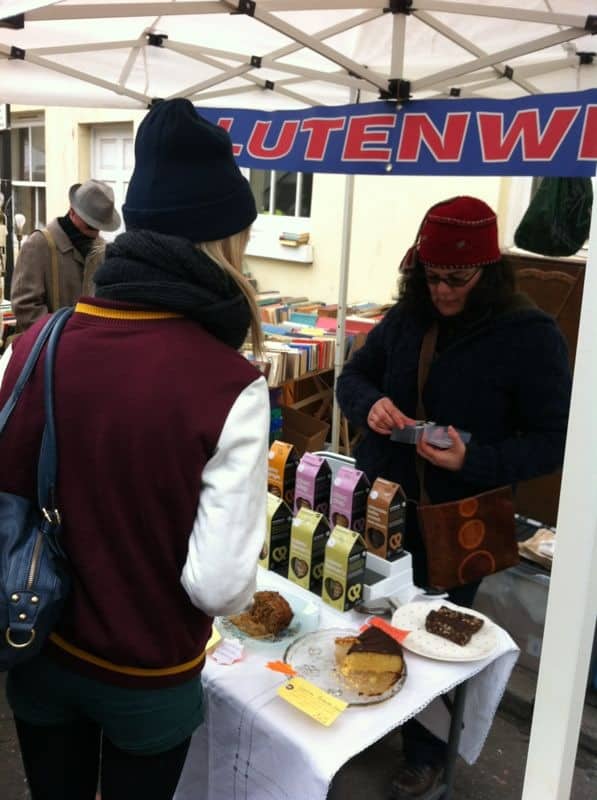 A couple of weekends ago when we did get to go to Brighton I made sure we got up bright and early to head down to Glutenwise, I wouldn't be surprised if the cakes sell out on occasions, they all look so appealing! On this occasion they had about 6 different choices of which all looked amazing. I was tempted by the polenta cake that I saw a young girl munching on as I walked towards the stall, but instead, I opted for the lemon bakewell tart, yum!
I love making bakewell tarts, I made my first one when I was about 12 in food technology at school and have never looked back (except to be disappointed by my poor attempts initially at gluten free pastry when I made the switch). However, I have only ever had a standard raspberry bakewell with jam inside in it before, with lemon being one of my favourite flavours in cakes and desserts I just couldn't resist!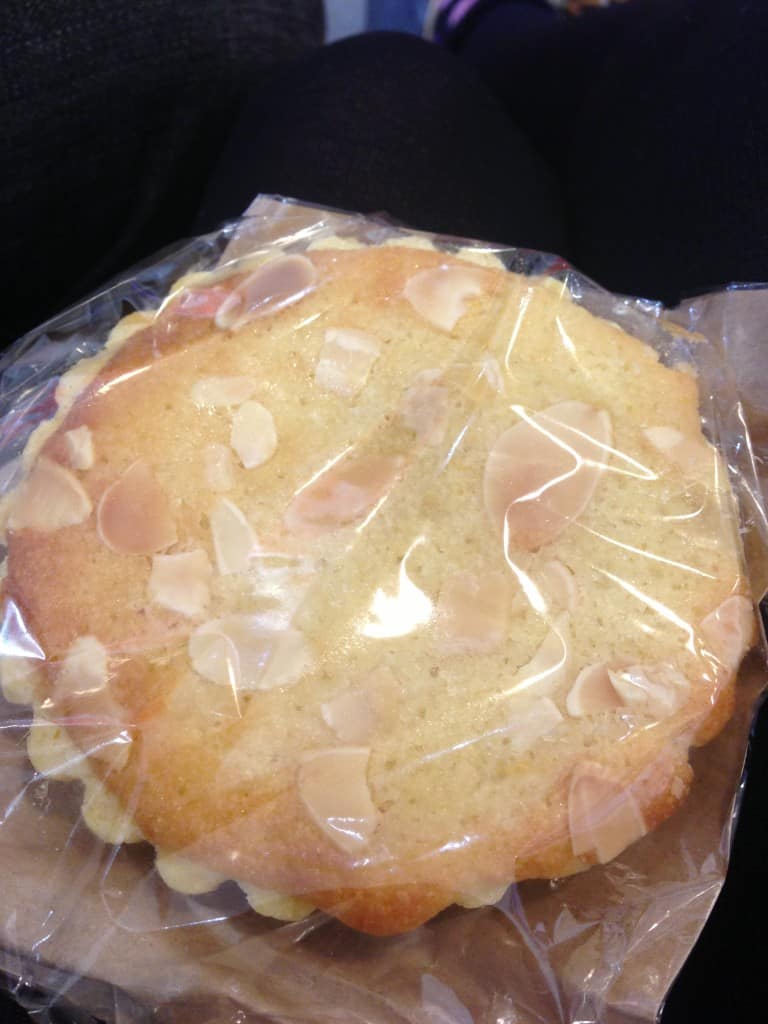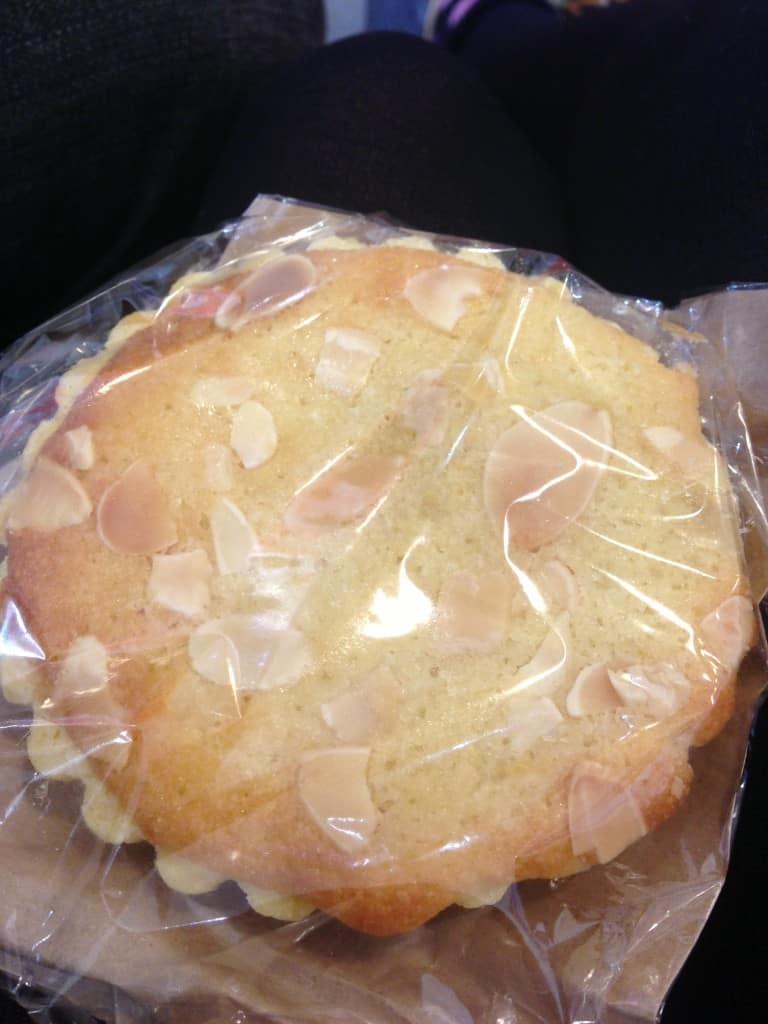 I shared the bakewell with Mark. The first thing we noticed was its amazing smell, so fresh and lemony! The tart looks very similar to the bakewells I often make with just the flaked almonds toasted on top, not the icing like that on a cherry bakewell. The pastry was buttery and melt in the mouth, yet perfectly firm, not like my crumbly gluten free pastry which falls apart far too quickly. The filling of the tart which seemed to be a lemony sponge with a lemon curd mixed into it was delicious. It tasted incredibly fresh and the texture was one of the best I've had in a bakewell. Because we had put the tart in the fridge for a little while to keep it fresh before we decided to eat it, it had become really moist in texture which was really appealing with the rich lemon flavour. It has definitely made me want to attempt to make my own lemon bakewell tart, I can imagine a lot of people I know really enjoying it whether it be with a coffee in the afternoon, or even warmed as a dessert.
So firstly watch this space, a gluten free lemon bakewell recipe might appear on the site at some point in the future… if it goes well that is. But secondly and most importantly, if you are ever in Brighton on a Saturday, head down to the Brighton Open Market and look out for Glutenwise for some delicious weekend treats, you won't be disappointed.
I featured Glutenwise in my Gluten Free Brighton Guide… click here to check it out: http://glutenfreecuppatea.co.uk/2015/05/24/16-of-the-best-gluten-free-destinations-in-brighton/
Thanks for reading!
Becky xxx