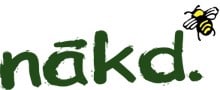 So I remember years ago now it seems, buying a Nakd bar, I think it was the Pecan Pie flavour. I bought it because Pecan Pie has always been one of my favourite desserts but I rarely have ever eaten. I just assumed it would taste the same, and back then when I didn't really look at ingredients on packets or anything I just thought it would be really similar to a big slice of pie! How wrong I was! Back then I actually really thought the taste was horrible and didn't even finish it… it took till the very early part of this year for my view on these bars to change. These days I really am up for trying anything that I can eat. I guess when your diet becomes so limiting, if there is something available that you can eat, you're going to try it! So I gave the Cashew Cookie flavour a taste and really really liked it. Since then I think I have tried nearly every flavour of the standard Nakd bars and thoroughly enjoyed them all… even the Pecan Pie flavour! The only flavours I find less satisfying are any with Cocoa in the name; I've never been a chocolate fan really so I avoid those ones.
I can understand fully why people don't always like them however; they look fairly strange as a bar if you are use to cracking open a mars bar or just a normal cereal bar wrapper. Also the likes of individuals such as my brother would run a mile from them knowing that they are so natural and healthy, for some people that alone makes an item of food less tempting sadly! But for me and hopefully more people, the fact it is healthy is a definite added bonus!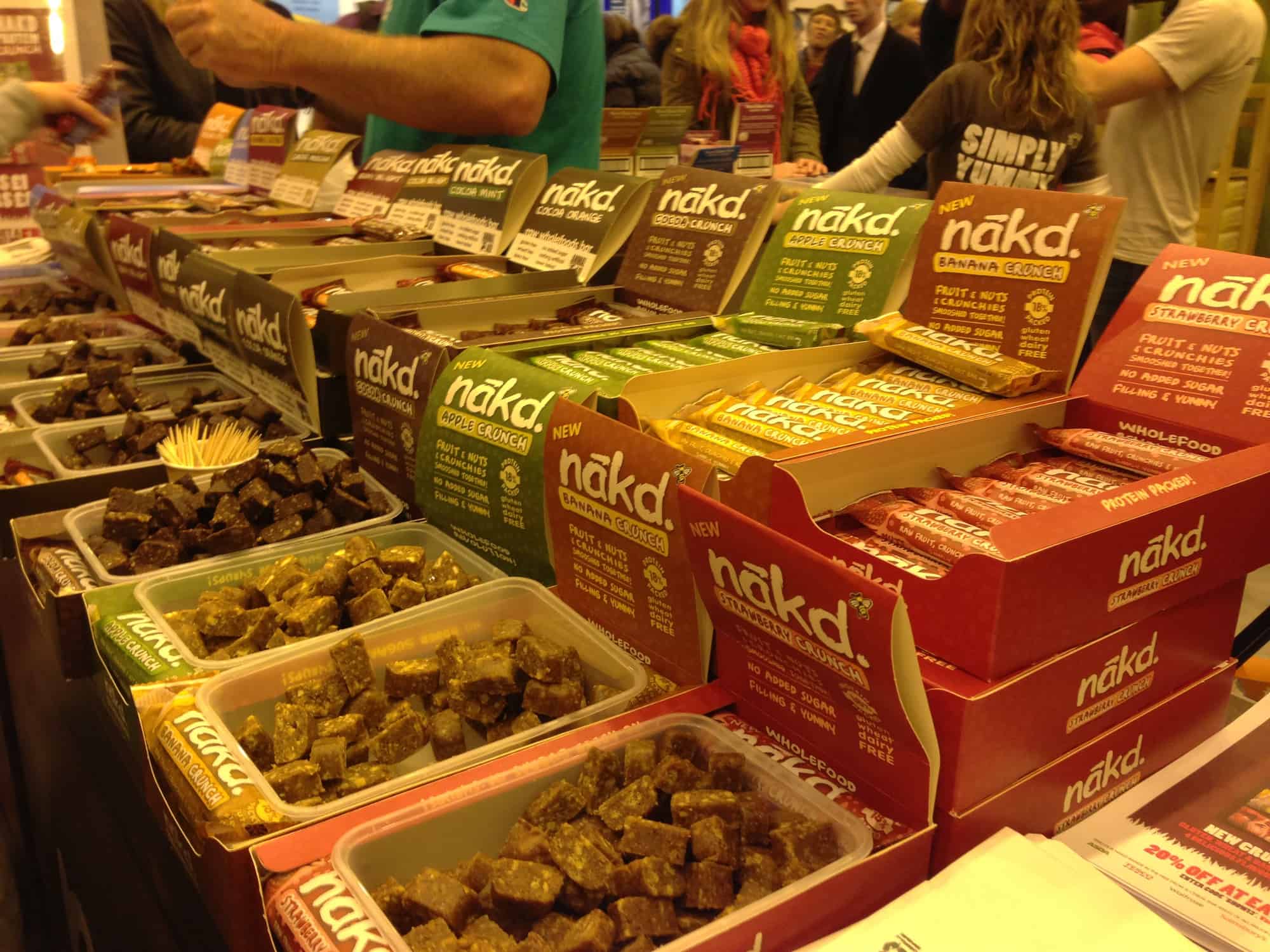 So with my love of Nakd bars fully intact I was really excited to hear that they were to be at the Vitality Show in March at Earls Court. That surely would mean free samples and lots of good deals! However when we arrived at the stall for Nakd Bars there was so much more than just free samples; there was a whole new range of Nakd Bars (& an endless supply of free samples of them!). The new bars are known as 'Nakd Crunch Bars' and come in 4 flavours: banana, strawberry, apple and cocoa. Whereas the standard Nakd bars are all made up of a mix of fruits and nuts almost in their entirety, the crunch bars all contain 'soya crunchies', I guess this is where there crunch comes from then! So of course nutritionally the soya crunchies are great as an increased source of protein, making it even better as a post work out snack for example, but that's far from the only positive, they also taste even better than before!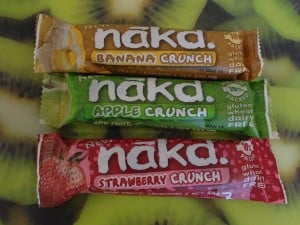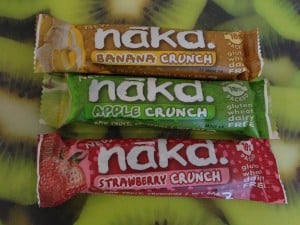 The flavours they have chosen really work for me, I especially like the banana one, banana being one of my favourite flavours ever! But I think what makes these bars even better is definitely the addition of the soya crunchies, they completely transform the texture from something quite solid and dense to something a little lighter. I definitely feel that by altering the texture they become more appealing to a wider market as the texture replicates that of other types of bar much more. I know this to be the case for one person… my boyfriend! He is definitely not a fan of the standard Nakd Bars, however, since sampling the crunch bars at Vitality he has bought himself more as they are now stocked in our local Tesco.
So, whether you are a fan of the standard Nakd Bars or not, I would definitely give the Nakd Crunch Bars a try. The new flavours combined with the crunchiness has really transformed these bars and I can only wish that they might one day be stocked in more place closer to my home. The day a Banana Crunch Nakd Bar is sat beside a Kitkat Chunky and a Twix in the newsagents will be a happy day for me!
I have put below the nutritional value of the Banana Crunch Nakd Bar for you all to see: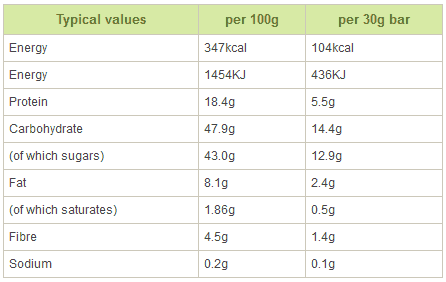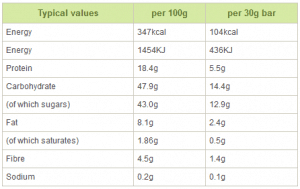 But yeah, I haven't got much more to say than that really! Of course they are GLUTEN FREE, DAIRY FREE AND VEGAN as always, and I would highly recommend you give them a try. I know that larger Tesco stores will stock certain flavours in their Free From section and I'm sure other supermakets will follow suit. As of the date of this post (April 2013) I am yet to find any main supermarkets that do.. all in good time! You can also buy them off their website for a slightly better deal: http://www.naturalbalancefoods.co.uk/
A massive thumbs up from me for the Nakd Crunch Bars then, well done Natural Balance Foods!
Thanks for reading,
Becky x