Everyone deserves a treat now and then but unfortunately with all intolerances, it can certainly limit your options! I have a somewhat love-hate relationship with dairy (I love it and it hates me) so I'm fortunate enough that my local Tesco Extra has a superb range of cakes and treats available.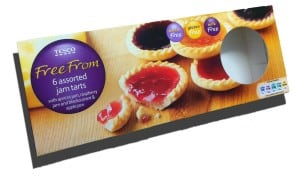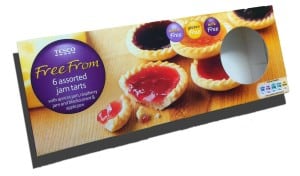 The product in question today is Tesco's Free From assorted jam tarts which are wheat/gluten and dairy free. Though I personally am not intolerant to gluten, most pastries are commonly made with butter rather than margarine which is usually bad news for me; I'm quite used to being able to eat most wheat/gluten containing products so I should be able to provide an accurate gauge of how closely it resembles the real deal! So, let's get down to business.
There's two of each flavour per pack – apricot, raspberry and blackcurrant and apple jam. All the jam is obviously delicious (is there any way jam could be bad?) and I should probably mention that they're all smooth jams just in case anyone is wondering.


But how is the pastry I'm sure you're all asking? I have to say… it's pretty good! As a person who can tolerate gluten and thus, wouldn't ordinarily eat gluten-free products otherwise, I think these jam tarts are great.
I've found with a lot of Becky's gluten-free products that they tend to be very brittle and crumbly… but a little crumble in jam tart pastry is always welcome and it certainly doesn't go as far as being brittle. I must admit that I do miss the buttery taste that you often get this type of pastry, but then again… that's exactly the reason I can't normally eat jam tarts! So what's the overall scores?

Taste: 4.5
Texture: 4
Close to the real deal? 4
Overall: 4/5 – Highly recommended!