My mini gluten free gingerbread houses are really fun to make, super simple and delicious all in one! This gluten free gingerbread is strong and holds perfectly. Why not make a gluten free gingerbread village like mine!
Gingerbread is one of my favourite things in the world. I have been making ginger biscuits since I was very young, I used to bake my biscuits (my grandma's recipe) & take them into my primary school. I'd bake extra and give them out to all the others as they were so well loved… I even won a competition when I was about 7 years old at our schools harvest festival for them! Obviously since then I've grown up a lot and can no longer eat gluten (so I now make gluten free gingerbread) but nevertheless, I still love gingerbread!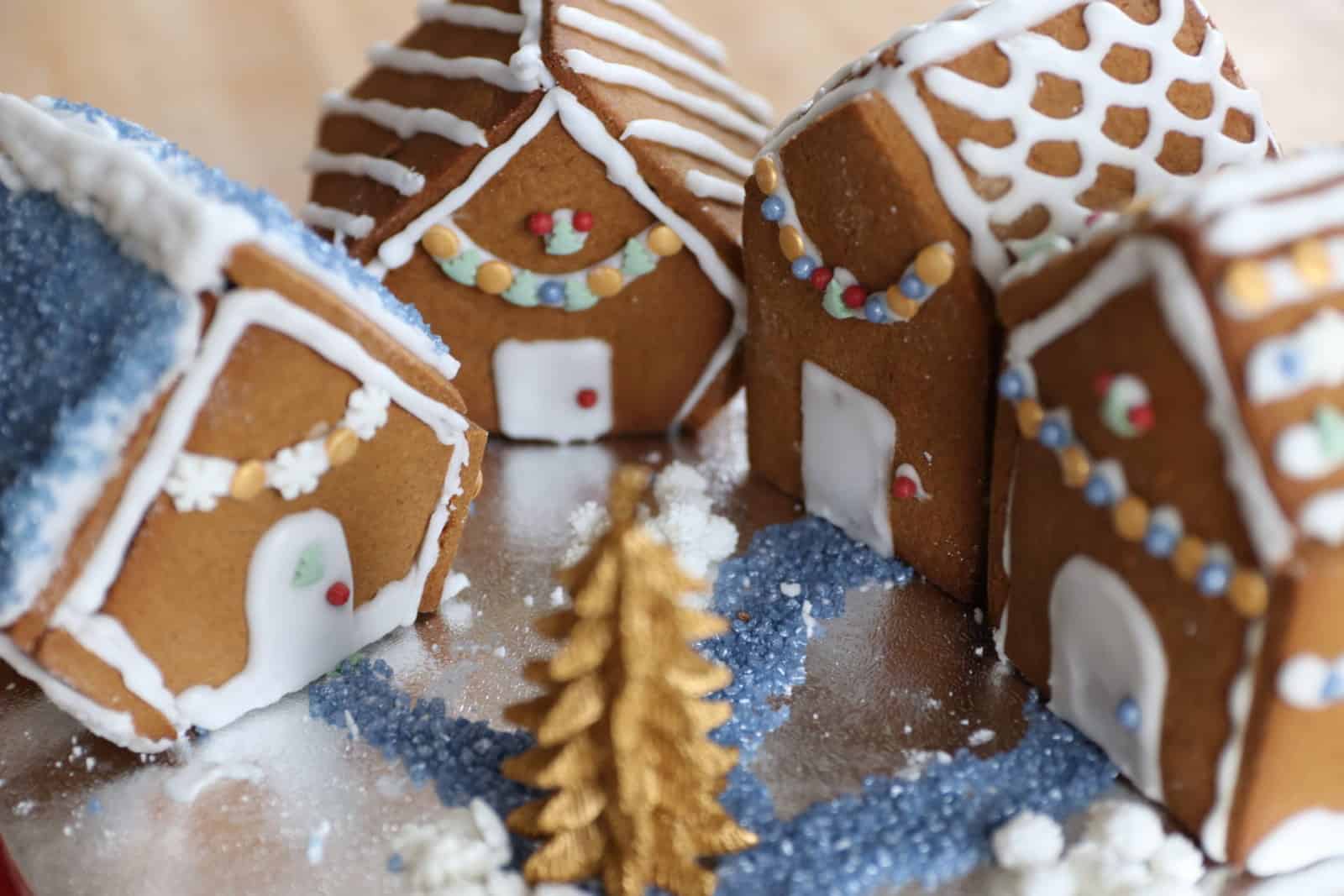 So as I said, I made gingerbread on the regular as a child and have continued to do so as an adult, however, one thing that I have never made is a gingerbread house! So this week I decided that there is no time like the present to go for it and create my very own homemade gluten free gingerbread house, completely from scratch.
For me if I'm going to make a gluten free gingerbread house, I'm going to use my own gluten free gingerbread recipe. I know that lots of people chose to use gingerbread house making kits with a mix already created, but when you have an amazing gluten free gingerbread recipe like I do, it seems crazy to just buy a mix. Everyone has a different idea of how gingery they want their gingerbread to be, for me I like it quite hot, so being able to use my own recipe allows for this + it's ridiculously simple to do!
Ok, so I made my own gluten free gingerbread ready to build a gluten free gingerbread house, but then I thought… hows about I make a gluten free gingerbread village?! I mean, making lots of little gluten free gingerbread houses sounds a lot more fun that just making one big one! I can imagine children would love this too, I mean, Mark & I came up with our own little story for our gluten free gingerbread village, we even named the village Snowington Gingerville!
As well as that, I think making lots of small gluten free gingerbread houses is a lot simpler and personally looks more impressive… it almost looks like an edible lego land!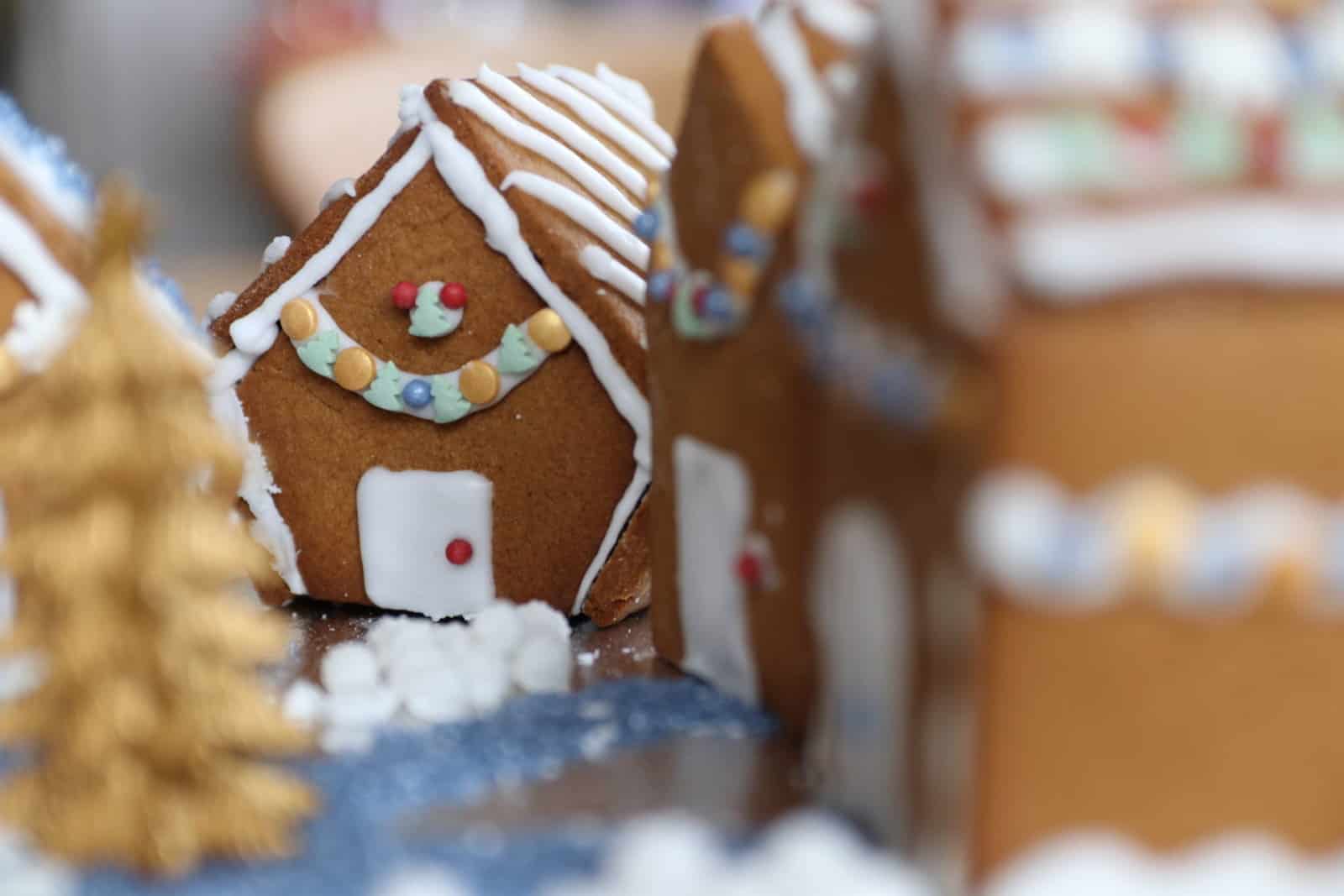 I don't personally think that making this gingerbread gluten free makes it any more difficult to work with the dough. I did add in a 1/4 of a tsp of xantham gum to the recipe clonazepam no prescription just to be on the safe side and it did seem to work well. The dough was certainly not crumbly and the biscuits held together very well. I must also add the gingerbread itself is actually vegan too as it contains no dairy or egg. If any vegans out there have another way of making royal icing (mine I make simply from egg whites & icing sugar) then you could very easily make this gluten free gingerbread house vegan as well. This recipe is a 100% gluten free and dairy free gingerbread house though so perfect for coeliacs, gluten intolerants, lactose intolerants, those with a milk allergy & those who can eat everything! (it definitely tastes no different from if it did have gluten in it.)
Obviously the best part about making a gluten free gingerbread house or village is the decorating! As I mentioned above, the icing is simply two ingredients – egg white & icing sugar. This mixture I use for both the 'glue' (sticking the house together) AND for much of the decoration (windows, doors, roofing). It's very easy to handle in a piping bag. I used lots of little edible decorations on my gluten free gingerbread houses. Always make sure they are gluten free as some do contain wheat starch strangely… always check the back of any cake decorations in the baking aisle.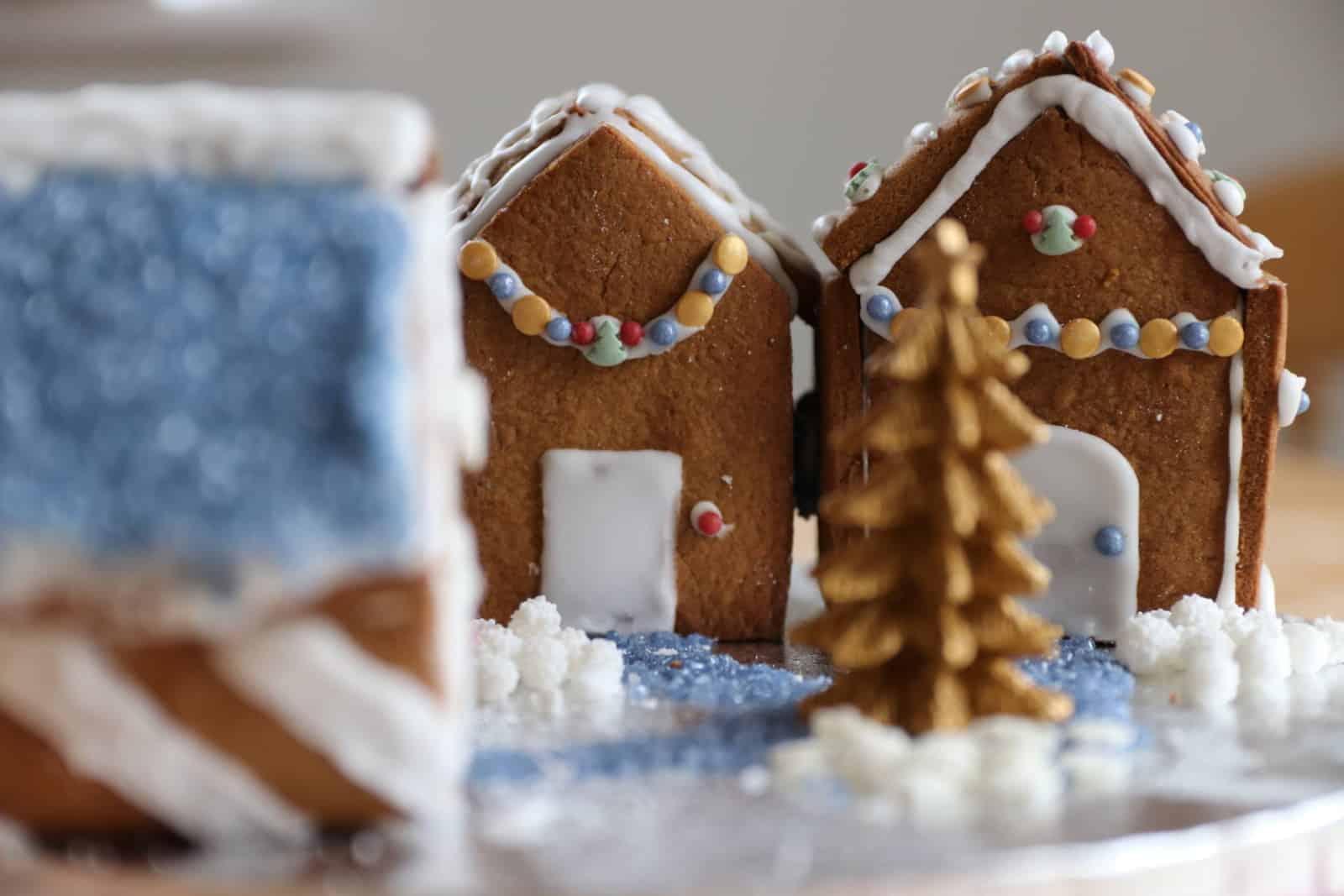 Oh & one more thing… of course I've got my own templates for you to use to make your very own gluten free gingerbread houses, just click here to view them, print them and cut them out! Anyway, enough chat, lets all give these mini gluten free gingerbread houses a go! What will you name your village?!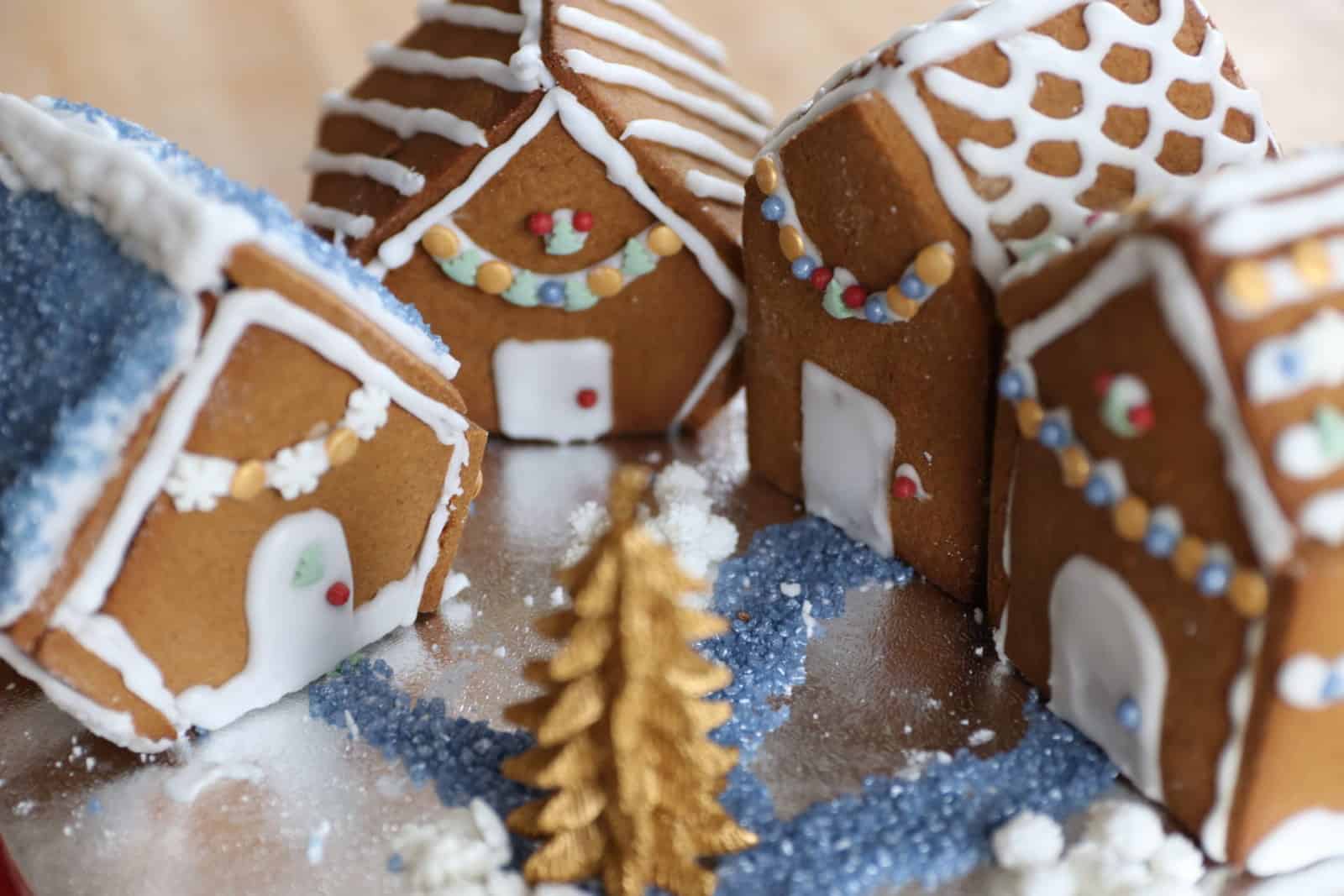 Mini Gluten Free Gingerbread Houses (Dairy Free)
2016-12-17 21:55:17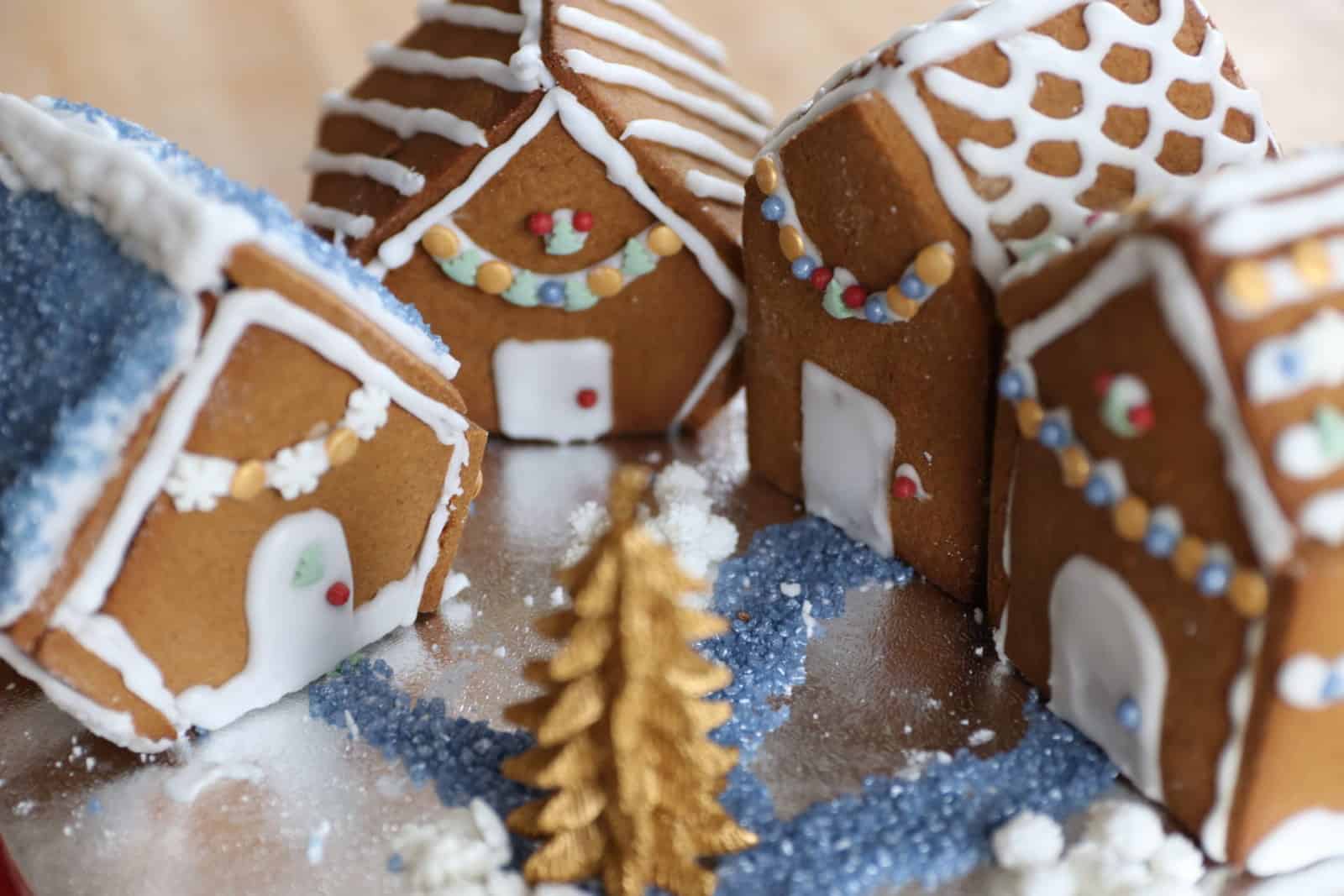 The most delicious gluten free gingerbread house - perfect for Christmas... but also for any occasion! Easter... Halloween... Valentines Day?!
Ingredients
* 300g gluten free plain flour
* 1 tsp bicarbonate of soda
* 1/4 tsp xantham gum
* 2 heaped tsp ground ginger
* 125g dairy free hard margarine (I use Stork Hard Margarine)
* 3 1/2 tbsp golden syrup
* 100g dark muscovado sugar
* 1 large egg white (for the icing)
* 250g icing sugar (for the icing)
* cake decorations / sweets of choice for decorating
* piping bag
* paper templates (available within the blog post)
Instructions
1) In a saucepan melt the hard margarine, golden syrup and dark muscovado sugar
2) Whilst this is melting, mix together your dry ingredients - gluten free flour, xantham gum, ground ginger and bicarbonate of soda.
3) Add your melted mixture to the dry ingredients and stir together.
4) The mix should form a dough (& smell lovely and gingery!) using your hands, bring the dough together into a ball.
5) If the dough is still a little warm (due to the melted mix being hot when you poured it into the dry ingredients) allow the dough to cool down a little before wrapping it is clingfilm and placing it in the fridge to chill briefly - 30 minutes is plenty but if you wish to leave it longer - even over night then you can.
6) Remove the dough from the fridge, if you have left it to chill for longer I would advise you to let it warm up a little at room temp before handling it. (not for long) Split the dough into small chunks - it's easier to roll out like this. Also before I roll the dough out I like to 'play' with it a little & mould it in my hands to warm it up.
7) Place some non stick baking paper down and roll your dough out to about one pound coin thick.
8) Place your templates on the dough and carefully with a sharp knife score around them. Then remove the template and properly cut the dough out, removing excess dough from around the edges - this can then be rerolled for the next shapes.
9) Once you have all your sides, roofs and fronts cut out, lift the baking paper you rolled them out on, onto a baking sheet. (Don't lift the dough without the baking paper at this stage)
10) Place your shapes in a preheated oven (180 C fan) for around 10 - 12 minutes (until the edges are a little darker - this might happen sooner)
11) Once cooked take out and leave to cool.
12) Whilst they are cooling make your icing - simple mix your egg white with the icing sugar until it becomes a thick paste.
13) Place your icing in the piping bag.
14) Whilst your gingerbread is still flat ice the detail onto each shape. Leave this to set for at least 15 minutes.
15) Pipe icing along the joins of the walls (just the fronts and the sides at this stage, not the roof) and assemble into a house. (You can use objects to support the structure whilst this is drying - I often use spice pots) Be careful to not touch the decoration you did in step 14 - it's still delicate! Leave this for a further 15 minutes to set.
16) Pipe icing between the two roof shapes and delicately place on top. Try not to move the house for another 20 - 30 minutes so it can completely set and hold together.
17) Repeat for further gingerbread houses until you have made your entire gingerbread village.
Notes
If you are looking for templates, mine are here: http://glutenfreecuppatea.co.uk/gluten-free-gingerbread-house-template.pdf
Gluten Free Cuppa Tea | Food blog based in London, UK. Low FODMAP. Dairy free Recipes.. http://glutenfreecuppatea.co.uk/
So there you have it my mini gluten free gingerbread house recipe. It is really simple and a whole lot of fun. Mark & I had a great time making these… relationship building 10/10! In this instance we made it for Christmas, I mean Christmas gluten free gingerbread just had to be done, however, this recipe would work really well throughout the year for making any sort of gluten free gingerbread structure. It's also a great recipe for straightforward gluten free gingerbread biscuits. I would absolutely love to see your creations so make sure you take a photo and send it over or put it on
Instagram
/
Facebook
/
Twitter
. Also feel free to leave a comment below, I'd love to hear any of your gluten free recipes that you are proud of!
Thanks for reading and watching & subscribe to my YouTube Channel for even more delicious gluten free recipes.
Becky xxx
Comments