Gluten free cheese and pesto straws… what could be more heavenly? Nothing in my book. I am an all round lover of savoury treats, so the introduction of the Jus-Rol gluten free puff pastry has made me incredibly happy. Better still it is dairy free too so perfect for both me and Mark. These turned out so well I thought I'd share my recipe.
It's been a while since I've had puff pastry. Puff pastry and myself used to have a very fond relationship. My first part time job when I was at sixth form was at a local supermarket and I always got reduced cheese straws at the end of my shift (this was back when I could eat gluten!). I actually haven't had one since then, that was when I was 16 and I'm going to be 26 in January! That is exactly where my inspiration to create gluten free cheese and pesto straws has arisen from.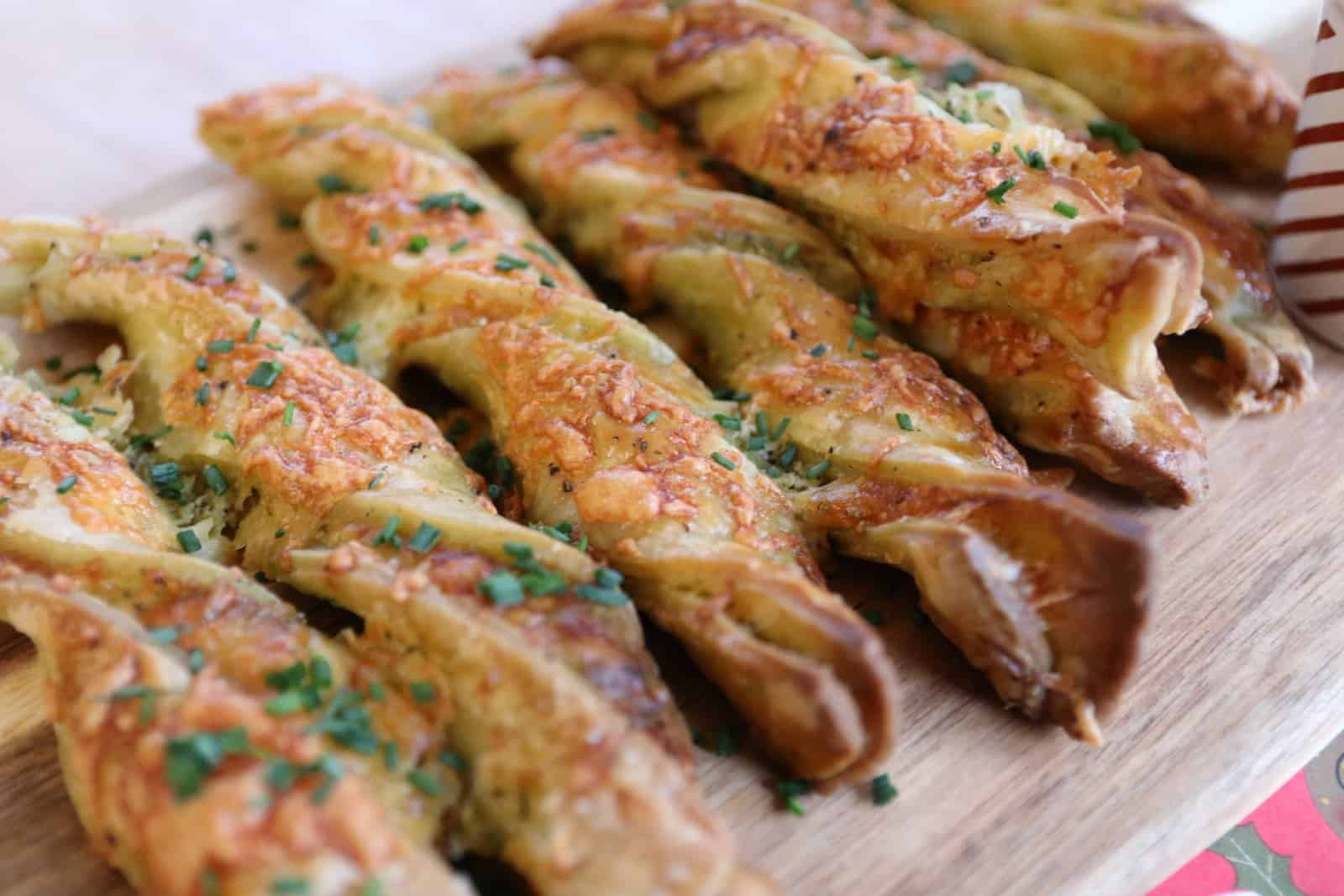 However, although me and puff pastry have a good relationship (as in I like to eat it), I am not fond of making it. I've never been a lover of making gluten free pastry and gluten free puff pastry is no exception. I love baking gluten free cakes from scratch, but when it comes to pastry it's not something I'm fond of. So when I heard that Jus-Rol were bringing out gluten free puff pastry I was literally over the moon. I couldn't believe that such a large brand were being super considerate and thinking of us folk who cannot eat gluten, I was so excited!
I went into a crazed state imagining all the foods that were suddenly going to be so much easier to access… (because I could make them using the Jus-Rol gluten free puff pastry!) I'm talking gluten free pies, gluten free sausage rolls, gluten free pasties… & that's just thinking savoury! For me though, as I have already mentioned, one of the things I miss the most is cheese straws. So what better thing to make with my gluten free puff pastry than some gluten free cheese straws! I decided to add some pesto into the mix as well as I am an absolute lover of pesto these days. I've only started eating pesto a lot over the past 18 months or so and it is a staple in our house now, so I thought it might be a nice addition… gluten free cheese and pesto straws!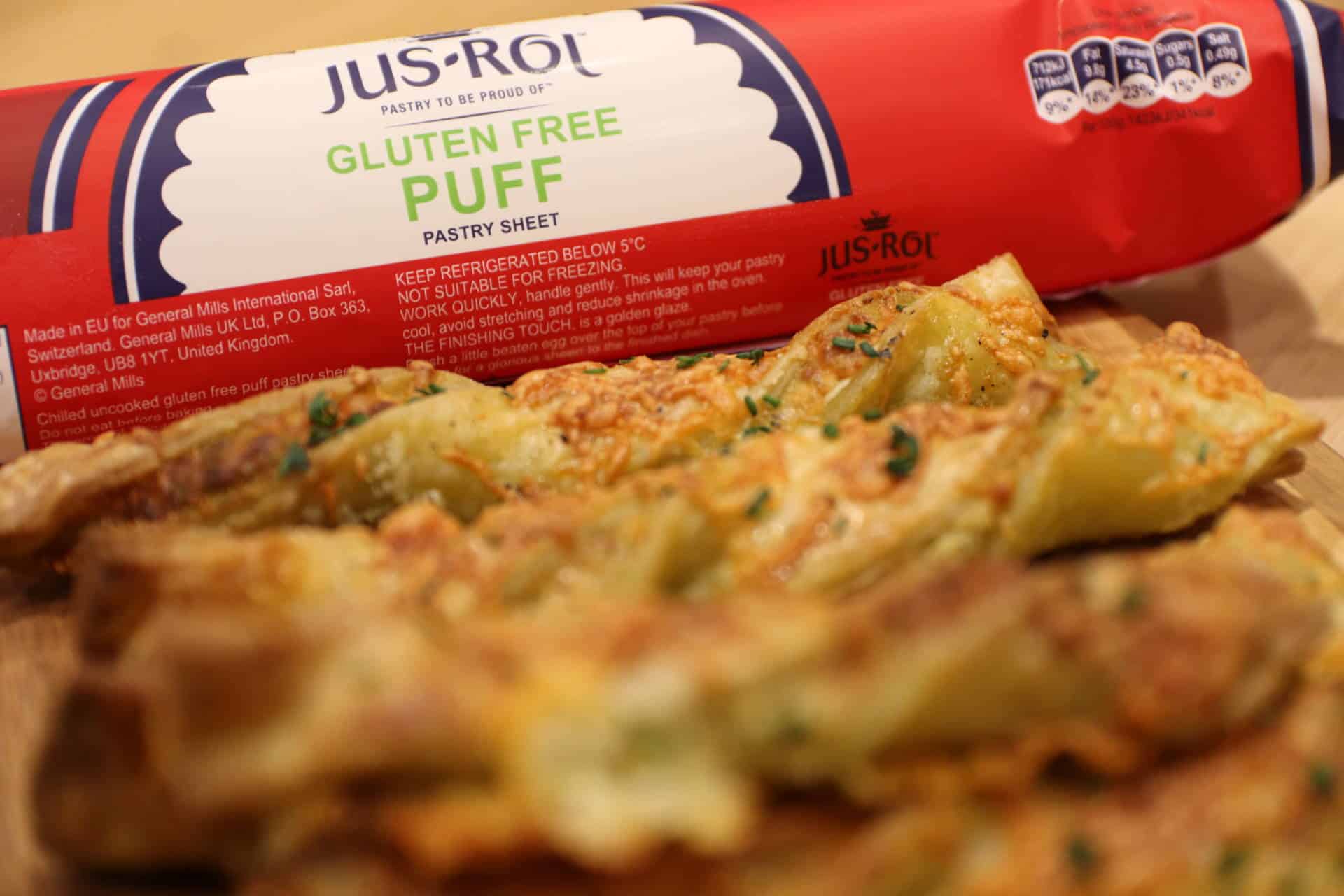 Making gluten free cheese and pesto straws is simply the easiest thing to make when you have ready made gluten free puff pastry, there are so few steps. The Jus-Rol pastry actually comes already rolled so I didn't even need a rolling pin! If you want to be even more convenient with this recipe you can buy shop bought pesto (dairy free is available in the free from aisle if you need it), however I have grown fond of making my own pesto as well. At some point I will get round to putting up some more simple recipes like my homemade dairy free pesto on the blog, so keep checking back!
Anyway, you hear me talking about dairy free…. yep, this gluten free puff pastry is also dairy free, its 100% suitable for vegans as well. This made me so excited as it's never as fun making gluten free cheese & pesto straws if Mark can't eat the pastry! As I said, the pastry is also vegan which is another huge plus point to this gluten free pastry. I must mention that the only reason this recipe isn't vegan is because I decided to glaze the pastry with egg at the end before baking, however I don't think this is necessary really so this recipe can easily be made vegan too.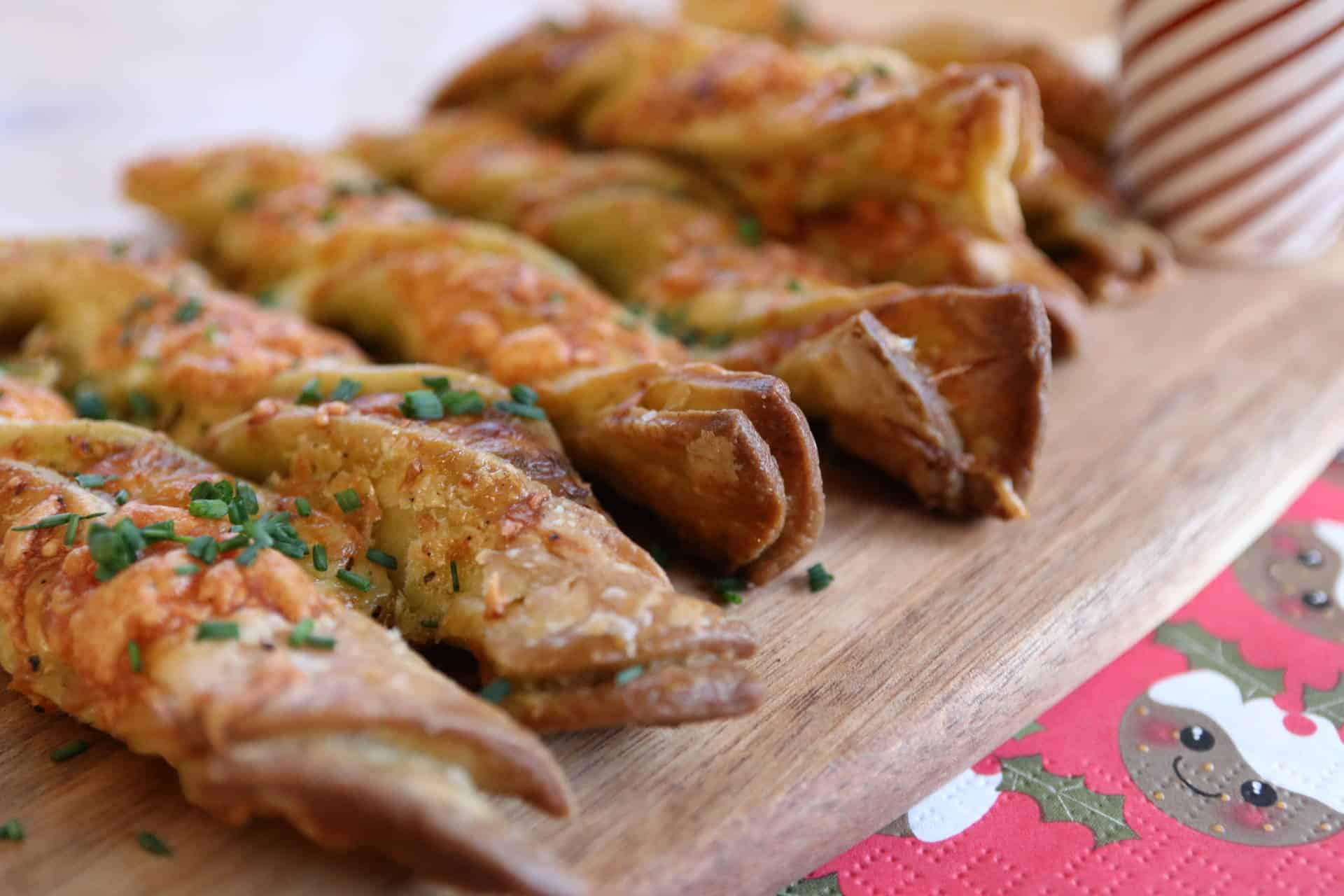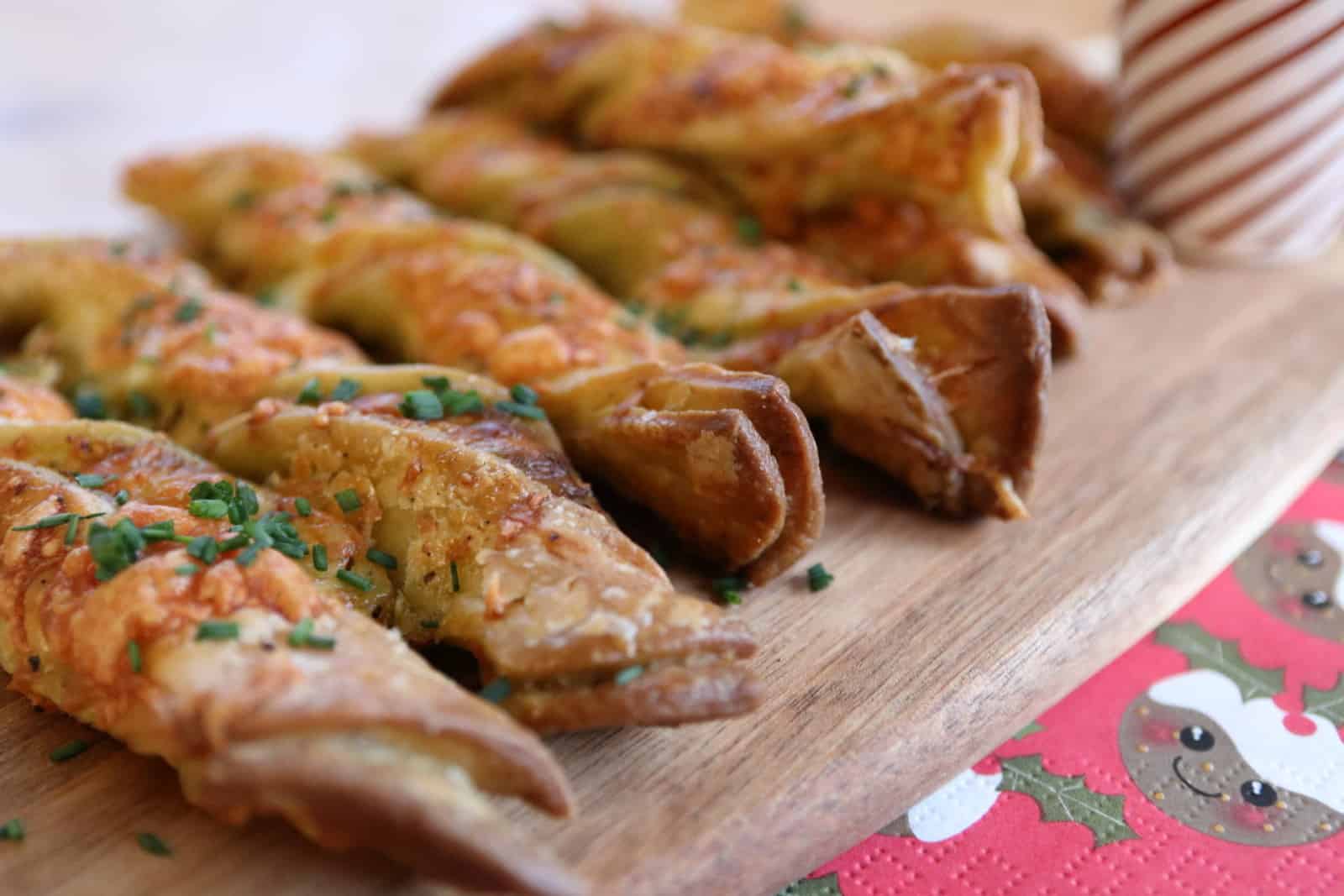 The cheese and pesto filling to these cheese straws is seriously divine.I used some dairy free cheese that melted really well. The pastry itself is super easy to handle and once cooked comes out exceptionally light and flakey. For dairy free pastry I found this pastry to be lovely and rich, it tasted exactly how I remember puff pastry to taste.
All in all these gluten free cheese and pesto straws tick every box, taste great & are perfect for every single occasion. Without further ado… here's the recipe!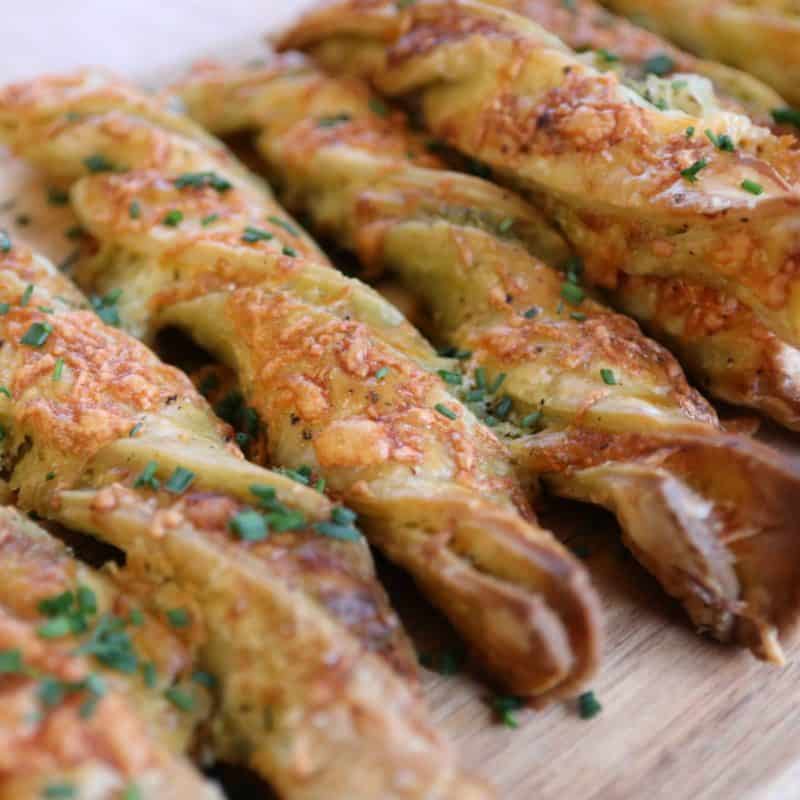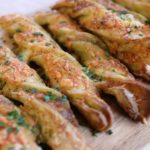 Gluten Free Cheese and Pesto Straws (dairy free)
Ingredients
1 packet of gluten free Jus-Rol puff pastry

gluten free & dairy free pesto

homemade or bought

dairy free cheese

grated

egg

beaten (for the egg wash)

salt and pepper
Instructions
Remove your gluten free pastry from the fridge and packaging for around 5 minutes.

Preheat your oven to 180 degrees.

Prepare a baking tray with some baking paper.

Cut your sheet of pastry exactly in half and place one piece on your tray.

Spread the pastry with a layer of pesto, leave a very small gap around the edges of the pastry.

Sprinkle a good layer of dairy free grated cheese on top of the pesto.

Place the other half of your gluten free pastry on top.

Using a sharp knife cut your filled pastry into strips, about the width of a cheese straw! (See in the pictures!)

Hold onto the ends of the strips and twist a few times.

Brush on some of your egg wash, this will help the cheese straws go golden in colour.

Sprinkle on more dairy free cheese all over the top.

Season with salt and pepper.

Bake for around 20 minutes or until the pastry and cheese is golden.

Remove from the oven, allow to cool if you want.. or eat them hot!!

I sprinkle some fresh chives over mine for an extra flavour (I LOVE CHIVES!).
Notes
These can be made vegan if you don't use the egg wash, the cheese makes these pretty golden anyway!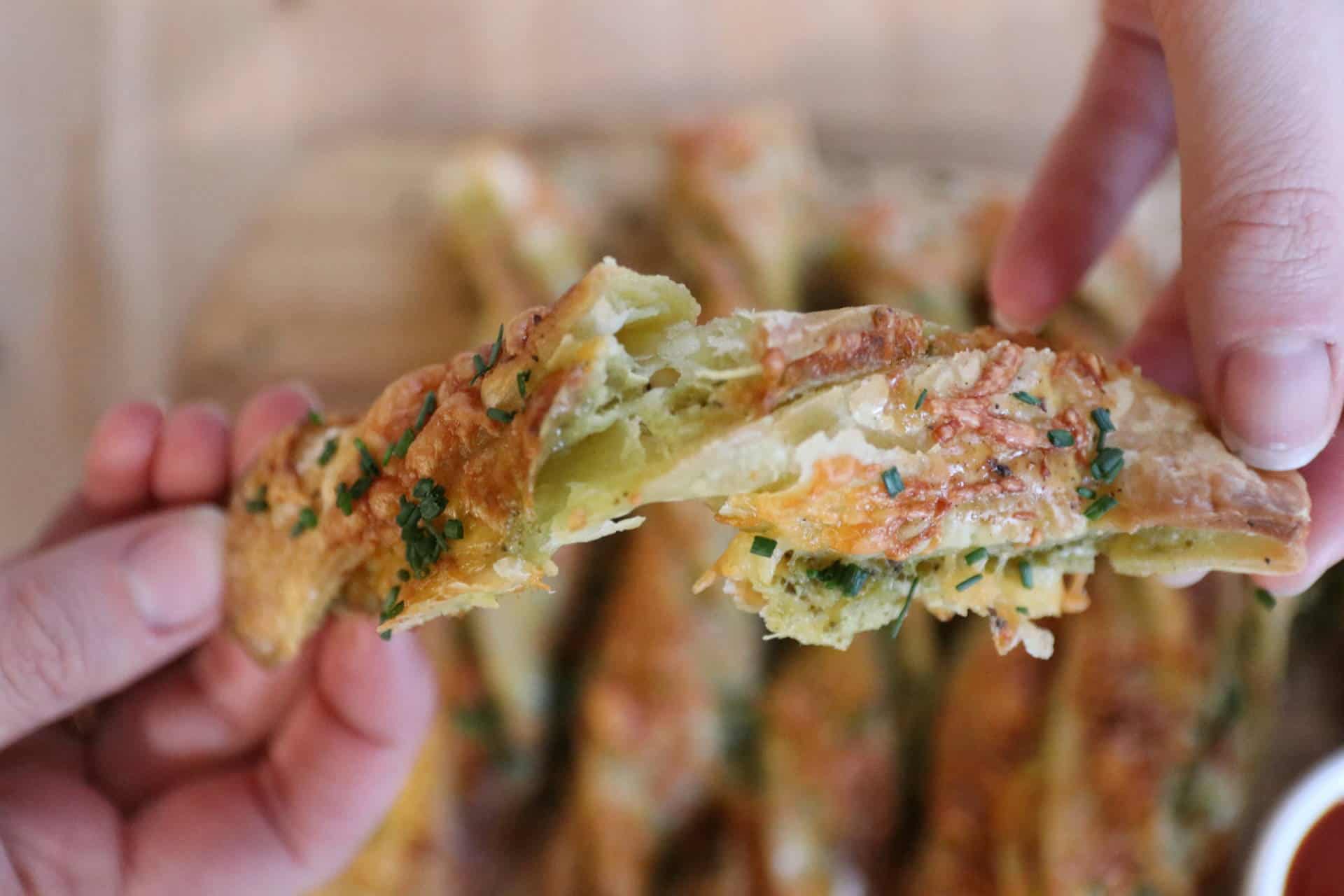 So there you have it my gluten free cheese and pesto straws! I'd definitely recommend giving them a try they really do taste delicious. I've made these a couple of times in the last couple of weeks and they have gone down a storm. My parents came round on the afternoon I baked them and I must admit, they didn't last long!
Let me know if you get the chance to make my gluten free cheese and pesto straws. I'd also love to know if you have any other fillings that combine well with cheese in a cheese straw! Just drop a comment below, or on Facebook/Twitter. A massive thank you to Jus-Rol, you're legends! I can't wait to make some more yummy treats with this gluten free puff pastry.
Thanks for reading,
Becky xxx