After my very first trip to V&H Cafe in Hove with Mark, I instantly knew we'd be coming back for more.
I couldn't sing enough praises for V&H Cafe in my gluten free Brighton guide, so I thought I'd best do a separate post to tell you the full story.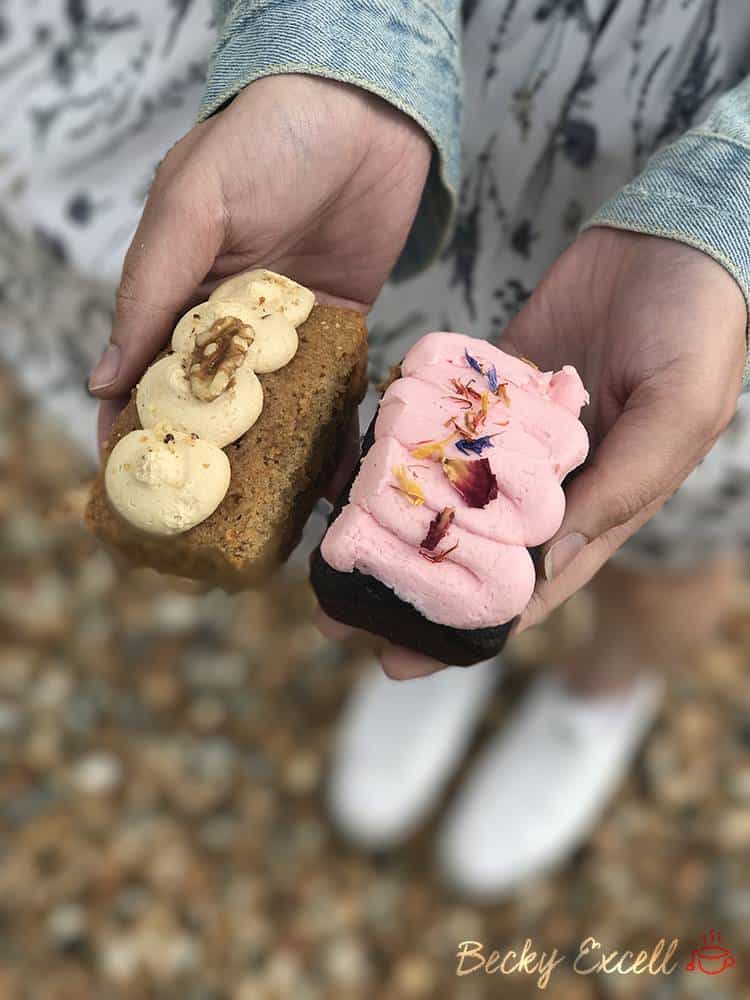 We've been going to Brighton ever since I was a student at the University of Sussex, but we still discover new places every time we visit. On our most recent trip for Mark's 30th birthday, we discovered the gem that is V&H Cafe.
Located on Holland Road in Hove, V&H Cafe is an idyllic eatery that instantly became one of my firm favourites. Inside, it's modern yet homely and the staff are the friendliest you'll ever meet. Plus, they know their stuff about gluten free, dairy free and allergens too of course.
Apart from the lovely decor, the first thing you'll notice is the eye-catching cakes. The variety is absolutely unreal and the amount of gluten free and dairy free options really impressed us.
After eventually averting my eyes from the beautiful cakes, I finally managed to actually look at the menu! Unlike a lot of places where gluten free options are on offer but extremely limited, nearly everything can be made gluten free at V&H.
We started by ordering a berry and banana smoothie for Mark. I was recommended an orange, turmeric and ginger smoothie which sounded too good to pass up. After much deliberating, Mark went for poached eggs with smoked salmon on gluten free toast. I went for a salt beef, pickle and mustard gluten free sandwich.
First of all, our smoothies arrived and I have to say… the smoothies are totally out of this world! V&H clearly know how to craft the perfect smoothie and I would happily buy a bottle or two to take home if I could.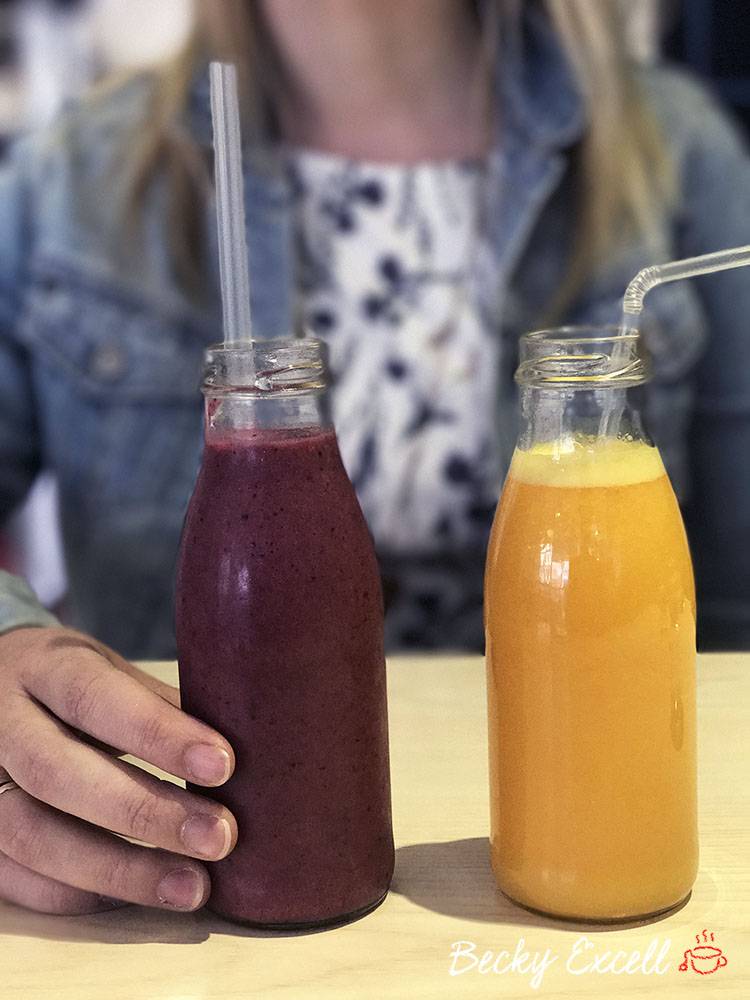 When our food arrived at the table, it really was an immediate feast for the eyes. Mark's eggs were perfectly poached with golden runny yolk oozing out onto the beautiful, seeded gluten free bread.
My salt beef sandwich with pickles and mustard brought a welcome taste of New York to Brighton (and it was almost as tall at the Empire State building might I add!)
It's so nice to go somewhere where you don't feel like an inconvenience for ordering gluten free and dairy free. At V&H, ordering gluten free is simply a matter of mentioning it when ordering and forgetting about it.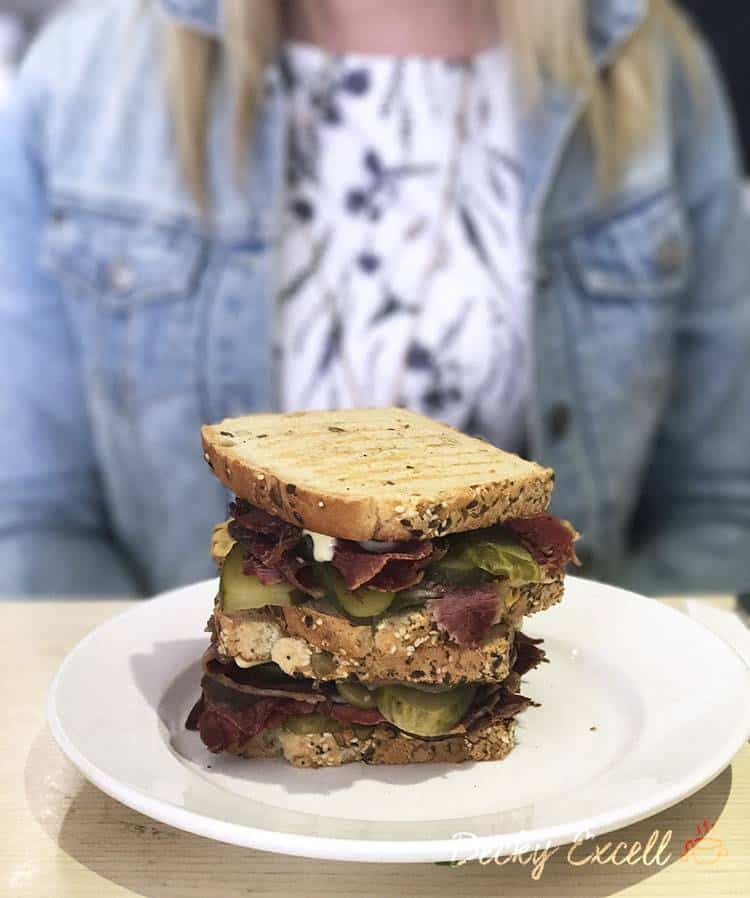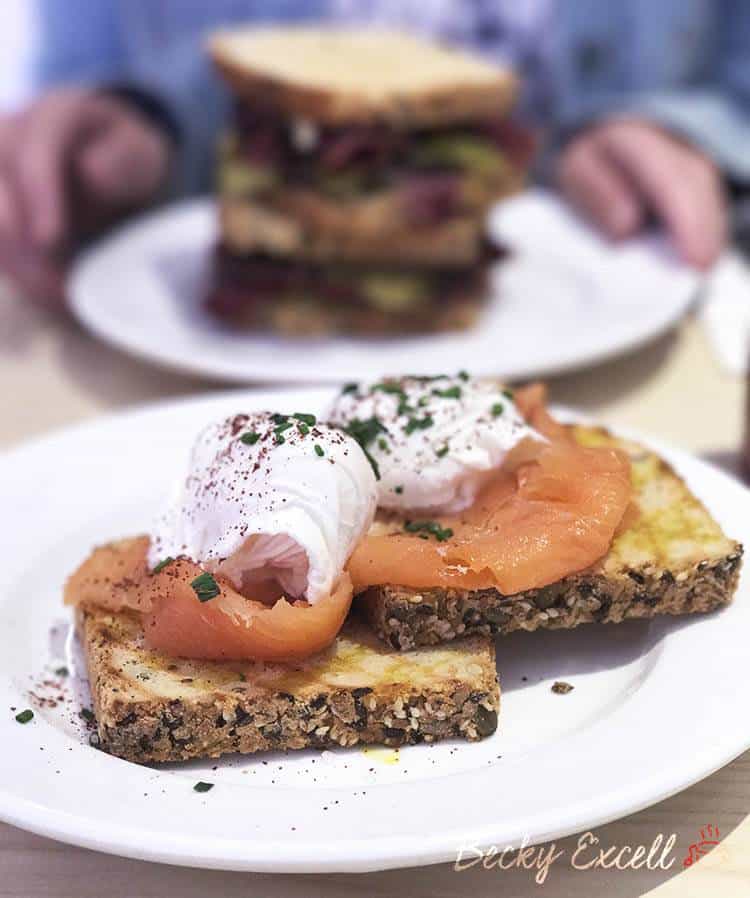 We both agreed that the gluten free bread was among the best we've ever tried. It was a lightly toasted, seeded slice of heaven. They even had dairy free spread for Mark.
V&H use a bunch of local suppliers for nearly everything (they have a cool board on the wall with the specifics) and their gluten free bread is from the wonderful Flour Pot Bakery. That's what I love about Brighton, it's its own self-contained universe!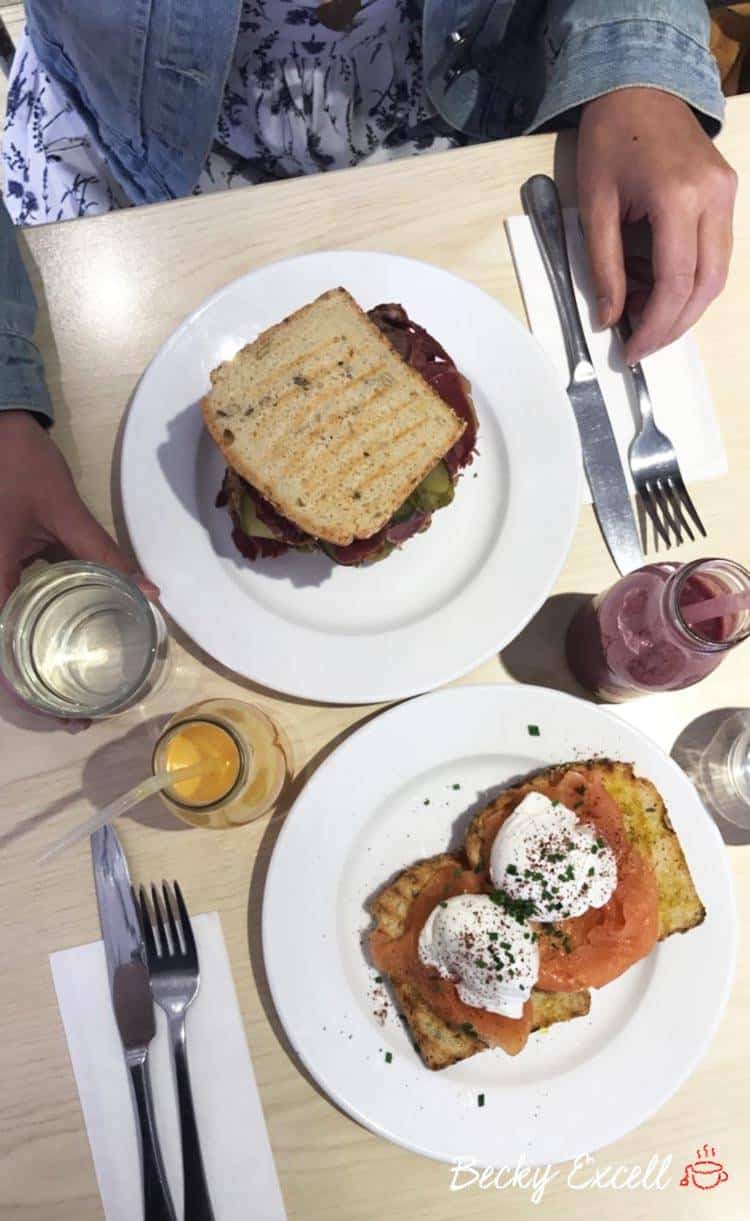 Of course, we couldn't leave without picking up a few cakes for the road, so I chose two of the super cute mini loaf cakes – chocolate and beetroot and coffee and walnut. Mark bought a dairy free caramel slice and a slice of gluten free and dairy free toffee apple cake.
After a short walk we enjoyed our treats down on Hove beach, which was literally just a few minutes away. I can tell you, there's nothing finer than enjoying a mini gluten free loaf cake from V&H while watching the waves roll in!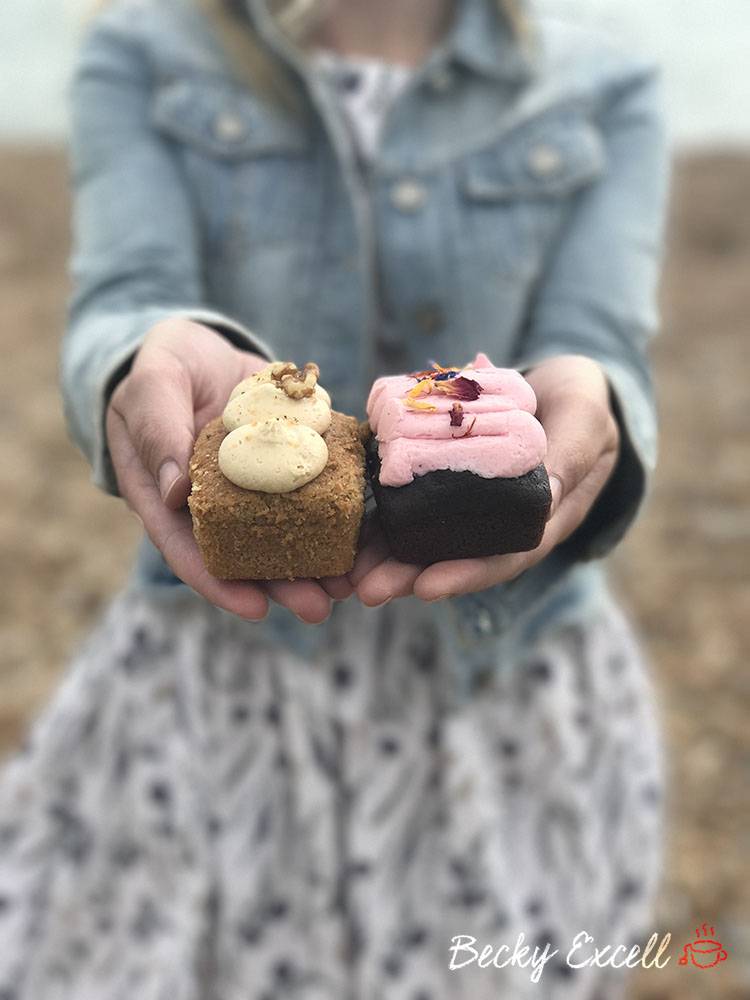 All in all, V&H Cafe is everything that I love about Brighton and then some. If you're ever nearby Hove on the hunt for gluten free food, don't hesitate to stop by V&H and enjoy the cakes for us!
Have you been to V&H Cafe? Where's your favourite gluten free hangout in Brighton and Hove? Let me know by leaving a comment below or by getting in touch on Facebook, Twitter or Instagram! Don't forget to check out my ultimate gluten free Brighton guide here.
Thanks for reading,
Becky xxx