Vietnamese Food is brilliant for those who can't eat gluten. It is also amazing for everyone else too! Pho is a great Vietnamese Restaurant to start with!

I always remember back in 2010 when I visited Brighton for the first time. On my first adventure there I was alone and leaving well before dinner time, but I remember walking past Pho and thinking 'I want to eat there'! I remember getting back home and telling others that it looked really nice, but it wasn't until May 2011 that I first got the chance to eat there and to be honest I have never looked back!
I came to realise almost immediately upon eating at Pho that Vietnamese cuisine is definitely one for me. It's simple yet so flavoursome, and there's a massive bonus of so much of it being gluten free… or at least in Pho restaurants it is!
My brother is currently travelling around South East Asia and America as part of his gap year (so incredibly jealous) and he has spent the last 3 weeks in Vietnam; going to Pho I guess slightly helped me feel like I wasn't missing out so much. Although actually just today he put a photograph up of him and his gap year buddy at a Vietnamese Cookery Class… I am back to just being super jealous again… anyway, on with my review of Pho!
Right so this trip to Pho was on our first night in Brighton; we were really hungry and so didn't really want to have to wait for a table anywhere, eating at Pho can be super quick so it made sense for us to head down to it. The food is served at lightning speed as well; I barely had a chance to nip to the toilet before our food had arrived fresh and steaming!
Pho also have an awesome range of epic fruit juices which you have got to try, all freshly squeezed which I would definitely recommend. They also of course have a good range of starters which always look delicious… Vietnamese spring rolls are amazing so if you fancy a starter I would go for them, (all gluten free) but remember the 'summer rolls' are actually cold!
We chose against having a starter however and delved straight into a main course each. I went for the 'Bun Cha Gio Ga', which is a lemongrass chicken version of:
"Vermicelli rice noodles with stir fried topping, fresh herbs, veggie spring roll and peanuts. Noodles served cold just like in Vietnam. Served with nuoc cham sauce on the side".
Mark opted for 'Bun Cha Gio Nem Nuong', the same dish but instead of the lemongrass chicken, his contained pork and lemongrass meatballs.
The first time I visited Pho I definitely did not opt for this dish on the basis of reading that the noodles are served cold! However after Mark ordered it one time I have never looked back and it is now my staple dish at Pho. They do a variety of bun noodle dishes with different options, from prawns to beef, but they all arrive in the same large, deep bowl. The bowl is filled with a large amount of noodles, your choice of meat and all the items mentioned in the description above. The nuoc cham sauce that arrives with the dish that you pour over it really completes the dish. I'm not sure exactly what the sauce contains in terms of flavours but it is definitely gluten free and contains plenty of fish sauce if that is your thing! It really brings the whole dish together. The bonus of the bun noodle dishes which always sways me towards them is the veggie spring roll that comes with it. It's crispy and light… it's totally delicious!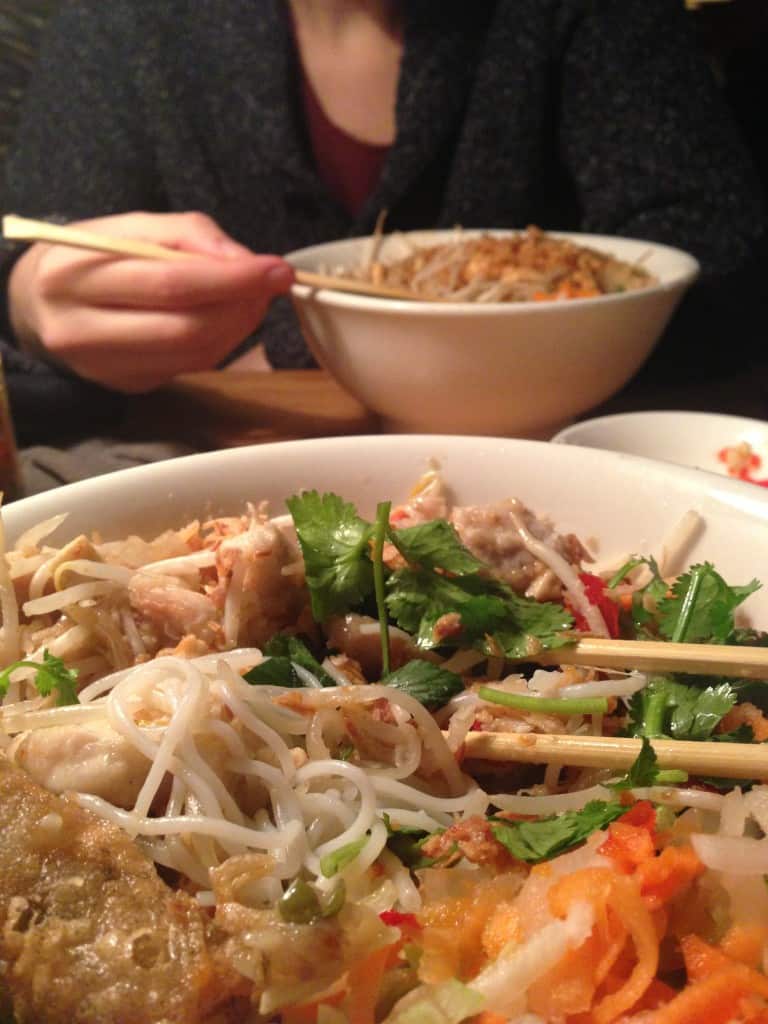 So yeah all the bun noodle dishes I would definitely recommend to you. I've also had the 'Pho Xao' dishes before which are simply wok fried noodles with your choice of meat, fish or veggie. These are delicious too and I would say if you are unsure on your first time of going to Pho like I was, you might fancy opting for one of these. If you are opting for the super traditional and the really healthy option then of course Pho do a huge selection of…. Pho! I have no idea why I never seem to have this but when I have tried these in the past they are really tasty – a good place to try noodle soup if you haven't before.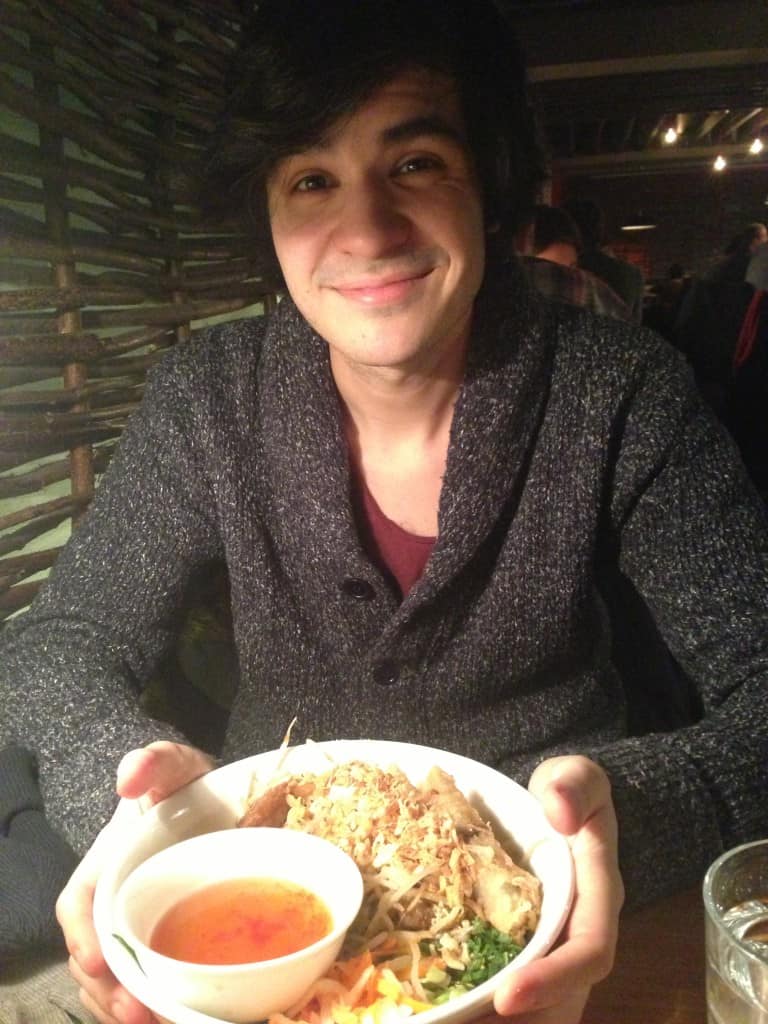 The staff who work in Pho in Brighton are always really efficient and understanding. I always mention and ask each time about gluten free just to be on the safe side and they are always very aware of what I am talking about. I'd advise that you always do the same and ask about gluten free when you get a chance with your waiter/waitress just to put your mind at ease. Similarly the staff and quality of food is great in the Spitalfields Pho in London. I can't really comment on any others but I'd like to think the same level of care, attention to detail and food standards reign in every Pho! (I know they are quite a few across London these days… takeaway too!)
Overall Pho as a restaurant gets a huge 9 out of 10 from me. The food is delicious and is a really nice change from other Asian cuisines such as Chinese and Thai which tend to be much more popular. The food feels much cleaner and healthier and has flavours to die for. I totally recommend Pho for so many reasons, it's so great to feel completely normal in a restaurant as a gluten intolerant, knowing you can eat nearly the entire menu! Go Pho!
I included Pho is my Guide to Gluten Free Brighton… Check it out here: http://glutenfreecuppatea.co.uk/2015/05/24/16-of-the-best-gluten-free-destinations-in-brighton/
Thanks for reading,
Becky xxx
Comments