My fourth gluten-free cookbook is now available to pre-order – it's packed with tons of 30-minute (or less) recipes and 'lazy' recipes! It's released on the 25th of August 2022 in the UK and you can pre-order a copy here right now.
There's no denying that being on a gluten-free diet often automatically means more time spent in the kitchen… especially when you're recreating all the foods we always miss out on. But never fear because 'Quick + Easy Gluten-free' is not only here to help you unlock all things we can't normally eat, it's also here to get you to that end result as quickly, or with as little hands-on effort, as possible. Also, this is the first of my gluten-free cookbooks where I'm on the front cover… ahh!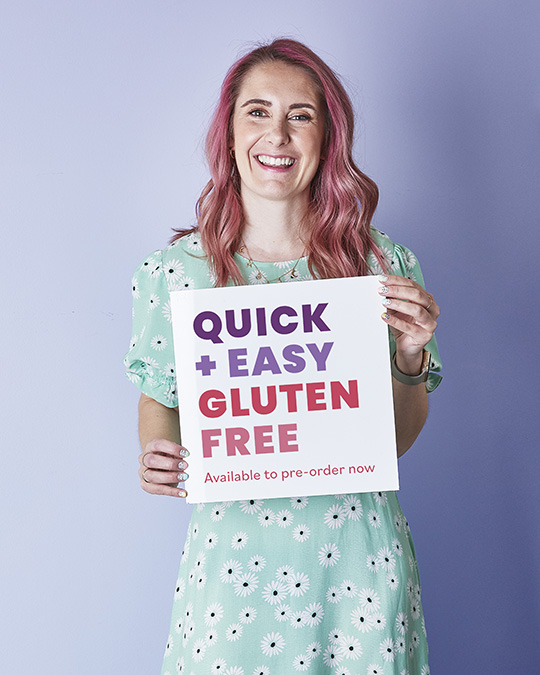 What is 'Quick + Easy Gluten-free'?
It's an everyday gluten-free cookbook that aims to reunite you with all the foods and flavours we miss – this time as quickly, or with as little hands-on effort, as possible. No deep-frying required (only shallow frying), no hard-to-source ingredients and certainly no salads, fruit salad or burgers without buns!
It contains 100+ new recipes for everything from breakfast to brunch and lunch, fakeaways, comfort food, weeknight favourites, speedy sides and party food, as well as all my fave quick/lazy bakes and sweet treats ✅ 99% of these recipes are brand new and NOT on the blog, with a few reader favourites thrown in for good measure!
It has seven 30-minutes (or less) chapters and two 'lazy' chapters (5-20 minutes of hands-on effort, then you can relax while they bake/cook). There's no denying that being gluten-free can mean more cooking from scratch, but that certainly doesn't mean you need to spend hours in the kitchen to make it possible.
This book is 80% savoury recipes and 20% sweet treats, desserts and bakes. It's essentially a similar ratio to my first book, with a focus on everyday, beginner-friendly recipes that you can use again and again.
Where possible, I've also included alternative methods for air fryers, slow cookers and pressure cookers! But if you don't have any of the above, don't fret; these are all optional cooking methods that simply make things either quicker, easier or both!
Just like my other books, 'Quick + Easy Gluten-free' contains easy swaps you can make to adapt the recipes to be dairy-free, low FODMAP, lactose-free and veggie/vegan where possible. It's super important that as many of you can enjoy my recipes as possible, so I worked really hard on testing all of these swaps!
It'll be released on August 25th 2022 in the UK and the rest of Europe. It'll also be released on September 7th in Australia and 25th of October in the USA.
How does this gluten-free cookbook differ from your other books?
If you're familiar with my first, second and third books, you'll know that my gluten-free recipes always have a focus on reuniting the reader with all the foods they miss. And that part certainly hasn't changed with 'Quick + Easy Gluten-free'!
My aim has always been to recreate 'real deal', identical versions of all the gluten-containing dishes we always miss out on, replicating everything from appearance to taste, texture and the cooking methods commonly used.
Us gluten-free folks are so used to getting disappointing versions of things we miss, so I absolutely had to ensure that each recipe was a true recreation of the original gluten-containing dish that inspired it – no compromises. Of course, for some recipes in my previous books, getting that ultimate end result might often mean spending a little more time (and washing up!) to get there, which might mean that they risk becoming 'once in a while recipes' instead of everyday recipes. And that's the only part I wanted to change in my fourth book!
So with 'Quick + Easy Gluten-free', I wanted to create an entire book full of everyday recipes; recipes that you can reach for when you either don't have the time to cook or simply don't feel like cooking at all. Recipes that make use of the vastly improved selection of gluten-free products available in supermarkets. Recipes that still show you how to unlock all the 'real deal' foods you miss, but using methods that are either super fast (it's on your plate in 30 minutes or less) or ultra lazy (5-20 minutes of effort, then you can put your feet up whilst it cooks or bakes).
So in a sense, the types of recipes I create hasn't changed at all – you can still expect all your fave fakeaways, comfort food, exciting lunch and breakfast ideas, along with classic bakes and fun sweet treats… they're just a lot speedier/easier to throw together. And of course, this book also differs from my others because 99% of the recipes are brand new!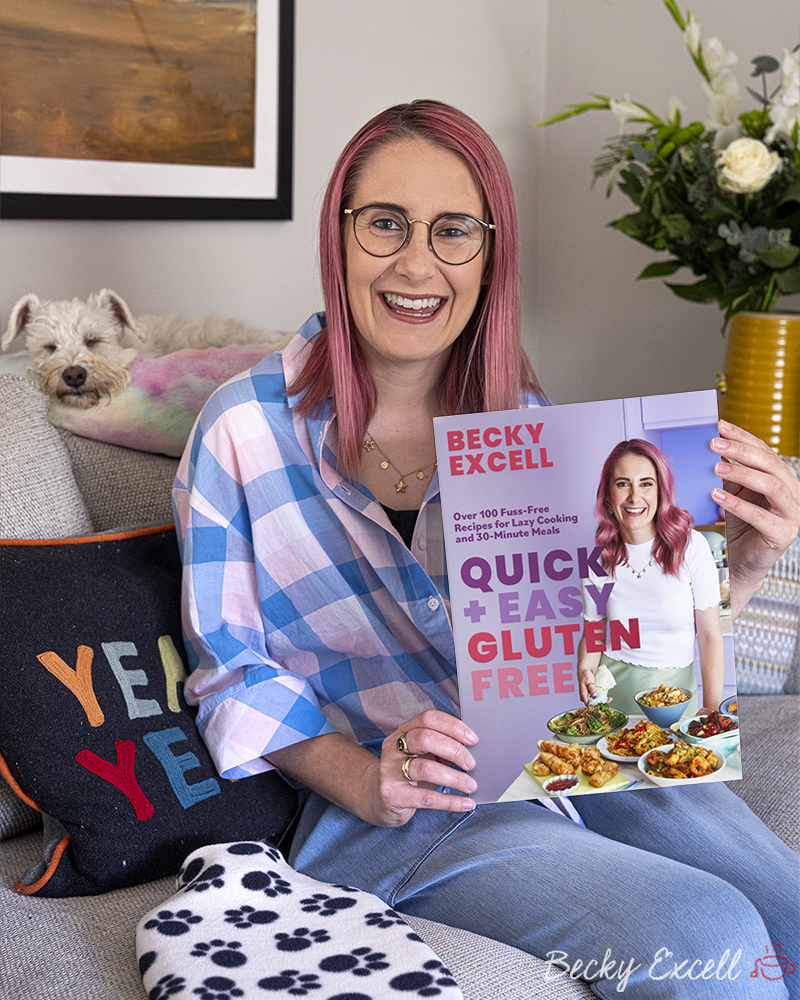 Where to buy 'Quick + Easy Gluten-free'
Fortunately you've got a wide range of choice of where to pick up a copy of 'Quick + Easy Gluten-free'! So here's a few online retailers that you can pre-order it from: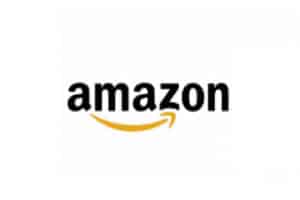 Frequently Asked Questions
How much will it cost? How do I get it for the cheapest price?
The official RRP (recommended retail price) is £20, but as I'm sure you know when purchasing any book, not only will the price vary from retailer to retailer, but it's also usually sold for a decent amount less than the RRP.
So yes, the RRP is very likely to drop considerably before release! If you pre-order on Amazon for example, you won't be charged a penny until the book is dispatched on release day. So when the price drops between now and release day, you'll be charged the cheapest price on release day, NOT the price it was when you preordered.
Usually, the final price on Amazon is anywhere between £10-13 on release day, but we won't know the exact price until nearer the date.
Will it be available for purchase in supermarkets?
Hopefully, but at this point I have no idea. The amount of pre-orders the book gets greatly determines whether or not it'll pop up in supermarkets (and other retailers too), which is why I'm very grateful to anyone who does pre-order!
Will there be signed copies of your new gluten-free cookbook?
Yes! I'm not sure right now exactly where you'll be able to pick these up from, but it's usually Waterstones who will have both a regular copy and a separate signed version listed on their website.
It's still early days, so keep checking back here and I'll post links when they're available.
Are these brand new recipes?
Yes! 99% of these recipes are exclusive to this book. As with all my books, the one thing I want everyone to feel is that they got amazing value for their money.
And if a huge percentage of the recipes were already available on my blog for free or previously published in other books, I just couldn't honestly say that! So yep, almost every single recipe is totally unique to this book, of course, with the other 1% being reader favourites and essential recipes like pastry and optional gluten-free flour blends.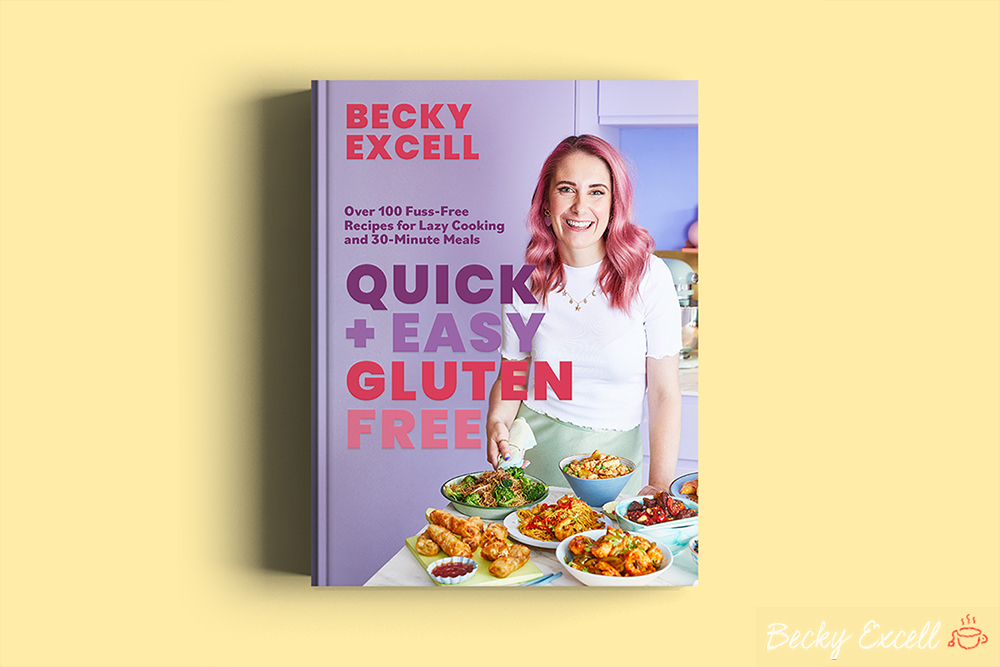 Can you tell us what's inside the book exactly?
I'll be revealing a few of the recipes closer to the release date on social media, but here's a complete list of the contents page in the book for now:
Introduction

About This Book
About Me
A Crash Course In Preparing Gluten-free Food
Gluten-free Store Cupboard Ingredients
Useful Equipment
Frequently Asked Questions
How To Be a Quick Cook
Easy Meal Ideas
Key

Recipes

Breakfast and Brunch (30 minutes or less)
Lunch (30 minutes or less)
Fakeaways (30 minutes or less)
Lazy Comfort food (5-20 minutes of effort)
Weeknight Favourites (30 minutes or less)
Speedy Sides (30 minutes or less)
Party Food (30 minutes or less)
Sweet Treats (30 minutes or less)
Lazy Classics and No-Bake Desserts (5-20 minutes of effort)
Why on Earth should I buy this?
Ok, here's the hard sell – which I'm not usually very good at… so I'll just throw some more bullet points at you instead:
100+ recipes that always focus on foods and flavours that gluten-free people miss. No salads, plain protein, purees, fruit salads or bun-less burgers!
Seven 30-minute (or less) chapters and two lazy chapters (5-20 minutes of effort, then you can relax while they bake/cook).
My first ever party food chapter that's fit for all special occasions – all made in 30 minutes or less!
Lots of super speedy everyday meals/fakeaways, lazy one-pot recipes and budget-friendly family favourites.
30-minute sweet treats as well as a 'lazy' classic bakes and dessert chapter too.
If you're dairy-free, veggie, lactose-intolerant or low FODMAP there's a TON of tips on how to adapt my recipes to be friendly to all of the above, if possible.
That wasn't so bad was it? I'm sure you want to buy 10 copies now!
Does the book have dairy-free recipes in it?
Yes – tons actually! Throughout the book, I've clearly labelled whenever a recipe is dairy-free. And whenever a recipe isn't dairy-free to start with, I've listed exactly how to make it dairy-free (if possible) for each recipe.
This took *a lot* of work and recipe testing, but I'm so pleased that I invested the time to do so! My boyfriend is lactose-intolerant, so you'll find that almost the entire book is friendly towards being dairy-free.
Does the book have vegan/veggie recipes in it?
Yes! I've clearly labelled whenever a recipe is suitable for vegetarians or vegans. If it isn't veggie/vegan to start with, I've also included instructions on how to adapt it, if possible – which most of them are!
Even with the few recipes which don't provide a veggie or vegan option, they can usually easily be adapted to be so using the right gluten-free and vegan alternative – ie. a gluten-free and meat-free mince or a gluten-free egg replacement powder for example.
Does the book have low FODMAP recipes in it? What about lactose-free?
Yes! Most of the recipes are suitable for the elimination phase of the low FODMAP diet, or if not, will mention how you can easily adapt them to be.
Just look for the key at the top of the page. A huge majority of recipes in the book are easily adaptable to the low FODMAP diet, believe it or not!
Whilst some recipes in this book do use onion, as I can't tolerate it myself, you'll find that those recipes (apart from one) always have an easy substitute.
As lactose-free is a big part of the low FODMAP diet, you'll also find that lots of the recipes indicate whether they're lactose-free or low lactose too.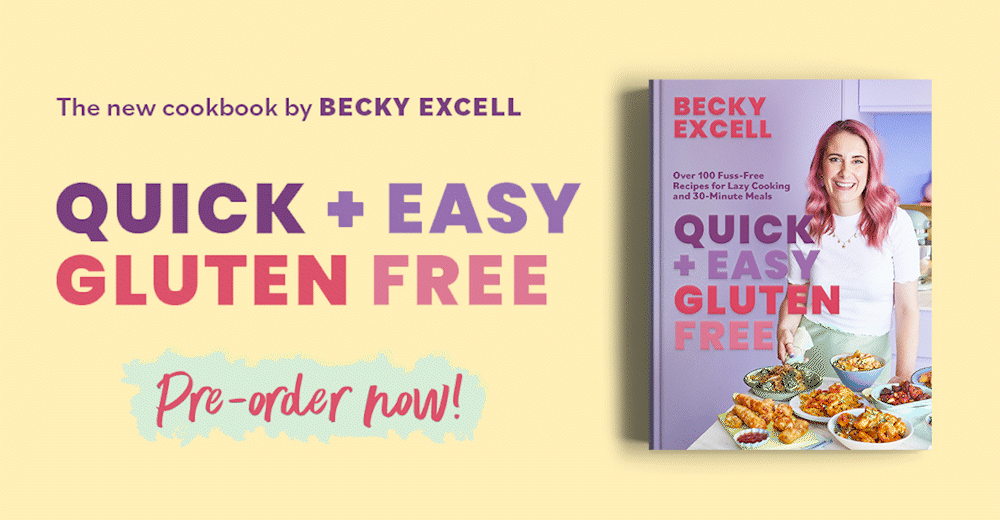 And yet another HUGE thank you to everyone who's supported me so far!
I think it goes without saying that I wouldn't be announcing my *fourth* book without all the love and support across my last three books and on social media.
My only goal has been to make the lives of gluten-free people (myself included!) easier and I'm so grateful that I've been able to reach and help even more people through my books. So thank you for helping me to do that!
I never take being an author for granted and with every book I release, it's hugely important that they provide as much value to you guys as possible. Otherwise… what's the point?! They've got to earn their way onto your bookshelves as far as I'm concerned and I truly believe that 'Quick + Easy Gluten-free' will be well-used and earn its place in your kitchen.
Gluten-Free Recipe