My FIRST EVER hardback gluten-free recipe book, 'How To Make Anything Gluten-free' is now available to pre-order! Click here for the pre-order link, or keep scrolling to find out a little more about it. I still can't believe this is happening!
'How To Make Anything Gluten-free' is a gluten-free recipe book with one mission: to reunite gluten-free people with all the food they miss. This book is packed full of everything from fakeaways, epic comfort food, classic cakes/bakes, mind-blowing desserts, 'muggle-level' fresh bread, ALL the pastry and tons more.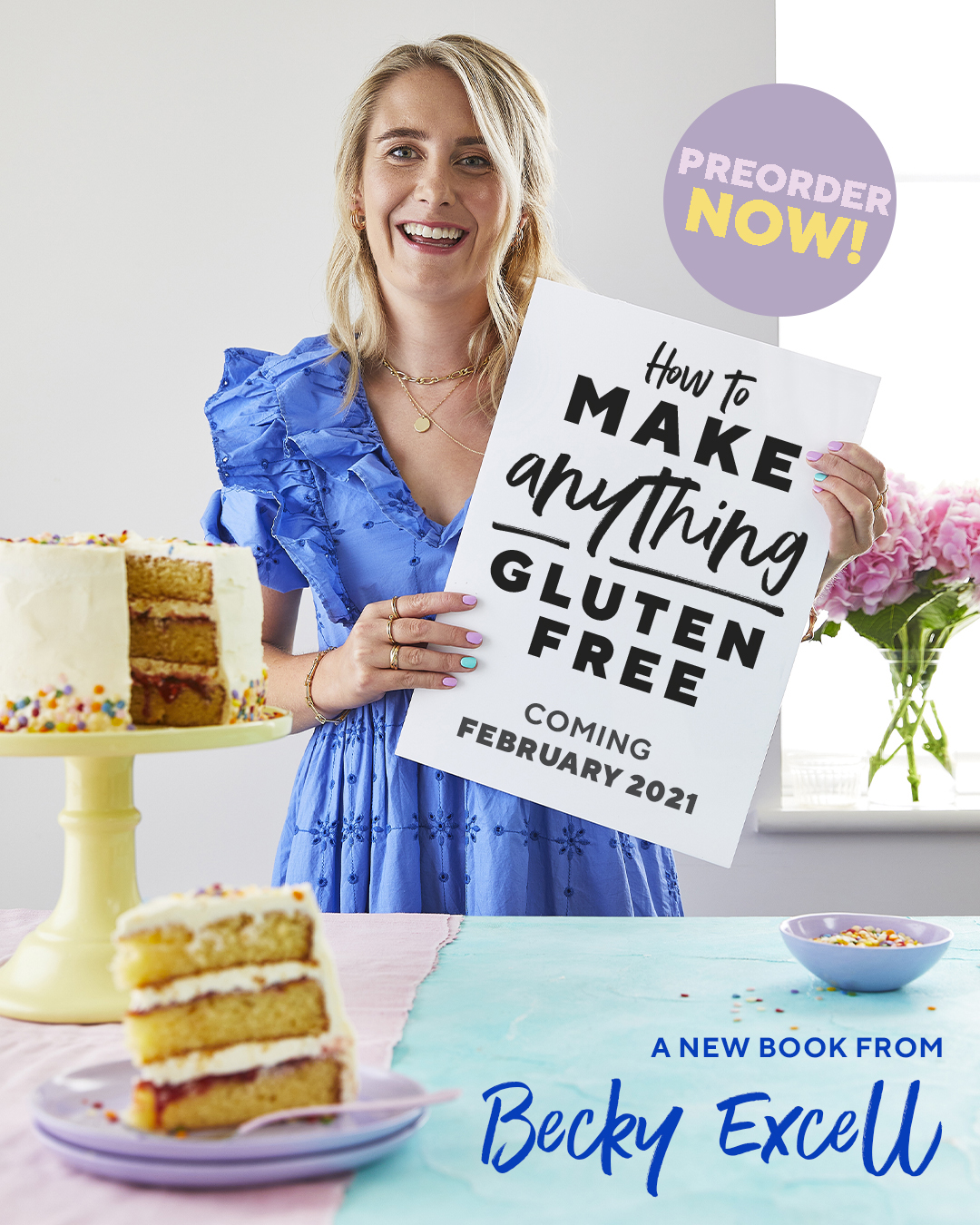 My first ever gluten-free recipe book is now available to pre-order!
I am so incredibly excited/nervous/freaked out to announce that my debut gluten-free recipe book 'How To Make Anything Gluten-free' is now available to pre-order!
I wrote this entire book during lockdown when gluten-free flour was rarer than gold dust so I'm sure you can all appreciate the struggle that went into this 😂
This has always been a dream of mine, so I still cannot process that this is actually happening. I'm pretty sure I will wake up at any moment now and say 'I just had the craziest dream!'
I'm sure you all want to know a little more about it, so read on to find out!
What you need to know about 'How To Make Anything Gluten-free'
I wanted this book to be a 'gluten-free bible' of ALL the recipes we always miss out on and I'm pleased to say… I did it!
Here's what you need to know:
It contains 100+ recipes for ALL the things we never thought we'd eat again 😳 Everything from real deal jam doughnuts, Chinese takeaway faves, epic comfort food, French baguettes and 'muggle-level' fresh bread, to DIY pasta, ALL the pastry, mind-blowing cakes/bakes/desserts and TONS more. Best of all – nobody would ever know any of it is gluten-free, I promise!
It's coming out on February 18th next year in the UK and the rest of Europe, USA and Australia, but pre-ordering is a HUGE help as it'll help it get stocked in more places when it's released 🤞🏻
If you pre-order from Amazon and the price drops in the meantime, you'll pay the lowest price possible when it actually comes out AND you won't be charged until the book is dispatched ✅
There's tons of dairy-free, low FODMAP, veggie or vegan options throughout the book too. The entire book is Coeliac-friendly and wheat-free.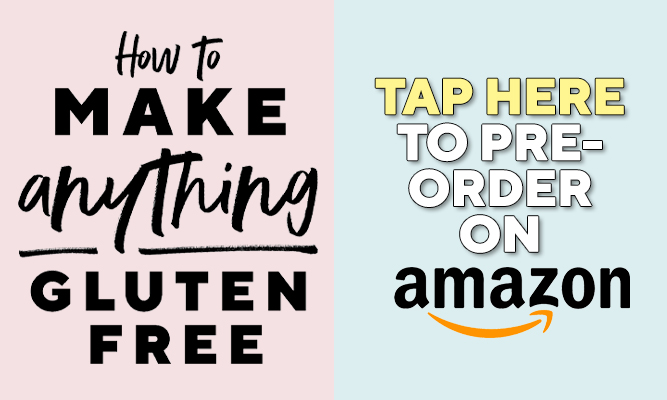 Frequently Asked Questions
How much will it cost? How do I get it for the cheapest price?
The official RRP is £20, but as I'm sure you know when purchasing any book, the price can vary wildly from retailer to retailer.
For the cheapest price, I'd recommend pre-ordering it from Amazon. Why? Thanks to Amazon's pre-order price guarantee, you'll always pay the lowest possible price when the book is released.
So though the price on Amazon currently says £17.60, in the (likely) event that it drops by February 2021, you'll end up paying whatever that lower price is.
For that reason, you won't be charged until the book is dispatched. Plus, by pre-ordering, you're guaranteeing that you get one of the first ever copies of my book – thank you!
Are these brand new recipes? Or is this a gluten-free recipe book of all your old recipes on the blog?
You might be surprised to hear that out of over 100+ recipes, 100 of them are brand new, 10 are vastly improved blog favourites and the rest are untouched classics from the blog.
I really wanted HTMAGF to deliver as much value as possible to you guys so expect A LOT of new and exciting recipes!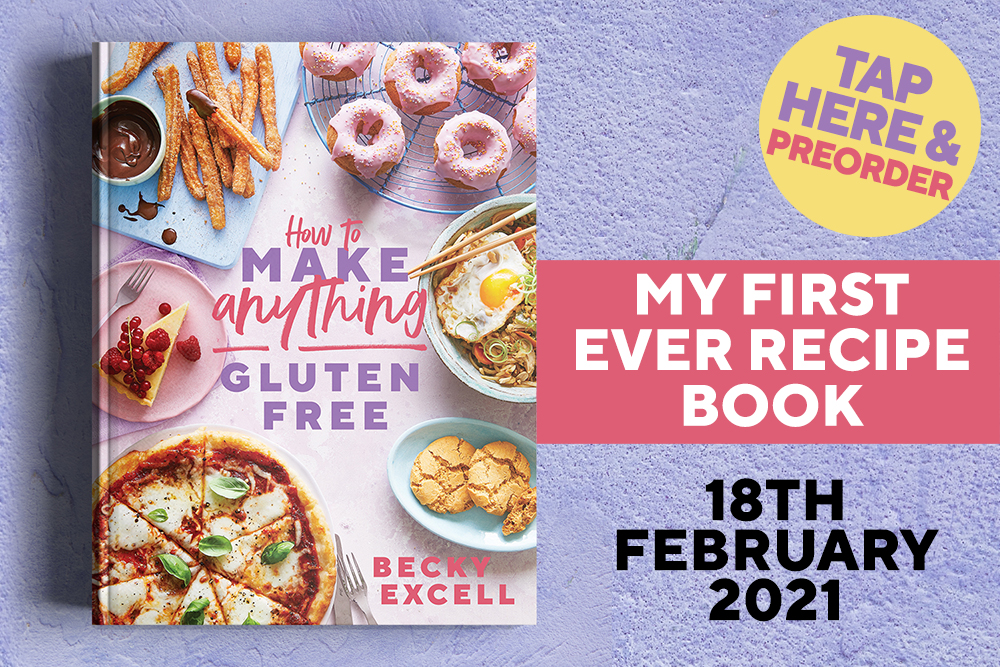 Why should I buy your gluten-free recipe book?
First of all, this hardback recipe book is crammed full of 100+ recipes that show you how to recreate the food we CAN'T ordinarily eat on a gluten-free diet. So no, it's not full of soups, salads and 100% fruit-based desserts!
You'll learn how to make:
Fresh pasta
*Real* bread that muggles will eat!
Five different types of pastry
Authentic Chinese takeaway favourites (thanks Mark!)
PROPER pork pies
Portugese custard tarts
Danish pastries
Mind-blowing desserts
Loads of cakes/bakes that nobody would know are gluten-free
And TONS more (because this list is already getting too long!)
But wait – there's more! I have already created a BOAT-LOAD of video tutorials to go alongside the book (which will be posted over on my YouTube channel every week when the book is released) showing you how to make tons of the recipes in the book.
These will be used to create a FREE e-course (posted here on the blog) as a companion the book. How awesome is that? I'm pretty sure that less than 1% of recipe books will offer loads of video tutorials to go alongside it – so hopefully that gives you lots of bang for your buck when it's released.
Plus, the book (inside and out) is visually STUNNING. It would make a great gift, or just generally look beautiful wherever you place it! I'm so, so proud of it.

Will the book have dairy-free recipes in it?
Yes – tons actually! Throughout the book, I've clearly labelled whenever a recipe is dairy-free.
Also, whenever a recipe isn't dairy-free, I've listed exactly how to make it dairy-free (if possible) for each recipe. This took *a lot* of work and recipe testing, but it's worth it for you lovely people!
Will the book have vegan/veggie recipes in it?
Yes! I've clearly labelled whenever a recipe is suitable for vegetarians or vegans.
If it isn't veggie/vegan to start with, I've also included instructions on how to adapt it, if possible. We've been eating a lot more meat-free meals at home, so tons of the savoury recipes (especially) are a doddle to adapt using plant-based alternatives.
Will the book have low FODMAP recipes in it? What about lactose-free?
Yes! Whilst not all recipes are suitable for the elimination phase, I've clearly labelled the ones which are.
You might also (hopefully) be a little mind-blown to find out that I haven't used ANY onion or garlic throughout the entire recipe book. But shh… nobody would even notice!
Oh and also, all recipes are all clearly indicated if they're lactose-free, low in lactose, or how to adapt them, if they aren't already.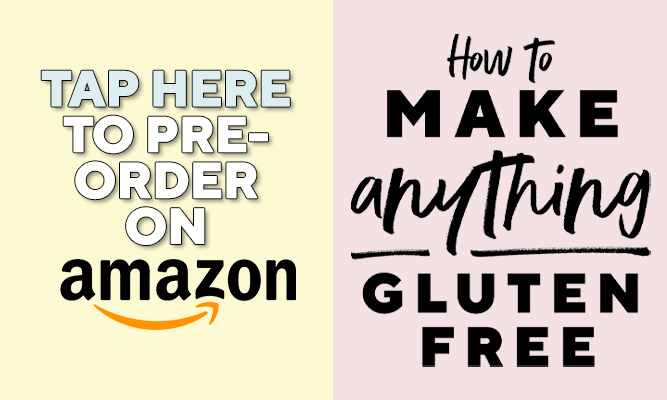 And a massive thank you to everyone who made this book possible!
There is no way that some random girl who bakes gluten-free cakes in Essex would ever get an opportunity like this without the support of a lot of amazing humans (yes, that's you!)
So here's the soppy bit: thank you everyone who follows me, visits the blog, tries a recipe, sends me photos of the result (good or bad) and anyone who has generally supported me over the last 7 years of my blogging journey.
It's an absolute fact that this wouldn't have happened without all of you behind me. So thank you multiplied by a billion!
I'd also like to thank the AMAZING team at Quadrille who believed in me and my idea enough to actually publish it. Honestly, this book looks absolutely beautiful throughout and it's only thanks to their magic and expertise!
Want updates on my gluten-free recipe book? Drop your e-mail below 👇🏻
Love,
(a very nervous) Becky xxx