Here's a few of my favourite brand collaborations if you're really nosy and wanna see a few examples. Wanna work with me? Just pop over to my contact form and say hello!
Whether its recipe creation here on the blog or on Instagram, vlogging on YouTube, baking in front of the camera/at events or something completely new… I really am up for any challenge! I'm proud to have collaborated with the following brands so please feel free to read a little about a few of my personal highlights here.
Don't forget to check out where my blog has been featured (like on the BBC, Metro The Independent) over on my featured page.
A few of my fave brand collabs in 2019 ??
The Cake and Bake Show 2019
I've always been a massive fan of The Cake and Bake Show, but never did I think that I'd be on the main stage, baking in front of everyone!
So I packed a huge suitcase full of ingredients and cooking utensils and headed to the Excel in London (yes, Becky Excell at the Excel ?)
I baked my gin and tonic drizzle cake, here's a quick snap taken by Mark…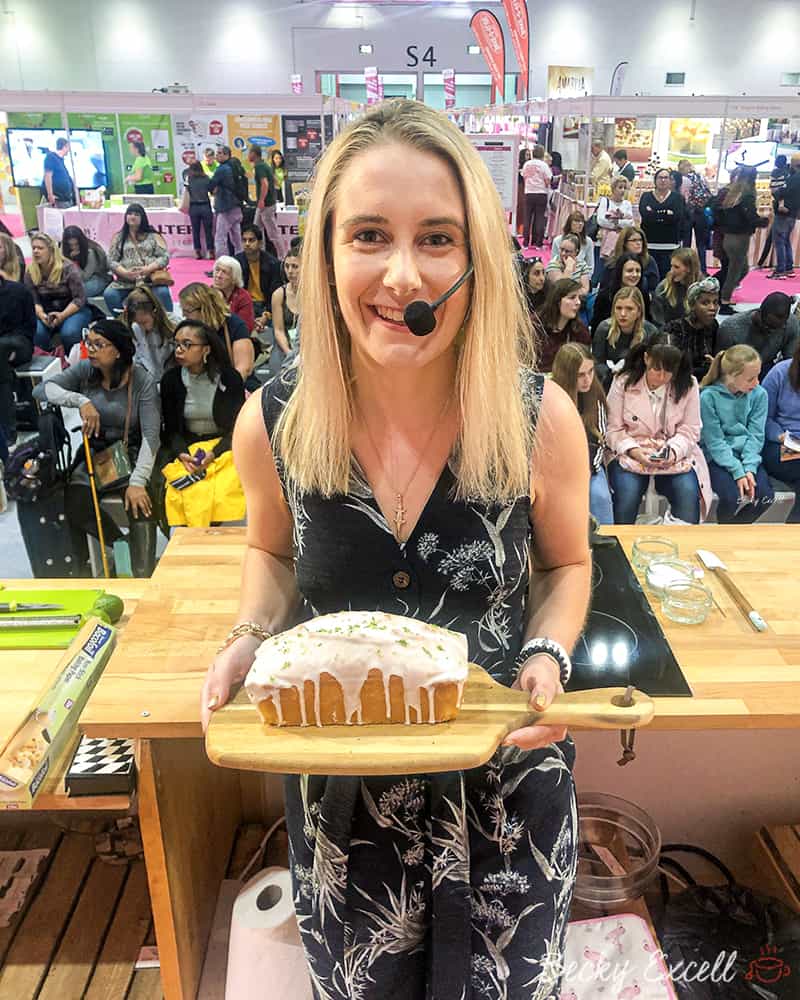 Tefal Cake Factory
I'm obsessed with baking (as I'm sure you know) so when Tefal asked me to create recipes using their Cake Factory machine, it just felt so right.
Most of my brand collabs involve photography, but you wouldn't believe how much I enjoy creating video content when I can.
So here's my recipe video for gluten free chocolate lava cakes using the Tefal Cake Factory…
Olivia Burton
I almost fainted when I saw Olivia Burton's collab with Cadbury Roses for Christmas this year.
Then I actually fainted when they asked me to be a part of it!! It was even more special that I got to thank Mark while doing so as well.
Here's the photo we took for it – it got a bit messy!
White Rabbit Pizza Co.
I was over the moon to be invited down to White Rabbit Pizza Co's kitchen to show off my gluten free pizza skills alongside the legendary Teo! Here's how it turned out ??
Morrisons
Morrisons really upped their free from game in late 2019, so I was over the moon when they asked me to pitch in and help promote it.
I jump at any chance of a little recipe creation, so I made this millionaire's cheesecake with their free from millionaire's shortbread on top.
Here's how it turned out ??
Old El Paso
When Old El Paso asked me to create my very own recipe for their amazing gluten free tortillas, my mind was bursting with a billion ideas. I love recipe creation!
I eventually settled for southern-fried chicken quesadillas, what do you think?
You can check out the recipe post I did for this project here.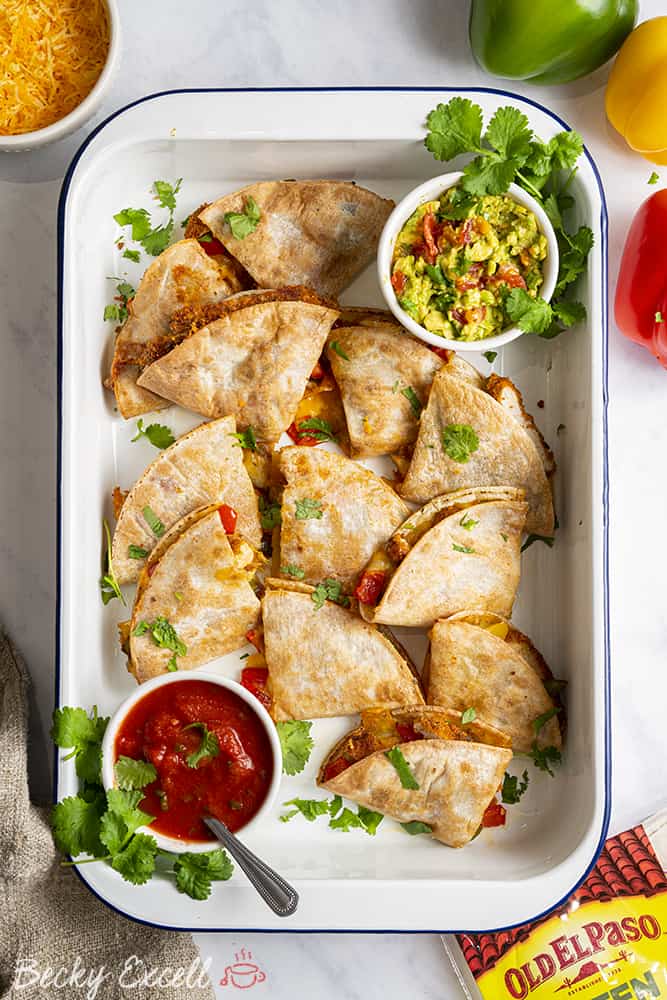 Schloer
I've always loved a cheeky glass of Schloer, so it felt so right to finally get the chance to shout about it on Instagram.
I roped in Mark to gimme a cheers with a huge glass of their new bitter lemon and lime Spritzed fizz.
Obviously, he didn't mind as he got a glass too!
A few of my fave ever brand collabs from the last few years ??
Panasonic
It's not everyday that you head down to Panasonic HQ and go live on the Panasonic UK Facebook page! After a few weeks of practicing, I was invited down to showcase Panasonic's new breadmaker and its awesomeness when it comes to gluten free.
I'd been practicing using it for a few weeks at home, so naturally… I was absolutely terrified of ballsing it up! Fortunately it went really well and I had so much fun with Louisa who is just an absolute legend. Watch it below or by clicking here.
Tefal
I've always used Tefal cookware ever since I bought my first wok when I was a student. Oh, it wasn't Tefal by the way – hence why everything constantly got stuck to it and I ended up throwing it in the bin! Mark's Mum kindly gave me one of her Tefal pans and I've never looked back.
Little did I know that many years later I'd be working with Tefal! It was pretty much the coolest day of 2017 so far. I walked around Whitecross Street Market in London searching for the best gluten free dish so Tefal could recreate it in their kitchen. You can watch the video below or by clicking here.
Love the delish galettes @ Whitecross Market as much as @gfcuppatea? We recreated this amazing GF pancake. #SpottedbyTefal pic.twitter.com/ZTAWEr6P81

— Tefal UK (@TefalUK) July 14, 2017
Peroni
I love when a brand invites me to work with them in person! Being based in London, I'm more than happy to get away from my keyboard and on the tube somewhere new and exciting. Peroni got in touch and asked me to head down to the Taste of London Food Festival 2017 where they had an amazing cocktail bar with, you guessed it – gluten free Peroni!
They asked me to take a few snaps which was exceptionally easy when their bar looked so wonderful and their gluten free cocktails were so vibrant! You can check out one of the photos below, or view the full post here.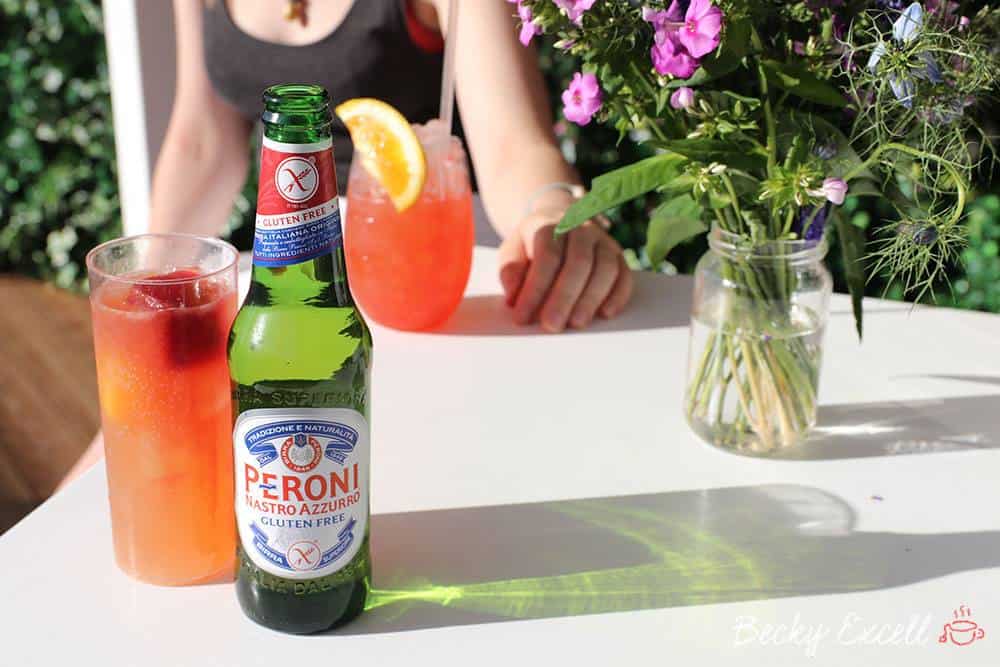 Pure Free From
I seem to be heading into London more and more these days (which is lucky for me as I live so close by!) and this time, it was to visit Pure Free From as a guest on their Facebook live baking show. I can't emphasise how much fun I had doing this!
Steve & Amanda are just amazing at what they do, so I was just happy to be a part of it. I was in charge of the chat for the evening and I even got to hit a massive Piñata with a stick! What more could a girl want? We had so much fun, that I was even invited back for the second and third week!
Sacla' UK
I was lucky enough to be invited down to Sacla's HQ in February to join fellow blogger Planetbased Pixie and MD of Sacla', Claire Blampied for a live Q&A. It was my first time going live on a brand's Facebook page but it was so much fun!
It was so nice just to meet like-minded people when it comes to food (especially where the word 'healthy' is concerned) and it was a little surreal to see everyone in the chat getting involved too! You watch it below:
And we're LIVE at Sacla' HQ where Plantbased Pixie and Gluten Free Cuppa Tea are talking – and tasting – Free From cooking! Join in and comment with your questions…

Posted by Sacla' on Tuesday, 21 February 2017
John Lewis
In February of 2017, I was kindly invited by John Lewis to attend a smoothie making event hosted by Madeleine Shaw. She helped me craft the perfect smoothie, which I nicknamed 'Berry Early' (get it? because it's for when you wake up? oh, nevermind…)
Anyway, it was featured on John Lewis' website with the recipe for everyone to try out! I had a great time attending the event and hope everyone enjoys making my smoothie 🙂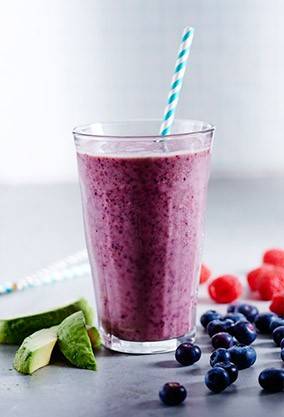 Tescos: Christmas 2016
I was both nervous and excited when I was asked to be in a Christmas advert for Tescos, but as you know, I'm always up for a new challenge! I arrived at a quant looking house in North London where myself, another food blogger and two professional chefs (one of whom was a runner-up in Masterchef: The Professionals!) arrived along with the dreaded in-laws to surprise an unsuspecting Dad.
As a stranger to the kitchen, his daughter Ailani kindly helped him put on a spread fit for a room full of challenging/hard to please guests! I'm not that scary, am I? 😉 See how it turned out by watching here.
Kenwood
When Kenwood asked me to team up with them to promote their 'Disaster Chef' competition, I was immediately glad to hear that it wasn't because they thought I was a disaster in the kitchen! I took a trip to London for the day where I baked my favourite banana bread recipe, filmed by Kenwood's film crew.
This recipe video was created so that competition contestants could bake-along and share their results to win a Kenwood mixer! You can watch the video below 🙂 or just click here!

Tescos: Free From Picnic
When Tescos expanded their Free From range, I was mega excited! But I was even more excited to be invited to their very own Free From Picnic, showcasing all their amazing creations. I was accompanied by two of my favourite fellow bloggers and you can view the result below or by clicking right here.
Genius Gluten Free
In May 2015, I worked with Genius Gluten Free to raise awareness of Coeliac Disease and Gluten Intolerance during Coeliac Awareness Week. I joined Lucinda Bruce Gardyne live across the radio waves on BBC, commercial and digital radio stations.
I spoke of my experiences as a gluten intolerant and gave my advice in dining out gluten free. I always wanted to be a Radio DJ so this was a pretty unreal day for me!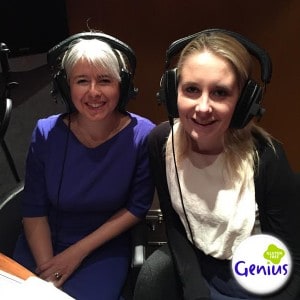 Thanks for reading!
Becky
xxx