Gluten-free pumpkin spice loaf cake recipe with cream cheese frosting – a super moist, spiced sponge lathered with creamy icing. And no, it doesn't taste like a vegetable, much like how a carrot cake doesn't either! Of course, it's Coeliac-friendly too.
Gluten-free pumpkin spice loaf cake recipe, anyone? This has been my go-to autumnal bake for the past few years but I just wanted to perfect it a little more before sharing it with you guys… and I'm happy to say it's now finally been perfected!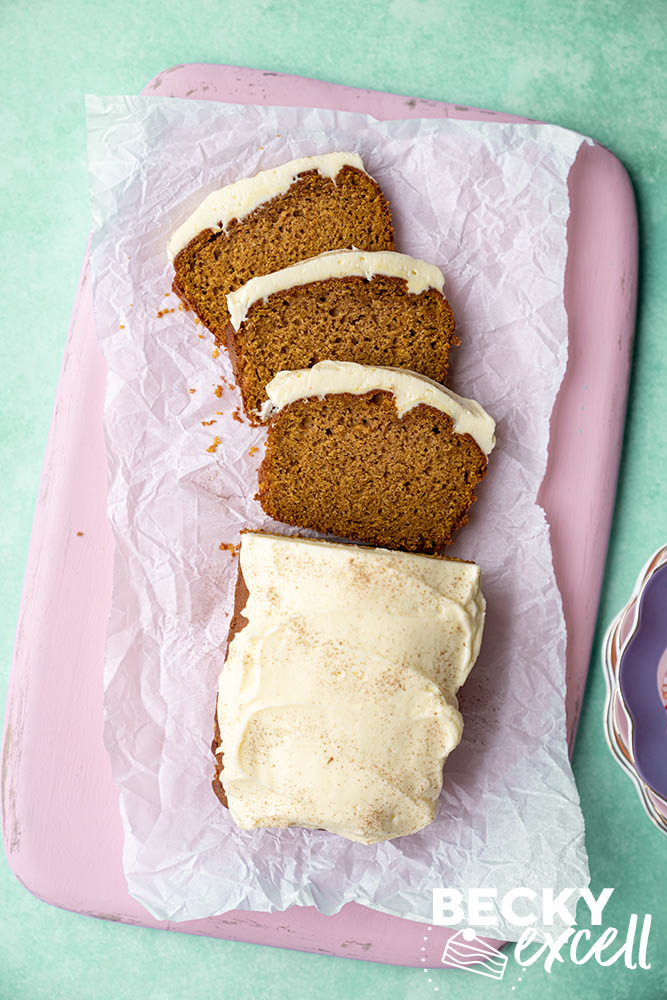 When it's super hot in the summer, I don't generally bake a lot since a) I don't want to melt myself by switching the oven on in an already uninhabitable house and b) I usually lean towards making something cooling!
However, when the sun suddenly prefers to play hide and seek and I begin my annual debate of 'is it mad if I wear a jumper today?' or the even more drastic 'should I put the heating on yet?', this is where bakes like this suddenly pop back into my mind again.
Also, the beginning of Autumn is where I start to notice coffee shops like Starbucks suddenly start selling their own gluten-filled pumpkin spice loaf cake… which of course, we can't eat!
So not surprisingly, switching on the oven and throwing this wonderful cake together instantly seems like a great idea. Here's everything you'll need for it below – which fortunately for you, is very similar to making a carrot cake, but with tinned pumpkin puree instead of carrots! ??
Gluten-free pumpkin spice loaf cake recipe: What you'll need…
Vegetable oil: In cakes that don't use butter, vegetable oil is usually a common ingredient instead. As oil never sets hard like butter would, it means that you'll find your cake is super moist and stays that way for longer.
Eggs: Medium or large (UK size) eggs are fine for this recipe. I used large.
Light brown sugar: This is key for that distinctive caramelised sweetness, which works so well with the spices below.
Gluten-free self-raising flour: This is a simple gluten-free flour blend I buy in the supermarket free from aisle. If you can't find this where you live, you can always make your own using my flour blend recipe here.
Bicarbonate of soda: This is also known as baking soda, but don't confuse it with baking powder! Bicarb is much stronger and certainly not replaceable with baking powder.
Xanthan gum: This is a binder commonly used in gluten-free baking. You'll find it down the free from aisle in supermarkets, though it's not super important if you leave it out of this recipe as the flour blend has a little in it already.
Ground cinnamon, ginger, nutmeg and all-spice: These are my spices of choice, adding a subtle warmth that compliments the sweet pumpkin puree and brown sugar.
Pumpkin puree: This makes this recipe super easy as there's no need to prepare/cook/blend fresh pumpkin. I usually buy mine in Sainsburys or Tesco.
Butter: Though the cake itself doesn't have butter in it, the cream cheese frosting does. Ensure it's softened first, so get it out of the fridge 1-2 hours before you need it.
Cream cheese: I used full-fat cream cheese for this recipe and I'd very strongly recommend you do too. Low-fat cream cheese lacks a high enough fat content to whip and you can end up with a very sloppy, unpleasant mixture!
Icing sugar: This is a staple in almost any frosting or icing. In the US it's known as confectioner's sugar.
Vanilla extract: The better quality your vanilla extract is, the better it will taste!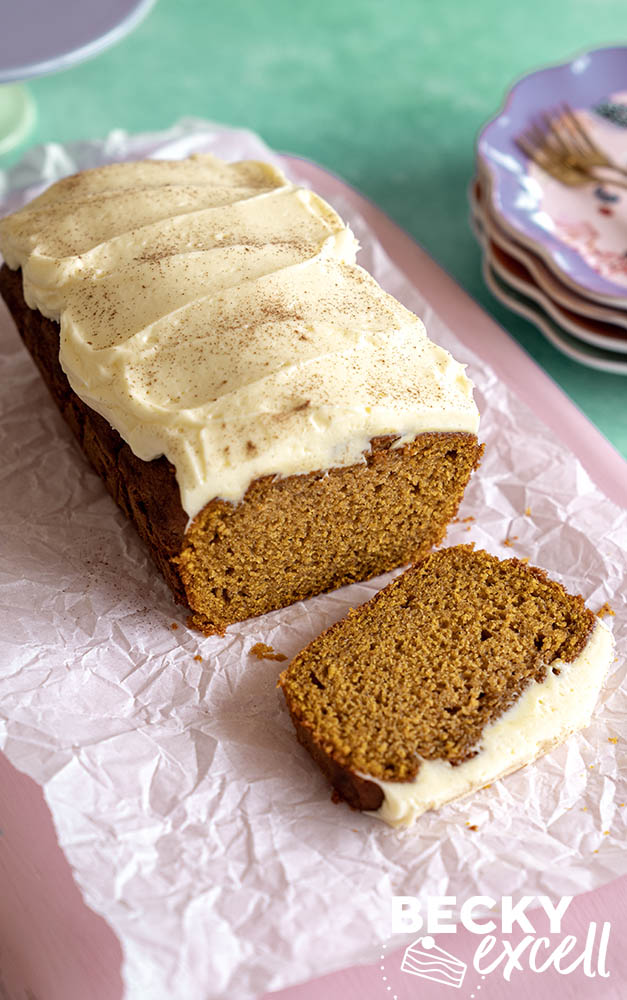 So now you know what you'll need for my gluten-free pumpkin spice loaf cake recipe, how does it taste?
It's very comparable to my carrot cake loaf cake, which is also an oil-based loaf cake, made with brown sugar, that's spiced, incorporates a vegetable with a natural sweetness and has a cream cheese frosting. In fact, the pumpkin here plays a similar role to the carrot in carrot cake: a sweet flavour and additional moisture!
However, my pumpkin spice loaf cake has a little more diversity in the spicing, meaning the spiced flavour is a little more complex to taste, with the pumpkin puree offering a unique sweetness and subtle flavour that you absolutely must try.
In my opinion, you just can't beat a cream cheese frosting, which offers a not-too-excessive layer of cheesecake filling-like luxury. Overall, it's the warming, autumnal cake of my dreams and a must-try for any carrot cake aficionado.
Gluten-free pumpkin spice loaf cake recipe: Frequently Asked Questions
Can I make this recipe gluten-free? Is it suitable for Coeliacs?
It is gluten-free, though nobody would know just by tasting it – trust me!
Bear in mind that minimising cross-contamination is hugely important if you're Coeliac or making this for someone who is. Here's some tips from Coeliac UK on minimising the risk of cross contamination.
Also, make sure that all ingredients used don't have any gluten-containing ingredients. Then make sure that they also don't have a 'may contain' warning for gluten, wheat, rye, barley, oats (which aren't gf), spelt and khorasan wheat (aka Kamut).
Here's some more info from Coeliac UK on identifying safe gluten-free products.
How do I make this recipe dairy-free?
The sponge cake itself is dairy-free so nothing needs to change there.
As for the cream cheese frosting, I'd recommend you head over to my Victoria sponge cake recipe and make the icing from that recipe instead. Simply make it using Stork hard margarine or a hard vegan alternative to butter instead of actual butter.
Unfortunately, I've found that most dairy-free cream cheese isn't a suitable like-for-like swap in cream cheese frosting as it's often too soft and doesn't whip well at all.
Can I make your gluten-free pumpkin spice loaf cake recipe vegan?
Yep! If you follow the instructions above to make this recipe dairy free, then all you've got left to contend with is the eggs.
Here's a few ideas you can use as egg replacements, so each of these = 1 egg.
3 tablespoons of aquafaba (whisked until frothy) – water from a can of chickpeas. Keep the chickpeas for a future dinner!
1 tbsp of ground flaxseed and 3 tbsp of water
Egg replacement powder – I'd recommend using Orgran as it's gluten free.
1 tablespoon of chia/flax seeds mixed with 2 tablespoons of water and left for 10 minutes in the fridge.
3 tablespoons of applesauce.
I haven't tested all of these egg alternatives so let me know how you get on in the comments below.
Is this recipe low FODMAP?
Yes – as long as you use lactose-free cream cheese. That makes one slice of this cake suitable for the elimination phase of the low FODMAP diet.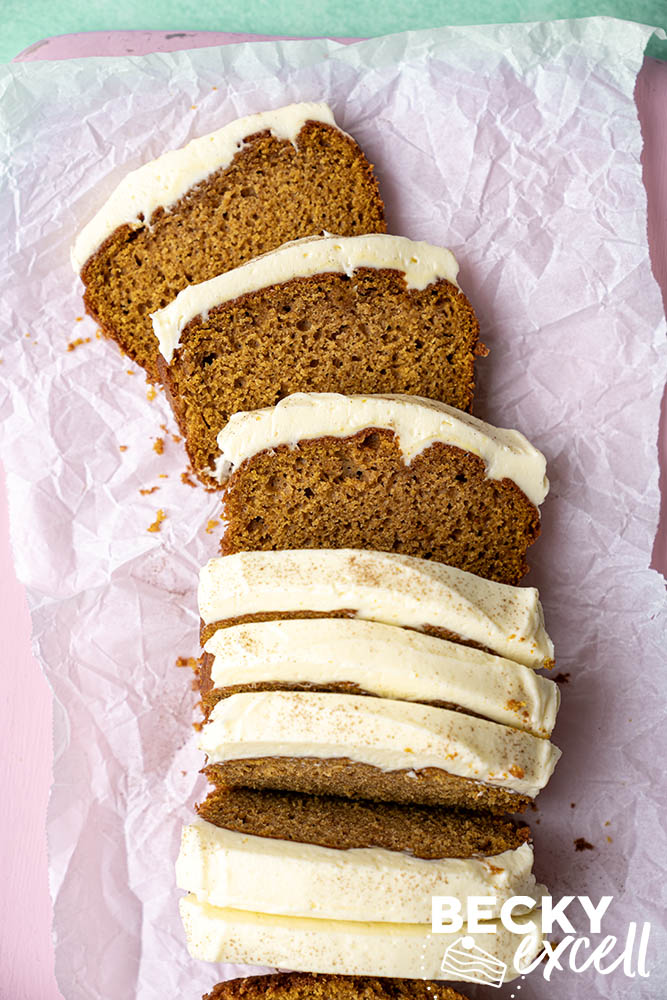 Do I need any special equipment to bake your gluten-free pumpkin spiced loaf cake?
Certainly not! You will need a good quality 2lb loaf tin though, so here's a link to the one I use.
Where do I get tinned pumpkin?
I buy mine in Sainsburys or Tesco. They sell it in Waitrose too, but it's a lot more expensive at the time of writing.
Can I use real pumpkin?
In order to use real pumpkin, you'd need to chop fresh pumpkin, cook it, drain it and blend it. Though I haven't tested it, I am sure you'll have great success making your own pumpkin puree to use in this recipe – give this recipe a try here.
Do I need weighing scales to make your gluten-free pumpkin spice loaf cake recipe?
In short… yes, yes and yes! And I wouldn't advise attempting any of my recipes without them. One of the worst things you can do in any recipe is alter the quantities by mistake or on purpose.
(unless you know what you're doing of course)
Why? Well, you're sort of just gambling with the recipe and praying that it turns out ok, don't you think? And I've generally already done the hard work there for you, so you don't have to do the guesswork with measurements!
A lot of work went into fine tuning ratios and quantities so I wouldn't mess around with them unless you really know your stuff. I'd recommending using digital cooking scales like these so you know you're getting an accurate measurement and replicating my recipe as accurately as poss.
Gluten-free pumpkin spice loaf cake recipe: Tips for perfection!
Follow the recipe and add the ingredients in stages – that way, you can ensure everything is properly incorporated before adding the next ingredients. Don't use the all-in-one method for this one!
Don't forget that you can 'lazy line' your loaf tin. Simply scrunch up a large piece of baking paper and press it into the shape of the tin, then use pegs to hold it in place. Pour in the cake batter, then remove the pegs and bake – no greasing or paper cutting required!
Poke the cake with a skewer in the middle to check if it's done or not. If the skewer comes out clean, then it's done – if not, pop it in for a bit longer.
Ensure your butter is nicely softened before using it make the cream cheese frosting – we're trying to make a nice, smooth icing and hard, lumpy butter won't do you any favours!
Wait until your cake has fully cooled before icing it. Otherwise the icing will melt and just drip off…!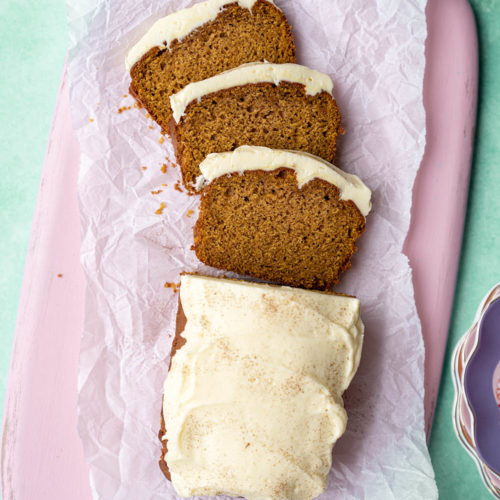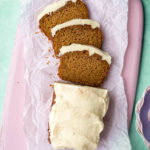 Gluten-free Pumpkin Spice Loaf Cake Recipe
Gluten-free pumpkin spice loaf cake recipe with cream cheese frosting – easy to make using tinned pumpkin and it's Coeliac-friendly.
Ingredients
3

large eggs

175

g

light brown sugar

125

ml

vegetable oil

200

g

tinned pumpkin

1

tsp

vanilla extract

200

g

gluten-free self-raising flour

¼

tsp

xanthan gum

½

tsp

bicarbonate of soda

1.5

tsp

ground cinnamon

0.75

tsp

ground ginger

0.75

tsp

all-spice

0.75

tsp

ground nutmeg

pinch

salt

150

g

butter

softened

150

g

icing sugar

300

g

full-fat cream cheese

1

tsp

vanilla extract
Instructions
Preheat the oven to 160C Fan / 180C and prepare a 2lb loaf tin with non-stick baking paper.

To a large mixing bowl add the oil, light brown sugar and eggs. Mix together until well combined.

Add in the tinned pumpkin and vanilla extract and mix once more.

Add the gluten-free self-raising flour, xnathan gum, bicarbonate of soda, cinnamon, ginger, all spice, nutmeg and a pinch of salt. Gently fold these into the mixture.

Spoon the mixture into your prepared loaf tin and place in the oven for about 50-55 minutes until well risen and golden. Check that the cake is cooked by sticking a skewer into the centre – if it comes out clean, then it's done, if not it might need a little longer.

Allow to cool in the tin for at least 15 minutes before transferring to a cooling rack to cool completely.

To make the cream cheese frosting, mix the softened butter in a stand mixer or with an electric hand mixer on a medium speed for 5 minutes or until pale. Add the icing sugar in two stages and beat for about 3 minutes between each.

Add in the cream cheese and vanilla and beat for 2–3 more minutes until well combined and the icing is light and fluffy, without lumps. Place in the fridge until the cake has fully cooled.

Spread the frosting evenly over the cooled cake and then dust with either ground cinnamon, or a mix of all the spices.
Nutrition
Calories:
529
kcal
|
Carbohydrates:
49
g
|
Protein:
6
g
|
Fat:
36
g
|
Saturated Fat:
16
g
|
Polyunsaturated Fat:
8
g
|
Monounsaturated Fat:
9
g
|
Trans Fat:
1
g
|
Cholesterol:
112
mg
|
Sodium:
274
mg
|
Potassium:
135
mg
|
Fiber:
3
g
|
Sugar:
34
g
|
Vitamin A:
3965
IU
|
Vitamin C:
1
mg
|
Calcium:
78
mg
|
Iron:
1
mg
Thanks for reading all about my gluten-free pumpkin spice loaf cake recipe! If you make it, I'd love to see how it turned out so don't forget to take a snap of your creations and tag me on Instagram!
Any questions about the recipe? Please do let me know by following me on Instagram or TikTok and leaving me a comment on a recent post!
Thanks for reading,
Becky xxx
Don't forget to pin this for later!