My gluten free carrot loaf cake recipe is a secret recipe I've used for years. It's dairy free and low FODMAP too.
Of course, I guess my gluten free carrot loaf cake recipe isn't such a secret now! But I guess I named it that, not because I didn't want to share it with anybody, but because it's my secret weapon when an occasion calls for baking.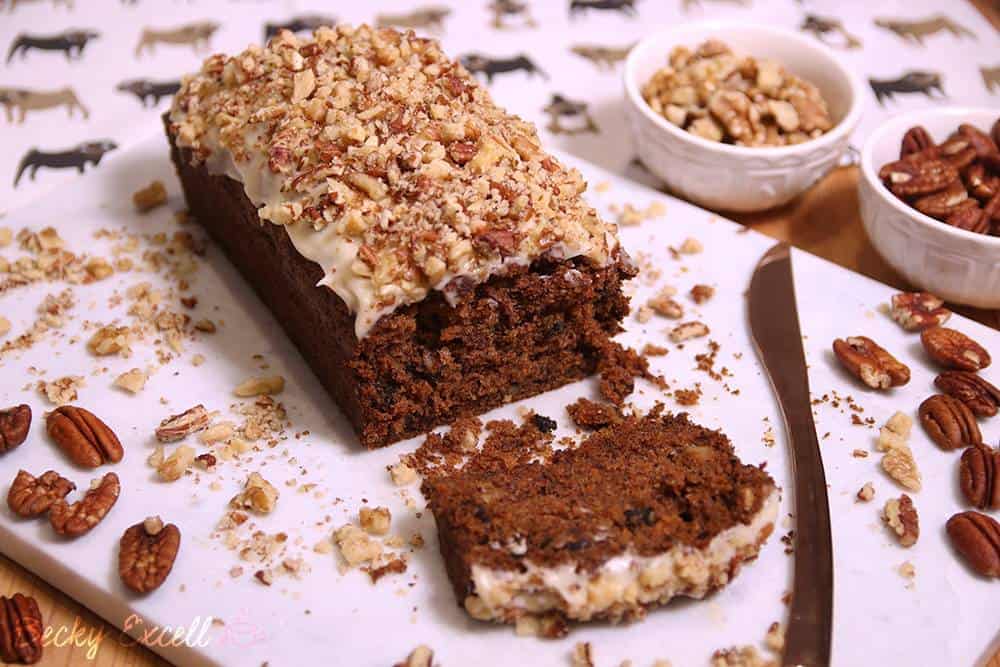 There really isn't an occasion that this recipe isn't simply perfect for, nor is there anybody who doesn't love a good carrot cake. It's a win-win! So if you're in a bit of a pickle and not sure what to bake for someone, just follow my simple rule: "for goodness sake, just bake a carrot cake!"
My gluten free carrot loaf cake is such a simple and easy cake to bake too, yet the results are out of this world. But what's so secret about this recipe anyway I hear you ask? Well, I guess I'd better come clean!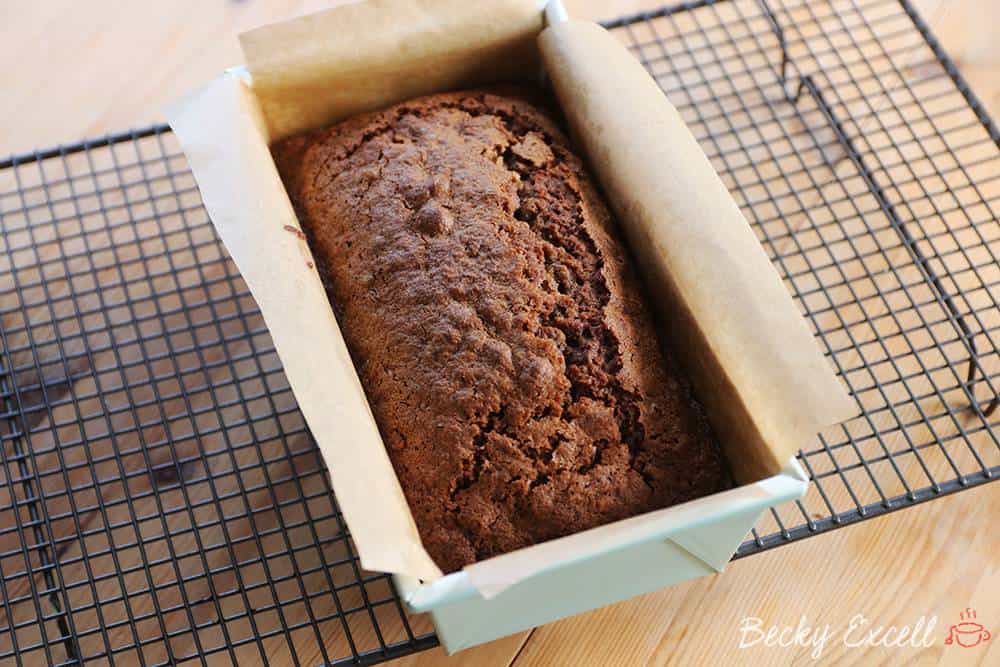 So, what's my first secret ingredient I hear you ask? Orange! Namely orange juice and orange zest, infused right into this amazing little loaf. Orange is the perfect complimentary note in a carrot cake and it works so well with all the spices, walnuts and pecans.
A good carrot cake will already be so lovely and moist, but adding orange zest and juice only elevates it above the rest. I first tried a carrot and orange cake years ago from my local bakery and I changed my gluten free carrot loaf cake recipe the very next day. Orange you glad that I did?
Don't forget to check out my gluten free carrot cake traybake recipe too btw! Click here to check it out.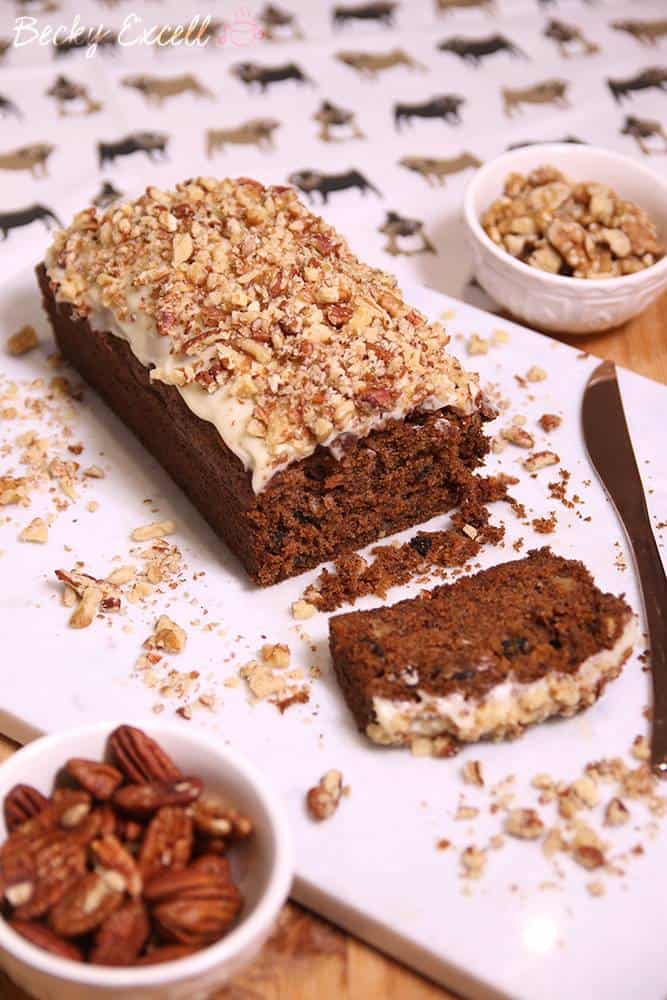 Wow, onto the second secret ingredient already, isn't this exciting? Well to suspend your suspense… my recipe calls for both walnuts and pecans – how scandalous! The combination of both nuts is the best duo since PB&J or… Ant and Dec at a push. They taste almost caramelised as they hide in every slice and just provide yet another subtle twist on this classic bake.
Making this cake dairy free is a doddle too, with my third secret ingredient being Tofutti cream cheese. It's totally dairy free and vegan and it's great for baking. It's such a versatile ingredient and makes dairy free cream cheese icing better than any other alternatives. I usually find it in my local health food shop, but you can always order it online too. Trust me, it's worth hunting for!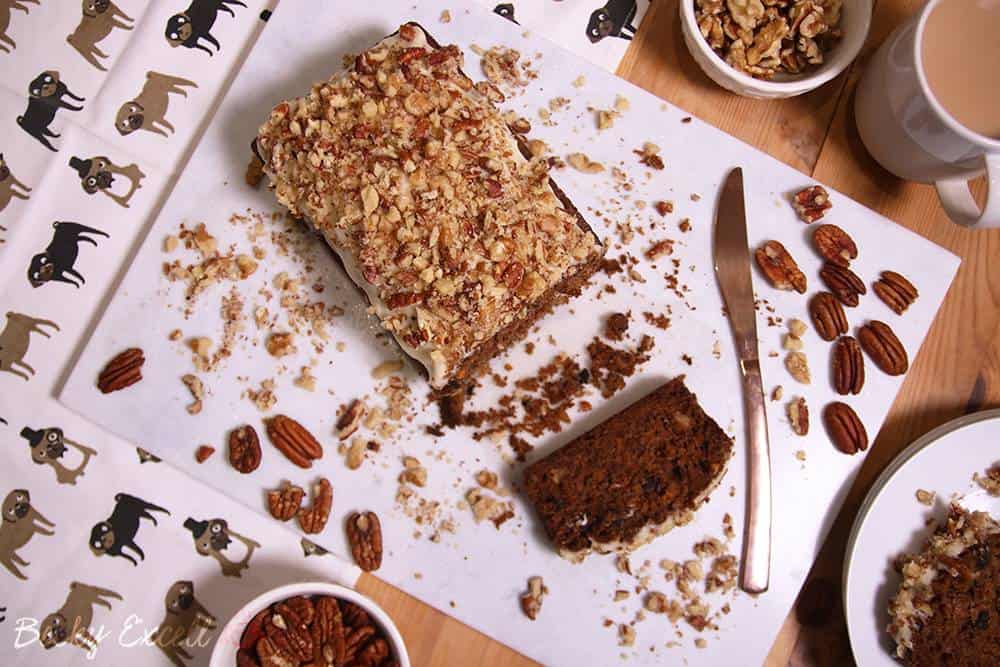 Now I've told you what's in in my gluten free carrot loaf cake… what isn't in it?! Well… I've never been a fan of sultanas in carrot cake, but besides that, they're not low FODMAP either so I've never felt they were worth it. For me, the grated orange zest and orange juice adds that soft, fruity quality instead, so you really don't need to add sultanas at all.
But obviously, there's no gluten, dairy, FODMAPs in my recipe either (as I'm sure I've already mentioned a billion times) which for me, only proves that they're really not necessary in baking. I only wish the rest of the world agreed with me!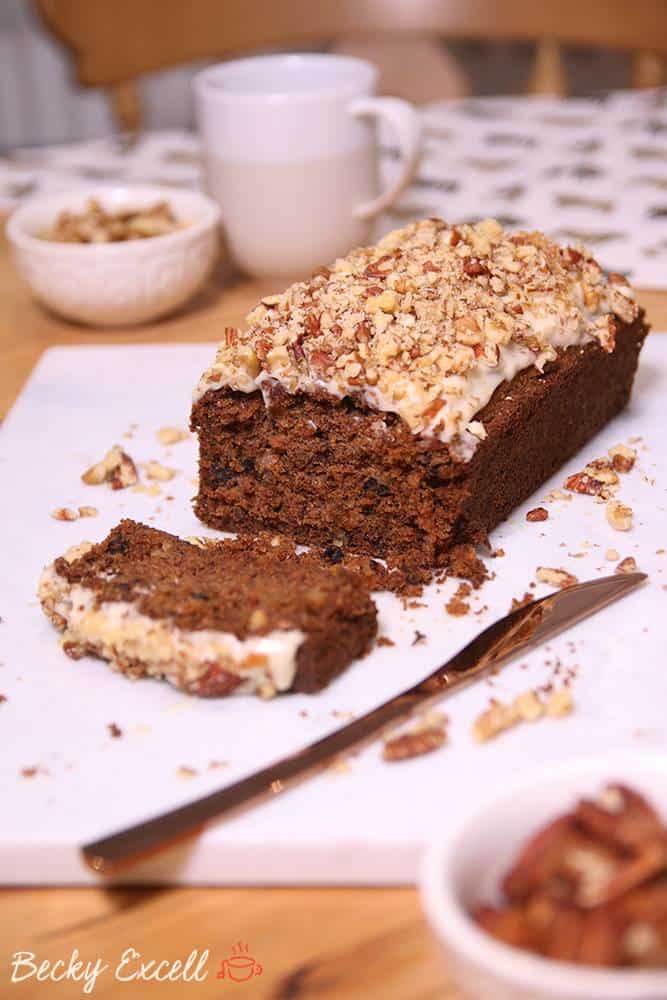 So whether or not you're baking this for a birthday, an anniversary or a bake sale, my top secret gluten free carrot loaf cake recipe will never let you down. I guess it's not top secret anymore! Here's the recipe: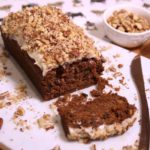 Gluten Free Carrot Cake Loaf
Ingredients
For the cake
150ml vegetable oil

2 eggs

140g soft light brown sugar

170g gluten free self raising flour

2 tsp cinnamon

2 tsp all spice

1 tsp bicarbonate of soda

140g carrots

grated

30g walnuts

chopped

30g pecans

chopped

1 orange

zest and a few tbsp of juice
For the icing
200g dairy free cream cheese

I use Tofutti

50g dairy free spread

90g icing sugar

sifted (I often end up adding a little more but I think this is a good starting point)

pecan and walnuts

crushed (for decoration on top)
Instructions
Line a 2lb loaf tin (standard size) with greaseproof/parchment paper.

Preheat the oven to about 180C/160C Fan.

Whisk together your oil and eggs.

Mix together your sugar, gluten free flour, cinnamon, all spice and bicarbonate of soda in a large bowl.

Add to your bowl the grated carrot, a few tbsp of the juice from your orange (optional) and the orange zest, chopped pecans and walnuts and the egg/oil mixture. Then mix thoroughly with a wooden spoon.

Pour/spoon into your loaf tin and bake in the middle of your preheated oven for around 50 - 55 minutes, or until a skewer comes out clean. Leave the cake to cool in the tin.

Whilst your gluten free carrot cake cools, make the icing. Beat together all your icing ingredients in a bowl, ensure your icing sugar is sifted and you might also choose to add some more icing sugar if you want a thicker consistency (I usually make my icing by hand but you can use an electric whisk if you prefer).

Spread over the top of your completely cooled gluten free carrot cake and then liberally sprinkle with crushed pecans and walnuts.
Recipe Notes
* You can ice your carrot cake loaf however you like, I always think some sort of cream cheese icing is the way forward though!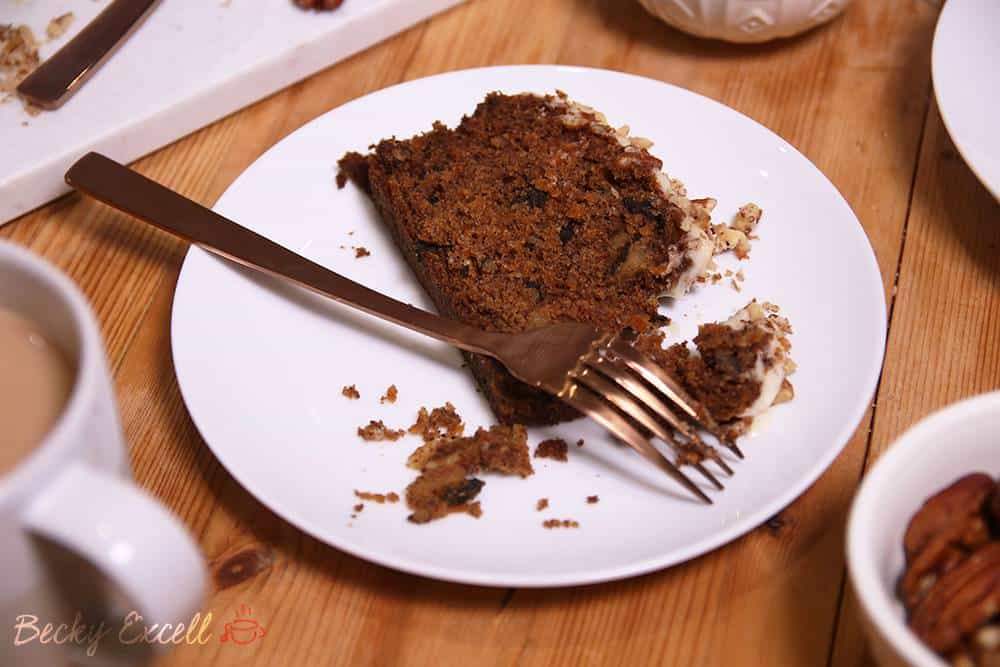 Thanks for checking out my gluten free carrot loaf cake recipe! I hope you loaf it as much as I do 🙂
Let me know if you get the chance to give it a try by leaving a comment below or on Facebook / Twitter / Instagram.
Thanks for reading and happy baking as always,
Becky xxx
Oh and don't forget to pin this before you leave!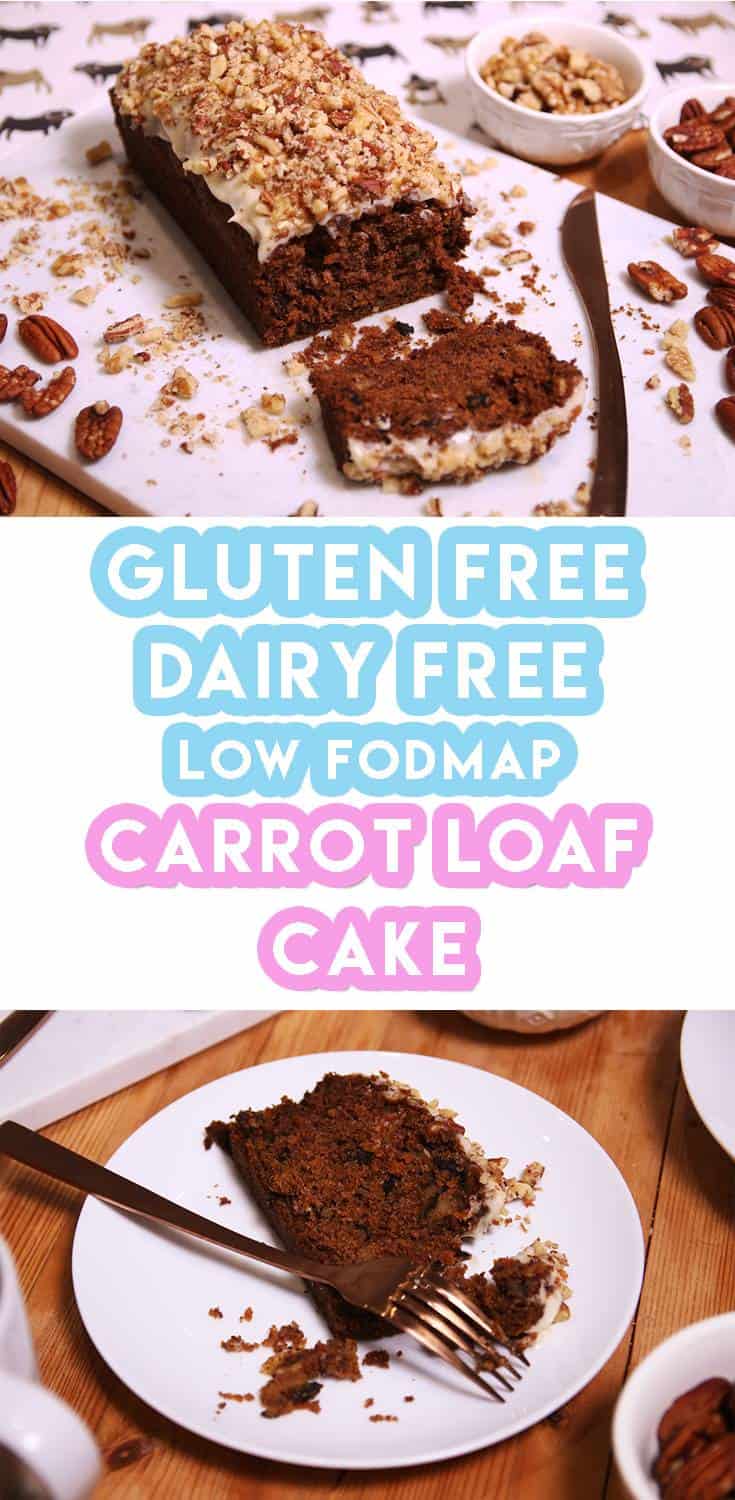 Comments