Gluten-free carrot cake recipe – topped with rainbow sprinkles! Super easy to make and nobody would know it's Coeliac-friendly and wheat-free.
Gluten-free carrot cake recipe? Sometimes the simplest bakes are the best, right? Well this is one of those! Super easy to make dairy-free with one simple swap too.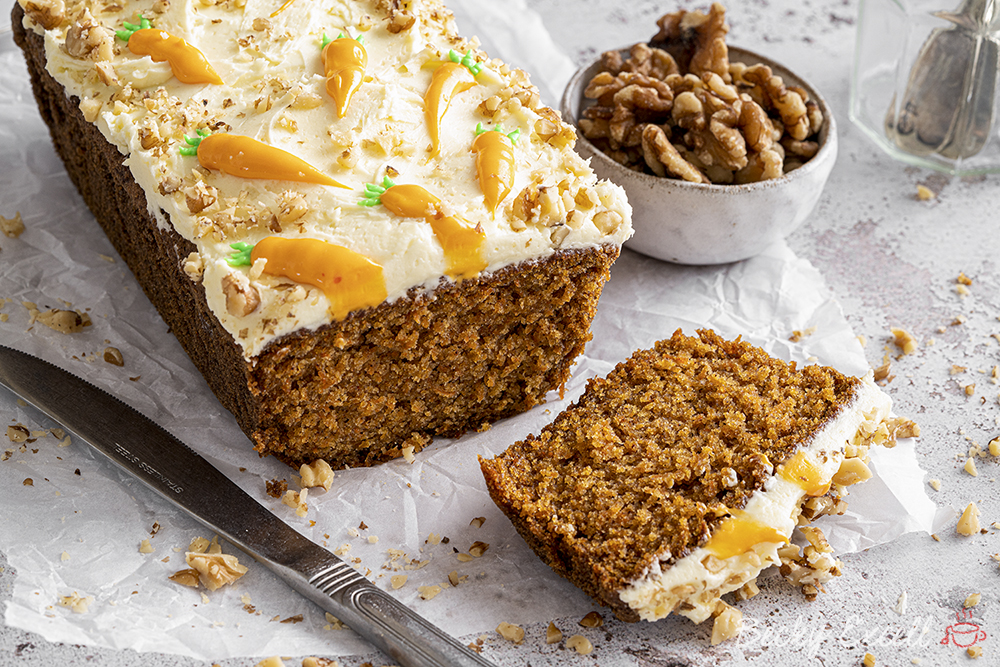 Sprinkles make everything better, right? Well, my gluten-free carrot cake recipe is proof!
I don't say it lightly when I say you'd never know this cake is gluten-free. After all, there's nowhere to hide with a recipe like this!
But fortunately, I've been making this cake forever so I know it works, every time. And it will for you too – promise.
Here's a few reasons you need to make this if you weren't convinced already…
Why make my gluten-free carrot cake recipe?
The sponge is super easy to make using the all-in-one method. Just bung it all in a bowl and mix!
The sponge is golden, soft, light and moist – NOT crumbly or dry at all.
This recipe includes the recipe for my ULTIMATE fluffy vanilla buttercream that you can use in tons of other recipes.
You'd never know this recipe was gluten-free AT ALL – yes, even muggles will eat this, so watch out!
This is super easy to make dairy-free with one simple swap.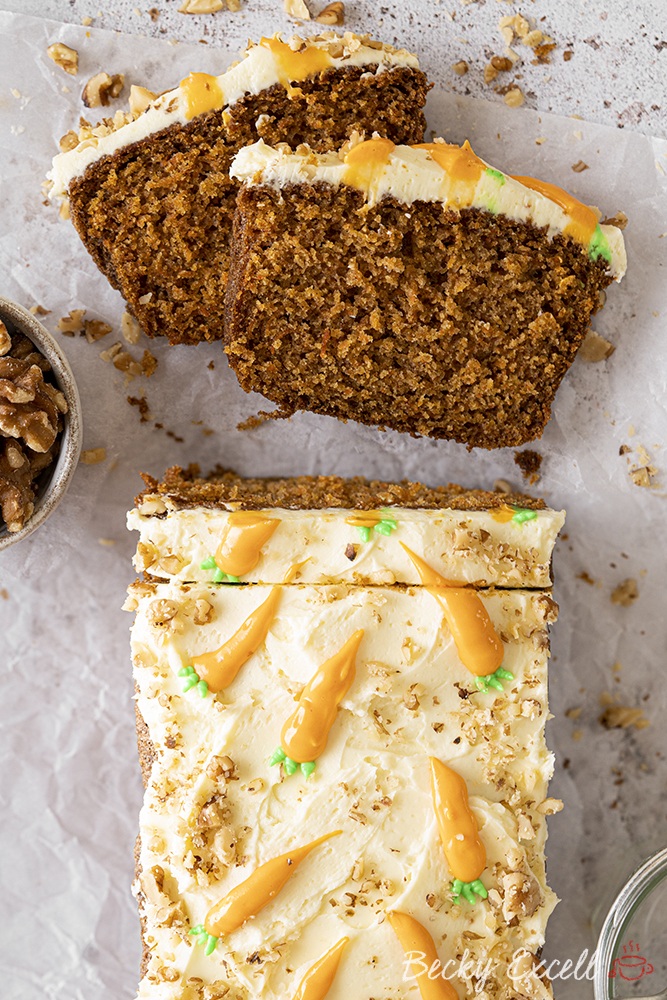 But what does my gluten-free carrot cake taste like, I hear you ask?
The sponge is golden, super moist, sweet and soft with a subtle hint of vanilla. The vanilla buttercream on top is lovely and fluffy, whipped up so it's really light, adding a little extra sweetness too.
Then, those colourful sprinkles just finish this off perfectly, injecting tons of colour and a satisfying crunch.
Honestly, every bite is pure heaven. So here's everything you'll need for my gluten-free carrot cake recipe. Keep scrolling until you see the recipe card below if you're looking for the method…
Gluten-free carrot cake recipe: What you'll need…
Vegetable oil – Vegetable oil is the traditional ingredient of choice over butter in a carrot cake. It gives the cake more of a moist texture and as a small bonus, it makes the sponge-part dairy-free if that helps!
Eggs – I used larges eggs for this recipe, though medium eggs should be fine too.
Light brown sugar – Instead of caster sugar, which has a more neutral flavour, light brown sugar adds a caramel-like flavour thanks to the naturally occurring molasses.
Gluten-free self-raising flour – I use Doves Farm's FREEE flour, which you easily find down the free from aisle in supermarkets. If you can't find a blend like this where you live, you can always make your own using my gluten-free flour recipe.
Bicarbonate of soda – Also known as baking soda, please note this is NOT the same as baking powder. Baking powder is much weaker and won't work the same!
Ground cinnamon – A carrot cake is always lightly spiced, giving it a distinct, warming flavour. So raid your spice racks for ground cinnamon and…
Ground ginger – A little of this is like a big warm hug, but don't go overboard or it can be very hot!
Orange zest – I just zest a fresh orange and trust me, it's worth it.
Grated carrot – Would it really be a carrot cake without carrot? Of course not! It ensures a moist, light and fluffy texture, so get grating. I grate mine on a regular box grater.
Chopped pecans, walnuts or raisins – These are optional additions to the sponge cake, but ensure you have walnuts handy for finishing the top of the cake.
Butter – Butter is king in cakes and buttercream, but make sure yours is softened before you mix up the cake batter. Leaving it out of the fridge for a couple of hours should do it.
Icing Sugar – You'll need this for the buttercream as caster sugar won't cut it whenever it comes to creating icing.
Full-fat cream cheese – Why full-fat? It's the fat content that keeps the icing stable – low-fat cream cheese is too soft and doesn't set well when used for cream cheese frosting.
Vanilla extract – This finishes cream cheese frosting perfectly – otherwise your only other flavourings are butter and cream cheese!
Green and orange food colouring paste – This is optional and only required if you intend to pipe little carrot decorations like I did in the photos. See the FAQ section for the food colouring pastes I recommend.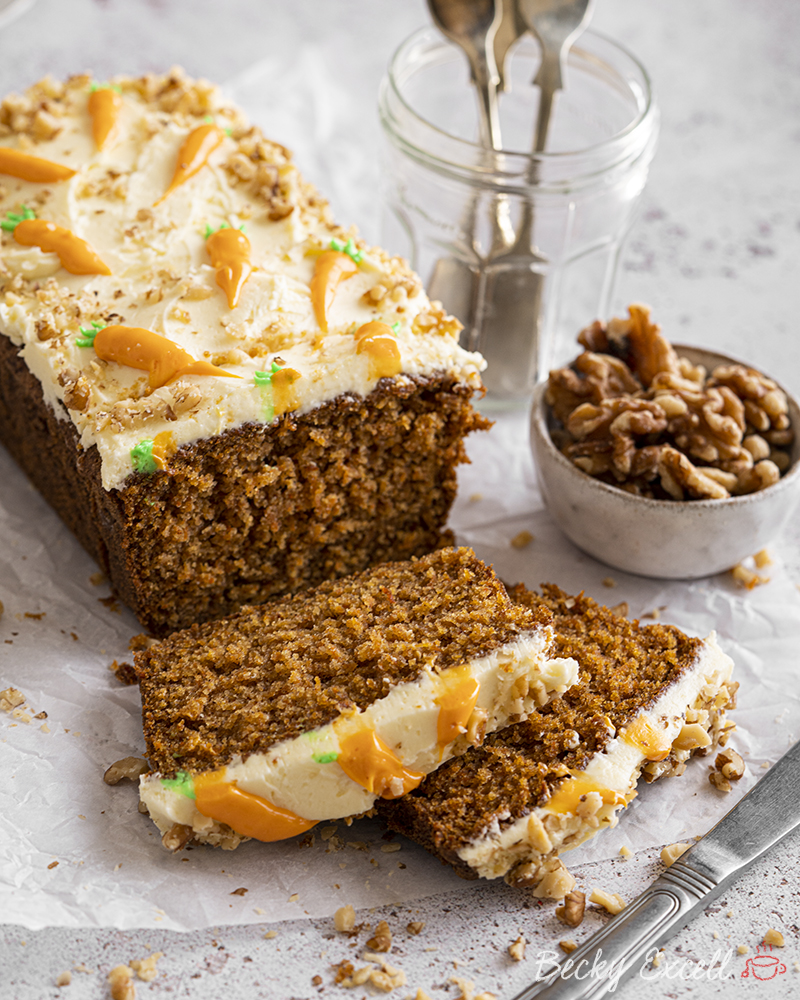 So I thought I'd kick things off with a little frequently asked questions section – if you just want the recipe, then keep scrolling.
But I've thrown in some tips here that will be really helpful if this is your first time making this, or you want to adapt it. So here they are!
Gluten-free carrot cake recipe: Frequently Asked Questions
Can I make this recipe gluten-free? Is it suitable for Coeliacs?
It is gluten-free, though nobody would know just by tasting it – trust me!
Bear in mind that minimising cross-contamination is hugely important if you're Coeliac or making this for someone who is. Here's some tips from Coeliac UK on minimising the risk of cross contamination:
Also, make sure that all ingredients used don't have any gluten-containing ingredients. Then make sure that they also don't have a 'may contain' warning for gluten, wheat, rye, barley, oats (which aren't gf), spelt and khorasan wheat (aka Kamut).
Here's some more info from Coeliac UK on identifying safe gluten-free products.
Can I make your gluten-free carrot cake recipe dairy free?
Yep – you can just by swapping the cream cheese frosting for regular vanilla buttercream. Unfortunately, I've found that most dairy-free cream cheese isn't a suitable like-for-like swap in cream cheese frosting as it's often too soft.
So head over to my vanilla loaf cake recipe and make the icing from that recipe instead. Simply make it using Stork hard margarine instead of butter.
Can I make your gluten-free carrot cake recipe vegan?
Yep! If you follow the instructions above to make this recipe dairy free, then all you've got left to contend with is the eggs.
Here's a few ideas you can use as egg replacements, so each of these = 1 egg.
3 tablespoons of aquafaba (whisked until frothy) – water from a can of chickpeas. Keep the chickpeas for a future dinner!
1 tbsp of ground flaxseed and 3 tbsp of water
Egg replacement powder – I'd recommend using Orgran as it's gluten free.
1 tablespoon of chia/flax seeds mixed with 2 tablespoons of water and left for 10 minutes in the fridge.
3 tablespoons of applesauce.
I haven't tested all of these egg alternatives so let me know how you get on in the comments below.
Can I make this recipe low FODMAP?
Yes – as long as you use lactose-free cream cheese. That makes one slice of this cake suitable for the elimination phase of the low FODMAP diet.
Which food colouring paste did you use for the carrot decorations?
I always recommend using food colouring paste as you only need a very small amount to achieve a vibrant colour.
With other food colouring, you often need to add a lot to achieve the same result, which dilutes your mixture and can make it too runny.
For the green parts of the carrot decorations, I used Sugarflair party green and for the orange part, I used Sugarflair Egyptian orange.
Of course, creating these carrot decorations is entirely optional!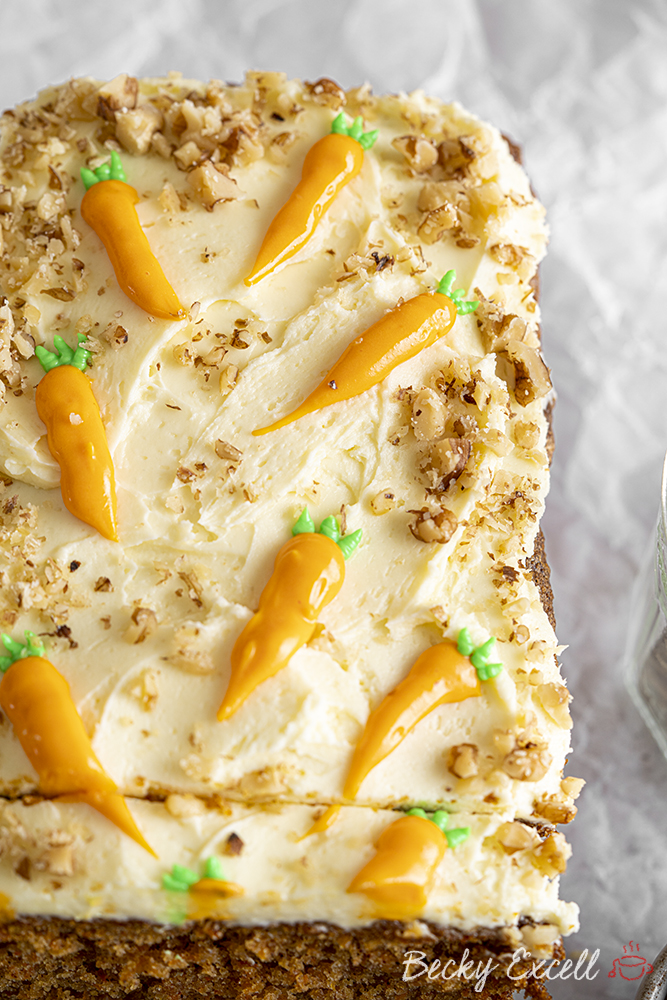 Can I make this using the all-in-one method?
As this recipe contains more ingredients than your average sponge cake, I'd definitely recommend mixing them in one by one.
This ensures that everything is evenly mixed in and smooth before adding more ingredients, otherwise you can end up with an unsatisfactory bake!
Can I make your gluten-free carrot cake in a food processor or standing mixer?
Of course you can – and it'll save you on elbow grease! I don't use a standing mixer or food processor to make the cake mixture personally – I use an electric whisk.
For the buttercream, I always prefer to make it in my stand mixer, purely because of the amount of mixing it takes to beat the butter until it becomes pale/mixing in the icing sugar.
Can I make your gluten-free carrot cake recipe by hand?
You can of course, bake this without any assistance from any appliance – just a good ol' fashioned silicone spatula will do. Just make sure you give it a lot of welly, otherwise your mixture won't be consistent and might not bake properly.
Making the buttercream by hand is definitely possible, but it'll take longer and requires a little more effort. But it's definitely doable!
Do I need any special equipment to bake your gluten-free carrot cake recipe?
Certainly not! You will need a good quality 2lb loaf tin though, so here's a link to the one I use.
Does this recipe need xanthan gum?
In some of my recipes, yes, but I wouldn't recommend leaving xanthan gum out of this one. You'll see xanthan gum in a lot of my recipes as it's an essential ingredient in gluten-free baking.
I actually find that I don't need additional xanthan gum for this recipe as the eggs provide enough binding powder.
Plus, there's a little xanthan gum in gluten-free self-raising flour anyway, which seems to be sufficient here.
Can I make this recipe using other gluten-free flours like buckwheat flour or coconut flour?
There's a big difference between 'gluten-free plain/self-raising flour' and a *singular* type gluten-free flour. When I say 'gluten-free plain or self-raising flour' in a recipe, I mean a BLEND of gluten-free flours, not just one, singular flour.
Most gluten-free flour you buy in the supermarket typically contains a blend of rice flour, potato flour, maize flour, tapioca flour AND buckwheat flour. That's a lot of different flours!
In gluten-free self-raising flour, there's usually even a little baking powder and xanthan gum in it too which always helps. So to replace it with just one specific type of flour… that's not going to cut it at all. Definitely go for a gluten-free flour blend.
Do I need weighing scales to bake your gluten-free carrot cake recipe?
In short… yes, yes and yes! And I wouldn't advise attempting any my recipes without them.
A lot of work went into fine tuning ratios and quantities and for me, baking is all about consistency and precision. I want you to make this recipe and for it to turn out EXACTLY like mine did.
I'd recommending using digital cooking scales like these so you know you're getting an accurate measurement and replicating my recipe as accurately as poss.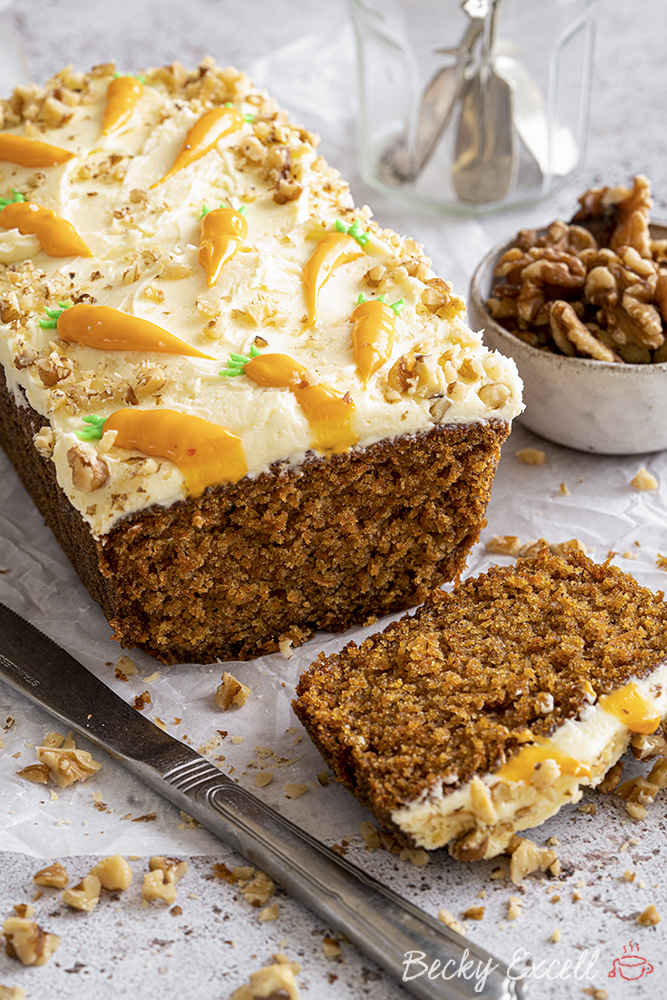 Can I bake your gluten-free carrot cake recipe with less sugar / without sugar?
I can definitely understand the need to reduce sugar in our foods, but this is one of the recipes where I wouldn't advise it.
Of course, the sugar isn't just for sweetness – it's integral to the structure of the cake once baked and is super important.
The more you reduce the sugar in the sponge, the more dry and 'mealy' the cake will become.
You can of course reduce the amount of cream cheese frosting you put on top if you're concerned about sugar – it's up to you.
How long can I keep your gluten-free carrot cake for?
I've kept it for about 4-5 days in an air-tight container with no problems. If you need it any longer than that, I'd highly recommend freezing it (see advice below for doing that)
When the cake starts getting a little dry, it's probably starting to get past its best.
Can I freeze your gluten-free carrot cake?
Of course! I've frozen it for up to 2-3 months no problem. Ideally, slice up the cake first before freezing – that way you can simply defrost slices as and when you need them.
Plus, it'll thaw a lot quicker. When you want to eat it, each slice should take around 3 hours to defrost at room temperature.
How can I tell when my gluten-free carrot cake is done?
Grab a skewer and give it a poke in the centre. If it comes out clean, then it's done!
But if the skewer comes out moist and cake-like, it's best to pop it back in for a bit longer.
Gluten-free carrot cake Recipe: Method
Oh and here's a printable version of my gluten-free carrot cake recipe. Please remember to give it 5 stars if you tried it and enjoyed it as it helps people know it's worth trying too! ⭐️ Feel free to leave your written reviews in the comments below this post.
Gluten-free carrot cake recipe - BEST EVER! (dairy-free option)
Gluten-free carrot cake recipe - all you need is a 2lb loaf tin, no baking experience required! Coeliac-friendly and wheat-free too. See the FAQ for advice on making this recipe dairy-free.
Ingredients
For the cake
150

ml

vegetable oil

3

eggs

175

g

light brown sugar

200

g

gluten-free self-raising flour

1

tsp

bicarbonate of soda

1

tsp

ground cinnamon

½

tsp

ground ginger

Zest of 1 orange

175

g

– 200g grated carrot

50

g

chopped pecans

walnuts or raisins (optional)
For the cream cheese frosting (use dairy-free buttercream in FAQ section if necessary)
150

g

butter

softened

150

g

icing sugar

300

g

full-fat cream cheese

1

tsp

vanilla extract

Green and orange food colouring paste

optional

25

g

walnuts

chopped (for the top of the cake)
Instructions
Preheat your oven to 160C Fan / 180C and prepare a 2lb loaf tin with non-stick baking paper.

To a large mixing bowl add your oil, light brown sugar and eggs. Mix together (I use an electric hand whisk) until well combined.

Add your flour, bicarbonate of soda, cinnamon and ginger. Gently fold these into the mixture.

Next, add your orange zest and grated carrot (at this stage you could add walnuts, pecans or raisins if you like. Fold them into the mixture so they're evenly dispersed.

Spoon your mixture into your prepared loaf tin and place in the oven for about 50-55 minutes until well risen and golden. Check that the cake is cooked by sticking a skewer into the centre – if it comes out clean, then it's done. Allow to cool in the tin for around 15 minutes before transferring to a cooling rack to cool completely.

To make your cream cheese frosting, mix your softened butter in a stand mixer or with an electric hand mixer on a medium speed for 5 minutes or until pale. Add your icing sugar in two stages and beat for about 3 minutes between each.

Add in your cream cheese and vanilla and beat for 2–3 more minutes until well combined and the icing is light and fluffy, without lumps. Place in the fridge to chill briefly until you need it.

Once your cake has cooled cover the top in the cream cheese frosting. If creating the carrot decorations on top, ensure that you leave 3 tablespoons-worth in one bowl and 1.5 tablespoons-worth in another bowl.

Add green food colouring to the smaller amount of cream cheese frosting and orange to the other, then mix in. Transfer your coloured cream cheese frosting into two separate piping bags and snip the ends off to leave a 6mm hole in the orange bag and a 3mm hole in the green bag.

Pipe the orange frosting on top of your cake first - pipe a thick line and as it nears 2-3cm long, stop piping and pull the bag away to create a pointy end to the carrot decoration. Repeat to create as many carrot will fit. Use the green frosting to pipe three lines coming out of the top of each carrot for the leaves.

Finish with chopped walnuts and enjoy!
Notes
Remember to keep this cake in the fridge due to the cream cheese frosting.
You can always make this cake with buttercream icing if you prefer.
Thanks for reading all about my gluten-free carrot cake recipe! If you make this, I'd love to see how it turned out so don't forget to take a snap of your creations and tag me on Instagram!
Any questions about the recipe? Please do let me know by following me on Instagram and leaving me a comment on a recent photo!
If you want to send me a photo of how your bake turned out, you can request to join my Facebook group and post it there. Myself and everyone else would love to see it!
Thanks for reading,
Becky xxx
Don't forget to pin this for later!