Gluten-free cheese puffs recipe! All you need are 5 ingredients and some salt to make this popular Brazilian snack and breakfast food.
Gluten-free cheese puffs recipe, anyone? This simple recipe makes use of the magical ingredient that is tapioca starch (buy it online here before starting), which cannot be substituted for anything else. So make sure you have it before planning to take on this one!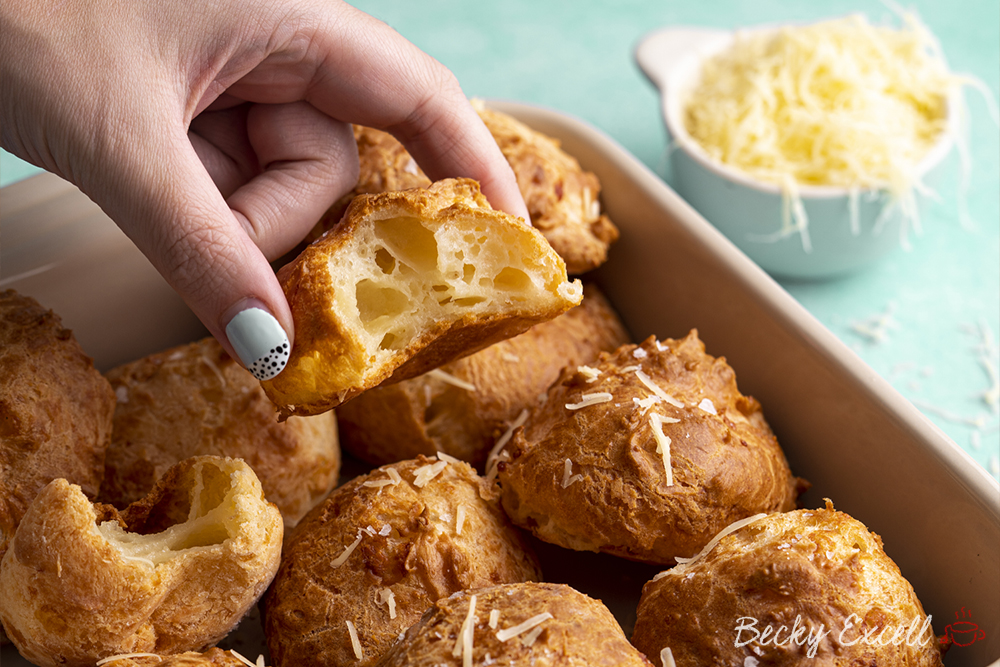 Here's yet another recipe that almost made it into the bread chapter of my second book, 'How To Bake Anything Gluten-free'… but I couldn't quite find enough space to squeeze it in!
This recipe was inspired by the mini cheese bread pão de queijo, which is a popular Brazilian snack and breakfast food that I first tried at a London food market. Why did I go for them, I hear you ask?
Well, not only did they look wonderfully golden, cheesy and crispy (and a lot more perfectly round than mine are!) but if made correctly, they're naturally gluten-free.
Unfortunately, finding these out in the wild where I live is basically impossible, so here's how I make my own at home.
Here's all the simple ingredients you'll need to make it possible:
Gluten-free cheese puffs recipe: What you'll need…
Milk: I use semi-skimmed but whole or skimmed works fine too.
Vegetable oil: Any neutral-flavoured oil works fine here.
Tapioca starch: This is the magical ingredient which can't be substituted! This starch has a natural stretchy quality which helps each pao puff up and create those lovely pockets of air inside. Other starches will likely be dense, squidgy and sticky in the middle!
Eggs: I used two large eggs for this recipe but medium would be ok instead.
Cheese: Of course, this is the most important part as it's the only thing that gives these flavour! I use a blend of Parmesan, mozzarella and extra mature cheddar.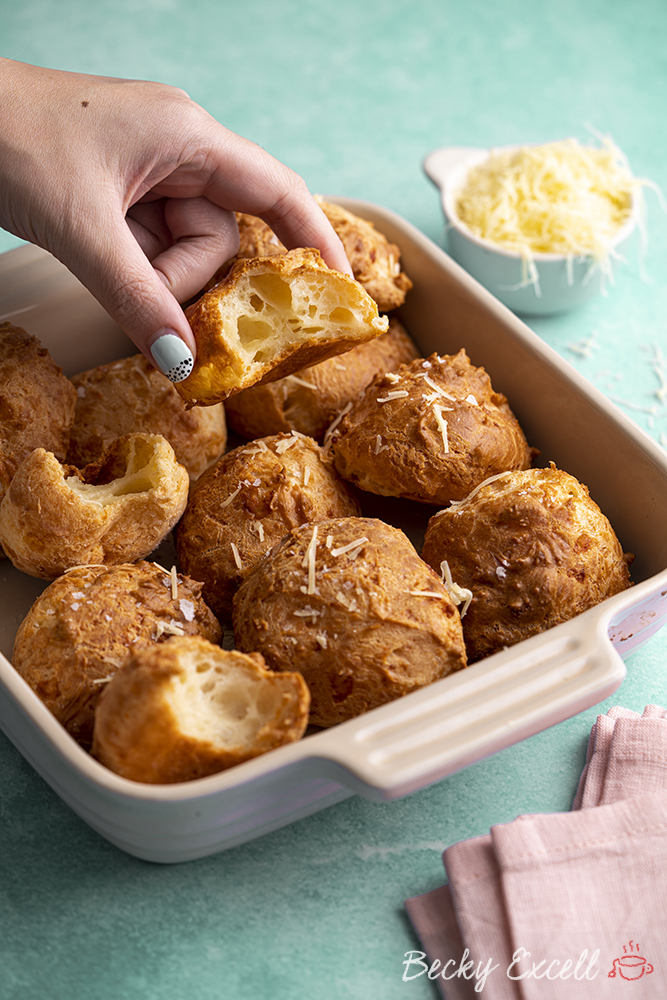 So, what do my gluten-free cheese puffs taste like?
They're crisp on the outside, light and chewy in the middle with an intensely cheesy flavour in every bite.
They sort of taste like something that's been deep fried… but in reality, you just make them in the oven! They're the perfect mobile lunch and you can pair them with all sorts of accompaniments, though I just love mine with a little chutney!
Here's a few frequently asked questions before we get started:
Gluten-free cheese puffs recipe recipe: Frequently Asked Questions
Can I make this recipe gluten-free? Is it suitable for Coeliacs?
It is gluten-free, though nobody would know just by tasting it – trust me!
Bear in mind that minimising cross-contamination is hugely important if you're Coeliac or making this for someone who is. Here's some tips from Coeliac UK on minimising the risk of cross contamination.
Also, make sure that all ingredients used don't have any gluten-containing ingredients. Then make sure that they also don't have a 'may contain' warning for gluten, wheat, rye, barley, oats (which aren't gf), spelt and khorasan wheat (aka Kamut).
Here's some more info from Coeliac UK on identifying safe gluten-free products.
Can I make your gluten-free cheese puffs recipe dairy-free?
Of course, you'd need to use dairy-free milk first of all. Next, use a smoked dairy-free cheese instead of my mix of cheeses and you should be good to go!
Can I make your gluten-free cheese puffs recipe vegan or vegetarian?
This recipe can easily be made vegetarian by using more cheddar or mozzarella instead of parmesan.
Unfortunately I haven't been able to make this vegan as it relies on two dairy products in considerable quantity and two eggs – that's a bit too much to simply swap out and I'd imagine the other measurements would need to be considerably tweaked to compensate!
Is this recipe low FODMAP?
Use lactose-free milk and this recipe is low FODMAP!
What else can I use instead of tapioca starch? Can I use cornflour (corn starch)?
Nothing else, I'm afraid! Tapioca starch is so unique that no substitute would work in the same way. It's the only starch that has a natural stretch to it, whereas other tend to stick together and form a rather dense, sticky gel. I'm especially firm on this because I don't want anyone to waste their ingredients!
Can I freeze your gluten-free cheese puffs recipe?
Yes! I've frozen them for 2-3 months and after allowing them to fully thaw at room temperature, you can simply rewarm them in the microwave to refresh.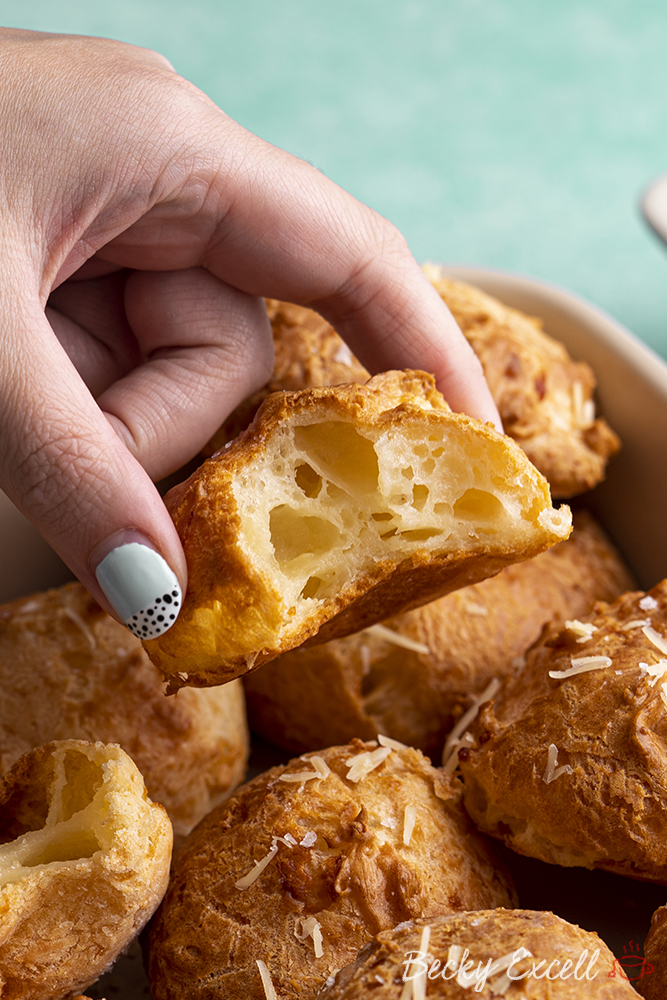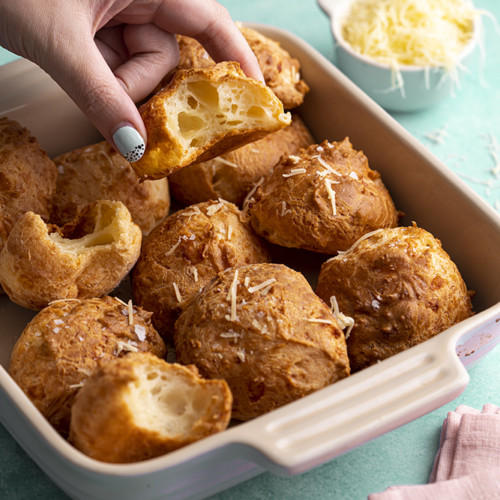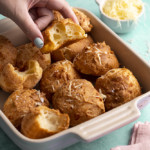 Gluten-free Cheese Puffs Recipe
Gluten-free cheese puffs recipe – a 5-ingredient recipe using the magical ingredient tapioca starch. Gluten-free and Coeliac-friendly.
SERVINGS:
18
Cheese Puffs
Ingredients
240

ml

milk

100

ml

vegetable oil

300

g

tapioca starch

2

large eggs

beaten

200

g

cheese

mix of parmesan, extra mature cheddar and mozzarella 

1

tsp

salt
Instructions
Preheat your oven to 200°C fan / 220°C / 400°F. Line two large baking sheets with non-stick baking parchment. 

Place the milk, vegetable oil and salt into a small saucepan and place on a medium heat, then bring to the boil. Once just boiling, remove from the heat. 

Add the tapioca starch to a large mixing bowl and then add the warm milk mixture. Mix thoroughly using a stand mixer, electric hand whisk or by hand – it is hard work but worth it! 

Gradually mix in your beaten eggs until well combined and smooth, then stir in your grated cheese. You can use any variety of cheese, it's up to you! At this point, the mixture should be thick and very sticky. 

Spoon out about 18 large balls onto your baking sheets using a tablespoon (and a second tablespoon to help ease the dollops off) – they don't need to look perfect or neat, but ensure they're similar in size. Make sure you leave space between each ball as they will puff up. 

Bake in the oven for 15–20 minutes until golden, larger in size and crisp. Allow to cool briefly on a wire rack before enjoying warm or cold. 
Nutrition
Calories:
161
kcal
|
Carbohydrates:
15
g
|
Protein:
4
g
|
Fat:
10
g
|
Saturated Fat:
3
g
|
Polyunsaturated Fat:
3
g
|
Monounsaturated Fat:
2
g
|
Trans Fat:
1
g
|
Cholesterol:
31
mg
|
Sodium:
214
mg
|
Potassium:
39
mg
|
Sugar:
1
g
|
Vitamin A:
160
IU
|
Calcium:
98
mg
|
Iron:
1
mg
Thanks for reading all about my gluten-free cheese puffs recipe! If you make it, I'd love to see how it turned out so don't forget to take a snap of your creations and tag me on Instagram!
Any questions about the recipe? Please do let me know by following me on Instagram and leaving me a comment on a recent photo!
Thanks for reading,
Becky xxx
Don't forget to pin this for later!