One-pot cheesy chicken rice recipe – a comforting dinner that's perfect for when you don't really feel like cooking… or washing up! This recipe has over 500k views on TikTok so I think it's about time you gave it a try, don't you think?
One-pot cheesy chicken rice recipe – creamy, cheesy, herby rice packed with chunky chicken, broccoli and carrot. It's a meal that everyone will enjoy, whether you're gluten-free or not!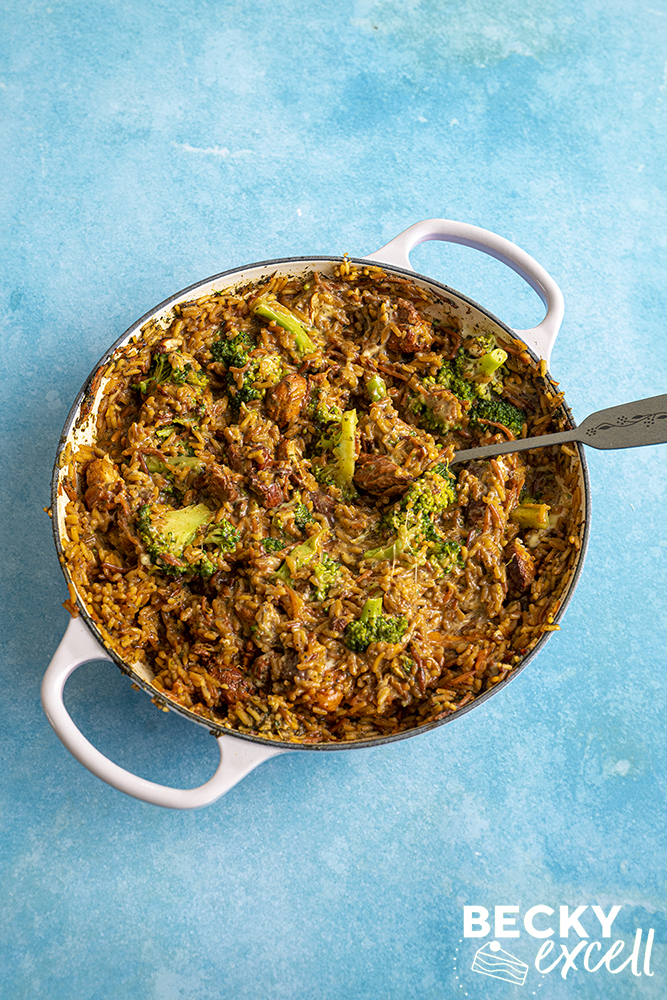 If you're like me, you might have assumed that TikTok is just full of people dancing with the occasional funny video… but just like most social media platforms, there's an entire world on there waiting to be discovered for free.
As yes, I am a part of that world too, delivering lots of quick and easy gluten-free meals almost every day of the week! So if you're not on there already, I'd highly recommend it for the food alone as it's an endless well of recipes and inspiration to spice up your meal plans.
But the inspiration for this recipe came from you guys – you told me that you wanted more dinners where everything is cooked in one-pot. No more 'one-pot dinners' that require you to serve the finished result with rice (which is most definitely another pot!) and no mountains of washing up afterwards.
So that's exactly what my one-pot cheesy chicken rice recipe was made to be! Here's all the simple, naturally gluten-free supermarket ingredients you'll need to make it possible:
One-pot cheesy chicken rice recipe: What you'll need…
Garlic-infused oil: An instant injection of wonderful garlic flavour – no chopping or pre-frying of fresh garlic required. And if your garlic oil doesn't have any bits of actual garlic floating in it, then it's low FODMAP too.
Carrots: In case you hadn't noticed, carrots are incredibly affordable when it comes to buying veg, being around 45p for an entire kilo at the time of writing. So I use them a lot – it also gives the rice a lovely orange hue.
Chicken breasts: I use chicken breast here, but skinless, boneless chicken thighs would also work well.
Dried mixed herbs: I use these for a wonderful cheesy, herby flavour, but in reality you can substitute this for any type of dried herb, such as oregano, thyme, herbs de provence or any combination of the above.
Gluten-free chicken stock: Any stock cube will do, as long as it's gluten-free! These are stocked with all the regular stock cubes and often clearly labelled as gluten-free.
Long grain rice: Again, this is the most affordable rice you'll find with almost all supermarkets stocking an 'essential' version that's around 45p. They'll also usually stock an 'easy cook' version that's double the price, so you can definitely save few pennies here.
Broccoli: Apart from being good for you, it works exceptionally well in this dish, not only absorbing lots of flavour, but also adding a much needed 'chunky' texture to this dish.
Single cream: This adds a little creamy finishing touch to the rice, making it a little risotto-like. You can also substitute this for a couple tablespoons of cream cheese too.
Cheddar cheese: Of course, it wouldn't be cheesy without cheese! Extra mature adds the most flavour and grated mozzarella adds a stringy texture. The choice is yours.
Salt and pepper: These matter more than you think, so don't forget these!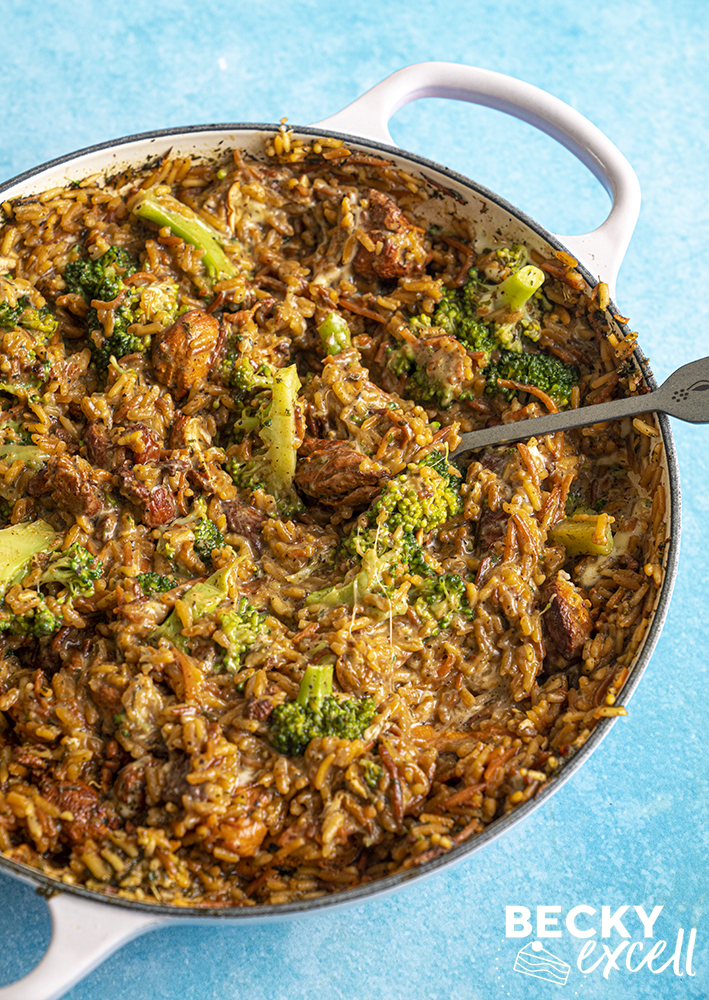 So, what does my one-pot cheesy chicken rice recipe taste like?
By cooking the rice in the same pot as everything else, you not only get a wonderful, sticky risotto-like texture, but it also absorbs all the wonderful flavours of the stock, dried herbs and vegetables.
Adding grated cheese and cream gives it a gloriously creamy flavour and the chunky chicken and broccoli are the perfect additions, bring an extra dimension of texture.
Not to be big-headed about my own recipes, but I can definitely see why this went down so well on TikTok: it's incredibly 'lazy' to make, it's a one-pot recipe, it's cheesy and comforting yet 100% beginner-friendly. What more could you want?!
One-pot cheesy chicken rice recipe: Frequently Asked Questions
Can I make this recipe gluten-free? Is it suitable for Coeliacs?
It is gluten-free, though nobody would know just by tasting it – trust me!
Bear in mind that minimising cross-contamination is hugely important if you're Coeliac or making this for someone who is. Here's some tips from Coeliac UK on minimising the risk of cross contamination.
Also, make sure that all ingredients used don't have any gluten-containing ingredients. Then make sure that they also don't have a 'may contain' warning for gluten, wheat, rye, barley, oats (which aren't gf), spelt and khorasan wheat (aka Kamut).
Here's some more info from Coeliac UK on identifying safe gluten-free products.
Can I make your one-pot cheesy chicken rice recipe dairy-free?
All you'd need to do is use grated dairy-free cheese and either a dairy-free alternative to cream or simply omit the cream entirely.
Can I make your one-pot cheesy chicken rice recipe veggie or vegan?
Of course! If you're vegan, follow the dairy-free advice first, then for both veggies and vegans, simply:
Swap the chicken for 250-300g chestnut mushrooms, chopped
Use gluten-free veggie stock instead of chicken stock
Is this recipe low FODMAP?
It can be – see the guidance below! With these changes made, one serving of the finished dish would be a safe low FODMAP serving size:
Ensure your garlic-infused oil doesn't have any actual bits of garlic floating in it (the one in Tesco is safe, but sadly the one in Aldi is not, for example)
Use a low FODMAP stock cube
Use lactose-free cream instead of double cream
Serve no more than 75g of broccoli per person and ensure you use as little of the stalks as possible.
Can I use veg other than broccoli or carrot?
Yes, this really is a recipe you can make your own! Here's a few other veg swaps you could make, as long as they're all finely chopped:
Onion
Mushrooms
Courgette
Green beans
Peppers
Frozen peas
Is this a healthy recipe?
You guys requested more healthier, every day gluten-free dinner recipes so that's exactly what I'm going to make.
If you want to make it even healthier still, you can always:
Omit the cream or use 1 tbsp low-fat cream cheese instead
Use light mozzarella instead of grated cheddar cheese
Use a low-calorie garlic-flavoured spray instead of garlic infused oil
Can I freeze your one-pot cheesy chicken rice recipe?
Yes! Once cooled, simply portion into airtight containers and freeze for up to 2-3 months.
To reheat from frozen, defrost in the fridge overnight then reheat in the microwave until piping hot in the middle.
You can also store this in the fridge for 3-4 days and microwave until piping hot too.
One-pot cheesy chicken rice recipe: Tips for quick and easy prep + cooking
Chop your chicken/veg and measure out your rice whilst you're waiting for the oil to heat up. With all the prep done before you start, all you'll have left to do is throw it all together!
Don't slice your chicken too thin. Your average bite-sized chunks are perfect, but any thinner or smaller than that and you risk the chicken becoming overcooked and dry.
Ensure you have a pot or pan with a lid. It's more than possible to make this anyway without the lid, but popping the lid on will speed up the cooking process a lot!
Check the rice at least once nearer the end of the 'lidded' cooking period. If your stove is too hot, it can stick to the bottom of your pan and burn, so check it by giving it a good stir.
If everything else is done but the rice is still a bit hard, just add a couple of tablespoons of water occasionally until all the rice is cooked. The measurements in this recipe should mean this doesn't happen, but you never know!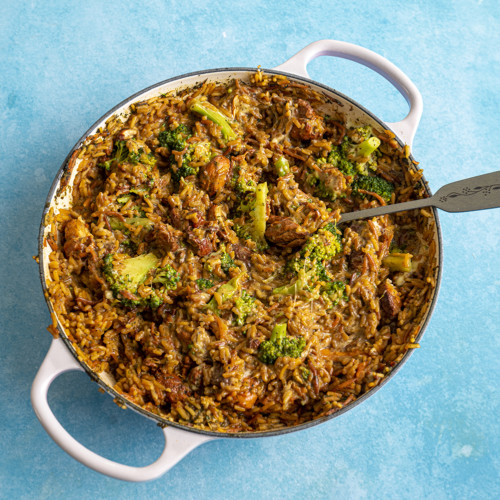 One-pot Cheesy Chicken Rice Recipe
One-pot Cheesy Chicken Rice Recipe – super lazy comfort food that absolutely anyone can make… and results in minimal washing up!
Ingredients
1

tbsp

garlic-infused oil

2

carrots, thinly sliced

2

chicken breasts, chopped into bite-sized chunks

2

tsp

dried mixed herbs

pinch

salt and pepper

650

ml

gluten-free chicken stock

200

g

dried long grain rice

200

g

broccoli florets

50

ml

single cream

60

g

cheddar cheese, grated
Instructions
Heat the oil in a large, lidded pan over a medium heat and then add the carrots. Allow it to soften a little (around 4 minutes) then add the chicken.

Once the chicken is sealed, add in the mixed herbs, salt & pepper, stock and the rice, stir to combine and bring to the boil.

Reduce the heat to simmer and pop a lid on the pan. Leave for about 15 minutes to cook.

After 15 minutes lift the lid, add in the broccoli and pop the lid back on for a further 5-7 minutes or until the rice is cooked to your liking.

Remove from heat and stir in the cream and cheese so it's well combined and melted.
Nutrition
Calories:
532
kcal
|
Carbohydrates:
53
g
|
Protein:
37
g
|
Fat:
18
g
|
Saturated Fat:
7
g
|
Polyunsaturated Fat:
2
g
|
Monounsaturated Fat:
7
g
|
Trans Fat:
1
g
|
Cholesterol:
106
mg
|
Sodium:
510
mg
|
Potassium:
941
mg
|
Fiber:
3
g
|
Sugar:
5
g
|
Vitamin A:
5741
IU
|
Vitamin C:
48
mg
|
Calcium:
189
mg
|
Iron:
2
mg
Thanks for reading all about my one-pot cheesy chicken rice recipe! If you make it, I'd love to see how it turned out so don't forget to take a snap of your creations and tag me on Instagram!
Any questions about the recipe? Please do let me know by following me on Instagram and leaving me a comment on a recent photo!
Thanks for reading,
Becky xxx
Don't forget to pin this for later!