One-pot unstuffed peppers recipe – the lazy way to make 'stuffed peppers'… no stuffing required! This recipe has over 500k views on Instagram, so I thought I absolutely HAD to get it up on the blog ASAP.
One-pot unstuffed peppers recipe – I've said it before and I'll say it again: here's super lazy comfort food that the entire family will love! Plus, there's hardly any washing up as everything, including the rice, is cooked in one pot.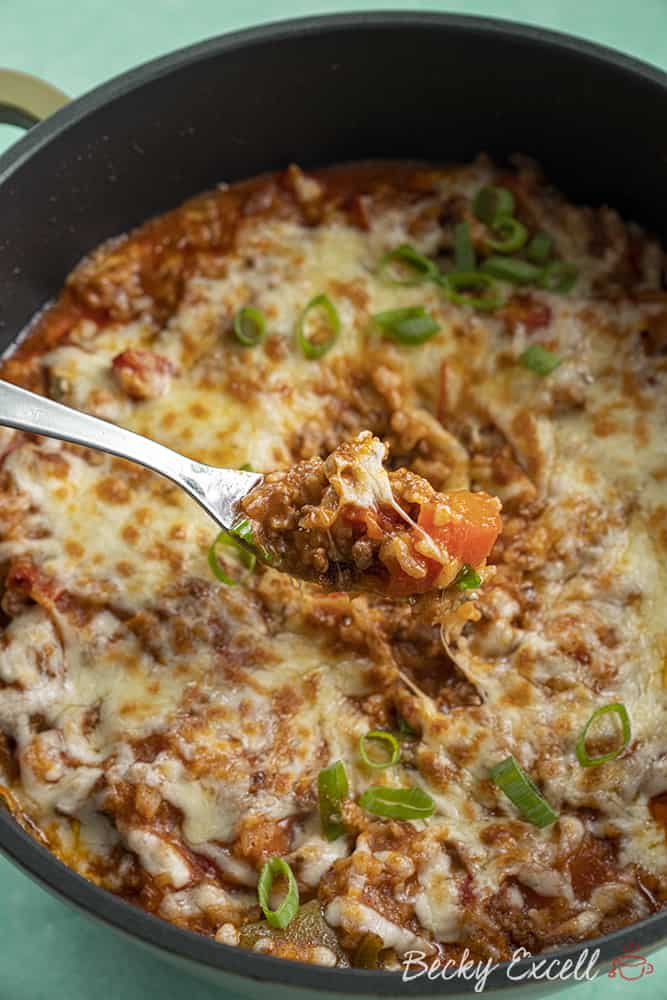 So, elephant in the room: this is naturally gluten-free recipe! But why did I feel the need to mention it?
Well, so often when I think of naturally gluten-free recipes, I think of all the 'boring' stuff like salads, soups, jacket potatoes etc. (all of which I actually love and eat all the time by the way!)
But actually, naturally gluten-free meals like this are amazing because, not only are they not 'plain Jane' or 'the bland gluten-free option', but it's actually a meal the entire family will love… it just happens to be gluten-free!
Best of all, because it's naturally gluten-free, that means no expensive free from products! So that's what I've been channeling here on the blog for the most part lately and I hope you've been enjoying them. I feel like they're an essential part of anyone's meal plan: gluten-free or not!
One-pot unstuffed peppers recipe: What you'll need…
Spices: For this recipe you'll need smoked paprika, dried oregano, cumin, cayenne pepper and dried chilli flakes.
Garlic-infused oil: An instant injection of wonderful garlic flavour – no chopping or pre-frying of fresh garlic required. And if your garlic oil doesn't have any bits of actual garlic floating in it, then it's low FODMAP too.
Red (bell) pepper: Any colour of pepper will do here, but red is my personal preference in terms of flavour and aesthetics in this dish.
Beef mince: Ideally use a lean beef mince or lots of fat will come off it and make everything a little soggy, but if using a higher fat mince, you can always drain it from the pan.
Long grain rice: This is what I'd stuff a pepper with… so I figured that it works here too!
Gluten-free beef stock: Any stock cube will do, as long as it's gluten-free! These are stocked with all the regular stock cubes and often clearly labelled as gluten-free.
Chopped tomatoes: Even the cheapest tin of chopped tomatoes works wonders here, so get whatever's cheapest.
Tomato puree: This helps to thicken the tomato sauce so it's velvety smooth and not too thin. It also boosts the tomato flavour a bit too.
Mozzarella: If you want that lovely, cheesy top, use mozzarella for the ultimate stringy finish.
Spring onions: These add a wonderful, sweet onion flavour when scattered on top – if you use only the green parts, it's low FODMAP too.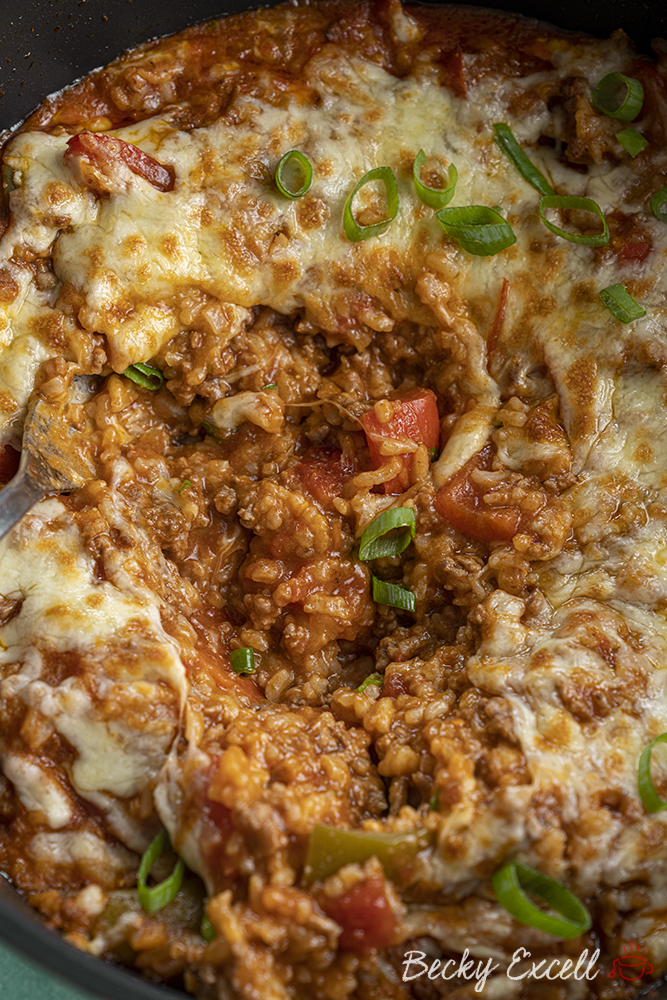 So, what do my unstuffed peppers taste like?
Every bite is a plentiful party of mildly spiced flavour, packed with rice, succulent beef mince, chopped red peppers and a thick, smoky tomato sauce.
And of course, who could forgot that stringy, gooey layer of melted mozzarella on top? It's everything you'd want in a stuffed pepper… just unstuffed!
It's the ultimate all-in-one meal that's so easy to make, it barely feels like you're actually cooked at all. Plus, there's only the one pot to wash!
One-pot unstuffed peppers recipe: Frequently Asked Questions
Can I make this recipe gluten-free? Is it suitable for Coeliacs?
It is gluten-free, though nobody would know just by tasting it – trust me!
Bear in mind that minimising cross-contamination is hugely important if you're Coeliac or making this for someone who is. Here's some tips from Coeliac UK on minimising the risk of cross contamination.
Also, make sure that all ingredients used don't have any gluten-containing ingredients. Then make sure that they also don't have a 'may contain' warning for gluten, wheat, rye, barley, oats (which aren't gf), spelt and khorasan wheat (aka Kamut).
Here's some more info from Coeliac UK on identifying safe gluten-free products.
Can I make your one-pot unstuffed peppers recipe dairy-free?
Simply use grated dairy-free cheese instead of mozzarella to make this recipe dairy-free.
Can I make your one-pot unstuffed peppers recipe veggie or vegan?
Of course! If you're vegan, follow the dairy-free advice first, then for both veggies and vegans, simply:
Swap the beef mince for 300g closed cup mushrooms, finely diced and a 400g tin of chickpeas, drained
Use gluten-free veggie stock instead of beef stock
Is this recipe low FODMAP?
It can be – see the guidance below! With these changes made, one serving of the finished dish would be a safe low FODMAP serving size:
Ensure your garlic-infused oil doesn't have any actual bits of garlic floating in it (the one in Tesco is safe, but sadly the one in Aldi is not, for example)
Use a low FODMAP stock cube
Use lactose-free milk
Omit the tomato puree
Serve no more than 43g of red pepper per person OR use green peppers instead and serve no more than 75g per person
Use only the greenest parts of the spring onion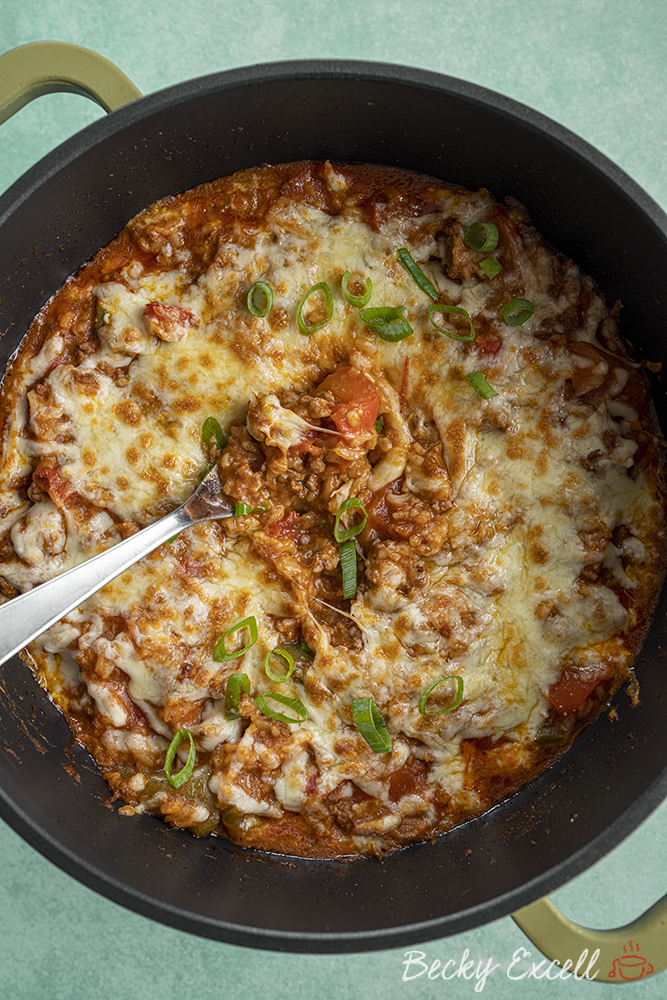 Can I use veg other than peppers?
Yes, but you probably shouldn't call the finished dish 'unstuffed peppers'! Here's a few other veg swaps you could make, as long as they're all finely chopped:
Onion
Aubergine
Courgette
Carrot
Frozen peas
Can I make this using turkey mince? What about lamb mince?
Yes! If using turkey mince, ensure it's turkey thigh mince or it'll get way too dry. Lamb mince works well too.
Is this a healthy recipe?
Yes! You guys requested more healthier, every day gluten-free dinner recipes so that's exactly what I'm going to make.
If you want to make it even healthier still, you can always:
Omit the cheese
Ensure you use lean beef mince
Use a low-calorie garlic-flavoured spray instead of garlic infused oil
Can I freeze your one-pot unstuffed peppers recipe?
Yes! Once cooled, simply portion into airtight containers and freeze for up to 2-3 months.
To reheat from frozen, defrost in the fridge overnight then reheat in the microwave until piping hot in the middle.
You can also store this in the fridge for 3-4 days and microwave until piping hot too.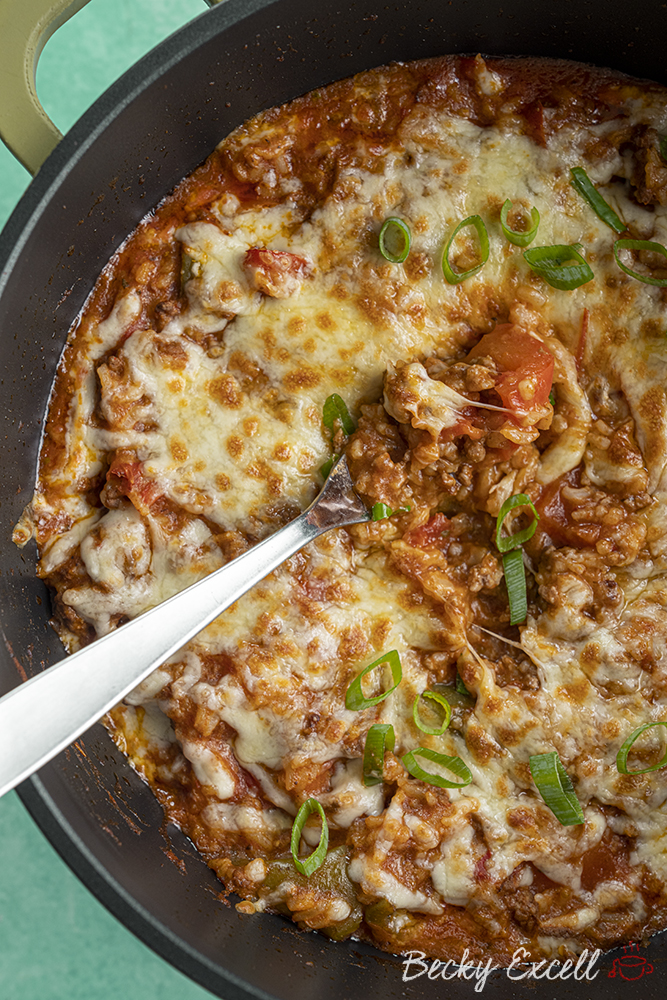 One pot unstuffed peppers recipe: Tips for quick and easy prep + cooking
Get your spices and seasoning out and make the spice blend before you start, so it's ready for when you need it Trust me, it makes cooking feel a lot easier!
Drain any excess oil, fat or liquid from your beef mince if using a higher fat percentage mince. It can make everything a bit soggy, so I usually just carefully pour it into a heatproof jug and discard it.
If the sauce is lovely and thick but rice is still a bit hard, just add a couple of tablespoons of water occasionally until all the rice is cooked. The measurements in this recipe should mean this doesn't happen, but you never know!
Keep stirring the pot occasionally when the dish has almost finished reducing as this is when it's most likely to stick to the bottom. The sauce has flour in it, so if it's a little too thin for your liking, just simmer it until it thickens up.
Grill the mozzarella on top until it's nicely browned and a little crisp. If your mozzarella is a little underdone, it can be a little chewy and less tasty, but browning it well makes such a difference!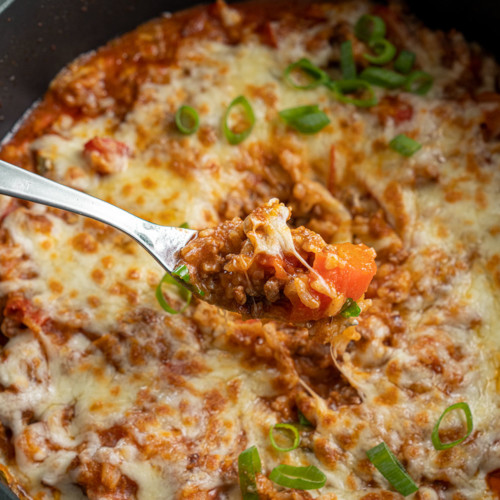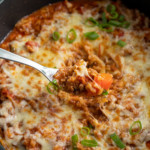 One Pot Unstuffed Peppers Recipe
One-pot unstuffed peppers recipe – super lazy comfort food that absolutely anyone can make… and results in minimal washing up!
Ingredients
For the spice blend:
1.5

tbsp

smoked paprika

2

tsp

dried oregano

2

tsp

ground cumin

1/2

tsp

cayenne pepper

1/2

tsp

dried chilli flakes
For the rest:
1

tbsp

garlic-infused oil

2

red peppers

chopped into bite-sized chunks

500

g

beef mince

200

g

dried long grain rice

750

ml

gluten-free beef stock

400

g

chopped tomatoes

2

tbsp

tomato puree

75

g

mozzarella

grated

handful

spring onion greens

finely chopped
Instructions
Heat oil in a large oven proof pot on a high heat. Add the peppers and fry until they start to char a little.

Add in the mince and fry until just browned.

Mix the spices for the spice blend together and add them to the pot, mix so they coat the peppers and mince.

Add in the rice and allow that to be fully coated in the spices too.

Pour in the chopped tomatoes, tomato puree and stock. Mix then pop the lid on and reduce the heat right down to a simmer.

Cook for about 40 minutes until the rice is cooked and the liquid has reduced. I give it a stir every so often throughout to check on it.

Remove the lid and from the heat, sprinkle with cheese and pop under the grill until the cheese melts and turns golden.

Sprinkle with spring onion greens and serve up straight away.
Nutrition
Serving:
4
g
|
Calories:
606
kcal
|
Carbohydrates:
57
g
|
Protein:
40
g
|
Fat:
24
g
|
Saturated Fat:
9
g
|
Polyunsaturated Fat:
2
g
|
Monounsaturated Fat:
11
g
|
Trans Fat:
1
g
|
Cholesterol:
102
mg
|
Sodium:
630
mg
|
Potassium:
1102
mg
|
Fiber:
4
g
|
Sugar:
8
g
|
Vitamin A:
2033
IU
|
Vitamin C:
59
mg
|
Calcium:
201
mg
|
Iron:
7
mg
Thanks for reading all about my one pot unstuffed peppers recipe! If you make it, I'd love to see how it turned out so don't forget to take a snap of your creations and tag me on Instagram!
Any questions about the recipe? Please do let me know by following me on Instagram and leaving me a comment on a recent photo!
Thanks for reading,
Becky xxx
Don't forget to pin this for later!