Gluten-free tortilla wraps recipe! All you need are 5 ingredients and some salt. So soft, strong and flexible that nobody would ever know that they're Coeliac-friendly!
Gluten-free tortilla wraps recipe, anyone? Using a few simple supermarket ingredients and the magical-wonder-ingredient that is psyllium husk (buy it online here before starting), you can make my BEST EVER wraps!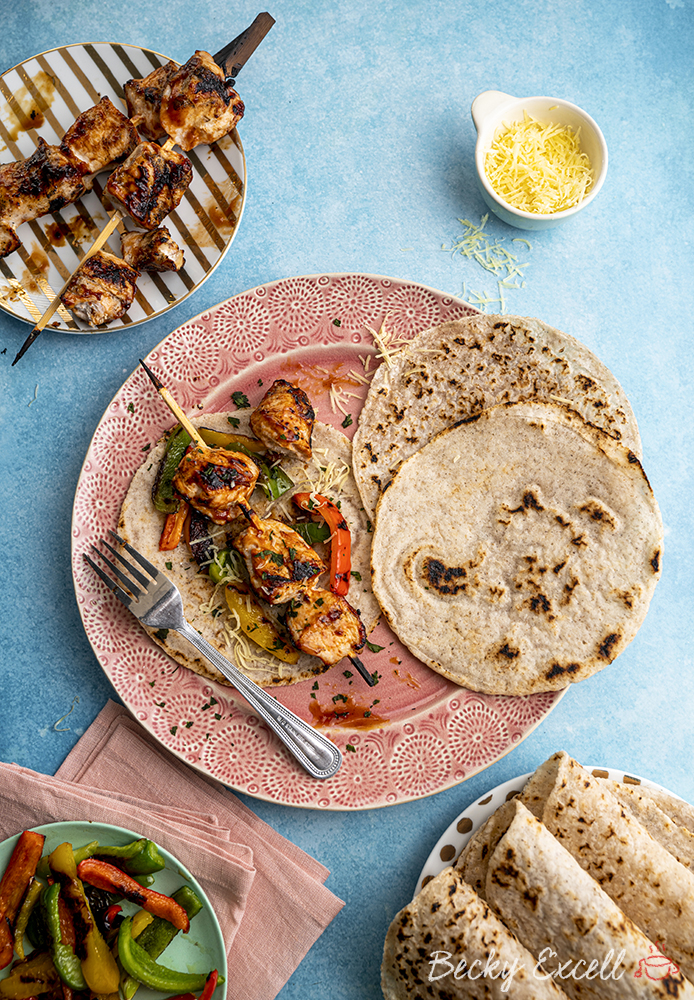 Here's yet another recipe that almost made it into the bread chapter of my second book, 'How To Bake Anything Gluten-free'… but I couldn't quite find enough space to squeeze it in!
So many people have asked me for a gluten-free tortilla recipe over the years, but to be honest, this recipe took A LOT of time to perfect.
But fortunately, it's finally ready to share! Before we get started, I should add that having a tortilla press is highly recommended if you intend to make these on a regular basis – otherwise a small rolling pin will do just fine.
Here's all the simple ingredients you'll need to make it possible:
Gluten-free tortilla wraps recipe: What you'll need…
Gluten-free plain flour: I use a simple commercial blend from the free from aisle in the supermarket. If you can't find a blend like this where you live, you can always make your own using my gluten-free flour recipe.
Xanthan gum: You'll find this down free from aisles in all major supermarkets – it's a binder that helps to mimic gluten.
Gluten-free baking powder: Not all baking powder is gluten-free (some contain wheat) so please ensure yours is safe before you start.
Salt: This is purely for flavour.
Psyllium husk powder: This is one of the only ingredients I use that you won't find in supermarkets. However, you will find it in health food shops and online. Ensure you buy a blonde psyllium husk powder or it can turn your end result a little pink!
Vegetable oil: Any neutral flavoured oil will do here.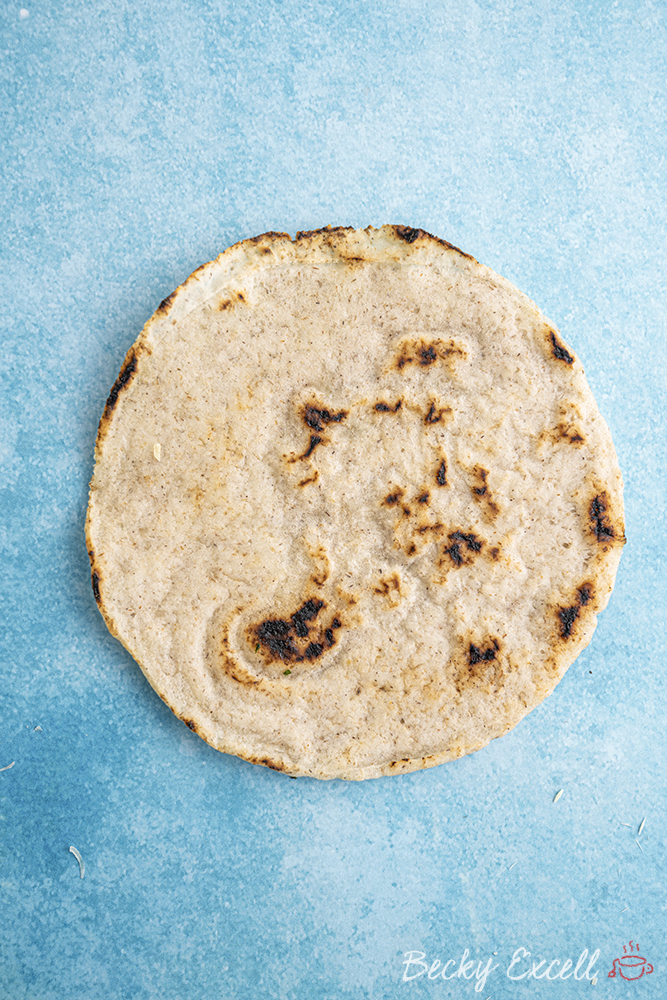 So, what do my gluten-free tortilla wraps taste like?
Each wrap is soft, strong and flexible – perfect for holding your fillings securely when rolled or folded. Honestly, you just have to try them to believe it!
As for the taste… they taste like 'real deal' wraps and I can promise you that there's no unwanted extra flavour… or strange aromas for that matter! They taste, look and smell exactly how you'd expect them to – perfect for tacos, fajitas, enchiladas or whatever you fancy.
Just make sure you nail the thickness of these when rolling them out or using the tortilla press – nobody likes a super thick wrap!! Here's a few frequently asked questions before we get started:
Gluten-free tortilla wraps recipe: Frequently Asked Questions
Can I make this recipe gluten-free? Is it suitable for Coeliacs?
It is gluten-free, though nobody would know just by tasting it – trust me!
Bear in mind that minimising cross-contamination is hugely important if you're Coeliac or making this for someone who is. Here's some tips from Coeliac UK on minimising the risk of cross contamination.
Also, make sure that all ingredients used don't have any gluten-containing ingredients. Then make sure that they also don't have a 'may contain' warning for gluten, wheat, rye, barley, oats (which aren't gf), spelt and khorasan wheat (aka Kamut).
Here's some more info from Coeliac UK on identifying safe gluten-free products.
Can I make your gluten-free tortilla wraps recipe dairy-free?
It is dairy-free!
Can I make your gluten-free tortilla wraps recipe vegan or vegetarian?
It is vegan and vegetarian!
Is this recipe low FODMAP?
It is low FODMAP!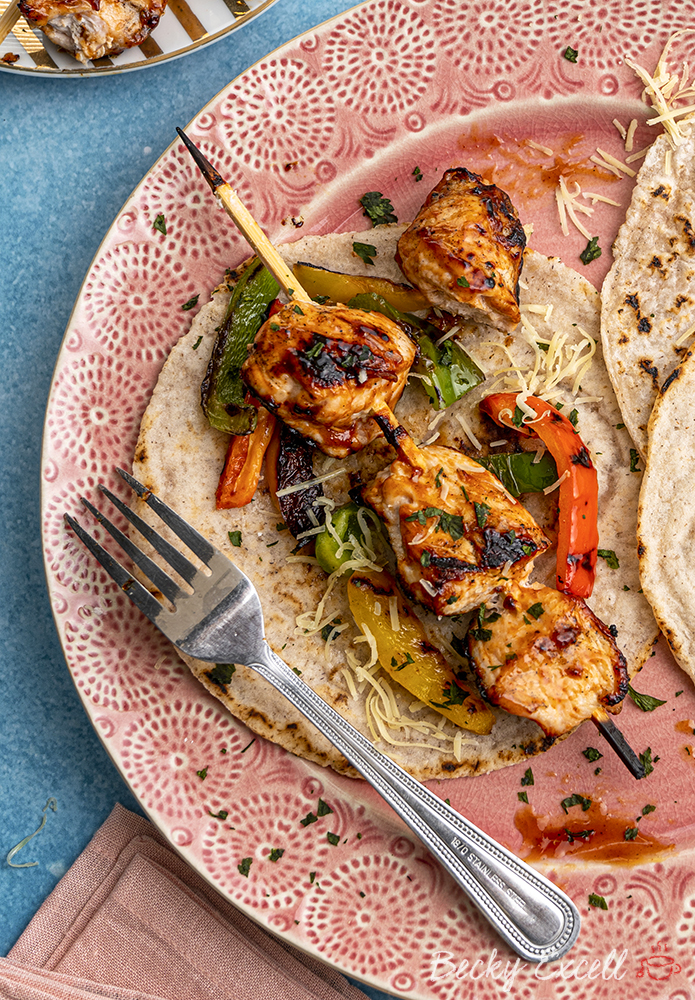 Can I use flaxseed instead of psyllium husk? What else can I use?
Trust me, creating any kind of gluten-free bread-based recipe is hard enough when you do use the ingredients that make it work! So imagine what it'd be like when you remove the one magic ingredient that makes this recipe function… long story short: it won't work!
Flaxseed and psyllium husk are totally different in so many ways, but crucially, their hydration level (ie. how much of the water they will suck up).
Psyllium adds strength and stretch that flaxseed simply won't provide and psyllium sucks up A LOT of water, allowing you to create a dough. So it's psyllium husk or nothing I'm afraid!
Do I need any special equipment for this recipe?
I can tell you now that a tortilla press makes this recipe feel like absolutely zero effort – simply make the dough in a bowl, then squash portions of the dough in the press and fry. That's it!
However, you can still achieve the same result using a small rolling pin, so don't fret if you (more than likely) don't have one or can't afford one. Of course, it'll just take longer and a little more effort to get the job done.
Here's a link to the exact tortilla press I used for this recipe.
Can I freeze your gluten-free tortilla wraps?
Yes! I've frozen them for 2-3 months and after allowing them to fully thaw at room temperature, you can simply rewarm them in the microwave to refresh.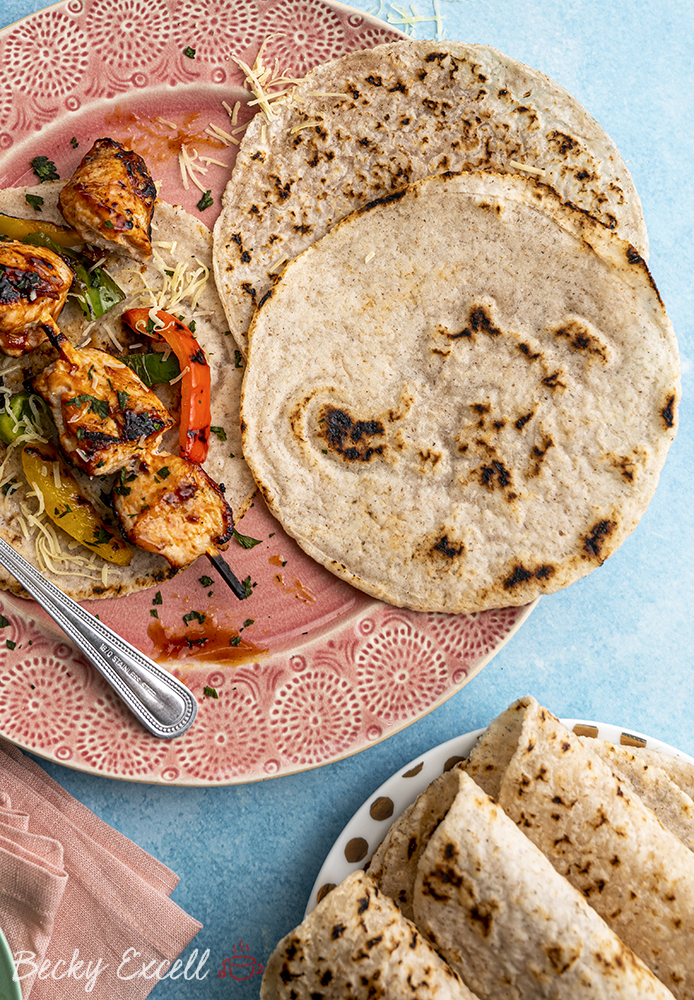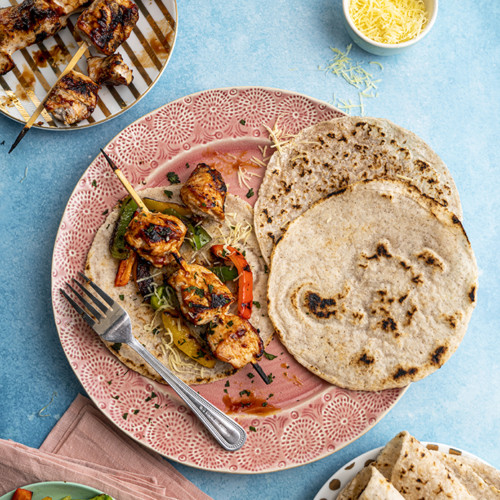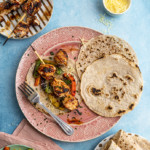 Gluten-free Tortilla Wraps Recipe
Gluten-free tortilla wraps recipe – my BEST EVER recipe that's super simple to make. Coeliac-safe and wheat-free too.
Ingredients
210

g

gluten-free plain flour

1/4

tsp

xanthan gum

1/2

tsp

gluten-free baking powder

1/2

tsp

salt

20

g

psyllium husk powder

300

ml

warm water

25

ml

vegetable oil
Instructions
Place your flour, xanthan gum, baking powder, salt and psyllium husk powder into a large bowl and mix thoroughly.

Add your warm water, oil and mix thoroughly. The mixture will seem quite loose at first but the more you mix the more it comes together and thickens up. An electric hand whisk will quicken this process up. 

Once the mixture is more of a sticky, thicker dough, allow to rest for 10 minutes to help the dough hydrate. 

Sprinkle the dough with a small amount of flour and knead briefly in the bowl using floured hands. Portion it out into balls, each about 65–70g (2¼–2½oz). 

Place a ball of dough between two square pieces of non-stick baking parchment (around 20cm x 20cm/8in x 8in in size) and roll it into a circular shape, as thinly as you can. You can also use a tortilla press for this part if you have one – I've linked it above.

Heat a large frying pan over a medium-high heat. Once heated, peel one piece of the non-stick baking parchment from your rolled dough. Transfer your flattened dough into your pan, using the remaining parchment to lower it in, tortilla-side down. After 10-15 seconds, carefully peel off the final piece of non-stick baking parchment from your wrap – use a spatula to help ease it off if needed.

The wrap should start to get little bubbles on the surface if the pan is hot enough. Cook for 1–2 minutes, until the underside starts to lightly colour, then flip the wrap and cook on the other side for a further minute or so. 

Remove from the pan and place between two clean tea (dish) towels while you repeat with the rest of the dough. Wrapping them in the tea towels helps them become more flexible and soft – exactly how they should be. Repeat until you've used up your dough, re-using the parchment paper as necessary.

Serve up with whatever you like! We love to make BBQ chicken wraps/fajitas, but these also work really well for tacos, quesadillas, enchiladas or burritos. 
Nutrition
Calories:
116
kcal
|
Carbohydrates:
21
g
|
Protein:
1
g
|
Fat:
3
g
|
Saturated Fat:
1
g
|
Polyunsaturated Fat:
2
g
|
Monounsaturated Fat:
1
g
|
Trans Fat:
1
g
|
Sodium:
157
mg
|
Potassium:
18
mg
|
Fiber:
2
g
|
Sugar:
1
g
|
Calcium:
16
mg
|
Iron:
1
mg
Thanks for reading all about my gluten-free tortilla wraps recipe! If you make it, I'd love to see how it turned out so don't forget to take a snap of your creations and tag me on Instagram!
Any questions about the recipe? Please do let me know by following me on Instagram and leaving me a comment on a recent photo!
Thanks for reading,
Becky xxx
Don't forget to pin this for later!