Gluten-free rocky road cookies recipe! Ready in 30 minutes and packed with mini marshmallows, chunky biscuit and chocolate chips. Nobody would ever know that it's Coeliac-friendly and wheat-free, promise!
Gluten-free rocky road cookies recipe, anyone? This bakery-style cookie is not only undetectable as being gluten-free, but it's also one of my favourite creations to date.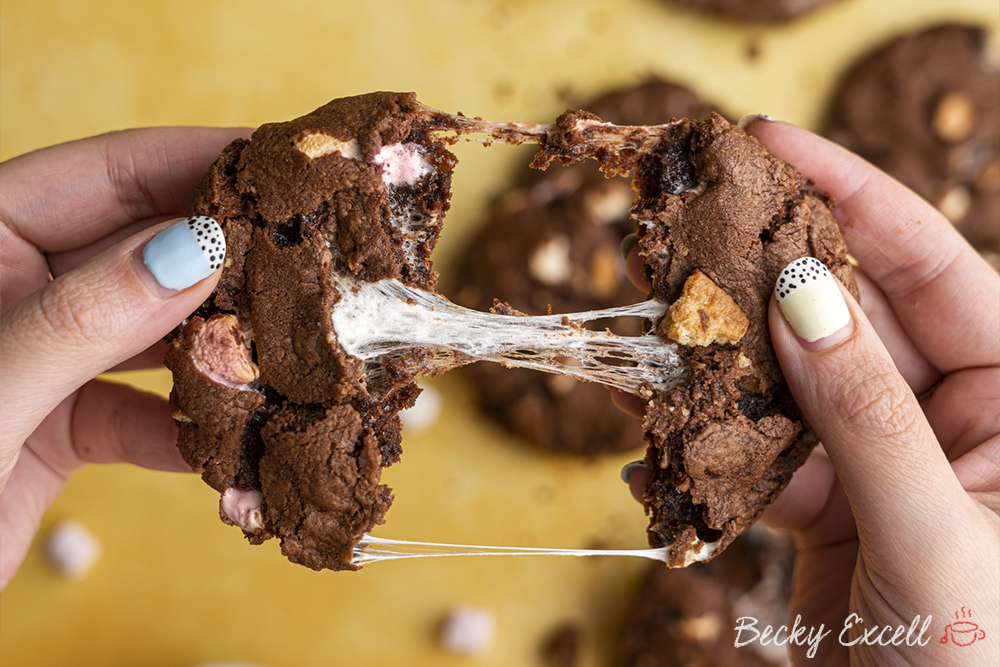 Say hello to a recipe that almost made it into my second book, 'How To Bake Anything Gluten-free'… but I couldn't quite find enough space to squeeze it in!
So of course, what better home for it than here on the blog? After all, you guys absolutely need to try it and it certainly deserves to finally be seen.
Not only can you whip up a batch in 30 minutes, but there's also the option to coat the backs in milk chocolate too, which I highly recommend that you do!
Here's all the simple supermarket ingredients you'll need to make it possible:
Gluten-free rocky road cookies recipe: What you'll need…
Butter: As we'll be creaming this into the sugar, it must be softened (left out of the fridge for a couple of hours) before starting. Otherwise creaming them won't be possible!
Caster sugar: One thing that gives that ultimate 'cookie flavour' is a combo of caster sugar and light brown sugar. Of course, use just one sugar instead of two still works, but it'll affect the overall flavour quite a bit.
Light brown sugar: See above!
Large egg: I used a large egg for this recipe, but a medium egg will do too.
Vanilla extract: As I always say, the better quality yours is, the better your cookies will taste!
Gluten-free plain flour: I use a simple commercial blend from the free from aisle in the supermarket. If you can't find a blend like this where you live, you can always make your own using my gluten-free flour recipe.
Cocoa powder: A little goes a long way and sieving it first is always a good idea – it'll remove any lumps!
Bicarbonate of soda: Don't confuse this with baking powder or try to use it instead – bicarbonate of soda is much, much stronger.
Milk chocolate chips: It wouldn't be a cookie without chocolate chips!
Mini marshmallows: These add that wonderful stretchy quality when the cookies are still a little warm and of course, are a staple ingredient in any rocky road.
Gluten-free digestive biscuits: You can find these down the free from aisle in nearly all supermarkets, but here's a link so you know what you're looking for.
Raisins: These add a lovely chewy texture and fruity sweetness that works so well with all of the milk chocolate going on.
Milk chocolate (optional): This is purely to melt and coat the cookies on the back – feel free to skip that step if you're impatient!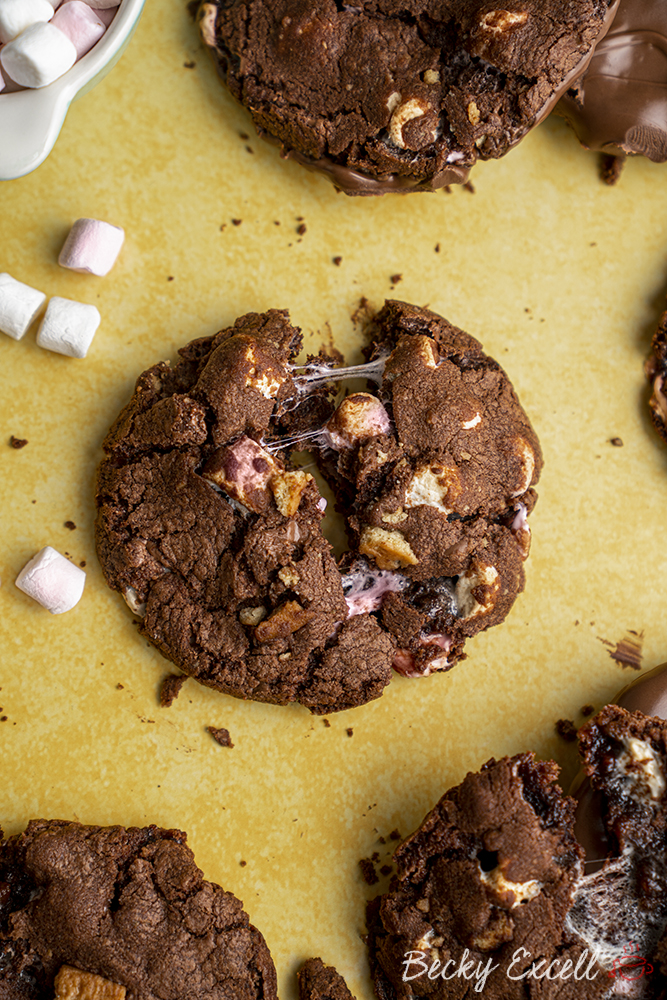 So, what do my gluten-free rocky road cookies taste like?
Think chewy chocolate cookie with a thick base of milk chocolate, packed with chunks of digestive biscuit, sweet raisins and gooey marshmallows. A must-try for any gluten-free cookie monster!
They're definitely more of a bakery-style cookie than a hard biscuit, which is something that we seldom see in a gluten-free world.
So absolutely make sure you give this recipe a go! Here's a few frequently asked questions before we get started:
Gluten-free rocky road cookies recipe: Frequently Asked Questions
Can I make this recipe gluten-free? Is it suitable for Coeliacs?
It is gluten-free, though nobody would know just by tasting it – trust me!
Bear in mind that minimising cross-contamination is hugely important if you're Coeliac or making this for someone who is. Here's some tips from Coeliac UK on minimising the risk of cross contamination.
Also, make sure that all ingredients used don't have any gluten-containing ingredients. Then make sure that they also don't have a 'may contain' warning for gluten, wheat, rye, barley, oats (which aren't gf), spelt and khorasan wheat (aka Kamut).
Here's some more info from Coeliac UK on identifying safe gluten-free products.
Can I make your gluten-free rocky road cookies recipe dairy-free?
Easily! Here's the swaps you'd need to make:
Use a hard block of dairy-free butter alternative or Stork hard margarine instead of butter
Use dairy-free chocolate chips
Use dairy-free chocolate to coat the base
Ensure the cocoa powder is dairy-free.
Can I make your gluten-free rocky road cookies recipe vegan?
Follow the dairy-free advice above, then use 1 flax egg (1 tbsp flaxseed mixed with 3 tbsp water and left to rest for 10 minutes) and free from mini marshmallows.
Is this recipe low FODMAP?
It can be! Simply:
Use lactose-free chocolate chips
Use lactose-free chocolate to coat the base
One cookie is a safe low FODMAP serving size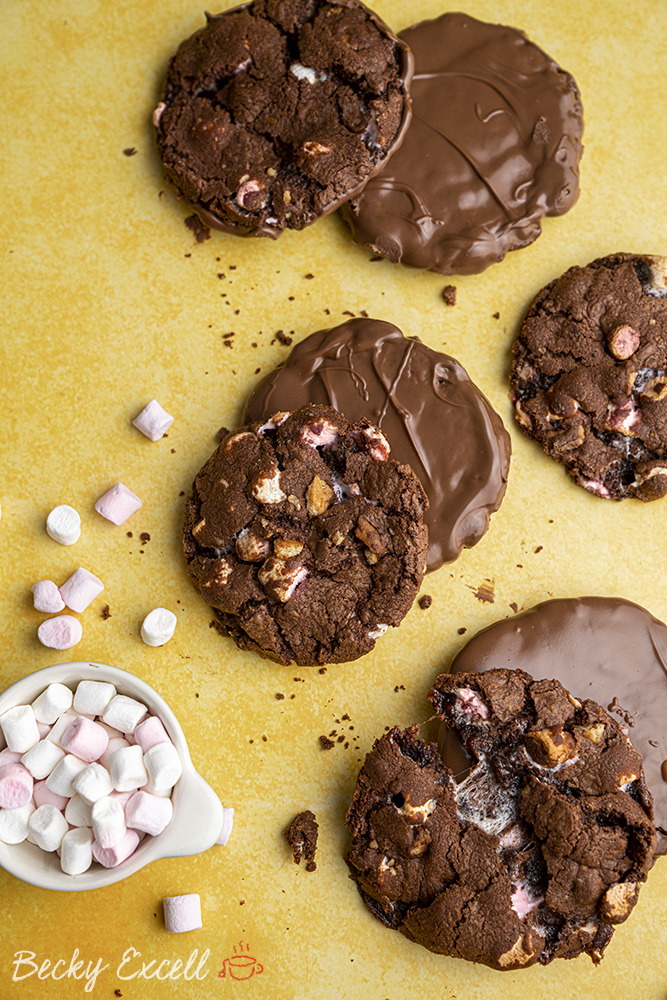 Can I make your gluten-free rocky road cookies without sugar?
I can understand the need to reduce sugar in our foods, but sugar is integral to the structure of this bake – it's not just for adding a sweet taste!
Sugar helps to achieve that nice crisp finish as well as working harmoniously with the butter and flour to achieve a specific consistency.
So yeah, remove/reduce the sugar at your own risk – I wouldn't recommend it.
Can I make this recipe using other gluten free flours like buckwheat flour or coconut flour?
There's a big difference between 'gluten free plain/self-raising flour' and a *singular* type gluten free flour.
When I say 'gluten free plain or self-raising flour' in a recipe, I mean a BLEND of gluten free flours, not just one, singular flour. I buy mine down the free from aisle of my local supermarket.
Definitely go for a gluten free flour blend.
Can I freeze your gluten-free rocky road cookies?
Of course! I've frozen them for up to a month and after allowing them to fully thaw, you'd never know they were frozen. One cookie should take around 3 hours to thaw at room temperature.
After thawing, I'd recommend baking them in the oven for 5 minutes or so just to remove any excess moisture before enjoying them warm though.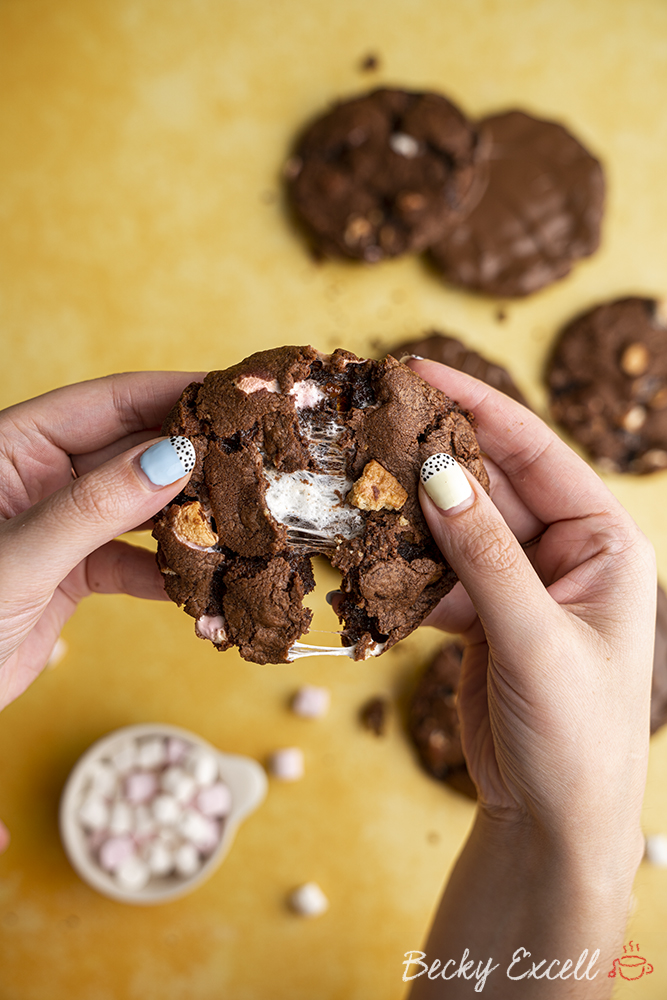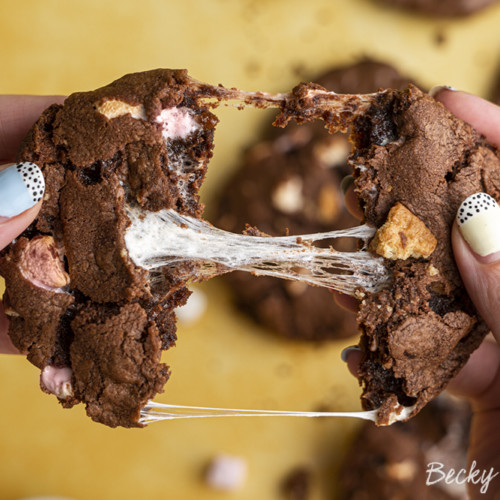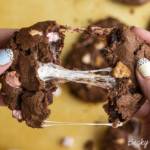 Gluten-free Rocky Road Cookies Recipe
Gluten-free rocky road cookies recipe – the ultimate sweet treat that's 100% beginner friendly. Coeliac-safe and wheat-free too.
Ingredients
125

g

butter

softened

100

g

caster sugar

100

g

light brown sugar

1

large egg

1

tsp

vanilla extract

210

g

gluten-free plain flour

25

g

cocoa powder

0.5

tsp

bicarbonate of soda

150

g

milk chocolate chips

85

g

mini marshmallows

65

g

gluten-free digestive biscuits

50

g

raisins

250

g

milk chocolate, melted
Instructions
Preheat your oven to 160°C fan / 180°C / 350°F. Line two large baking sheets with non-stick baking parchment. 

In a large mixing bowl, cream together your softened butter and both sugars until light, fluffy and well combined. Add your egg and vanilla, then mix again until combined. Next, add your flour, cocoa powder and bicarb, mixing well to ensure there are no pockets of flour. 

Break up your biscuits into small chunks by placing them into a bowl and bashing with the end of a rolling pin. Then mix them in alongside the chocolate chips, mini marshmallows and raisins, if using. 

Divide your dough into 12 evenly sized pieces and roll each into a ball (mine weighed around 65g/2¼oz each).

Place the balls onto the prepared sheets, ensuring you leave adequate space between them to allow for spreading – I place three on each tray and cook in two batches. Bake for about 12 minutes.

Leave to cool on trays for 15–20 minutes before transferring to a wire rack to cool completely.

Once cool you can optionally dip the backs of each cookie in melted chocolate and allow to set on a cooling rack upside down. This can be done at room temperature or in the fridge. 
Nutrition
Serving:
1
g
|
Calories:
343
kcal
|
Carbohydrates:
61
g
|
Protein:
4
g
|
Fat:
11
g
|
Saturated Fat:
7
g
|
Polyunsaturated Fat:
1
g
|
Monounsaturated Fat:
3
g
|
Trans Fat:
1
g
|
Cholesterol:
21
mg
|
Sodium:
93
mg
|
Potassium:
171
mg
|
Fiber:
3
g
|
Sugar:
37
g
|
Vitamin A:
37
IU
|
Vitamin C:
1
mg
|
Calcium:
32
mg
|
Iron:
1
mg
Thanks for reading all about my gluten-free rocky road cookies recipe! If you make it, I'd love to see how it turned out so don't forget to take a snap of your creations and tag me on Instagram!
Any questions about the recipe? Please do let me know by following me on Instagram and leaving me a comment on a recent photo!
Thanks for reading,
Becky xxx
Don't forget to pin this for later!