Jubilee berry cheesecake recipe! A no-bake dessert, with a union jack made of fresh berries on top, that's fit for the Queen's Platinum Jubilee. Nobody would ever know that it's Coeliac-friendly and wheat-free, promise!
Jubilee berry cheesecake recipe, anyone? This would have been my entry for the Queen's Platinum Pudding competition, in case you were wondering! With a union jack of raspberries, blueberries and strawberries, this is a super simple showstopper that's 100% beginner-friendly.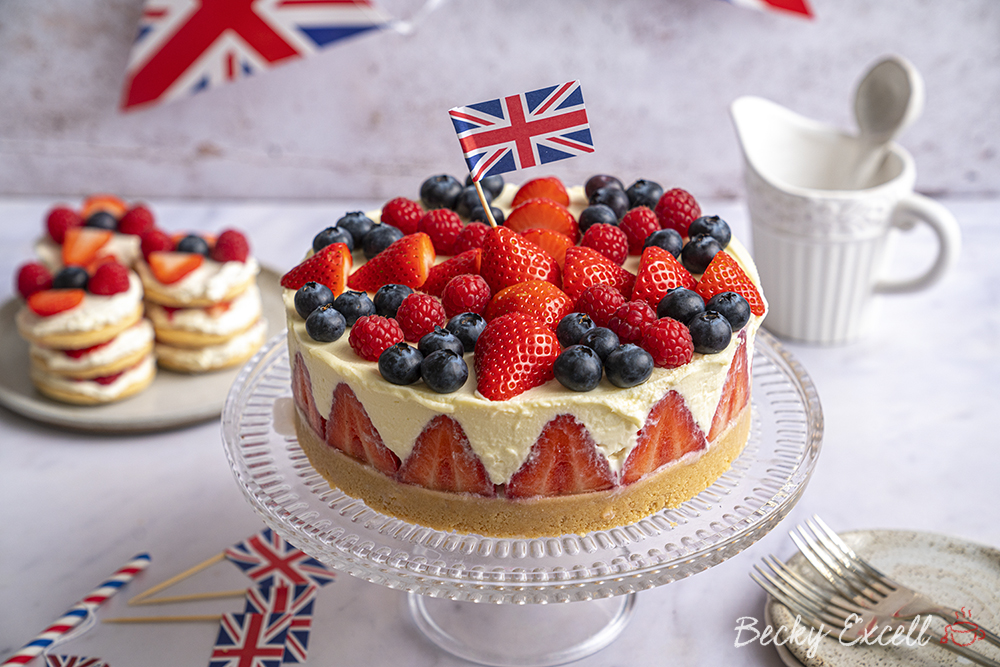 So many of you asked me to enter the Queen's Platinum Pudding competition, but obviously, I would never have won anyway! But either way, this is what I probably would have entered!
It's a vanilla no-bake cheesecake, with a buttery biscuit base, adorned with a crown of strawberries, with a union jack of berries on top.
Patriotic or what, right?! Best of all, it's super simple to make and you'd never know it was gluten-free.
Here's all the simple supermarket ingredients you'll need to make it possible:
Jubilee berry cheesecake recipe: What you'll need…
Gluten-free digestive biscuits: You can find these down the free from aisle in nearly all supermarkets, but here's a link so you know what you're looking for.
Butter: As we'll be melting the butter, you can use either cold (straight from the fridge) or room temperature (softened) butter. Salted or unsalted is fine too.
Full-fat cream cheese: I use mascarpone for this one, but Philadelphia cream cheese works great too and is a little softer. Low fat cream cheese doesn't have a high enough fat content to set in the fridge, so don't sub this!
Icing sugar: This sweetens the cheesecake filling and simply vanishes when mixed in, meaning no grainy texture and no need to bake the cheesecake.
Vanilla extract: The better quality yours is, the better the filling will taste!
Double cream: Only double cream has the adequate fat content to whip and set in the fridge, so single cream won't work here.
Strawberries, raspberries and blueberries: You'll need strawberries to adorn the edge of the cheesecake and raspberries/blueberries to decorate the Union Jack on top.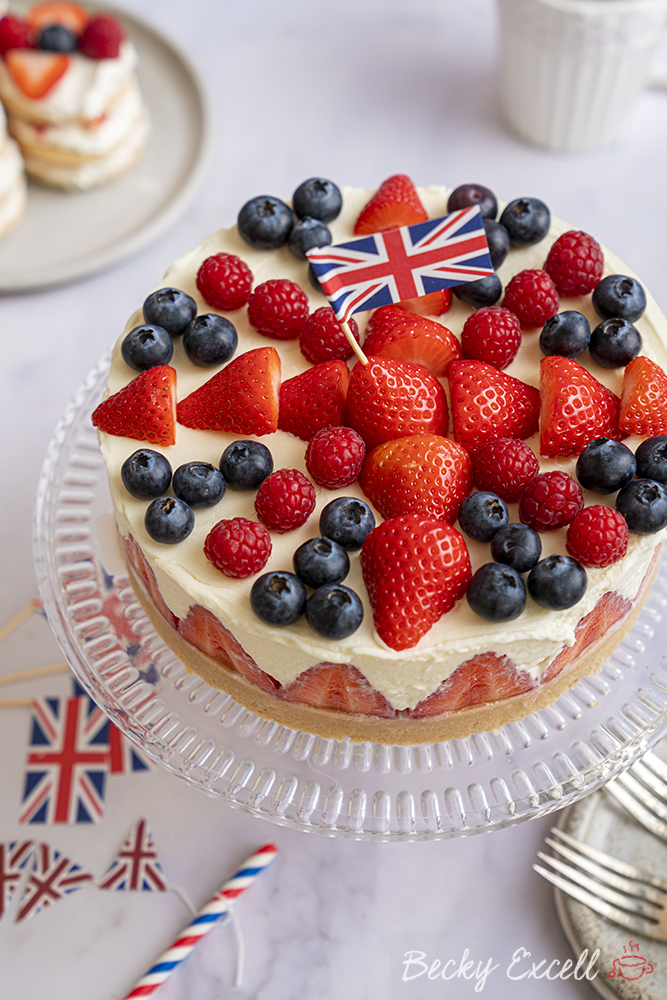 So, what does my Jubilee berry cheesecake taste like?
The base is super buttery and crunchy and a little thicker than most too – just the way I like it.
The vanilla filling is soft, light and creamy, with a strawberry half in every slice. Of course, who could forget that arrangement of fresh raspberries and blueberries on top for the ultimate (yet very easy to do) finishing touch?
It's everything I want a dessert recipe to be – irresistible to look at and eat! Here's a few frequently asked questions before we get started:
Jubilee berry cheesecake recipe: Frequently Asked Questions
Can I make this recipe gluten-free? Is it suitable for Coeliacs?
It is gluten-free, though nobody would know just by tasting it – trust me!
Bear in mind that minimising cross-contamination is hugely important if you're Coeliac or making this for someone who is. Here's some tips from Coeliac UK on minimising the risk of cross contamination.
Also, make sure that all ingredients used don't have any gluten-containing ingredients. Then make sure that they also don't have a 'may contain' warning for gluten, wheat, rye, barley, oats (which aren't gf), spelt and khorasan wheat (aka Kamut).
Here's some more info from Coeliac UK on identifying safe gluten-free products.
Can I make your Jubilee berry cheesecake recipe dairy-free?
Easily! Here's the swaps you'd need to make:
Can I make your Jubilee berry cheesecake recipe vegan?
Follow the steps above to make this dairy-free and you've only gone and made a gluten-free, dairy-free AND vegan Jubilee berry cheesecake!
Is this recipe low FODMAP?
It can be! Simply:
Use lactose-free whipping cream instead of double cream
Ensure the gluten-free biscuits for the base are FODMAP friendly
Due to low FODMAP serving sizes of berries, only a small slice of this cheesecake is suitable for the elimination phase of the diet.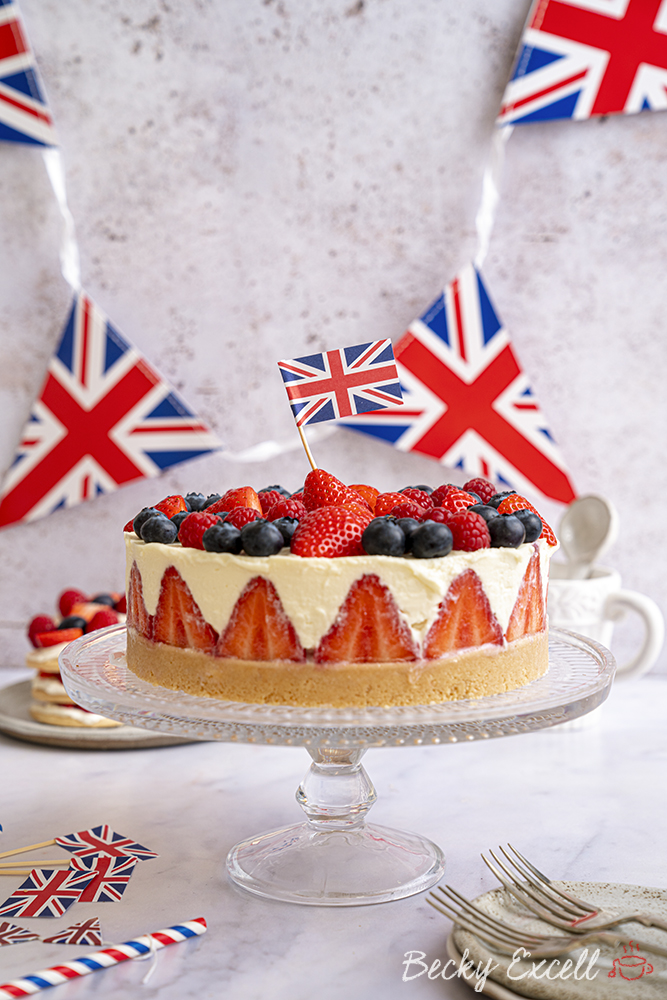 Do I need any special equipment to make your Jubilee berry cheesecake recipe?
You won't need anything in particular apart from a deep, loose bottom tin – here's the one I use. It's important to use a deep one as this is a tall cheesecake!
It's 20cm (8 inch) in diameter, so remember if your tin is wider than mine, your cheesecake will end up looking a lot flatter!
A springform tin is fine too – here's the one I sometimes use. I don't use it all the time because it's next to impossible to get the entire cheesecake off the base at once.
And ideally, I don't want to be serving the cheesecake and slicing it on my springform base because it'll get all scratched. So I much prefer to use a loose bottom tin.
But definitely don't make this in a normal cake tin without a loose bottom/springform mechanism. You won't be able to get the cheesecake out or cut it!
Can I make your Jubilee berry cheesecake using light cream cheese or reduced fat mascarpone?
Definitely not! Using light cream cheese or reduced fat mascarpone is a very quick way to ensure that your cheesecake is an instant disaster.
As the fat content is much lower, your cheesecake won't ever have a hope of setting in the fridge. It's full-fat or nothing, I'm afraid!
What is the Queen's platinum jubilee?
On 6th February 2022, the Queen of the United Kingdom (Queen Elizabeth II) became the first British Monarch to celebrate a Platinum Jubilee, marking 70 years of service to the people of the United Kingdom, the Realms and the Commonwealth.
The Queen has ruled for longer than any other Monarch in British history. You can read more about it here.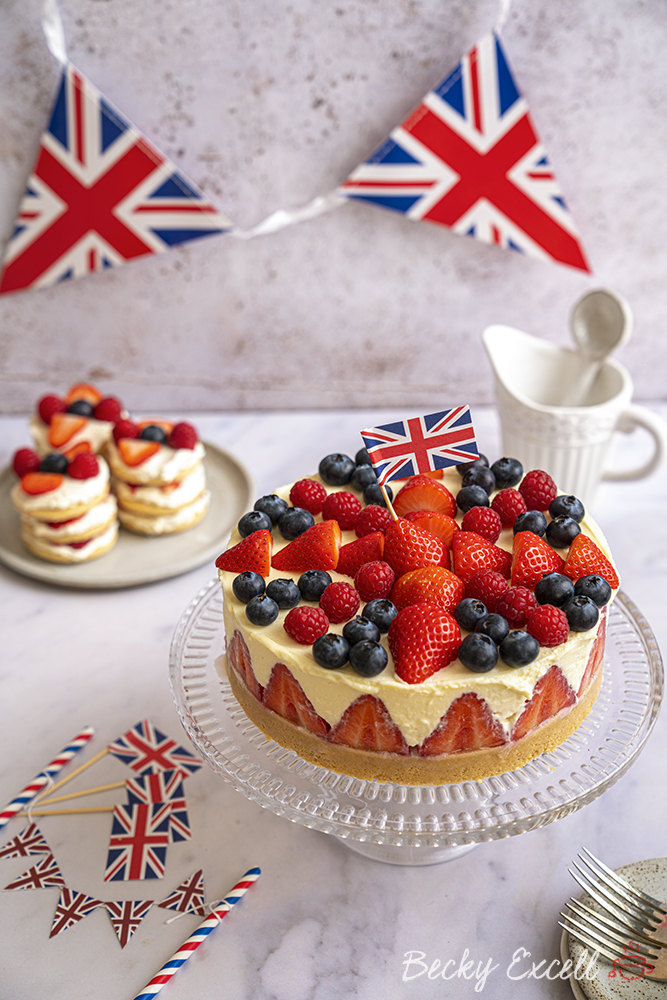 Jubilee berry cheesecake recipe: Tips for the perfect no-bake dessert every time
Don't overmix the cheesecake filling. It can split, become very grainy-looking, thin and won't ever set in the fridge. In this case, you can always try freezing it to make it set (it'll still taste the same!) but ideally, avoid overmixing entirely.
Give the cheesecake filling a generous amount of time to set. There's no baking required for this recipe, so the chilling stage becomes even more important! Don't remove from the tin until the top looks lovely and firm.
Use an 8in loose-bottom tin. A smaller tin will result in a cheesecake that's too tall and a larger tin will result in one that's flatter than mine. Loose-bottomed tins (or springform) are important here, otherwise you'll never be able to get the cheesecake out of the tin in one piece!
Keep chilled and covered before serving. This especially applies if you used Philadelphia cream cheese as the cheesecake will begin to soften and melt slightly at room temperature after an hour or so. So store it in the fridge until serving!
Use a large palette knife to remove the cheesecake from the loose-bottomed base. Don't cut the cheesecake on the base of the loose-bottomed tin because you'll scratch it! Using a large, long palette knife and gently (but firmly) easing it underneath the cheesecake base is an easy way to remove it in one go. Then transfer to a serving plate or cake stand.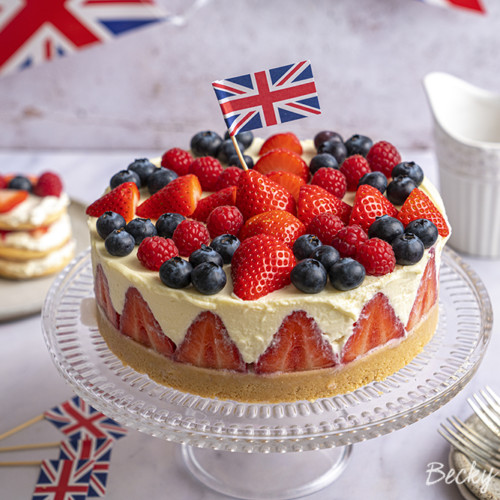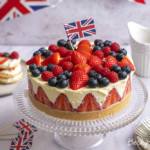 Jubilee Berry Cheesecake Recipe
Jubilee berry cheesecake recipe – inspired by the Queen's Platinum jubilee, this no-bake dessert is perfect for the occasion. Coeliac-friendly and wheat-free.
Ingredients
280

g

gluten free shortbread

(or any other gluten free biscuits like digestives)

85

g

butter

melted

650

g

mascarpone / full fat cream cheese

100

g

icing sugar

1

tsp

vanilla extract

300

ml

double cream

strawberries, raspberries and blueberries

for the top and an extra 8 strawberries for inside the filling layer
Instructions
For the base:
Firstly, make your base. Crush your gluten free biscuits – either place them in a sandwich bag and hit them with a rolling pin or you can place them in a food processor and blitz, but don't over blitz them into a fine dust!

Melt your butter – I do this in the microwave on a medium power (600W) for around 30 seconds to 1 minute. But if it melts before this time, stop – it's done!

Pour your melted butter into your crushed biscuits and mix together in a bowl.

Press your biscuit mixture into the tin you are going to be making your cheesecake in. Press it down nice and firmly. I use a 20cm loose bottom tin.

Place it in the fridge to chill whilst you make your cheesecake top.
For the cheesecake filling:
Mix together your mascarpone (cream cheese) and icing sugar. I use my electric hand mixer to do this on a low/medium setting for only about 10-20 seconds. You could use a stand mixer too.

Add in the double cream and keep mixing until it firms up a little. (I had my mixer on for just under 2 minutes for this – try not to over mix though… don't let it split!)

Cut strawberries in half (7-8 should be about right), ideally all similar sized. Place them around the edge of the tin to form a crown.

Spoon your cheesecake filling on top of the chilled base and strawberry edge, then use a palette knife to smooth over the top. Place in the fridge to chill, ideally overnight but no less than 5 hours.
To assemble:
Remove your cheesecake from the fridge and push it out of the tin and place on your serving plate.

Slice more strawberries and then use them alongside your fresh raspberries and blueberries to create a union jack design.

Serve up straight away and keep spare in the fridge.
Nutrition
Calories:
283
kcal
|
Carbohydrates:
29
g
|
Protein:
2
g
|
Fat:
17
g
|
Saturated Fat:
11
g
|
Polyunsaturated Fat:
1
g
|
Monounsaturated Fat:
3
g
|
Cholesterol:
56
mg
|
Sodium:
100
mg
|
Potassium:
41
mg
|
Fiber:
1
g
|
Sugar:
18
g
|
Vitamin A:
458
IU
|
Vitamin C:
1
mg
|
Calcium:
30
mg
|
Iron:
1
mg
Thanks for reading all about my Jubilee berry cheesecake recipe! If you make it, I'd love to see how it turned out so don't forget to take a snap of your creations and tag me on Instagram!
Any questions about the recipe? Please do let me know by following me on Instagram and leaving me a comment on a recent photo!
Thanks for reading,
Becky xxx
Don't forget to pin this for later!