Gluten-free lightly dusted fish and chips recipe – a healthier, budget-friendly way to whip up a fakeaway favourite in less than 30 minutes! Nobody would ever know its gluten-free and Coeliac-friendly.
Gluten-free lightly dusted fish and chips recipe, anyone? At just £1.50 a portion this speedy meal can be in your meal plans as often as you like! I served mine with air-fryer chips, but if you don't have one, you can always serve it with gluten-free oven chips instead.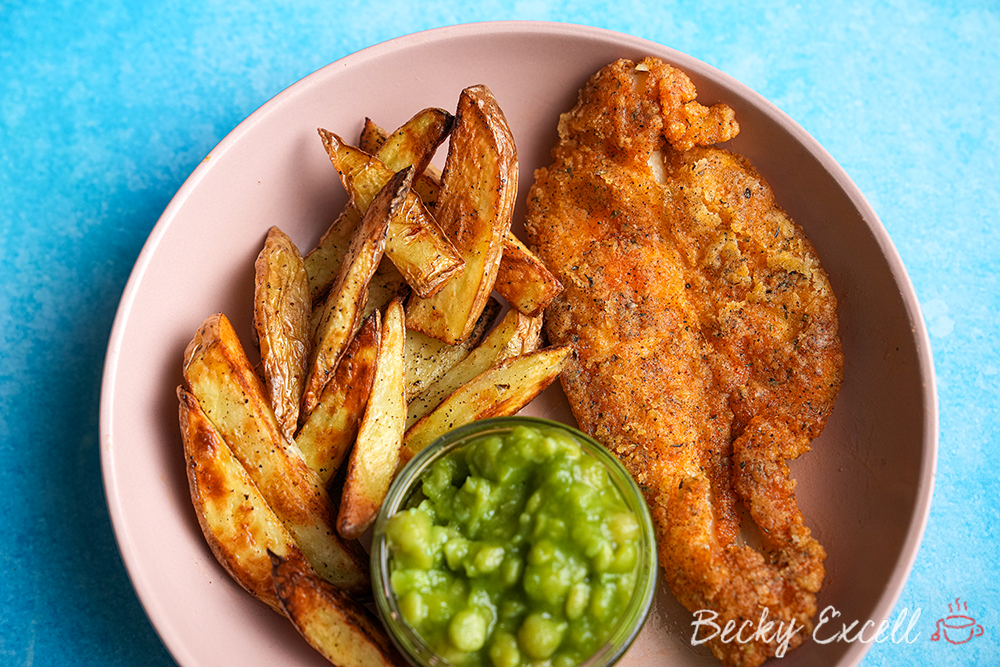 Remember those lightly dusted, crispy cod fillets from the supermarket that we can never eat? I certainly do!
Well, I've made my own gluten-free version – ta-da! And like the 'muggle' version, it's a healthier version of a proper battered cod from the fish and chip shop – no deep frying required.
But though my version is also super crispy, golden and perfectly seasoned, there is one difference: I use basa fish instead of cod.
Why? Well, because it's so much cheaper and there's barely any difference in taste or texture – promise. So I thought I'd take this opportunity to show how to use it in a way where nobody would notice any difference.
Of course, you're more than welcome to use cod or haddock instead, but in Tesco for example, two basa fillets cost £11 per kg and two cod fillets cost £14.29 per kg. Being gluten-free can be expensive, so a saving like this can really add up in the long run!
Here's everything you'll need to make it possible:
Gluten-free lightly dusted fish and chips recipe: What you'll need…
Basa fish fillets: It's the cheapest white wish that's readily available in all supermarkets and scarily comparable to cod in terms of taste and texture. So take full advantage of that!
Cornflour: The crispy batter for this recipe is made using purely cornflour and a few spices/herbs. Nice, easy and easily available in supermarkets!
Smoked paprika: This not only adds a little extra smoky quality to the batter, but also helps to create a beautiful golden colour.
Salt and pepper: These matter more than you think in a dish like this so definitely don't skip them!
Dried mixed herbs: As white fish is quite mild in flavour, I like to add a little for flavour – it goes a long way!
Vegetable oil or garlic-infused oil: If you like a little garlic flavour in everything, then you know which one to choose – otherwise any neutral oil will do for frying the fish.
Medium potatoes: Simply chop them up into 1cm chip shapes, coat in a little oil and chuck into the air fryer. It's that simple!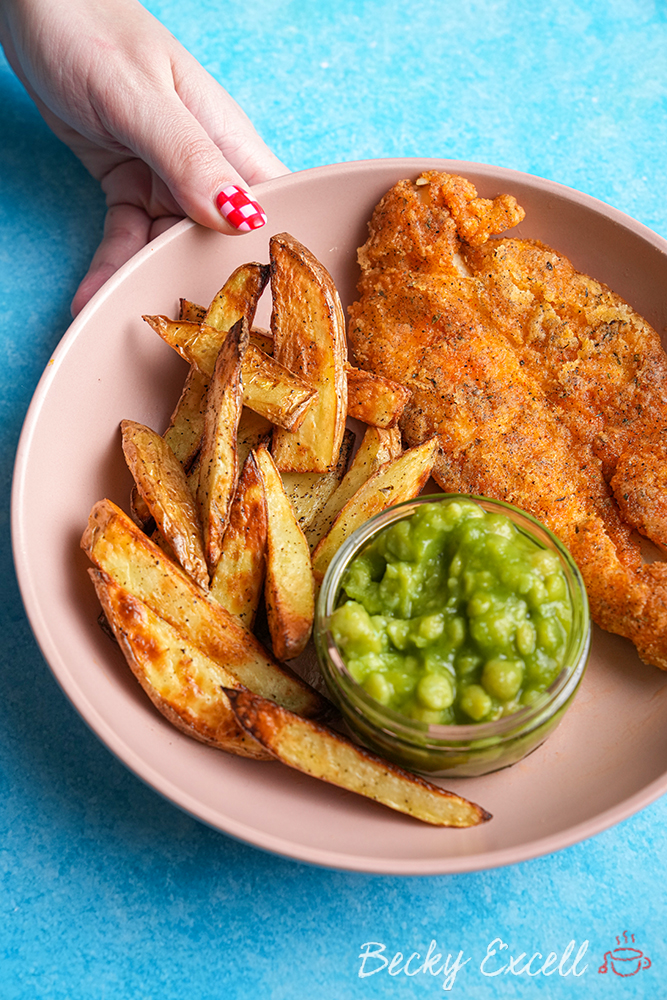 So, what does it taste like? The fish is wonderfully crispy and golden, with a harmonious blend of simple herbs and spices that add an extra dimension of awesome to that flaky, tender white fish.
It's just like the lightly dusted cod I remember loving in supermarkets… but maybe even better!
I serve mine with my crispy air fryer chips and some mushy peas (from a tin!) on the side. Needless to say, it satisfies all those takeaway cravings and then some – but this dish is way cheaper and healthier!
Here's a few frequently asked questions before you get started:
Gluten-free lightly dusted fish and chips recipe: Frequently Asked Questions
Can I make this recipe gluten-free? Is it suitable for Coeliacs?
It is gluten-free, though nobody would know just by tasting it – trust me!
Bear in mind that minimising cross-contamination is hugely important if you're Coeliac or making this for someone who is. Here's some tips from Coeliac UK on minimising the risk of cross contamination.
Also, make sure that all ingredients used don't have any gluten-containing ingredients. Then make sure that they also don't have a 'may contain' warning for gluten, wheat, rye, barley, oats (which aren't gf), spelt and khorasan wheat (aka Kamut).
Here's some more info from Coeliac UK on identifying safe gluten-free products.
Can I make your gluten-free lightly dusted fish and chips recipe dairy-free?
It is dairy-free!
Can I make your gluten-free lightly dusted fish and chips recipe veggie or vegan?
You can happily use slices of extra-firm tofu (slices into thin strips) instead of fish for this recipe and continue with the recipe as directed. As the coating has a beautiful mix of herbs and spices, your 'fish goujons' will taste amazing – promise!
Is this recipe low FODMAP?
Yes! No changes required. If using garlic-infused oil, ensure it doesn't have any actual bits of garlic floating in it.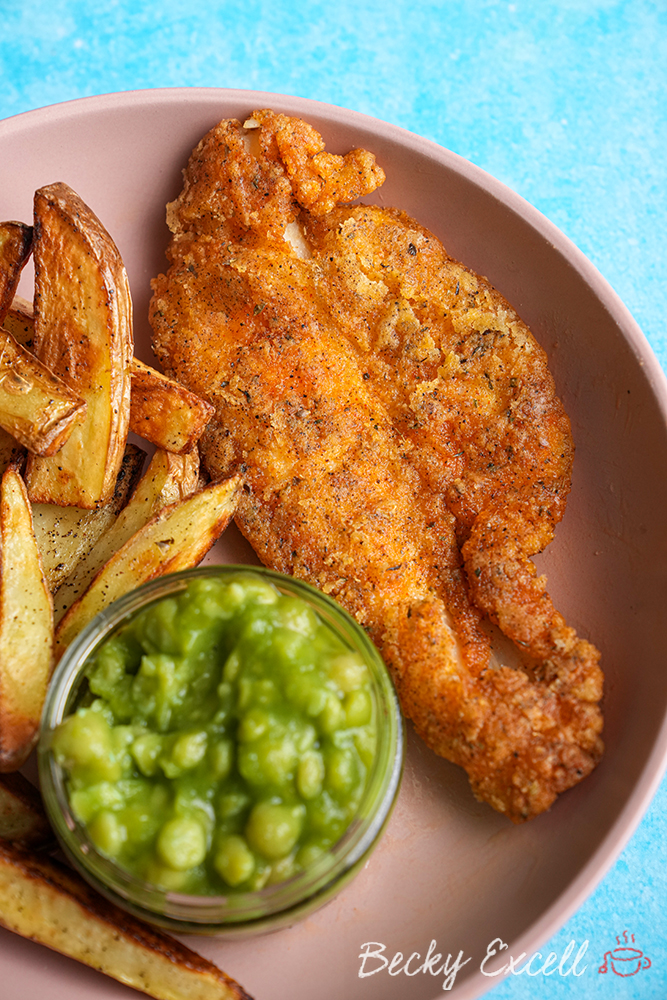 Can I fry the fish in an air fryer too?
You can, IF you ensure you spray it (and the basket) generously with oil, then air fry for 7-8 minutes at 200C. You'll also need to flip it half way and spray with more oil if it still looks white and powdery.
How can I make this healthier?
Whether you follow the recipe below or attempt the air fryer instructions above, you will always need some oil to turn that floury coating golden and crispy. Without it, it will stay dry and powdery.
I've used as minimal oil as possible in this recipe, but if you want to try and make it even healthier, use a spray oil instead to coat your frying pan and ensure you only use what you need.
How do I get my fish to be nice and crispy? My coating was soggy!
Placing your fish into oil that hasn't preheated enough is a sure-fire way to ensure the coating is sticky and wet when cooked, instead of the complete opposite: crispy and crunchy.
So either use a digital food thermometer to ensure the oil/pan is around 170C or gently dip the very tip of the lightly dusted fillet into the pan first. If it sizzles, you can put the rest in too!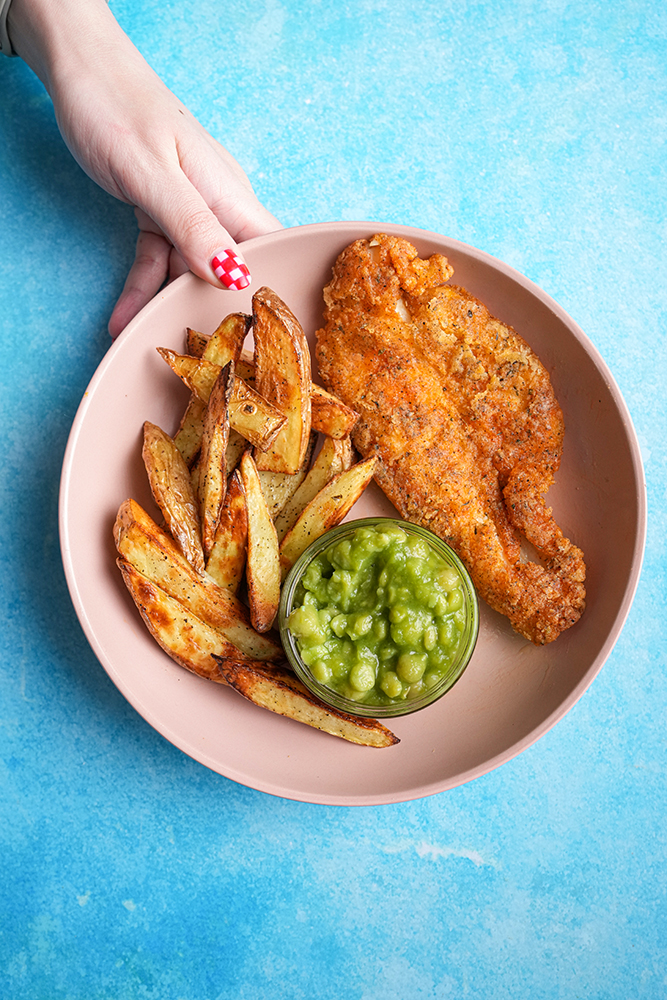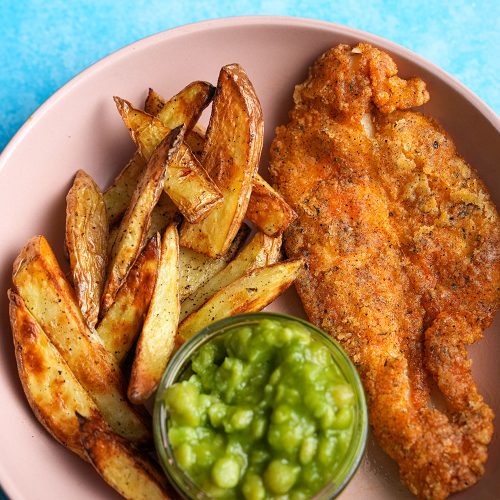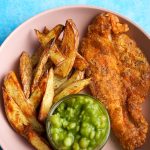 Gluten-free Lightly Dusted Fish and Chips Recipe
Gluten-free lightly dusted fish and chips recipe – a speedy, healthier 30-minute meal that nobody would know was wheat-free and Coeliac-friendly too.
Ingredients
2

basa fish fillets

60

g

cornflour

1

tsp

smoked paprika

1

tsp

salt

1/4

tsp

black pepper

1/2

tsp

dried mixed herbs

vegetable oil or garlic-infused oil

enough to cover the base of a 25cm pan

1

tin

mushy peas

to serve
For the air fryer chips: (or simply serve with frozen gluten-free chips for ease)
3

medium potatoes

chopped into chips

1

tbsp

vegetable oil

1

tsp

salt

1/4

tsp

black pepper
Instructions
Prepare your chips so they can cook whilst you work on the fish. If air frying the chips, follow the instructions below for them now OR simply pop in frozen gluten-free oven chips at this point instead if you don't have an air fryer.
To make the fish:
Mix together the cornflour, paprika, mixed herbs, salt and pepper in a small bowl.

Spread the mixture out onto a large plate.

Place the basa fillets into the flour mixture and carefully turn so that they are well coated on both sides.

Place a frying pan on a medium heat with enough oil to coat the bottom of the pan in a thin layer.

Once the oil is heated, carefully place your basa fillets into the pan. It should sizzle slightly when it goes in. If your oil isn't hot enough when you start frying (no sizzle at all), your coating won't be crispy!

Fry on each side until crisp and golden – about 3-4 minutes or so each side, keep checking the underside so you know when to flip. Transfer to a plate lined with kitchen paper.
To make the air fryer chips: (or simply serve the above with frozen chips instead)
Chop the potatoes into 1cm thick chips (using a large, sharp knife) and pop them into a bowl, then add the oil, salt and pepper. Toss so they are all coated.

Place them in a 200C preheated air fryer for about 15 minutes, turning half way until crisp and cooked.
To serve:
Serve up your fish and chips with a side of mushy peas if you like.
Thanks for reading all about my gluten-free lightly dusted fish and chips recipe! If you make it, I'd love to see how it turned out so don't forget to take a snap of your creations and tag me on Instagram!
Any questions about the recipe? Please do let me know by following me on Instagram and leaving me a comment on a recent photo!
Thanks for reading,
Becky xxx
Don't forget to pin this for later!