Chunky veggie chilli recipe – healthy, meat-free comfort food that costs around £1 a portion. Nobody would ever know its gluten-free and Coeliac-friendly!
Chunky veggie chilli recipe, anyone? This, healthy budget-friendly meal is incredibly easy to throw together in one pot, which you can then serve with rice. Yes, this is a veggie version of my classic chilli con carne!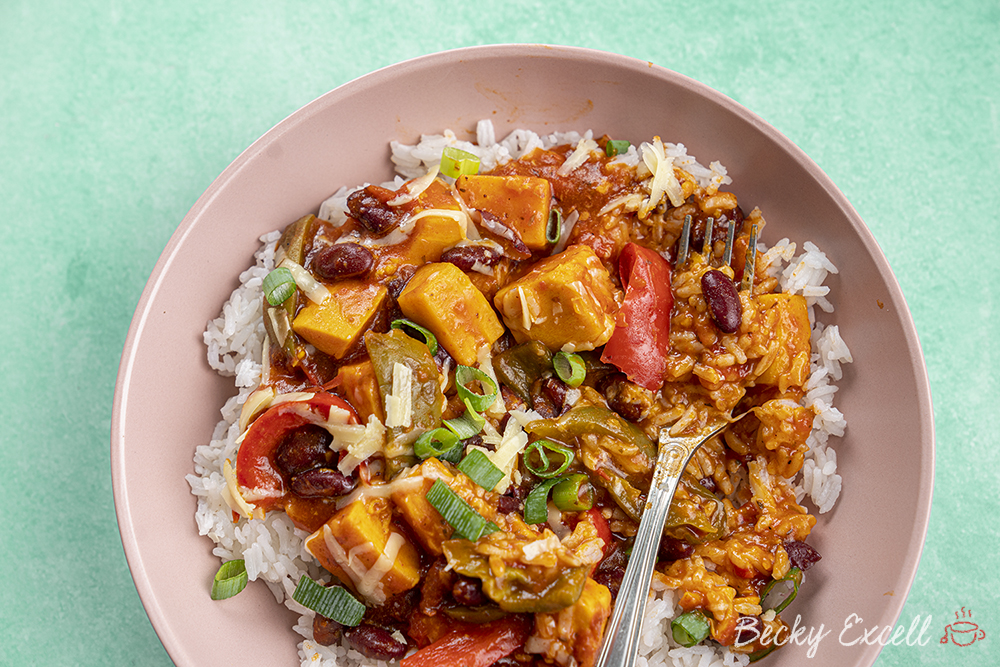 No, I haven't suddenly gone veggie or vegan! However, Mark and I do love a 'meat-free Monday' (and on any other days of the week too) and this is one of our all-time favourites.
This is also yet another budget meal plucked right from my 'How to turn a £25 shop at Aldi into 5 dinners for the week' series over on Instagram and TikTok.
I want to show the world that you can eat gluten-free on a budget, whilst still enjoying all the meals that you love eating – no free from aisle required for this one. Oh and also, they have to be meals that the rest of your gluten-eating family will love too!
I hope you're enjoying the series and if you don't have Instagram or TikTok (which I'd highly recommend you sign up to if you haven't already – it only takes 1 minute) to view this series as it goes up, never fear as I'll be posting the recipes here on the blog too.
Chunky veggie chilli recipe: What you'll need…
Spices: For this spice blend, you'll need dried oregano, ground cumin, smoked paprika, chilli powder, dried chilli flakes and a little brown sugar.
Gluten-free plain flour: I use a commercial blend that's available in supermarkets, but you can also use cornflour (corn starch) instead too as it's just for thickening purposes.
Salt and pepper: These flavour enhancers make more of a difference that you think, so please don't skip adding these – they're the fighters of bland flavour!
Garlic-infused oil: An instant injection of wonderful garlic flavour – no chopping or pre-frying of fresh garlic required. And if your garlic oil doesn't have any bits of actual garlic floating in it, then it's low FODMAP too.
Red or green (bell) peppers: Any colour of peppers will do, but I used red and green for this recipe.
Sweet potato: The perfect veg to add for a chunky texture and the sweetness works so well in that smoky, spicy sauce.
Gluten-free vegetable stock: Gluten-free stock cubes are usually clearly labelled as being gluten-free in supermarkets – you'll find them with all the regular stock cubes. Not all stock cubes are GF, so choose carefully.
Chopped tomatoes: A humble tin of chopped tomatoes forms the base of our sauce here, so this is particularly important in a chilli.
Tomato puree:

Not only does this ramp up the tomato flavour, but it also helps to thicken the sauce too.

Kidney beans: What would a chilli be without kidney beans? Simply drain a can of kidney beans and add them in when instructed.
Dried bay leaves: Fresh bay leaves work too, but it's more common to find dried bay leaves in supermarkets. You'll find them down the spice aisle.
Cheddar cheese: This is just to sprinkle on top at the end as a finishing touch. Any cheese works fine, even dairy-free too.
Spring onion: This is used as a garnish, yet adds an instant hit of onion flavour. If you use just the green parts, then it'll be low FODMAP too.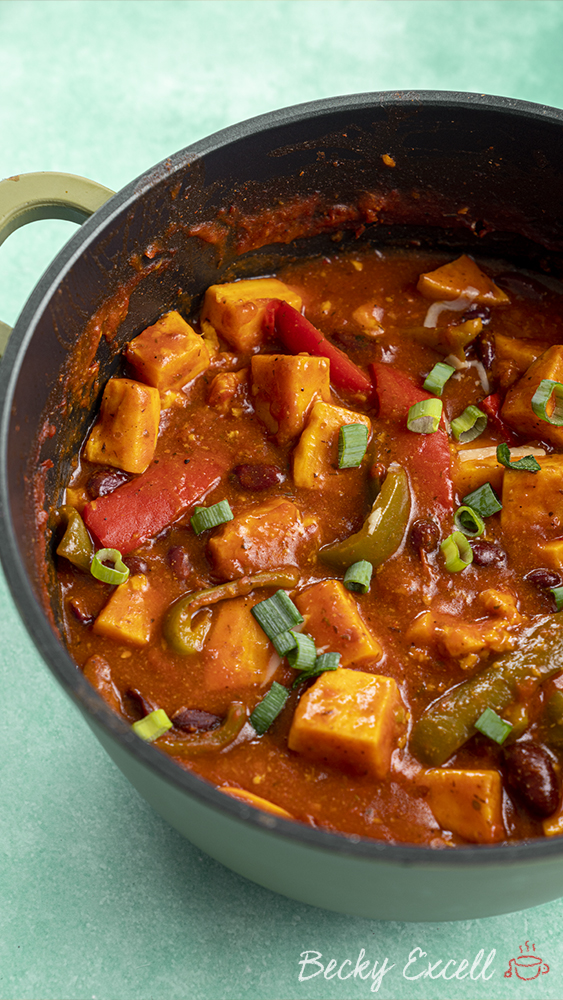 So, what does it taste like? The sauce is thick, smoky, warming and mildly spicy, like a comforting hug in every bite. Then, you've of course got lots of tender, chunky veg and kidney beans hiding in that sauce, which absorb all that wonderful flavour.
The peppers add a unique flavour to the sauce and the sweet potato brings a little natural sweetness that pairs incredibly well with the smoky, spicy notes.
Simply serve with rice and sprinkle with chopped spring onion and a little grated cheese, or if you're feeling a little adventurous, serve over crispy potato wedges for the ultimate experience.
Here's a few frequently asked questions before you get started:
Chunky veggie chilli recipe: Frequently Asked Questions
Can I make this recipe gluten-free? Is it suitable for Coeliacs?
It is gluten-free, though nobody would know just by tasting it – trust me!
Bear in mind that minimising cross-contamination is hugely important if you're Coeliac or making this for someone who is. Here's some tips from Coeliac UK on minimising the risk of cross contamination.
Also, make sure that all ingredients used don't have any gluten-containing ingredients. Then make sure that they also don't have a 'may contain' warning for gluten, wheat, rye, barley, oats (which aren't gf), spelt and khorasan wheat (aka Kamut).
Here's some more info from Coeliac UK on identifying safe gluten-free products.
Can I make your chunky veggie chilli recipe dairy-free?
Just use dairy-free cheese – that's it!
Can I make your chunky veggie chilli recipe vegan?
If you use dairy-free cheese, then it is vegan!
Is this recipe low FODMAP?
It can be! Veggie dishes take a little more care to adapt to be low FODMAP as most veg has a FODMAP limit on how much you can eat per meal. Also, a lot of legumes and beans have very small FODMAP serving sizes which also makes veggie meals a little tricky.
So see the guidance below with the above in mind. With these changes made, one quarter of the finished dish would be a safe low FODMAP serving size:
Ensure your garlic-infused oil doesn't have any actual bits of garlic floating in it (the one in Tesco is safe, but sadly the one in Aldi is not, for example)
Serve no more than 75g of sweet potato per person
Use 300g of green peppers (don't use red peppers for this one) ensuring a serving size of no more than 75g per person
Omit the tomato puree
Swap the kidney beans for 180g (drained) canned black beans
Use the green parts of spring onion only
Ensure your chilli powder doesn't contain onion or garlic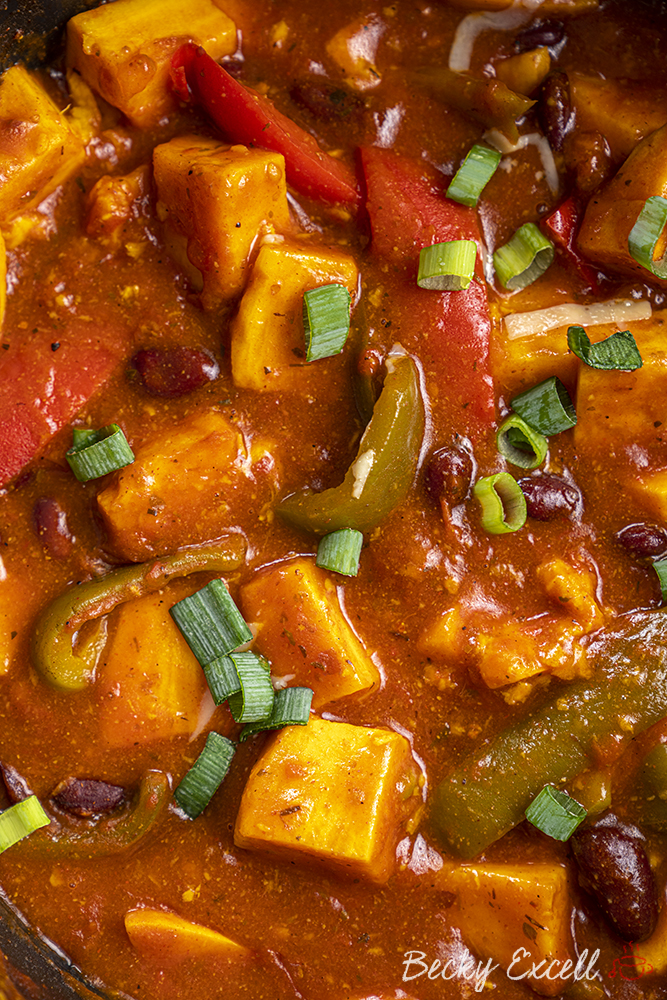 Can I swap up the veg?
Of course! Peppers are a must in a Tex-Mex dish like this, but if you can't tolerate them then there's no reason you can't swap them out.
Courgette (diced into small cubes) or mushrooms (halved) work well, as would red onion (if you can tolerate it – I can't sadly!). You can really mix this one up as much as you like.
How can I make this healthier?
This is already a very lean, healthy meal! But if you want to make it even healthier you can always:
Use a low calorie garlic-flavoured cooking spray instead of garlic oil
Omit the cheese when serving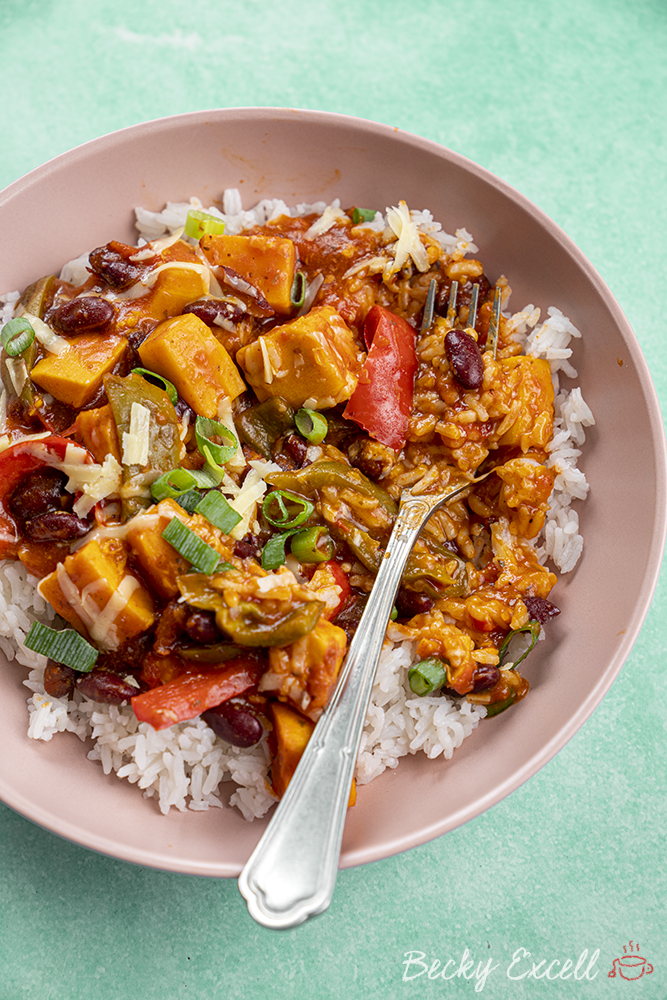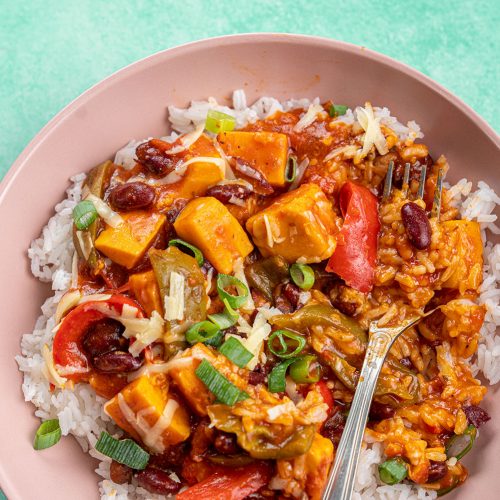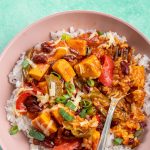 Chunky Veggie Chilli Recipe
Chunky veggie chilli recipe – a super simple dinner that's easy to throw together. Gluten-free and Coeliac-friendly too.
Ingredients
For the spice blend:
2

tsp

dried oregano

2

tsp

ground cumin

2

tsp

smoked paprika

1

tsp

chilli powder

1/2

tsp

chilli flakes

1/2

tsp

light brown sugar

3

tbsp

gluten-free plain flour

generous pinch of salt & pepper
For the rest:
2

tbsp

garlic-infused oil

2

red peppers

chopped

1

large sweet potato

or 2-3 small ones, chopped

450

ml

gluten-free vegetable stock

1

can

400g chopped tomatoes

3

tbsp

tomato puree

1

can

400g kidney beans

2

dried bay leaves
To serve:
spring onion greens

finely chopped

handful of grated cheddar

dairy-free if necessary

long-grain rice
Instructions
Heat garlic infused oil in a large, lidded pot over a medium heat. Then add in the chopped sweet potato and peppers. Fry on all sides for about 5 minutes.

Add in the spice blend and mix them in to coat the veg well. Cook for a few minutes until you can smell the spices.

Add chopped tomatoes and puree and stir through. Then pour in the stock, kidney beans and add the dried bay leaves.

Bring to the boil then turn down to a simmer. Put the lid on and cook until the sweet potato is tender and the liquid has thickened to your liking (around 30-45 minutes), removing the lid for the last 10-15 minutes to allow it to thicken.

Serve with rice and top with spring onion greens and cheese.
Thanks for reading all about my chunky veggie chilli recipe! If you make it, I'd love to see how it turned out so don't forget to take a snap of your creations and tag me on Instagram!
Any questions about the recipe? Please do let me know by following me on Instagram and leaving me a comment on a recent photo!
Thanks for reading,
Becky xxx
Don't forget to pin this for later!