Chicken taco explosion traybake recipe – a budget-friendly dinner that's ready in 30 minutes. Nobody would ever know its gluten-free and Coeliac-friendly!
Chicken taco explosion traybake recipe, anyone? Meet my 'exploded' version of crunchy chicken tacos that you can throw together on one tray and serve up to 4 people. Best of all, it's budget-friendly too, using simple ingredients from Aldi.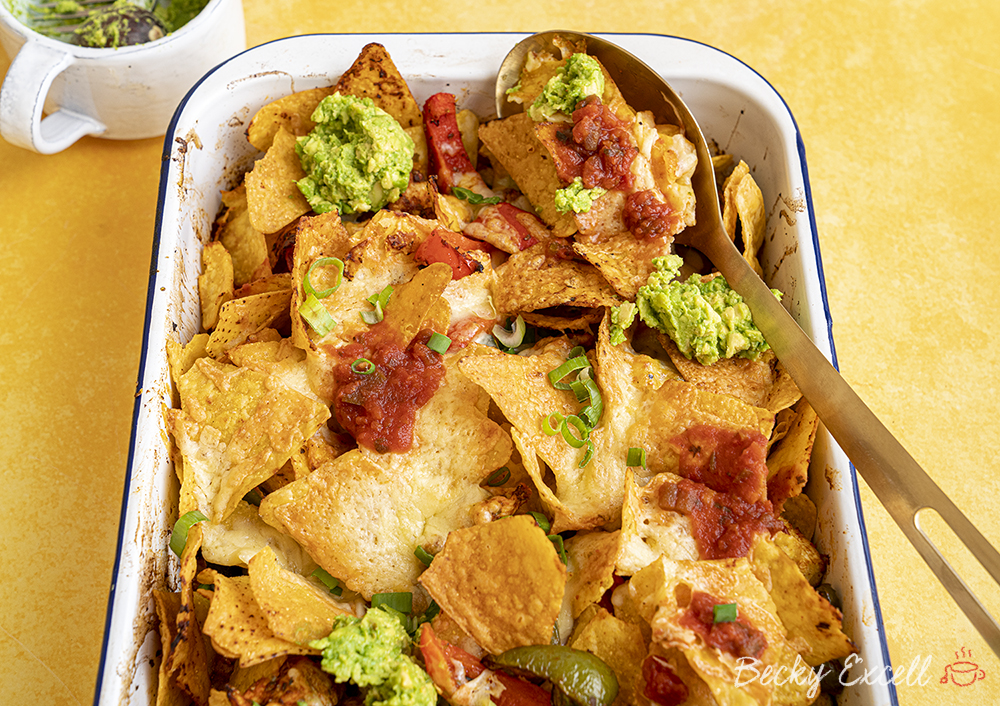 This is yet another budget meal plucked right from my 'How to turn a £25 shop at Aldi into 5 dinners for the week' series over on Instagram and TikTok.
Shopping at Aldi can be a challenge when you're gluten-free as, of course, they don't have a free from aisle whatsoever… plus, dedicated gluten-free items in general are a rarity in Aldi.
But does that mean you can't shop there to take advantage of their otherwise budget-friendly prices? Of course not! My chicken taco explosion traybake is a great example of a comforting, affordable meal that's gluten-free, made exclusively using Aldi ingredients.
So if you're a fan of crunchy tacos, but fancy an all-in-one, easily serve-able 'exploded' version, then definitely give this recipe a go!
Chicken taco explosion traybake recipe: What you'll need…
Spices: For this recipe you'll need cayenne pepper, ground cumin, dried oregano, smoked paprika and salt.
Garlic-infused oil: An instant injection of wonderful garlic flavour – no chopping or pre-frying of fresh garlic required. And if your garlic oil doesn't have any bits of actual garlic floating in it, then it's low FODMAP too.
Red or green (bell) peppers: Any colour of peppers will do, but I used red and green for this recipe.
Courgette: As this recipe aims to be more of a well-rounded meal, rather than just a tray of nachos, I felt a little extra veg helped to achieve this. And courgette tastes amazing when baked in that smoky, spice blend!
Chicken breast: I used chicken sizzlers from Aldi (which was the cheapest chicken per gram in there) but any chicken breast works well, provided you've chopped them into thin strips that'll cook quickly.
Plain tortilla chips: Whichever you use, ensure they're plain and gluten-free! I bought the Aldi Everyday Essential tortilla chips which are gluten-free and only 45p a bag.
Cheddar cheese:

This is just for a finishing touch before baking the traybake in the oven – a perfect cheesy finish!

Avocado: I used an 'XL' avocado from Aldi, but consider grabbing an extra one if you're making this to serve 4 and love it as much as I do.
Spring onion: This is used as a garnish, yet adds an instant hit of onion flavour. If you use just the green parts, then it'll be low FODMAP too.
Salsa: A simple store-bought salsa will do – simply dollop on top of the traybake as soon as it comes out of the oven.
So, what does it taste like? This traybake literally tastes like the best crunchy chicken tacos I've ever eaten – but in Nacho-form!
There's smoky, mildly spicy, tender chicken, soft peppers and courgette; all coated in my bold, homemade taco spice blend. The tray is then obviously packed with super crunchy, cheese-topped tortilla chips, acting as your 'exploded' crunchy taco shells, garnished with scoops of mashed avocado and dollops of salsa.
It's a cross between crunchy tacos and nachos that has more than enough veg and protein to be a proper meal (as opposed to being more of a sharing platter situation), though you're more than welcome to enjoy them in front of your favourite movie, if you'd like!
Chicken taco explosion traybake recipe: Frequently Asked Questions
Can I make this recipe gluten-free? Is it suitable for Coeliacs?
It is gluten-free, though nobody would know just by tasting it – trust me!
Bear in mind that minimising cross-contamination is hugely important if you're Coeliac or making this for someone who is. Here's some tips from Coeliac UK on minimising the risk of cross contamination.
Also, make sure that all ingredients used don't have any gluten-containing ingredients. Then make sure that they also don't have a 'may contain' warning for gluten, wheat, rye, barley, oats (which aren't gf), spelt and khorasan wheat (aka Kamut).
Here's some more info from Coeliac UK on identifying safe gluten-free products.
Can I make your chicken taco explosion traybake recipe dairy-free?
Just use dairy-free cheese – that's it!
Can I make your chicken taco explosion traybake recipe vegan?
If you use dairy-free cheese, then all that's left to do is substitute the chicken. In the nature of keeping this as a well-rounded meal I'd recommend something that's a good source of protein, such as gluten-free, meat-free sausages (chopped into chunks).
Of course, it's unlikely you'll find these in Aldi! But you could also use button mushrooms (halved) and use them instead of the chicken as an extra veg sub.
Is this recipe low FODMAP?
It can be very easily, as long as you ensure a few things:
Ensure your garlic-infused oil doesn't have any actual bits of garlic floating in it (the one in Tesco is safe, but sadly the one in Aldi is not, for example)
Serve no more than 1/8 of an avocado per person
Serve with a low FODMAP salsa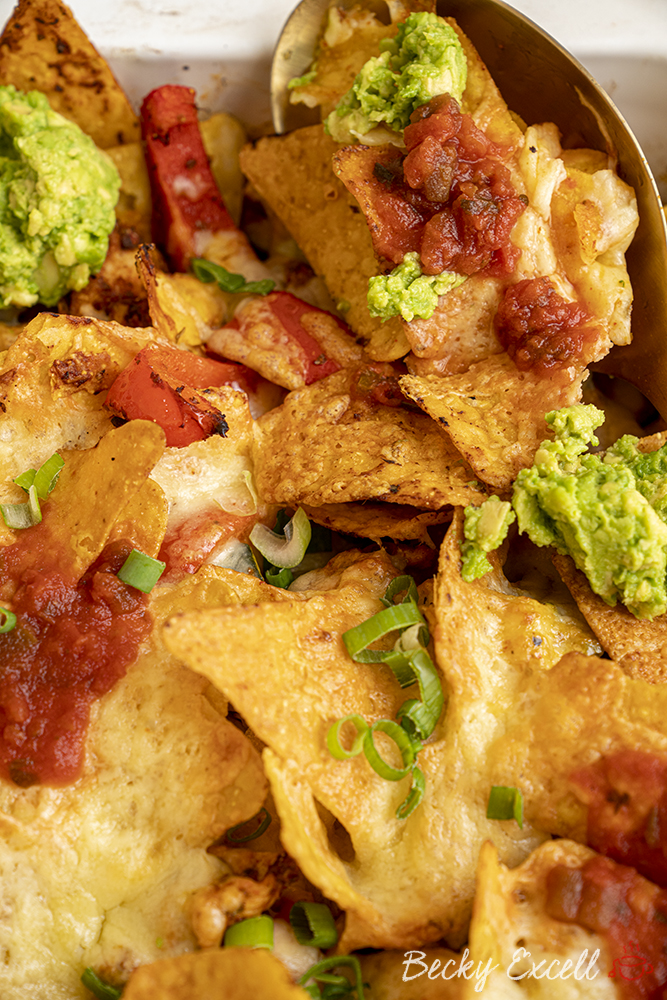 Can I swap up the veg?
Of course! Peppers are a must-have when it comes to tacos – especially since they cook quickly in the relatively short time that they're in the oven. So I'd highly recommend leaving those in!
If you fancy using something else instead of courgette, just ensure it's something that would reasonably cook in the oven in 20 minutes when chopped small enough! Mushrooms work well, as would red onion (if you can tolerate it – I can't sadly!).
How can I make this healthier?
If you want to make it even healthier you can always:
Use a small amount of cheese when sprinkling on top
Use gluten-free tortilla wraps (chopped into triangles) instead of using tortilla chips – you'll need at least 3-4 chopped mini gf tortillas per person.
The above swap to tortilla wraps will definitely increase the price of the dish but I just wanted to give you a few ideas!
How do I serve this?
Once baked, top with dollops of salsa and scoops of mashed avocado, as well as chopped spring onion greens, as instructed in the recipe.
This traybake serves 4 people, so serve each person an even portion straight from the tray to plates, with equal amounts of chicken and veg. Serve with extra salsa on the side, ensuring each person gets a generous amount of mashed avocado.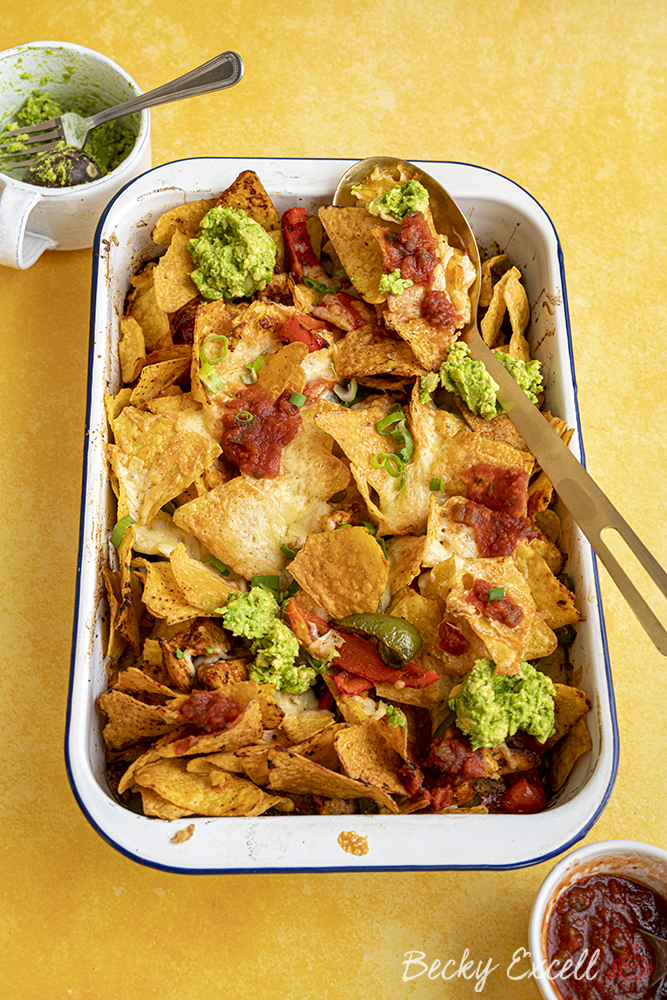 Chicken Taco Explosion Traybake Recipe
Chicken taco explosion traybake – a budget, 30-minute meal that's quick and easy to make. Gluten-free and Coeliac-friendly too!
Ingredients
For the spice blend:
1

tsp

cayenne pepper

2

tsp

ground cumin

4

tsp

dried oregano

2

tbsp

smoked paprika

1

tsp

salt
For the rest
1

tbsp

garlic-infused oil

2

green/red

bell peppers, chopped into long, thin slices

1

medium courgette

chopped into 1/2cm batons

500

g

chicken breast

thinly sliced (I used Aldi chicken breast sizzlers)

400

g

gluten-free plain tortilla chips

I used 2 bags of Aldi's Everyday Essentials

2

handfuls of cheddar cheese

grated (dairy-free if necessary)

1

extra large avocado

mashed

spring onion greens

finely chopped

1

small jar of salsa
Instructions
Preheat the recipe 200C (fan).

Add everything for the spice blend to a small bowl and mix it together until well combined.

In a separate large mixing bowl, add the chopped peppers, courgette and sliced chicken, then mix together.

Drizzle the chicken and veg with a good tbsp of garlic oil then add the spice blend and coat everything thoroughly.

Get a large oven proof dish (mine was 13x11in) and pour in all your seasoned chicken and veg, spread it out so that everything is even in the tray.

Place into the preheated oven for 10 minutes.

Remove from the oven and add in the tortilla chips, mix them in, being careful not to break them.

Cover with grated cheese, then place back in the oven for a further 10 minutes, until the cheese is all melted and golden.

Finish with some mashed avocado (I use an ice cream scoop to dollop it on), dollops of salsa and chopped spring onion greens. Enjoy!
Thanks for reading all about my chicken taco explosion traybake recipe! If you make it, I'd love to see how it turned out so don't forget to take a snap of your creations and tag me on Instagram!
Any questions about the recipe? Please do let me know by following me on Instagram and leaving me a comment on a recent photo!
Thanks for reading,
Becky xxx
Don't forget to pin this for later!