Creme Egg Scotch Egg recipe – an Easter baking project that's a spin on a savoury classic. Nobody would ever know it's also gluten-free, promise!
Creme Egg Scotch Egg recipe – once you've got your brownies made, all you need to do is crumble it up, mould it around the Creme Eggs and coat the outside. Easy peasy and fun too!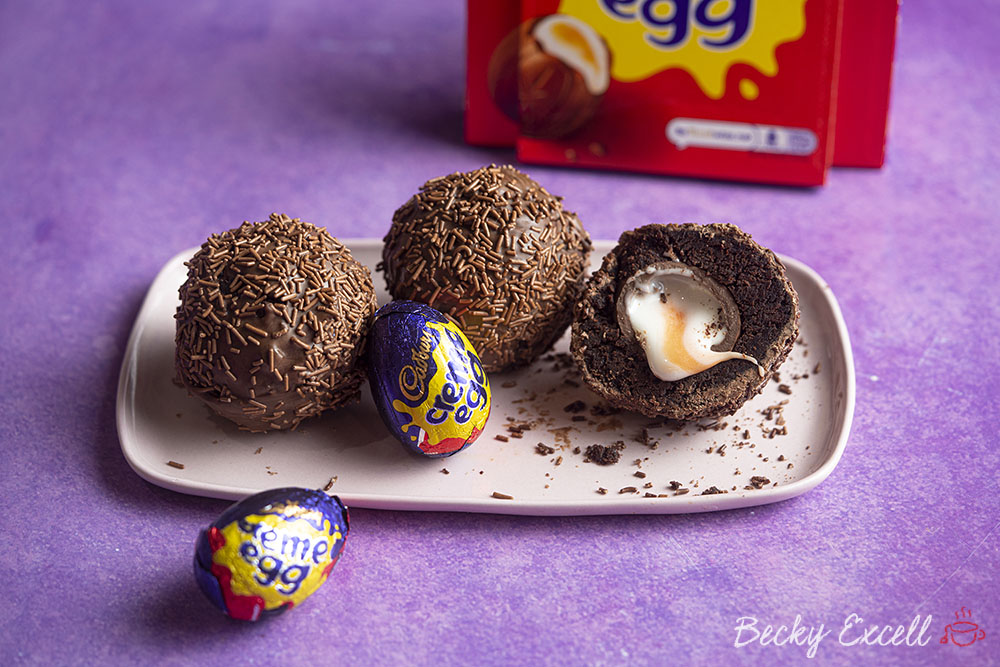 Every year goes by and I always say to myself: 'I must make my own version of Creme Egg Scotch eggs this year…'
And for the last three years, I never seem to get around to it. Until now!
Trust me on this one – they were well worth the wait. I'm not quite sure I've tasted something this insanely indulgent and epic… at Easter or any other time of the year!
So here's the 4 simple ingredients you'll need to make it possible:
Creme Egg Scotch Egg recipe: What you'll need…
Batch of homemade brownies: You can use my recipe here or use a boxed gluten-free brownie mix. They must be homemade as they need to be nice and fudgy to be moulded around the Creme Eggs – store bought brownies are usually too dry!
Creme Eggs: Yes, they're gluten-free here in the UK! You'll find them down the seasonal Easter aisle in supermarkets. I'd recommend getting the 10 pack as you'll have enough brownie to coat most of them.
Milk chocolate: Coating your Creme egg brownie balls in melted milk chocolate allows the sprinkles to stick to it.
Gluten-free chocolate sprinkles: These are for the outside of the 'Scotch Eggs', but you could also used crushed gluten-free digestive biscuits too.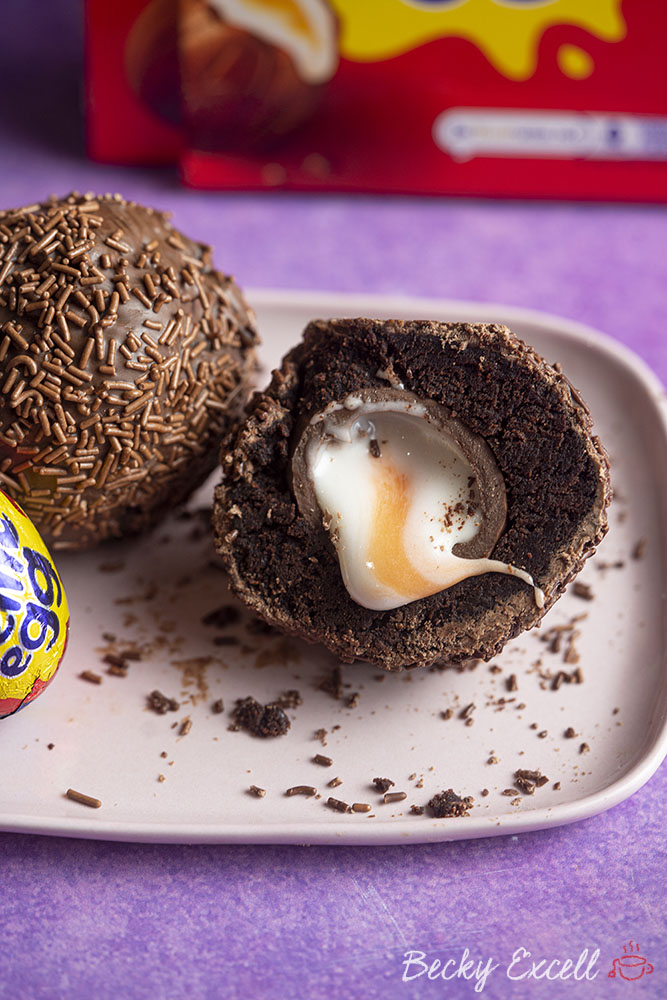 So, what does it taste like? The chocolate on the outside, once set, has a lovely snap and a crunchy finish thanks to the chocolate sprinkles.
The brownie layer is deliciously fudgy and chocolatey as you'd expect, encasing a chunky Creme Egg that's filled with all that sweet, sticky fondant.
Honestly, you just have to try them for yourself as no matter how much describing I do, it just doesn't seem to quite do these justice enough!
Here's a few frequently asked questions before we get started…
Creme Egg Scotch Egg recipe: Frequently Asked Questions
Can I make this recipe gluten-free? Is it suitable for Coeliacs?
It is gluten-free, though nobody would know just by tasting it – trust me!
Bear in mind that minimising cross-contamination is hugely important if you're Coeliac or making this for someone who is. Here's some tips from Coeliac UK on minimising the risk of cross contamination.
Also, make sure that all ingredients or products used don't have any gluten-containing ingredients. Then make sure that they also don't have a 'may contain' warning for gluten, wheat, rye, barley, oats (which aren't gf), spelt and khorasan wheat (aka Kamut).
Here's some more info from Coeliac UK on identifying safe gluten-free products.
Can I make your Creme Egg Scotch Egg recipe dairy-free?
Technically, it's possible, but unfortunately the only dairy-free alternative to Creme Eggs that I know of has a 'may contain milk' warning. However, if that's ok for you, here's how to do it:
Make my gluten-free brownies recipe using dairy-free substitutions (see the FAQ section of that recipe post)
Instead of using milk chocolate, use dairy-free chocolate
Ensure your chocolate sprinkles are dairy-free
Instead of using Creme Eggs, use: Mummy Meagz Chuckie Eggs (has a 'may contain' warning for milk)
Can I make your Creme Egg Scotch Egg recipe vegan?
Follow the steps above to make this dairy-free and ensure you use 9 tbsp of aquafaba (pre-whisked until frothy) instead of the eggs when you make the brownies.
Is this recipe low FODMAP?
Unfortunately, as this recipe relies on products that are high in lactose, this isn't suitable for the elimination phase of the low FODMAP diet.
Are Creme Eggs gluten-free?
Yes, they are in the UK! They don't have any gluten-containing ingredients or a 'may contain' warning for gluten.
Tap here to read the ingredients label for yourself – it never hurts to double-check! You'll find them down the seasonal aisle in the supermarket.
Can I make this using store-bought gluten-free brownies?
I wouldn't recommend it as you really need the brownies to be nice and fudgy to be able to mould them around the Creme Eggs.
If the brownies are too dry, you'll just end up with a bunch of dry cake crumbs which won't adhere to each other and stick to the Creme Egg.
However, if that's the case for you, you can try mixing a little store-bought chocolate buttercream into them until you achieve a mouldable consistency.
I'd highly recommend using my homemade gluten-free brownie recipe for the best results.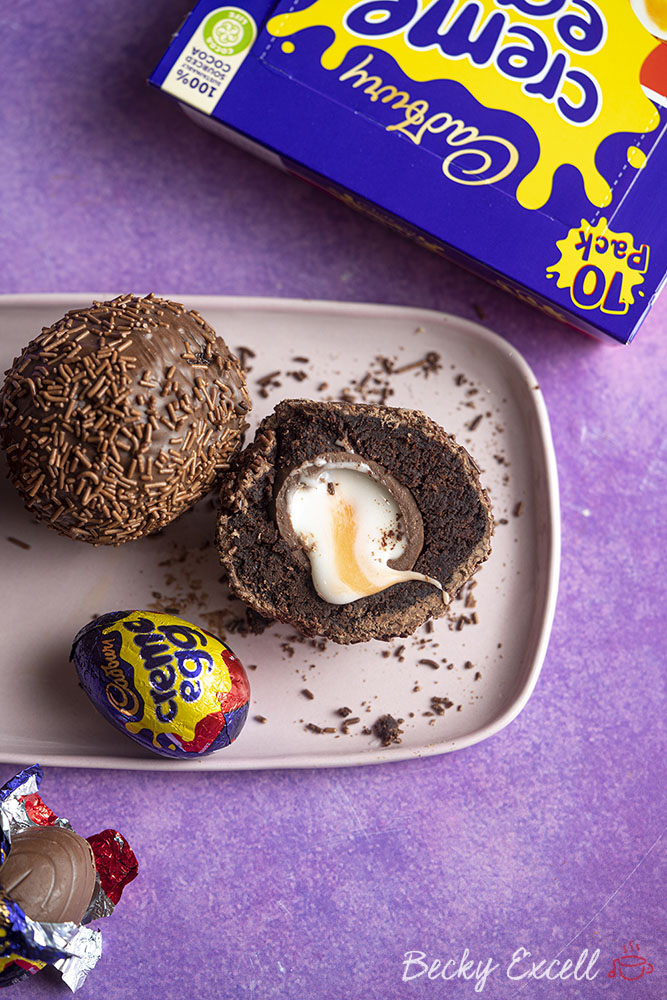 Creme Egg Scotch Egg Recipe
Creme Egg Scotch Egg recipe – the ultimate Easter treat that's super easy to make and nobody would ever know they're gluten-free and Coeliac-friendly.
Ingredients
9 3

in

homemade brownies

recipe linked above or use a boxed gluten-free brownie mix

6-8

Creme Eggs

200

g

milk chocolate

melted

gluten-free chocolate sprinkles or crushed gluten-free biscuits
Instructions
Crumble the pre-made brownies into a bowl. The brownies should have cooled down fully if you are making them specifically for this recipe.

Grab a golf ball-sized amount of the brownie crumbs, compact it all together then press it flat in the palm of your hand.

Place a whole Creme Egg in the centre and then cover with another piece of compacted, flattened brownie. Roll it up so the creme egg is covered and repeat 6-7 more times until you've used up all the brownie crumbs. See the video above for a visual version of the method.

Chill the balls briefly in the fridge and then cover in melted chocolate, followed by either chocolate sprinkles or crushed gf biscuits.

Allow to set in the fridge – it doesn't take long! Then cut it half to see your egg centre and enjoy! 
Thanks for reading all about my Creme Egg Scotch Egg recipe! If you make it, I'd love to see how it turned out so don't forget to take a snap of your creations and tag me on Instagram!
Any questions about the recipe? Please do let me know by following me on Instagram and leaving me a comment on a recent photo!
Thanks for reading,
Becky xxx
Don't forget to pin this for later!