Gluten-free hot cross scones recipe – a combination of two classic bakes that's perfect for Easter! Best of all, nobody would know they're Coeliac-friendly and wheat-free too.
Gluten-free hot cross scones recipe, anyone? A beginner-friendly bake that can be made in around 30 minutes – they taste like a hot cross bun… but they're scones! Crazy, right?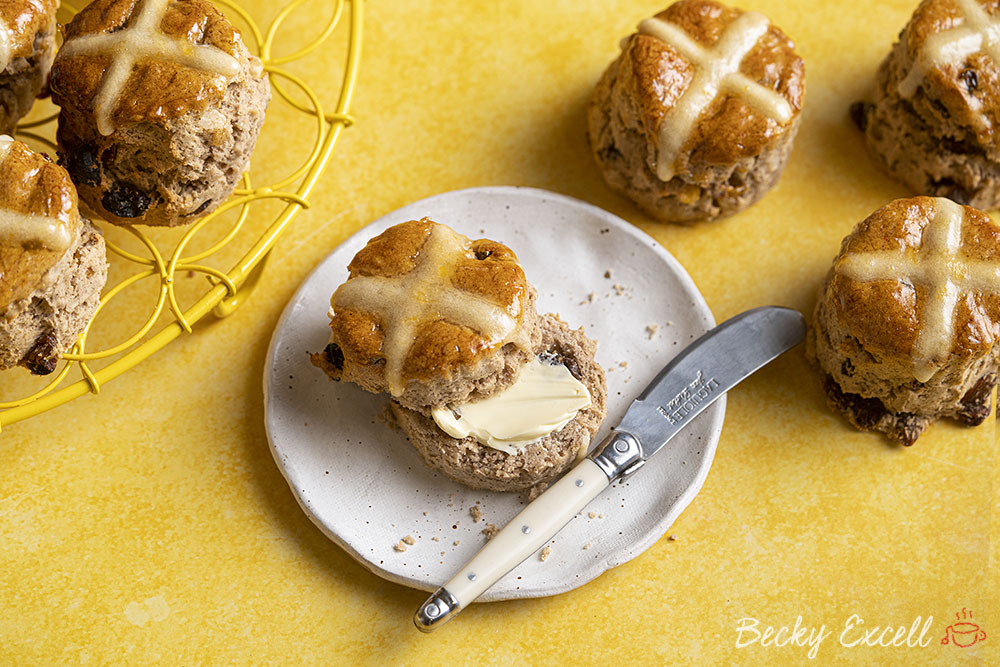 This is one bake where I have to admit… the name for these definitely came first. As in, I had the name 'hot cross scones' in my head way before I ever knew this combo would even work!
(but the name just sounds like it should be 'a thing' already, right?!)
But fortunately, they came out exactly how I imagined them. They undeniably have that subtle sugar and spice (from my proper gluten-free hot cross buns) rolled into my classic, fluffy gluten-free scones recipe. And of course, a perfect cross on top!
Here's everything you'll need for the recipe along with a quick description – if you're not familiar with these particular ingredients or not sure why they're required. You'll find all of these ingredients in the supermarket.
Gluten-free hot cross scones recipe: What you'll need…
Gluten-free self-raising flour: I use a simple commercial blend from the free from aisle in the supermarket. If you can't find a blend like this where you live, you can always make your own using my gluten-free flour recipe.
Gluten-free baking powder: Not all baking powder is gluten-free, so please ensure that yours is first.
Xanthan gum: This helps to bind the dough together so it doesn't become crumbly, replacing the gluten that would otherwise do the same job. It can usually be found in the free from aisle of most supermarkets.
Butter: Salted or unsalted is totally fine (I use unsalted), but whichever you go for, make sure it's very cold.
Light brown sugar: Brown sugar is key to getting a hot cross bun-like flavour – if you use caster instead, you're veering more towards classic scones with added extras.
Milk: Skimmed, semi-skimmed or whole milk is fine here – I used semi-skimmed. Dairy-free works too, of course.
Lemon juice: This is an integral ingredient and NOT for flavour at all, so please don't skip it. It curdles the milk to magically transform it into homemade buttermilk.
Mixed spice: This spice blend is a staple in so many classic bakes – you'll find it with all the other dry herbs and seasonings in the supermarket. If you're not sure what it is, see the FAQ section.
Ground cinnamon: A key part of my hot cross bun spice blend, cinnamon adds an extra warming, almost apple pie-like flavour.
Mixed peel: Of course, it wouldn't be 'hot cross bun' without the zesty, citrus sweetness of mixed peel.
Sultanas: These are a welcome addition to both scones and hot cross buns, so not surprisingly, they fit in perfectly here. Raisins and other dried fruit work too.
Gluten-free plain flour: As we don't want the raising agents in self-raising flour to create the cross, plain flour is needed here.
Vegetable oil: This helps to stop the cross on top from cracking, which purely water and gluten-free flour has a habit of doing when baked.
Egg: This is just for brushing on top of your scones so any size of egg works here.
Apricot Jam: A little brushing of apricot jam on top (once baked) gives a divine, sweet and sticky finish to the tops of your scones. It also just makes them look even more hot cross bun-like too!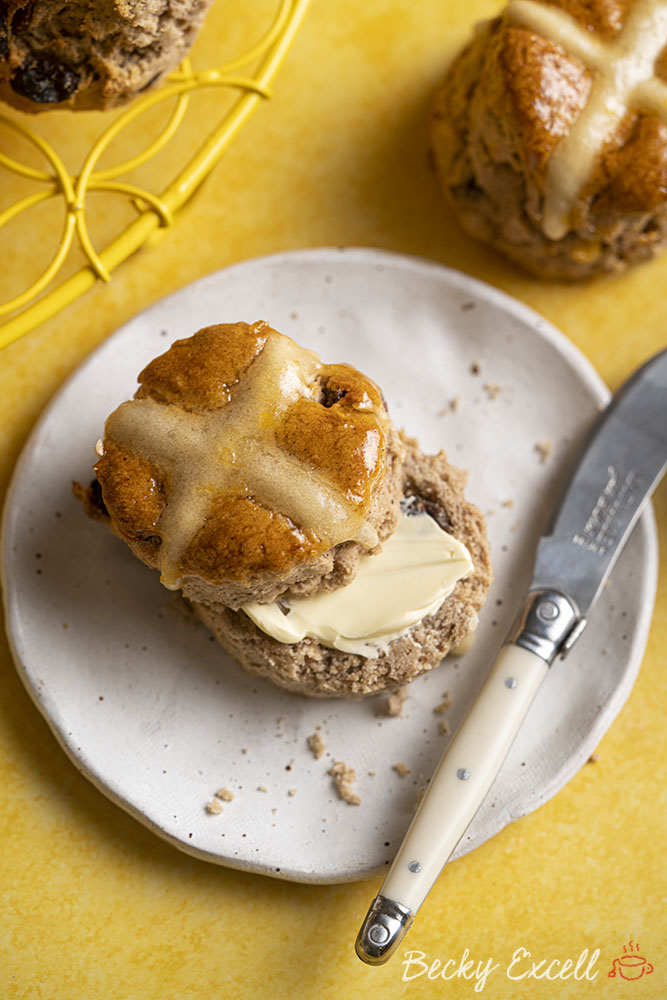 But what do my gluten-free hot cross scones taste like, I hear you ask?
Of course, these are a scone first and foremost so expect that delightful, slightly crisp exterior and a soft, almost fluffy inside once sliced. And certainly NOT dry or crumbly!
But the flavour couldn't be further from your traditional scone! This spice blend makes each bite cosy and warming; infused with a caramel-like, citrus sweetness thanks to the brown sugar and mixed peel.
In short – it basically tastes like a hot cross bun! And who could resist that super-simple cross decoration on top?
(which is, in fact, exactly how I decorate my proper hot cross buns)
So here's a few FAQs on how you can adapt this recipe if you need to as well as a few other burning questions you might have…
Gluten-free hot cross scones recipe: Frequently Asked Questions
Can I make this recipe gluten free? Is it suitable for Coeliacs?
It is gluten free, though nobody would know just by tasting it – trust me!
Bear in mind that minimising cross-contamination is hugely important if you're Coeliac or making this for someone who is. Here's some tips from Coeliac UK on minimising the risk of cross contamination:
Also, make sure that all ingredients used don't have any gluten-containing ingredients. Then make sure that they also don't have a 'may contain' warning for gluten, wheat, rye, barley, oats (which aren't gf), spelt and khorasan wheat (aka Kamut).
Here's some more info from Coeliac UK on identifying safe gluten free products.
Can I make your gluten-free hot cross scones recipe dairy free?
With two simple swaps, you certainly can! To make it dairy-free:
Use dairy-free milk
Use Stork hard margarine (very cold) instead of butter.
That's it!
Can I make your gluten-free hot cross scones recipe vegan?
Yep! If you follow the instructions above to make this recipe dairy free, then all you've got left to contend with is the egg.
Simply use:
Use the dairy-free milk of your choice to brush the scones instead of the egg
Can I make this recipe low FODMAP?
It can be low FODMAP! Simply use lactose-free milk and omit the sultanas. Then, two scones would be a safe low FODMAP serving size for the elimination phase of the diet.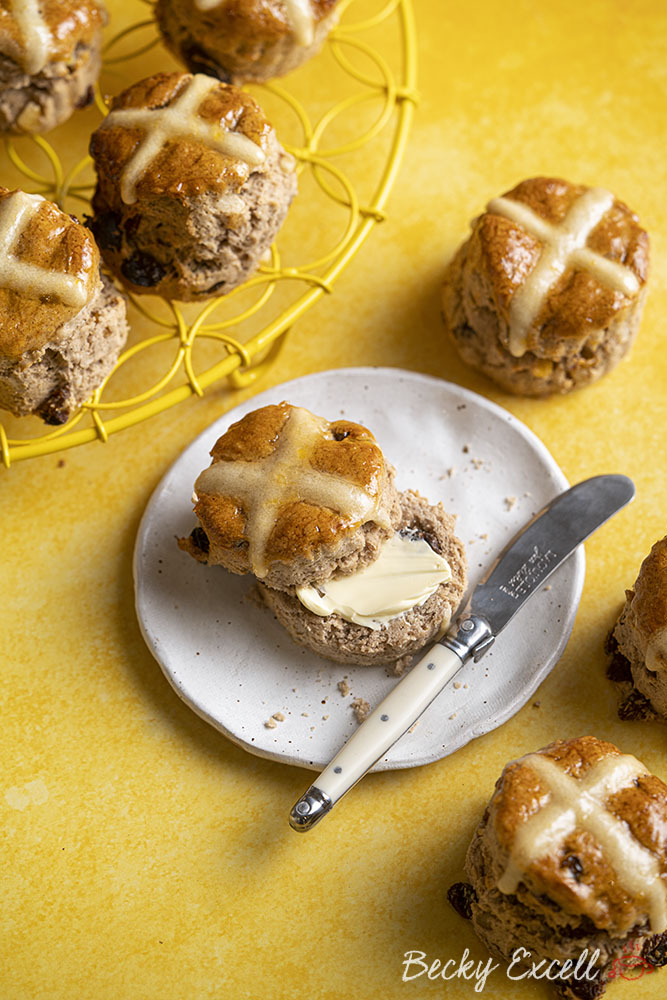 How many scones does this recipe make?
My gluten-free hot cross scones recipe doesn't make a huge amount of scones – around 6-8 per batch as I like to make them really tall and towering.
But you could easily make slightly shorter scones and get more out of your dough – it's totally up to you. I do always think scones are best served up fresh though, so small batches aren't a bad thing!
What is mixed spice?
Mixed spice is a spice blend that can be found in supermarkets here in the UK and is traditionally used in lots of our bakes (such as in hot cross buns and fruit cake).
The mixed spice I use is a blend of ground cinnamon, coriander seed, nutmeg, clove, pimento and ginger. It adds a wonderful warming flavour here.
Do I need any special equipment to bake your gluten-free hot cross scones?
Nope! However, a food processor can massively speed up the process of rubbing butter into flour, but it's certainly not mandatory for this recipe.
You will also need a fluted cookie cutter to cut out the scones that's about 45–55mm (1¾–2in) wide. I use the one from this set – it has a handle which is perfect for scones!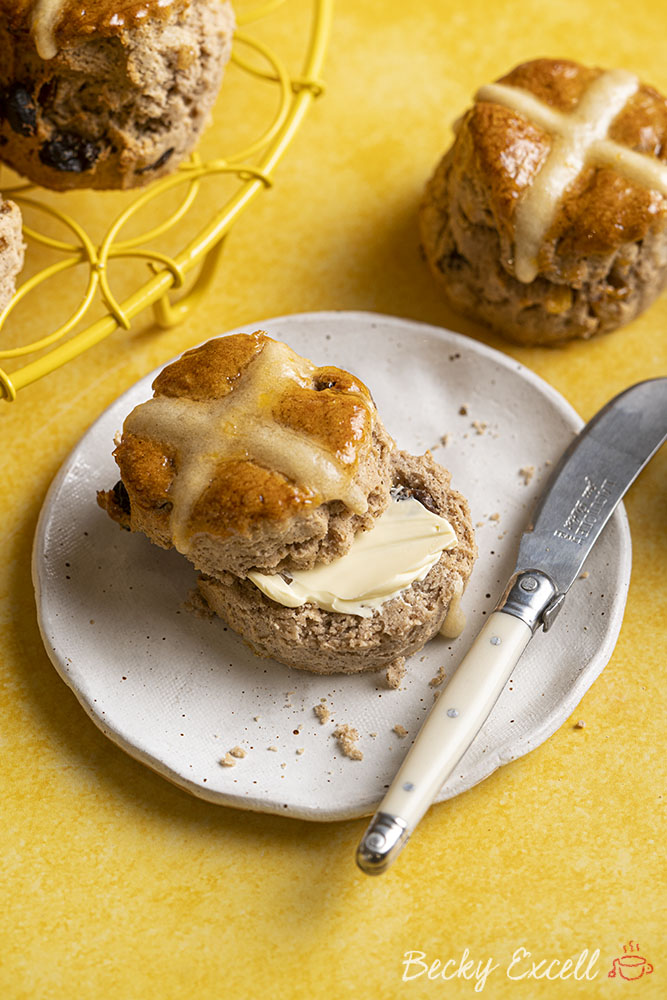 How long can I keep your gluten-free hot cross scones for?
I've kept my gluten-free hot cross scones for 4-5 days in an air-tight container with no problems.
If you need to keep them any longer than that, I'd highly recommend freezing them (see advice below for doing that).
Can I freeze your gluten-free hot cross scones?
Of course! I've frozen them for up to 2-3 months no problem.
When you want to eat them, each scone should take around 1-2 hours to defrost at room temperature. Once defrosted, simply rewarm a little to remove any excess moisture and enjoy.
Gluten-free hot cross scones recipe: Tips for baking perfection
Make sure your butter is nice and cold before starting. The colder, the better as it'll be easier to rub in – warm butter won't work!
You can always use a food processor to blitz the flour and butter into breadcrumbs. It's quicker and faster… if you don't count having to wash up the food processor!
Don't flatten the dough too much before cutting them out. Scones won't rise much in the oven at all so if you want tall scones… cut out tall scones from the dough.
Don't overwork the dough. It'll make the scones dry and crumbly so don't handle it too much and definitely DO NOT go near it with a rolling pin!
Make sure the mixture for the cross isn't too runny or too thick. If it's too thick, the cross will be super hard once baked and if too runny, it may no longer look like a cross at all once baked. It's a balancing act!
Gluten-free Hot Cross Scones Recipe
Gluten-free hot cross scones recipe – an Easter baking project that combines two classics. Best of all, you'd never know they were wheat-free and Coeliac-friendly.
Ingredients
340

g

gluten free self-raising

self-rising flour

1

tsp

gluten-free baking powder

1/4

tsp

xanthan gum

85

g

butter

very cold (use Stork hard margarine if dairy-free)

50

g

light brown sugar

175

ml

milk

dairy free if needed

3

tsp

lemon juice

1

tsp

mixed spice

1

tsp

cinnamon

40

g

mixed peel

75

g

sultanas
For the cross and glaze:
75

g

gluten-free plain flour

1/4

tsp

xanthan gum

1-2

tsp

vegetable oil

4-5

tbsp

water

add this gradually – you might need a little less / more

1

egg

1

tbsp

apricot jam

warmed
Instructions
Preheat your oven to 220°C/200°C fan/425°F. Line a baking sheet with parchment/baking paper.

Place your gluten free self raising flour, baking powder and xanthan gum in a bowl. Chop your hard margarine / butter into cubes and add that to the flour. Rub it in with your fingers till it forms what looks like breadcrumbs.

Stir in your light brown sugar, mixed spice, cinnamon, mixed peel and sultanas.

Gently warm your milk (I pop it in the microwave for about 35 seconds, don't let it get really hot, just lukewarm). Then add your lemon juice. Put to one side to cool briefly.

Place your baking sheet in the oven whilst your make your scones. It helps that the baking sheet is hot when you place your scones on it.

Make a well in the middle of your dry mixture. Pour in milk and work it in using a metal spoon. Keep working it till it forms a dough (it might be a little sticky).

Flour (gluten free!) your work surface and your hands. Get the dough out of your bowl and fold it over a few times to bring the dough together. Then bring the dough into a rounded shape about 3.5–4.5cm (1¼–1¾in) thick. The taller, the better!

Using a cutter (about 45–55mm/1¾–2in wide) push down into the dough and bring out your scones with the cutter. Push them out of the cutter and put to one side till you have used up all the dough (keep re-rounding the dough).

Brush the tops of the scones with beaten egg (or with an almond milk wash if you are egg free, or have followed this as a vegan recipe using dairy free milk and hard margarine).

For the cross mix together the flour and oil, then gradually mix in the water – do this until you get a thick yet runny paste. Pop this into a piping bag and cut a tiny bit of the end off – no nozzle needed (if you don't have piping bags you could use a sandwich bag)

Place the scones onto the hot baking sheet (i always place mine close together), carefully pipe crosses onto them and pop them into the oven for about 12-15 minutes. They should be golden on top, have a golden base and a nice cross finish.

Finish by brushing each scone with your warmed apricot jam. Enjoy straight away slightly warm, or you can rewarm them up later, eat them cold, or even freeze them for another day.
Thanks for reading all about my gluten-free hot cross scones recipe!
Any questions about the recipe? Please do let me know by following me on Instagram and leaving me a comment on a recent photo!
Thanks for reading,
Becky xxx
Don't forget to pin this for later!