Gluten-free hot cross buns recipe – a classic Easter baking recipe that everyone will love! Best of all, nobody would know they're Coeliac-friendly and wheat-free too.
Gluten-free hot cross buns recipe, anyone? Perfect toasted with a little butter and the perfect introduction into to baking bread with yeast.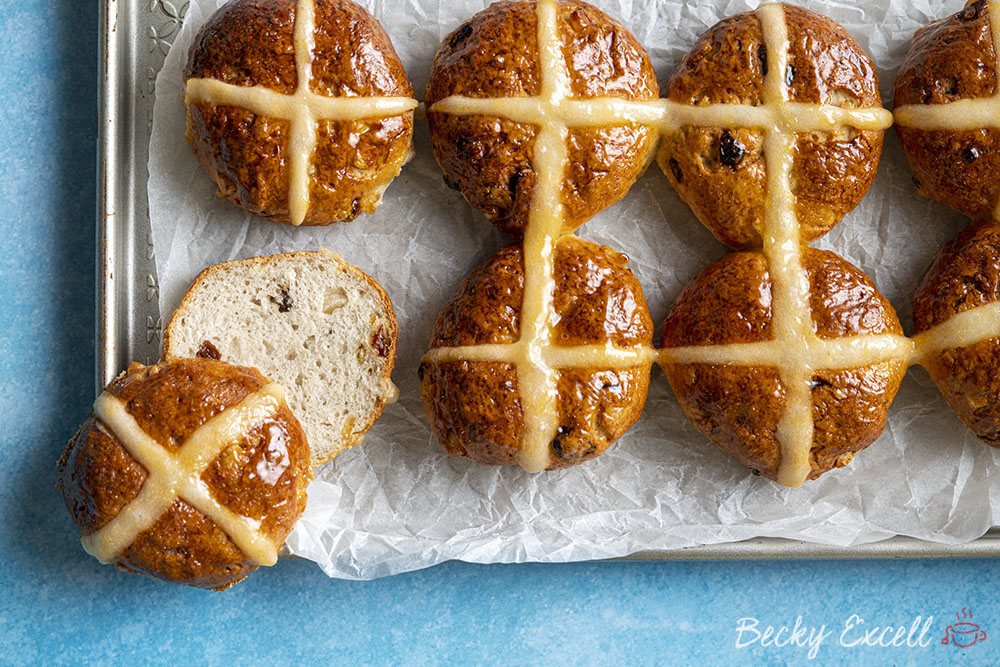 As every Easter season flies by, I'm always left with the same thought: 'why didn't I spend more time perfecting my gluten-free hot cross buns recipe?!'
So this year, I did! That's why I'm finally proud to present the recipe I've been hard at work on over the last couple of years.
And though it took me a while to get this perfect, that's certainly not because it's complicated whatsoever; it's just usually the small tweaks to get them perfect that take me the longest to nail.
It all actually boils down to this: make a dough, shape into buns, prove and bake. So if you're new to bread baking, this is a great place to start. Here's the low-down on what you'll need:
Gluten-free hot cross buns recipe: What you'll need…
Milk: Skimmed, semi-skimmed or whole milk is fine here – I used semi-skimmed.
Easy bake yeast: Firstly ensure it's gluten-free as some brands of yeast have a 'may contain gluten… etc' warning. Also, don't confuse this with dry active yeast which needs to be activated before using – it must be easy bake yeast for this recipe!
Caster sugar: Please bear in mind that sugar isn't just for sweetness – it feeds the yeast for a perfect proove.
Gluten free white bread flour (or gluten free plain flour): I use a simple commercial blend from the free from aisle in the supermarket. If you can't find a blend like this where you live, you can always make your own using my gluten-free flour recipe.
Xanthan gum: This helps to bind the dough together so it doesn't become crumbly, replacing the gluten that would otherwise do the same job.
Psyllium husk: This is literally the key ingredient to making this recipe work and is super important so please don't leave it out or substitute it. You can buy it online here and here.
Salt: A little salt goes a long way in terms of finished flavour, so I highly recommend adding this!
Butter: Salted or unsalted is totally fine (I use unsalted), but whichever you go for, make sure it's melted first.
Cider vinegar: I used cider vinegar but any other gluten-free vinegar such as white wine vinegar.
Egg: I use large eggs for this recipe, but medium works fine too. If you can't tolerate egg, check the vegan section of the FAQ for some simple swaps you can try.
Mixed spice: This is essentially hot cross bun seasoning in a pot – you'll find it with all the other dry herbs and seasonings in the supermarket.
Mixed peel: This brings a wonderful citrus flavour that works so well in a hot cross bun.
Sultanas: And it wouldn't be a hot cross bun without these, would it?
Vegetable oil: You'll need this to create the cross on top of each bun – it stops the cross from becoming too dry and brittle.
Smooth apricot jam: This is for the glaze on top – cheaper jam usually work best here as they're less chunky and fruity, which is exactly what we need for a glaze.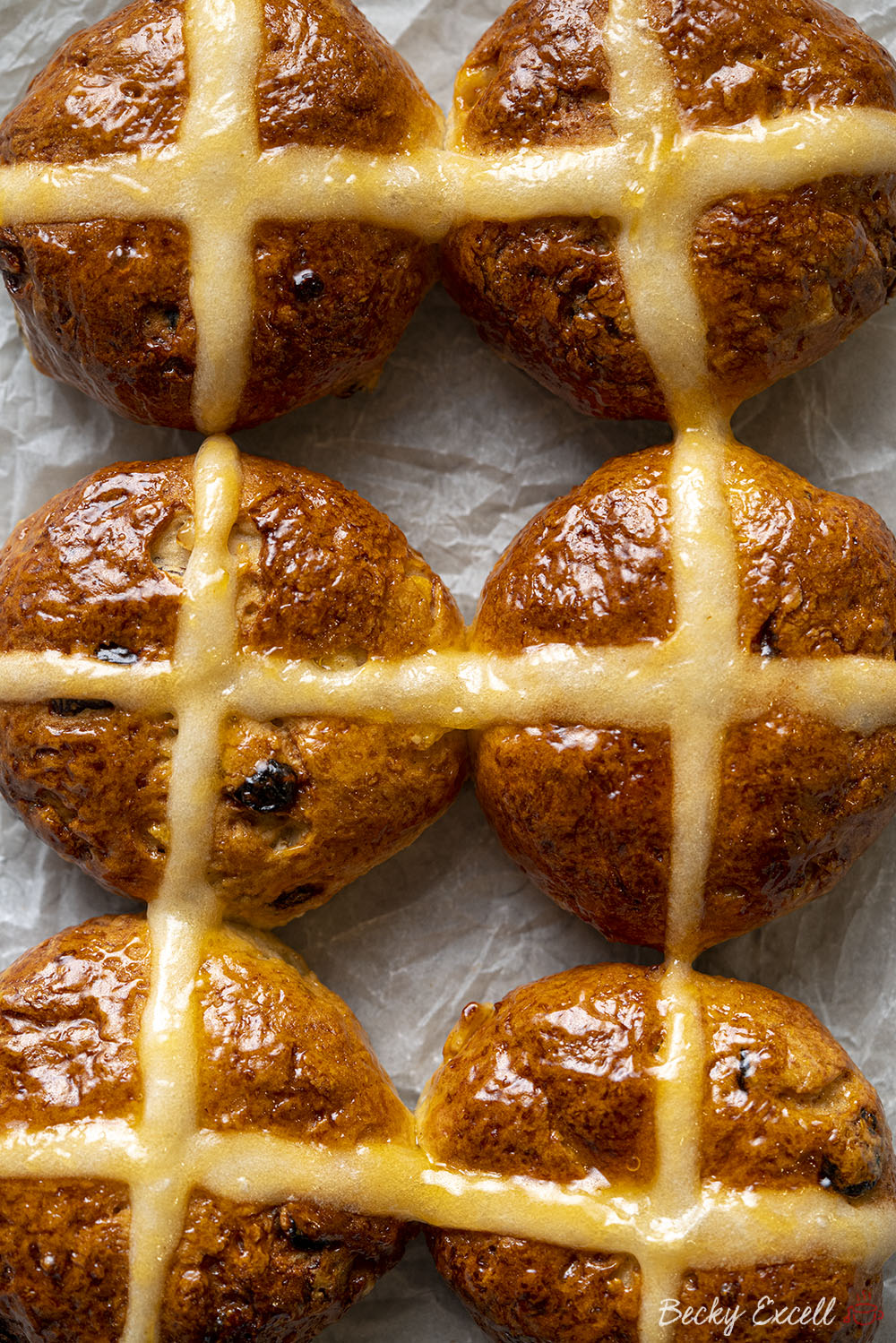 But what do my gluten-free hot cross buns taste like, I hear you ask?
Well… like a proper hot cross bun! The outside is soft and sticky thanks to the apricot jam and the inside is soft, light and fluffy, NOT dense like a rock.
You can even squash them flat and watch as they spring back to shape which isn't something I ever expect from gluten-free bread!
And of course, the flavouring is spot on – that was the easy part after all! They're sweet, subtly spiced with a wonderful citrus flavour that's complimented by the sultanas.
As these fall into the category of homemade, freshly baked bread made without preservatives, these buns are best enjoyed warm and/or freshly toasted. They do still keep well for a few days after baking, but you'll definitely need to warm in the microwave or toast them to refresh before enjoying again.
Gluten-free hot cross buns recipe: Frequently Asked Questions
Can I make this recipe gluten free? Is it suitable for Coeliacs?
It is gluten free, though nobody would know just by tasting it – trust me!
Bear in mind that minimising cross-contamination is hugely important if you're Coeliac or making this for someone who is. Here's some tips from Coeliac UK on minimising the risk of cross contamination:
Also, make sure that all ingredients used don't have any gluten-containing ingredients. Then make sure that they also don't have a 'may contain' warning for gluten, wheat, rye, barley, oats (which aren't gf), spelt and khorasan wheat (aka Kamut).
Here's some more info from Coeliac UK on identifying safe gluten free products.
Can I make your gluten-free hot cross buns recipe dairy free?
With two simple swaps, you certainly can! To make it dairy-free:
Use dairy-free milk
Use Stork hard margarine (melted) instead of butter.
That's it!
Can I make your gluten-free hot cross buns recipe vegan?
Yep! If you follow the instructions above to make this recipe dairy free, then all you've got left to contend with is the egg.
Simply use:
3 tablespoons of aquafaba, pre-whisked until frothy. Aquafaba is simply the water from a can of chickpeas. Keep the chickpeas for a future dinner!
Can I make this recipe low FODMAP?
Unfortunately, as sultanas are high FODMAP, this recipe isn't suitable for the elimination phase of the low FODMAP diet.
You could however always replace them with dried cranberries for a low FODMAP twist on this recipe.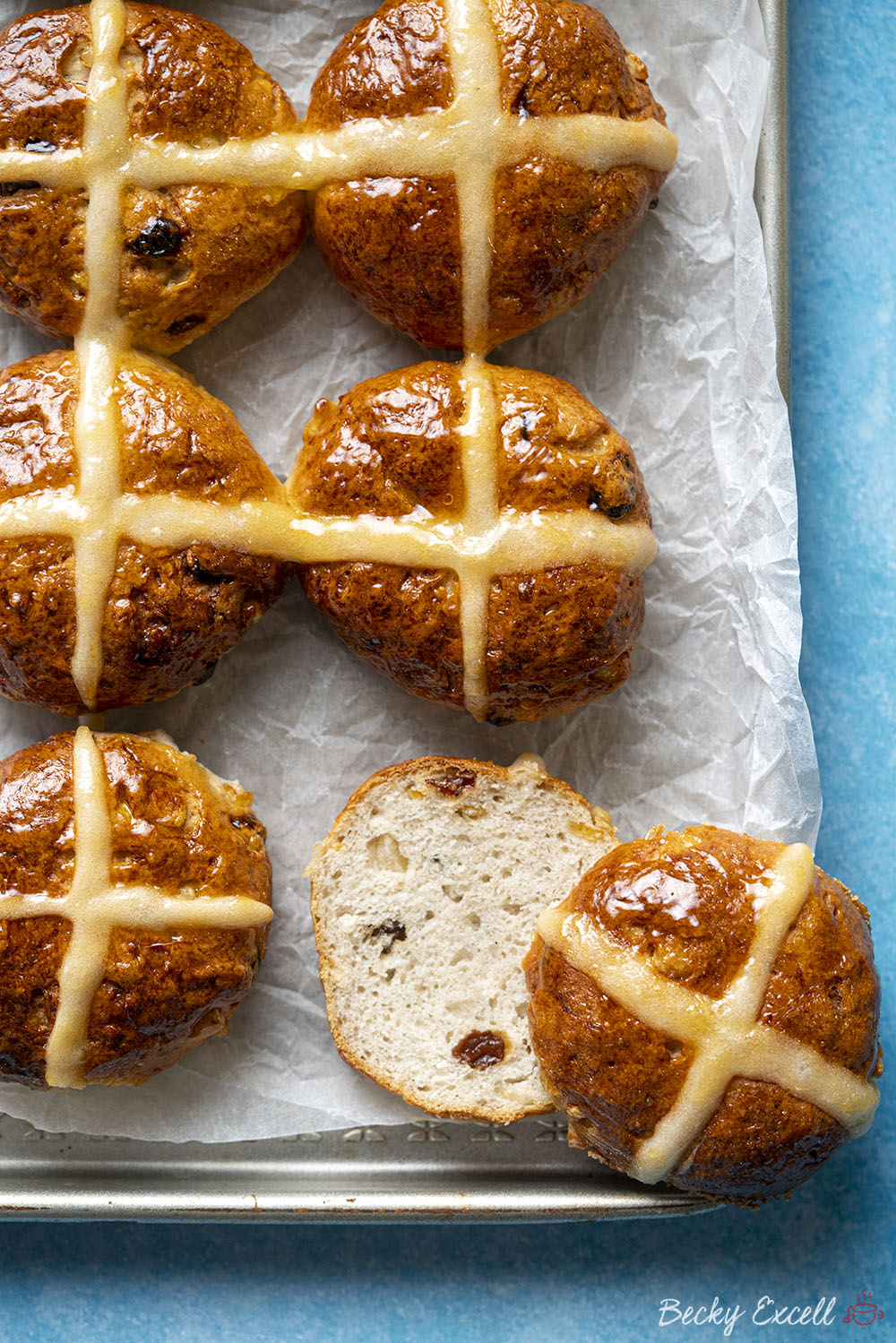 Can I make your gluten-free hot cross buns recipe in a stand mixer or electric hand mixer? What about making it by hand?
As psyllium husk emulates gluten, it incorporates an elastic quality to the bread mixture. This also massively thickens the mixture so, though still wet and sticky, it can be hard work to mix.
So because of this, I'd highly recommend using a stand mixer and letting it do the hard work – or using an electric hand mixer. If using an electric hand mixer, you'll likely have to mix for a longer period.
It's hard work to mix by hand, but it is possible! You're very likely to undermix by hand, so ensure the mixture is smooth and consistent when you're done.
Do I need any special equipment to bake your gluten-free hot cross buns recipe?
Certainly not! However, a digital food thermometer ensures there's no funny business with your yeast as you'll know exactly what temperature your milk is.
Can I use something else other than psyllium husk?
First of all – there's nothing to my knowledge that works like psyllium husk. It's essential for gluten-free bread as it adds a miraculous elasticity to bread mixtures. It makes gluten-free bread that's extremely similar in texture to gluten-containing bread, so if you can use it… use it!
I often get asked if flaxseed can be used as a substitute and my answer is a firm no.
Whilst it may have some binding power, it adds no where near enough elasticity and it doesn't suck up as much water; essentially meaning that your bread mixture will be too wet. If you then reduce the water, you'll probably find that your bread ends up being very dry.
Where can I buy psyllium husk?
It's one of the only products I use in my recipes that can't be found in supermarkets, simply because it's vital for gluten-free bread making.
Of course, you can buy it online here and here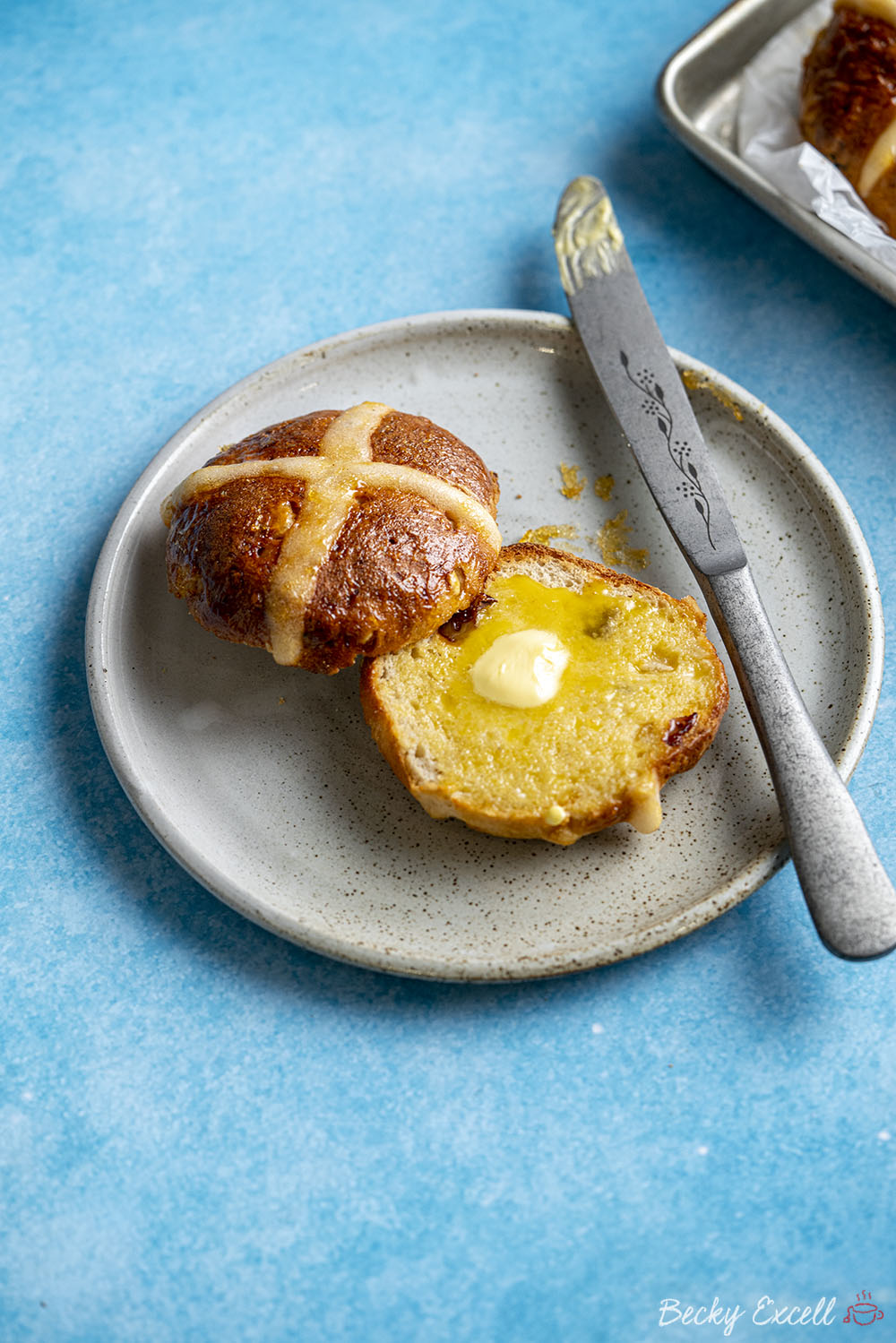 How long can I keep your gluten-free hot cross buns for?
I've kept my gluten-free hot cross buns for 3-5 days in an air-tight container in the fridge with no problems.
If you need to keep them any longer than that, I'd highly recommend freezing them (see advice below for doing that).
Can I freeze your gluten-free hot cross buns?
Of course! I've frozen it for up to 2-3 months no problem.
When you want to eat them, each bun should take around 2-3 hours to defrost at room temperature. Once defrosted enough to safely slice, simply toast and enjoy.
Gluten-free hot cross buns recipe: Tips for baking perfection
Make sure you're using the right type of yeast. You'll need easy bake yeast for this recipe – dried active yeast won't work as it needs to be activated in warm water and sugar before using!
Make sure your milk isn't too hot. Remember that if your milk is too hot, it'll kill the yeast instead of activating it! Or on the other hand, if it's cold, it won't activate the yeast at all and the dough won't prove.
Like most gluten-free bread baking, the mixture should be sticky, not dry like a regular dough. Most gluten-free bread mixtures have more water content to compensate for gluten-free flour being drier than wheat flour.
If your buns don't increase in size at all when they prove, there was a problem with the yeast. It may have been out of date or your milk may have been too hot/cold.
Don't expect the buns to massively increase in size in the oven. It's the yeast and proving process that makes bread puff and rise – the heat will initially make them increase a little, but the hot temperature will quickly kill the yeast.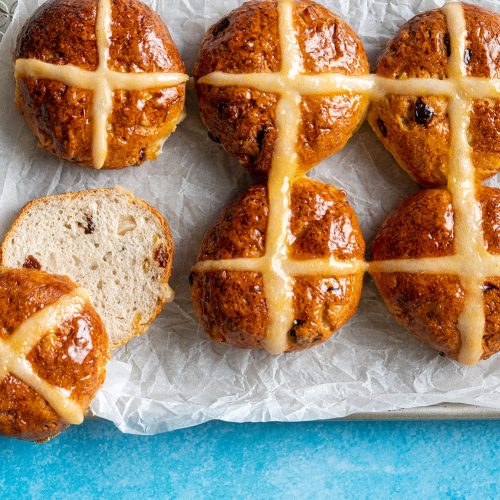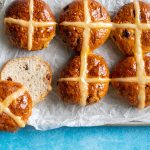 Gluten-free Hot Cross Buns Recipe
Gluten-free hot cross buns recipe – a classic Easter baking recipe that you'd never know was Coeliac-friendly and wheat free.
Ingredients
120

ml

milk

230

ml

water

10

g

easy bake yeast

50

g

caster sugar

410

g

gluten free white bread flour

or gluten free plain flour still works too

2

tsp

xanthan gum

15

g

psyllium husk

6

g

salt

30

g

butter

melted

1

tsp

cider vinegar

or another gluten free vinegar

1

large egg

1

tsp

mixed spice

80

g

mixed peel

75

g

sultanas
For the cross:
75

g

gluten free white bread flour

if you use gf plain flour add 1/4 tsp xanthan gum too

1-2

tsp

oil

veg or sunflower is fine here

4-5

tbsp

water

add this gradually – you might need a little less / more
For the egg wash and finishing touches:
1

egg

beaten (size doesn't matter)

2

tbsp

smooth apricot jam

warmed
Instructions
Place the flour, xanthan gum, psyllium husk, salt, sugar, mixed spice and easy bake yeast in to a large bowl (or the bowl of a stand mixer) and mix together to combine.

Warm the milk and water to around 35C and then add both of these alongside the melted butter, vinegar and egg. Mix together, ideally with a stand mixer for 3-5 minutes on a medium/high setting. (You can use an electric hand mixer or even do this by hand, but you will need to mix for longer)

Add in the mixed peel and sultanas and mix them in to so evenly dispersed, then allow to rest for 10 minutes – this helps the dough to hydrate more evenly.

The dough will be sticky so flour your hands and surface well before getting your dough out onto it. Divide the dough into 10 even pieces. Each time you break off a portion of dough it will seem sticky but just knead each piece with the floured surface and hands and it will stop being sticky.

Mould each portion into a rounded shape. I do this by flattening the dough with my hand into a circular shape then bringing all the edges in to the centre. I then turn the dough the other way up and the other side is lovely and smooth. Make sure its nice and round and then place each onto a prepared baking tray. Space them about an inch apart.

Loosely cover the buns with cling film and leave to prove somewhere warm for a good 60 (or up to 90) minutes until the buns have significantly increased in size (around doubled).

Preheat the oven to 180C fan / 200C, place a roasting dish at the bottom of the oven and boil a kettle!

For the cross mix together the flour and oil, then gradually mix in the water – do this until you get a thick yet runny paste. Pop this into a piping bag and cut a tiny bit of the end off – no nozzle needed (if you don't have piping bags you could use a sandwich bag)

Once the buns have proven, remove the cling film, brush with a beaten egg all over and then pipe crosses onto them. I do this across a whole line of the buns at the same time one way, then go the other.

When ready, place the buns on the middle shelf of the oven and pour a mug of boiling water into the bottom roasting tin. Bake the buns in total for 25-30 minutes. BUT remove the boiling water after the first 10 minutes. AND cover with foil (shiny side up) for the final 5-10 minutes if browning too much.

Transfer your buns onto a cooling rack and then brush with slightly warmed smooth apricot jam all over. Allow to slightly cool and then enjoy warm or toasted under the grill (that's how I've always had them all my life!
Notes
These are best enjoyed on the day they are baked but are fab for a few days. If you need to just refresh them briefly in the microwave or covered in the oven. They freeze well too!
Thanks for reading all about my gluten-free hot cross buns recipe!
Any questions about the recipe? Please do let me know by following me on Instagram and leaving me a comment on a recent photo!
Thanks for reading,
Becky xxx
Don't forget to pin this for later!