Gluten-free Simnel cake recipe – a traditional Easter baking project that anyone can make! Best of all, nobody would know it's Coeliac-friendly and wheat-free too.
Gluten-free Simnel cake recipe – it's finally here! If Easter is somewhere on the horizon as you're reading this, then that's a perfect enough reason to bake this. After all, it only requires 30 minutes of effort + baking time.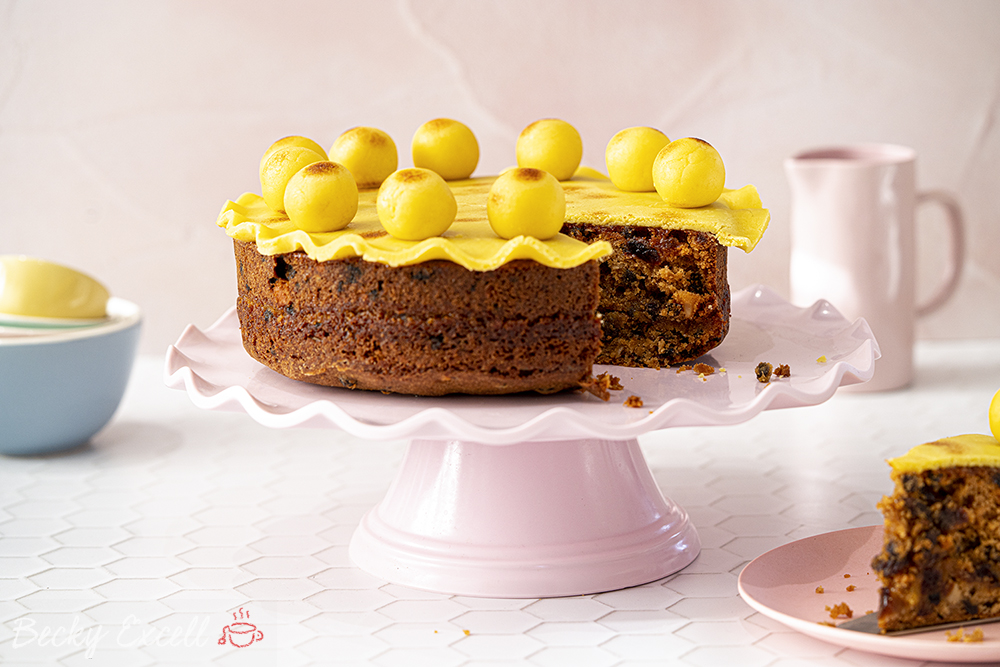 In case you didn't know, a Simnel cake is a fruitcake widely eaten in the United Kingdom and associated with Lent and Easter… according to Wikipedia!
But the most important thing that we need to know… is that it's not normally gluten-free. Unless you make mine, that is!
As you probably know by now, I'm dedicated to ensuring that us gluten-free folks never miss out on our favourite foods, regardless of the occasion.
And not surprisingly, Easter is no different for me. So next time you need a real Easter showstopper that'll please gluten-free folks and muggles alike, then please always remember my gluten-free Simnel cake recipe!
Gluten-free Simnel cake recipe: What you'll need…
Butter: Salted or unsalted is totally fine (I use unsalted), but whichever you go for, make sure it's softened first.
Light brown sugar: Sugar isn't just for sweetness – it helps to achieve a lovely crisp exterior and helps the to form a perfect cake crumb. Caster sugar works too, but the end result will be more neutral in flavour and paler in colour.
Medium Eggs: I use medium eggs for this recipe, but large works fine too. If you can't tolerate egg, check the vegan section of the FAQ for some simple swaps you can try.
Lemon zest: One fresh lemon will do here for zesting. Having a microplane makes this a very easy job!
Gluten-free plain flour:

I use a simple commercial blend from the free from aisle in the supermarket. If you can't find a blend like this where you live, you can always make your own using my gluten-free flour recipe.
Xanthan gum: This helps to bind the cake crumb together so it doesn't become crumbly, replacing the gluten that would otherwise do the same job – it's especially important in a fruit cake.
Gluten-free baking powder: Not all baking powder is gluten-free, so please ensure that yours is first!
Ground almonds: This not only contributes to the marzipan-like flavour, but also results in an incredibly soft texture for the sponge. You could also replace this for an equal measurement of gluten-free plain flour if you don't have any ground almonds to hand.
Mixed spice: The perfect spice blend for this bake, adding a wonderful, warming flavour.
Sultanas, glace cherries and currants: This is the blend of dried fruit I find works best for this cake as it's a good mix of smaller and larger chunks of dried fruit – plus, the flavour combo works so well! But you can also mix it up a little and use whatever you've got in your cupboards too.
Blanched almonds: These add an extra element of texture in the cake and of course, work really will with the marzipan flavour of this bake.
Yellow or white marzipan: Marzipan is key for the finish on top (including the traditional marzipan balls) but I'll leave the colour choice up to you!
Apricot jam: This is to help the marzipan stick to the cake and is more neutral in flavour than other jams.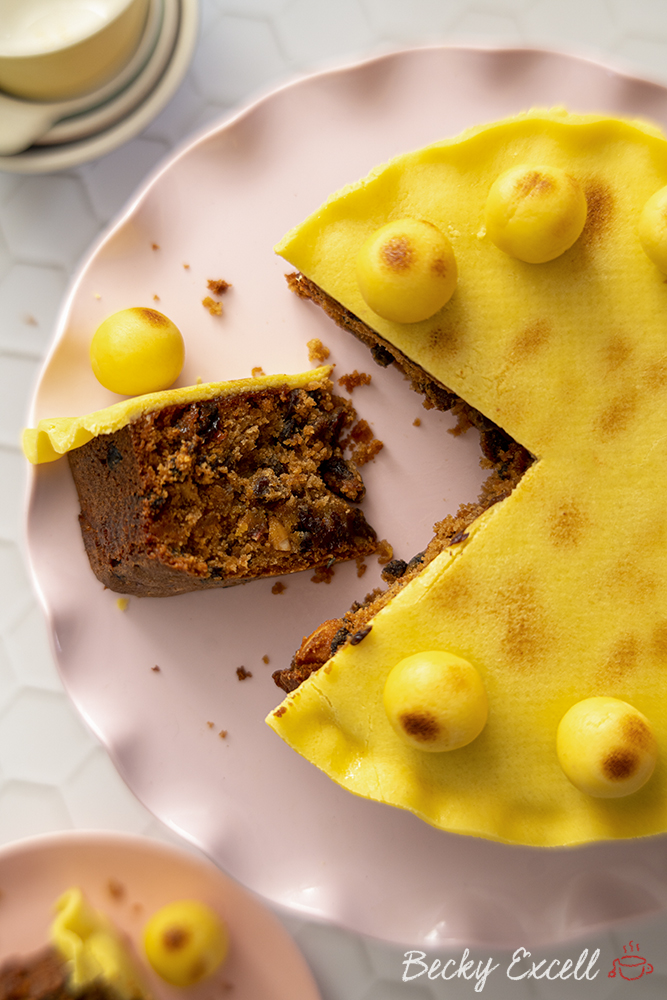 But what does my gluten-free Simnel cake taste like, I hear you ask?
Like the best fruit cake you've ever tasted! Not only does it have chunky blanched almonds and sweet dried fruit embedded into that warming, spiced sponge; but there's also a sticky layer of marzipan baked right into the middle of every slice.
What I love most of all though is that subtle cherry Bakewell-like flavour thanks to the baked-in marzipan and glace cherries. It's certainly not your average fruit cake!
Of course, who could forget that wonderfully vibrant layer of lightly singed marzipan on top? It rounds off the entire cake perfectly, being the full stop to that wonderful almond flavour that runs throughout the entire cake.
And I think it goes without saying: if you've never tried Simnel cake before, then you definitely need to fix that ASAP!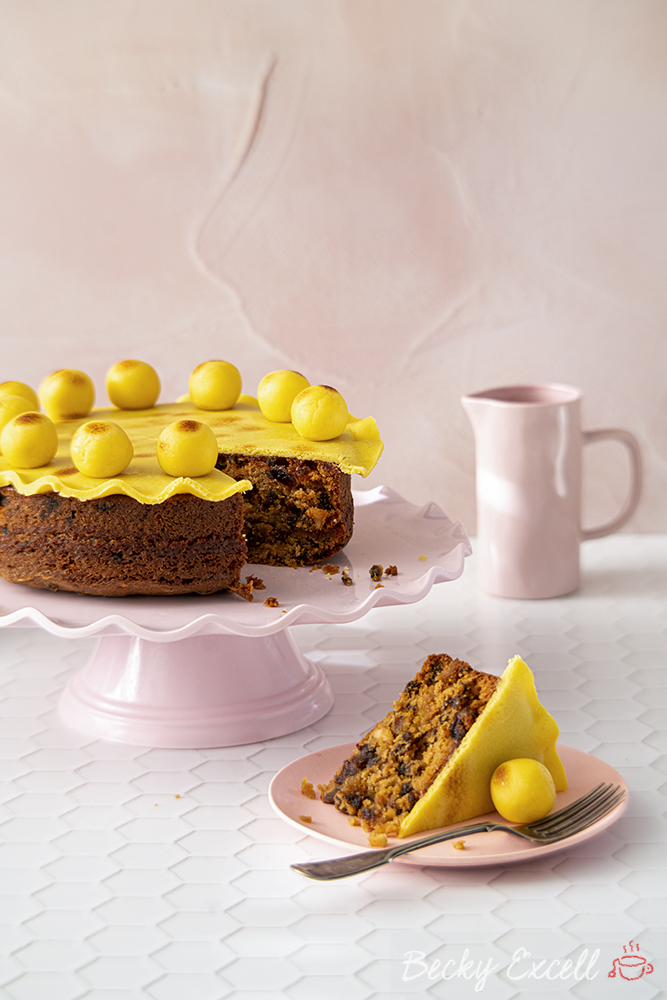 Gluten-free Simnel cake recipe: Frequently Asked Questions
Can I make this recipe gluten free? Is it suitable for Coeliacs?
It is gluten free, though nobody would know just by tasting it – trust me!
Bear in mind that minimising cross-contamination is hugely important if you're Coeliac or making this for someone who is. Here's some tips from Coeliac UK on minimising the risk of cross contamination:
Also, make sure that all ingredients used don't have any gluten-containing ingredients. Then make sure that they also don't have a 'may contain' warning for gluten, wheat, rye, barley, oats (which aren't gf), spelt and khorasan wheat (aka Kamut).
Here's some more info from Coeliac UK on identifying safe gluten free products.
Can I make your gluten-free Simnel cake recipe dairy free?
You certainly can. To make the cake dairy-free, simply use dairy-free milk and Stork hard margarine instead of butter.
That's it!
Can I make your gluten-free Simnel cake recipe vegan?
Yep! If you follow the instructions above to make this recipe dairy free, then all you've got left to contend with are the eggs.
Here's a few ideas you can use as egg replacements, so each of these = 1 egg.
3 tablespoons of aquafaba, pre-whisked until frothy. Aquafaba is simply the water from a can of chickpeas. Keep the chickpeas for a future dinner!
Egg replacement powder – I'd recommend using Orgran as it's gluten free.
1 tablespoon of chia/flax seeds mixed with 2 tablespoons of water and left for 10 minutes in the fridge.
3 tablespoons of applesauce.
So use one of those egg replacement options and you've got a gluten free AND vegan Simnel cake! I haven't tested all of these egg alternatives so let me know how you get on in the comments below.
Can I make this recipe low FODMAP?
Unfortunately, as most dried fruit is high FODMAP and this cake traditionally uses a lot, this recipe isn't suitable for the elimination phase of the low FODMAP diet.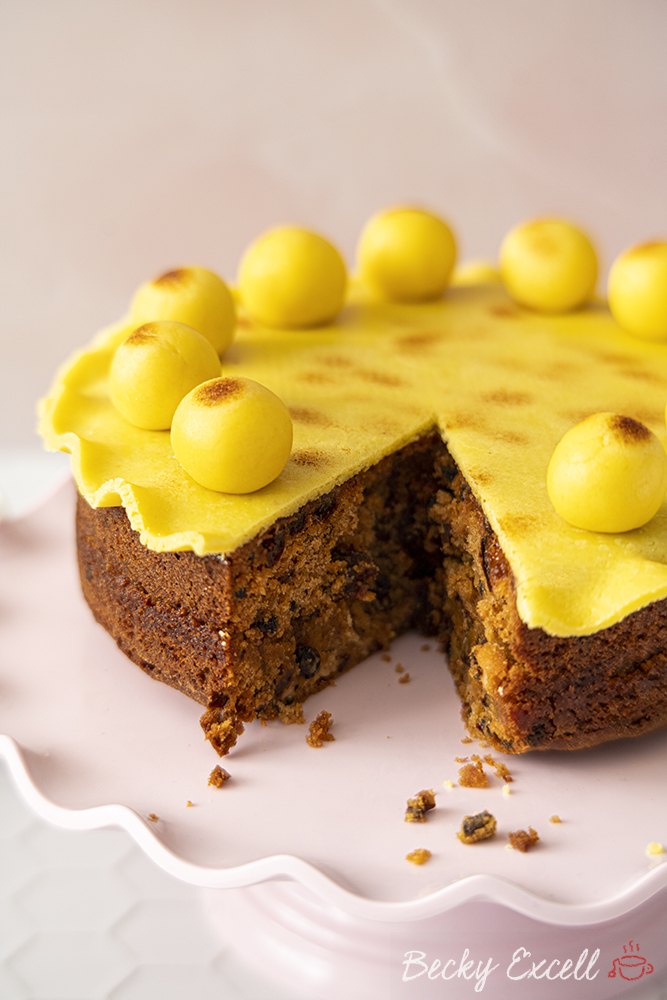 Do I need any special equipment to bake your gluten-free Simnel cake recipe?
Certainly not! You will however need an 8in circular cake tin with high sides and a loose-bottom or springform base.
Does this recipe need xanthan gum?
You'll see xanthan gum in a lot of my recipes as it's an essential ingredient in gluten free baking. And that's exactly the case here.
This recipe uses gluten-free plain flour and unlike plain flour, it has no added xanthan gum. So that makes adding it even more important!
So yes, if you can tolerate xanthan gum, please ensure that you use it. Otherwise the cake can risk having a crumbly, brittle texture, especially considering how much dried fruit is embedded into the sponge – we need its binding power here more than ever!
Can I make this recipe using other gluten free flours like buckwheat flour or coconut flour?
There's a big difference between 'gluten free plain flour' and a *singular* type gluten free flour. When I say 'gluten free plain flour' in a recipe, I mean a BLEND of gluten free flours, not just one, singular flour.
Most gluten free flour you buy in the supermarket typically contains a blend of rice flour, potato flour, maize flour, tapioca flour AND buckwheat flour. That's a lot of different flours!
So to replace it with just one specific type of flour… that's not going to cut it at all. Definitely go for a gluten free flour blend.
How long can I keep your gluten-free Simnel cake for?
I've kept my gluten free chocolate banana cake for 7 days in an air-tight container with no problems.
If you need to keep it any longer than that, I'd highly recommend freezing it (see advice below for doing that).
When the sponge starts getting a little dry, it's probably starting to get past its best.
Can I freeze your gluten-free Simnel cake?
Of course! I've frozen it for up to 2-3 months no problem. Ideally, slice up the cake first before freezing. Then, you can easily defrost a few slices at a time instead of the entire thing.
When you want to eat it, each slice should take around 3 hours to defrost at room temperature.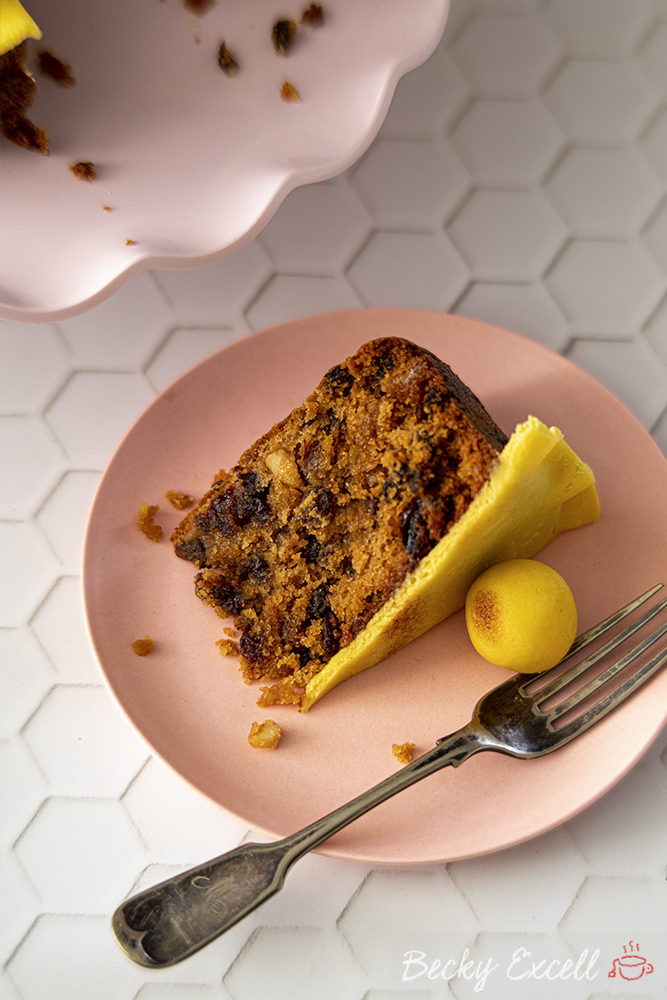 Gluten-free Simnel cake recipe: Tips for baking perfection
Make sure your ingredients are as close to room temperature as possible before starting. This will prevent the mixture from curdling.
You can also use orange zest in this recipe for a different twist. The choice is yours!
Make sure you check the cake 10 minutes before its done just in case your oven runs hotter than mine. Poke it with a skewer and if it comes out clean, it's done!
If you don't have a blowtorch, you can always place the cake under a hot grill until it lightly browns. But keep a close eye on it!
You can also soak your dried fruit in alcohol such as Amaretto or orange juice for a few hours prior to baking. This helps the fruit to plump up – just ensure you drain the fruit first before using.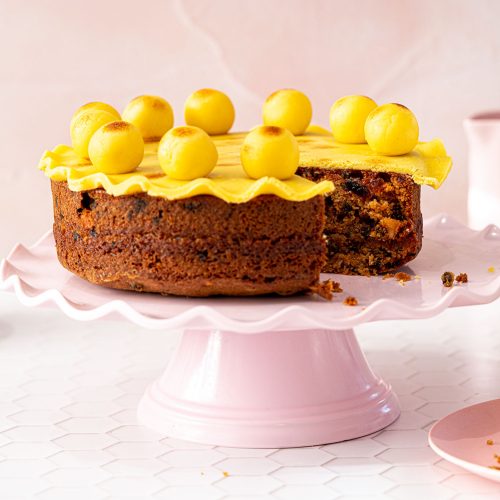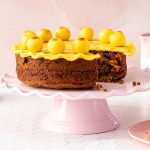 Gluten-free Simnel Cake Recipe
Gluten-free Simnel cake recipe – a traditional Easter baking project that nobody would know is Coeliac-friendly and wheat-free.
Ingredients
175

g

butter

softened (use Stork hard margarine if dairy-free)

175

g

light brown sugar

3

large eggs

zest of one lemon

200

g

gluten-free plain flour

1/2

tsp

xanthan gum

1

tsp

gluten-free baking powder

50

g

ground almonds

1

tsp

mixed spice

2

tbsp

milk

dairy-free if necessary

125

g

sultanas

75

g

glace cherries

100

g

currants

50

g

blanched almonds

chopped

500

g

block of marzipan

yellow or white

2

tbsp

apricot jam

warmed
Instructions
Preheat the oven to 130C fan / 150C and prepare your 20cm loose bottom round cake tin with non-stick baking paper on the base and the sides.

In a large bowl cream together the softened butter and sugar until combined and slightly lighter in colour and texture.

Add the eggs one at a time, briefly mixing between each as well as adding in the lemon zest.

Add the flour, xanthan gum, baking powder, mixed spice and ground almonds and mix once more to combine.

Stir in the milk before carefully folding in the sultanas, currants, glace cherries (mixture of whole, halves and chopped more finely) and chopped blanched almonds. Ensure everything is evenly dispersed.

Grab the marzipan and firstly roll out 11 equal balls. Mine weighed around 12g each. With the rest of the marzipan, cut it in half and roll one half between two sheets of non-stick baking paper into a 20cm circle shape. Put the other half of the marzipan to one side for now.

Spoon half of your cake mixture into the prepared tin and then place your circle of marzipan on top, followed by the remaining cake mixture. Spread it out so its even and then bake in the oven for 1 hour 45 – 2 hours until a skewer comes out clean, the cake is risen and a lovely golden colour.

Once baked, leave the cake to cool in the tin for around 30 minutes before removing and leaving on cooling rack to fully cool.

Once cooled, if the cake has a slight dome, carefully level if off with a knife before inverting it onto a cake stand so the top is really flat.

Roll out the other half of the marzipan so it's a very slightly larger circle than the cake. Brush the warmed apricot jam over the top of the cake then lay your marzipan circle on top and crimp the edges.

Brush a tiny amount of the apricot jam on the bottom of each ball of marzipan and stick them evenly around the edge of the cake. If you have a kitchen blow torch use this to caramelise the top of each ball of marzipan and the centre of the cake. If you don't you can carefully place the cake under a hot grill until the marzipan starts to golden – watch it carefully and remember this is just optional.

Slice and enjoy – this cake will keep for a good week in an air tight container and it can also be frozen.
Thanks for reading all about my gluten-free Simnel cake recipe!
Any questions about the recipe? Please do let me know by following me on Instagram and leaving me a comment on a recent photo!
Thanks for reading,
Becky xxx
Don't forget to pin this for later!