Gluten-free giant Valentine's cookie recipe – the ultimate way to any gluten-free person's heart! Best of all, nobody could EVER tell that they're Coeliac-friendly and wheat-free.
Gluten-free giant Valentine's cookie recipe, anyone? It's crisp on the outside, with gooey cookie dough, melty white chocolate chips and raspberry-flavoured buttercream. Now that's love!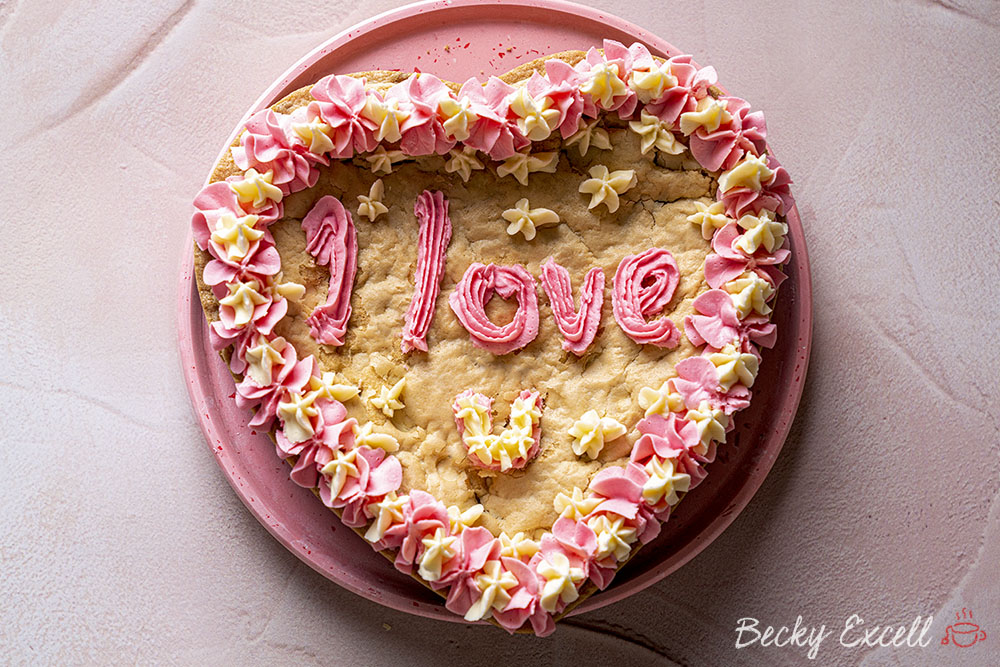 There's no denying that special occasions can be a little tricky when you or your loved one is gluten-free. Fortunately, we've now got to the point where you can actually buy a half-decent gluten-free birthday cake in supermarkets – which definitely helps!
However, for almost every other occasion outside of birthdays, we're basically left to fend for ourselves… as I'm sure you've experienced. But fortunately, I've got your back for Valentine's day!
This recipe was inspired by all the wonderful, personalised celebration cookies that muggles can buy no problem. However, if you're gluten-free, you're much better off baking your own than holding your breath for a gluten-free version – trust me.
And yes – you can ice whatever message you like on it!
So what does my gluten-free giant Valentine's cookie taste like?
Well, let's just say it's love at first 'bite'. It's super crisp on the outside, but the middle is soft and chewy and packed with lots of white chocolate chips.
And we haven't even got to the raspberry and vanilla buttercream decoration yet. It's erm… the icing on the cookie!
Gluten-free giant Valentine's cookie recipe: Frequently Asked Questions
Can I make this recipe gluten-free? Is it suitable for Coeliacs?
It is gluten-free, though nobody would know just by tasting it – trust me!
Bear in mind that minimising cross-contamination is hugely important if you're Coeliac or making this for someone who is. Here's some tips from Coeliac UK on minimising the risk of cross contamination.
Also, make sure that all ingredients used don't have any gluten-containing ingredients. Then make sure that they also don't have a 'may contain' warning for gluten, wheat, rye, barley, oats (which aren't gf), spelt and khorasan wheat (aka Kamut).
Here's some more info from Coeliac UK on identifying safe gluten-free products.
How do I make this recipe dairy-free?
Easily! Here's all the swaps you'll need to make to make this dairy-free:
That's it!
Can I make your gluten-free giant Valentine's cookie recipe vegan?
Follow the steps above to make this dairy-free, then simply use 60ml of dairy-free milk instead of the egg. That's it!
Is this recipe low FODMAP?
Yes! Simply use lactose-free white chocolate chips.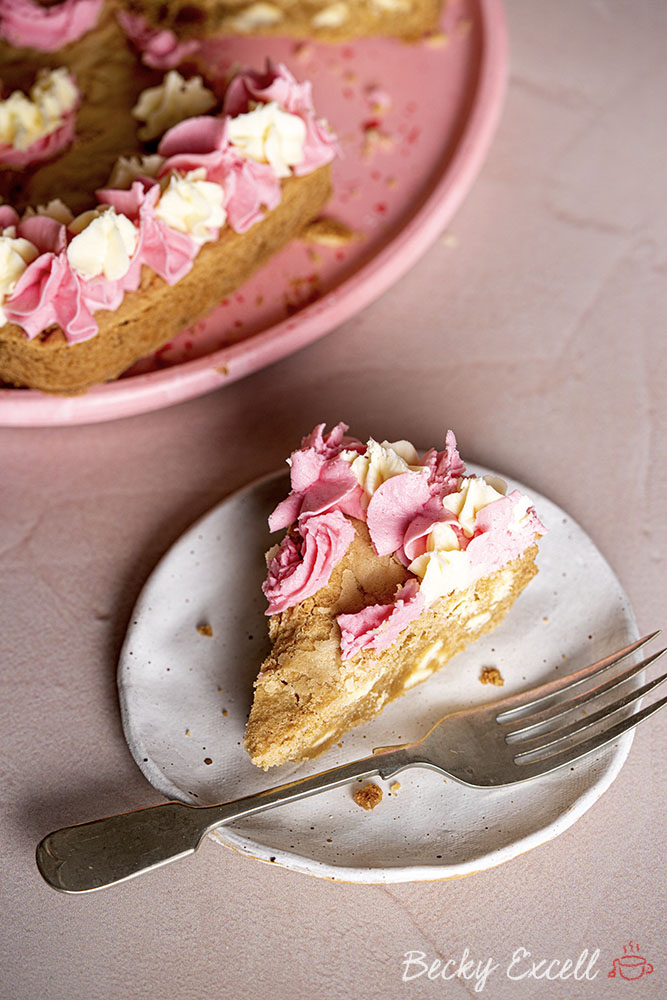 What baking tin did you use?
I used a 26cm heart-shaped tin – here's a link to the exact tin I used for this recipe.
Can I make this recipe using other gluten-free flours like buckwheat flour or coconut flour?
There's a big difference between 'gluten-free plain/self-raising flour' and a *singular* type gluten-free flour. When I say 'gluten-free plain or self-raising flour' in a recipe, I mean a BLEND of gluten-free flours, not just one, singular flour.
Most gluten-free flour you buy in the supermarket typically contains a blend of rice flour, potato flour, maize flour, tapioca flour AND buckwheat flour. That's a lot of different flours!
So to replace it with just one specific type of flour… that's not going to cut it at all. Definitely go for a gluten-free flour blend.
Do I need weighing scales to make your gluten-free giant Valentine's cookie recipe?
In short… yes, yes and yes! And I wouldn't advise attempting any my recipes without them. One of the worst things you can do in any recipe is alter the quantities by mistake or on purpose.
(unless you know what you're doing of course)
Why? Well, you're sort of just gambling with the recipe and praying that it turns out ok, don't you think? And I've generally already done the hard work there for you, so you don't have to do the guesswork with measurements!
A lot of work went into fine tuning ratios and quantities so I wouldn't mess around with them unless you really know your stuff. I'd recommending using digital cooking scales like these so you know you're getting an accurate measurement and replicating my recipe as accurately as poss.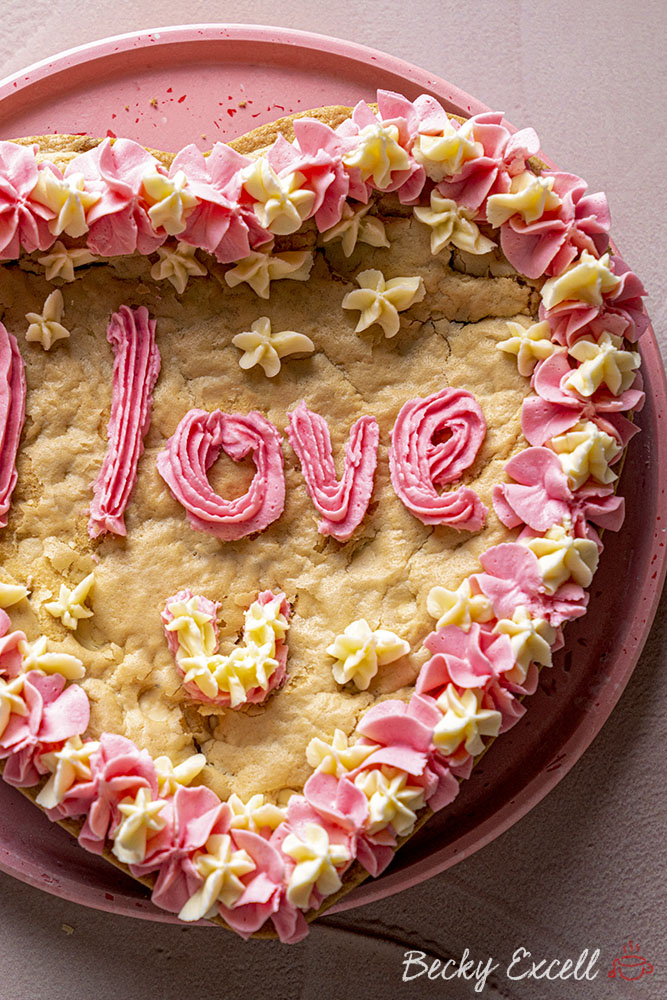 Gluten-free giant Valentine's cookie recipe: Tips for perfection!
Measure out your ingredients for accuracy and please don't reduce the sugar amounts. Sugar is super important in any cookie, so please don't experiment with the ratios!
Ensure you allow the cookie to cool once baked or remove it from the tin early. Until it's had time to cool and for the sugar to set, it will be very gooey and delicate.
When piping on the lettering, ensure your cookie is completely cooled and the buttercream is nice and loose. Simply add a little milk to your buttercream and mix it in thoroughly if it's started to become quite stiff and hard to pipe.
Don't over-bake this one – the cookie dough should be lovely, chewy and a little gooey in the middle! The more you over-bake this one, the more it'll turn out like a thick, dry biscuit. So stick to the oven timings!
Your tin MUST be loose-bottomed or springform. Otherwise you'll never get this beauty out of the tin!
Gluten-free Giant Valentine's Cookie Recipe
Gluten-free Giant Valentine's Cookie Recipe – the perfect gift for that special gluten-free someone! Coeliac-friendly and wheat-free.
Ingredients
130

g

butter

softened

50

g

caster sugar

150

g

light brown sugar

1

large egg

1

tsp

vanilla extract

280

g

gluten free plain flour

1/4

tsp

xanthan gum

1

tsp

bicarbonate of soda

1

tbsp

cornflour

cornstarch

250

g

chocolate chips

I used all white chocolate
For the buttercream and decoration
100

g

butter

softened

200

g

icing sugar

1/2

tsp

raspberry

strawberry or vanilla extract

pink food colouring gel
Instructions
Preheat the oven to 160C fan / 180C and line the bottom of a springform heart shaped tin (mine says it's a 26cm one!)

In a large bowl mix together the softened butter with the caster and light brown sugar until combined and smooth.

Crack in the egg and add vanilla extract and mix once more until combined.

Add in the flour, xanthan gum, bicarbonate of soda and cornflour. Mix until you have something that resembled cookie dough – it shouldn't take too long.

Pour in all of the white chocolate chips and mix so they are well distributed throughout the cookie dough.

Spoon the mixture into the tin, spread it out (i do this with my hands!) so that its nice and evenly spread across the entire tin.

Bake in the oven for around 25-30 minutes until golden and barely wobbly. If it's underbaked it may sink a little more but it doesn't really matter as it will taste amazing and we are going to ice it too!

Once baked allow to cool completely in the tin before removing it.

Whilst it cools make the buttercream. Place your butter in a bowl and beat for a few minutes. The butter should change from a more yellow colour to being a lot more pale.

Add in the icing sugar and mix once more until well combined. Then add in for extract and mix once more.

Separate your buttercream into two bowls with say a third in one, and two thirds in the other approximately. Colour the two thirds bowl with pink food colouring and leave the other as it is.

Place both icings in separate piping bags with star nozzles and pipe around the edge of the cookie. Then write your message in the middle of the cookie, or just draw some hearts! Finish with some sprinkles if you fancy and enjoy!
Notes
If you don't have a heart shaped tin – you can always use a 9 inch circular springform tin instead and decorate it with lots of hearts – it will look just as good 🙂
Thanks for reading all about my gluten-free giant Valentine's cookie recipe! If you make it, I'd love to see how it turned out so don't forget to take a snap of your creations and tag me on Instagram!
Any questions about the recipe? Please do let me know by following me on Instagram and leaving me a comment on a recent photo!
Thanks for reading,
Becky xxx
Don't forget to pin this for later!