Spinach and ricotta pasta bake recipe – a super easy meat-free meal that requires just 15 minutes of effort + cooking time. Nobody would ever know its Coeliac-friendly and wheat-free either!
Spinach and ricotta pasta bake recipe – this is a proper lazy weeknight meal that everyone will love. Once the pasta is cooked, just mix everything up and pour into an ovenproof dish and bake. Easy!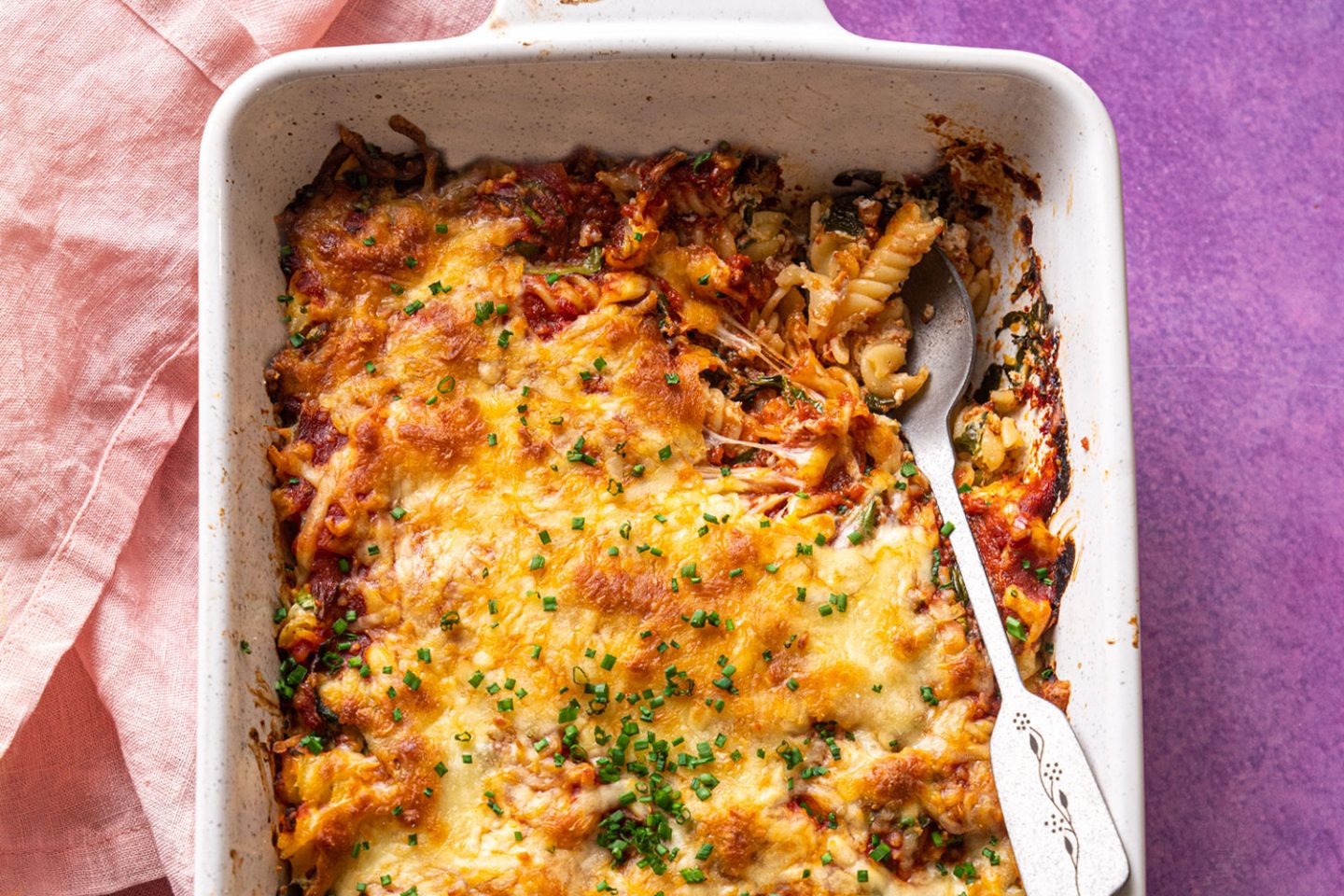 This one is pure comfort food, but best of all, it couldn't be easier to whip up; even when you've only got 15 minutes of time to spare to prepare dinner.
Then, you can put your feet up whilst it cooks in the oven!
(and by put your feet up, I actually mean complete your daily Wordle challenge)
Here's everything you'll need for this recipe – most of these ingredients are store-cupboard ingredients, so as long as you've got the cheese and spinach, you're good to go!
Spinach and ricotta pasta bake recipe: What you'll need…
Gluten-free dried pasta: Any shape of pasta will do – I used fusilli for this recipe but penne works fine too. You'll need to make sure it's cooked before using!
Ricotta: This gives this dish a super creamy taste yet tends to be lower in fat and salt than most other cheese.
Mozzarella or cheddar cheese: Any cheese is fine, but the only prerequisite here is that it can be grated!
Grana Padano or Parmesan: This adds a stronger, slightly salty taste to the cheese blend which works fabulously.
Spinach: It's super easy to chop in a flash and cooks just as quick too. When chopping, grab a big handful and tightly roll it together for quick and easy dicing.
Passata: These are sieved tomatoes and use to add a lovely smooth layer of tomato sauce on top of the pasta bake.
Dried oregano: Fresh oregano is also fine!
Garlic-infused oil: An instant injection of wonderful garlic flavour – no chopping or pre-frying of fresh garlic required. And if your garlic oil doesn't have any bits of actual garlic floating in it, then it's low FODMAP too.
Tomato puree: A super easy and convenient way to thicken your tomato sauce, whilst keeping it smooth and velvety.
Salt and pepper: A little seasoning goes a long way when cooking from scratch, so please use them!
Fresh chives: These add a lovely, sweet onion flavour and are so quick to just throw on at the end for the ultimate finishing touch. Don't forget these!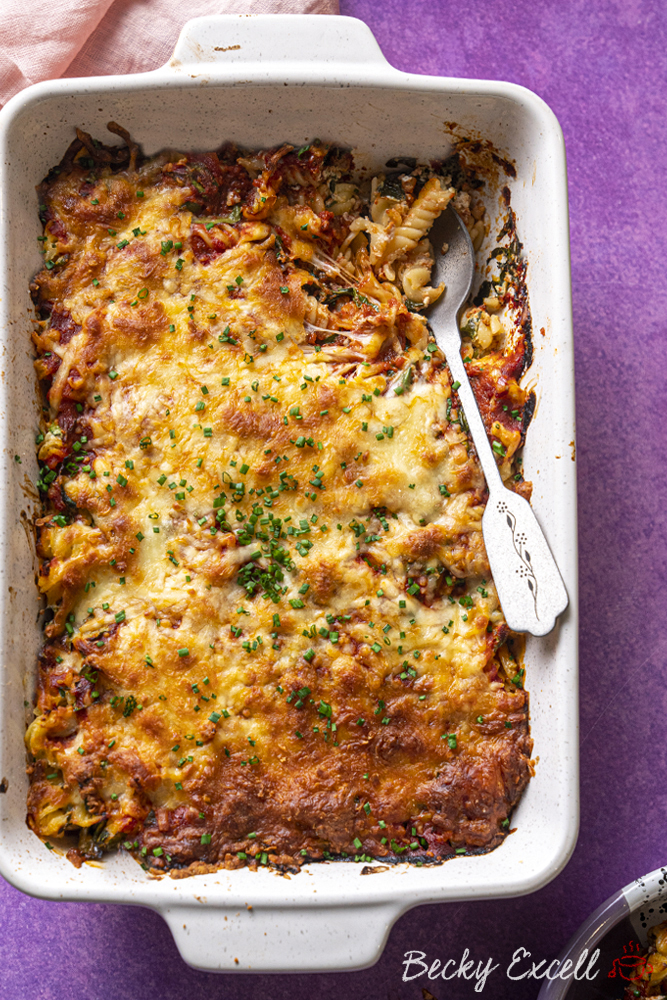 So, what does my spinach and ricotta pasta bake taste like?
The pasta is coated in creamy, cheesy ricotta – paired with a punch of Parmesan and mozzarella; of course, with lots of shredded spinach invited to the party.
Above that, a layer of crispy, stringy, golden mozzarella and a rich, homemade tomato sauce proudly sits on top.
Each mouthful is like a warm hug in pasta form and you definitely need to try it for yourself asap!
Spinach and ricotta pasta bake recipe: Frequently Asked Questions
Can I make this recipe gluten-free? Is it suitable for Coeliacs?
It is gluten-free, though nobody would know just by tasting it – trust me!
Bear in mind that minimising cross-contamination is hugely important if you're Coeliac or making this for someone who is. Here's some tips from Coeliac UK on minimising the risk of cross contamination.
Also, make sure that all ingredients used don't have any gluten-containing ingredients. Then make sure that they also don't have a 'may contain' warning for gluten, wheat, rye, barley, oats (which aren't gf), spelt and khorasan wheat (aka Kamut).
Here's some more info from Coeliac UK on identifying safe gluten-free products.
Can I make your spinach and ricotta pasta bake recipe dairy-free?
Easily, with one simple swap:
Use dairy-free cream cheese instead of ricotta
Use dairy-free hard cheese instead of mozzarella/cheddar/grana padano – ideally make sure to use a smoked dairy-free cheese
That's it!
Can I make your spinach and ricotta pasta bake recipe vegan?
Follow the steps above to make this dairy-free and it'll be vegan too!
Is this recipe low FODMAP?
It can be with one simple swap! Use lactose-free cream cheese instead of ricotta first of all, then ensure that your serving size is no more than a quarter of the finished dish.
Then, one serving size is safe for the elimination phase of the low FODMAP diet.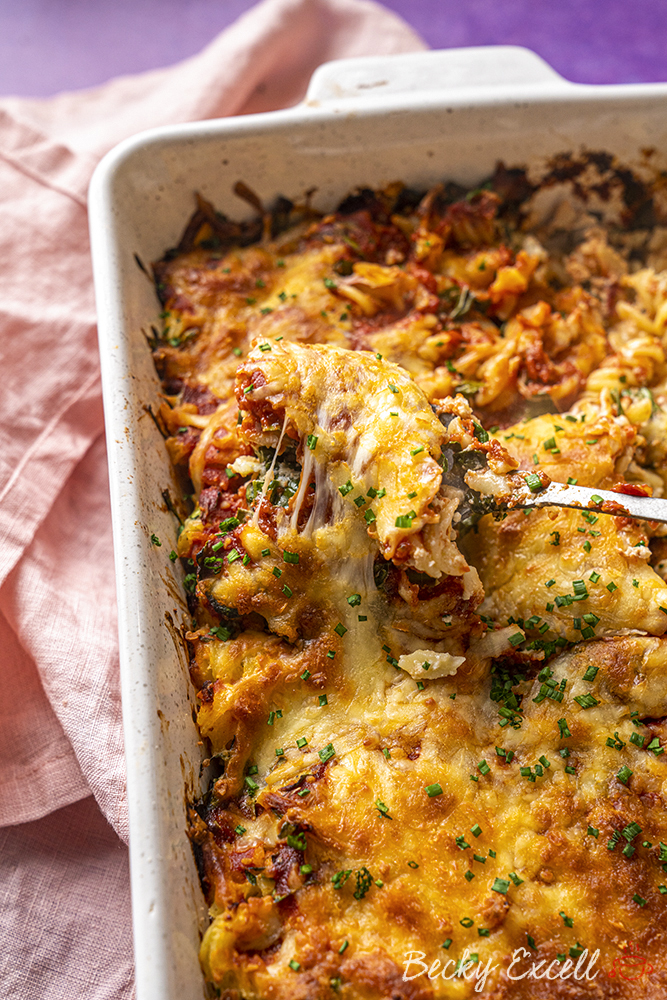 What size oven-proof dish should I use?
The dish I always use is 13x8in (rectangular) and I find that it's the perfect size for the amount of mixture this recipe creates.
Smaller dishes will work, but you'll get less crispy, cheesy top!
Can I use less cheese than the recipe states?
Of course! You can happily reduce the amount of grated cheese and grana padano or parmesan (I'd still recommend leaving a little in for flavour and definitely some for scattering on top) but I wouldn't recommend reducing the amount of ricotta.
Can I add other veg to this pasta bake?
Yes – just ensure that they're cooked to your liking before adding them to the ricotta and pasta mixture.
You could always add red pepper, courgette or aubergine to this recipe – simply chop, pop onto a baking tray, drizzle with oil and bake in the oven until cooked.
Can I freeze your spinach and ricotta pasta bake recipe?
Yes! Once cooled, simply portion into airtight containers and freeze for up to 2-3 months.
To reheat from frozen, defrost in the fridge overnight then reheat in the microwave until piping hot in the middle.
You can also store this in the fridge for 3-4 days and microwave until piping hot too.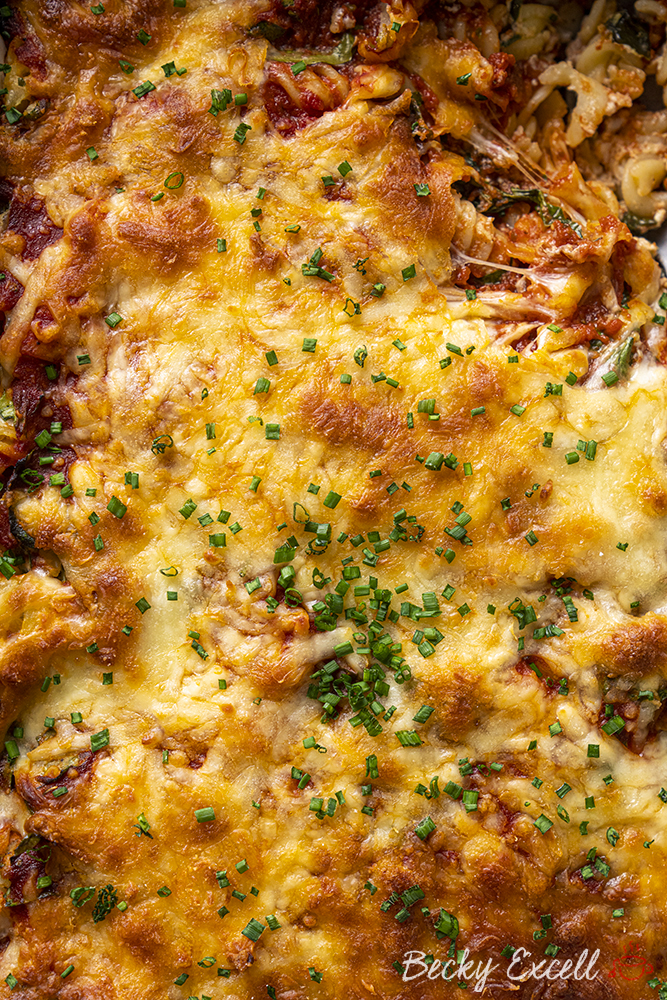 Spinach and ricotta pasta bake recipe: Tips for quick and easy prep + cooking
Get the pasta boiling ASAP whilst you prep your other ingredients.
Don't forget to keep a little pasta water. As the water becomes cloudy with all the starch, when added to the cheese mixture, it'll help to thicken it and make it into more of a sauce-like consistency.
Buying pre-grated cheese makes this a very lazy meal! Bear in mind that convenience products usually cost more, but there's no denying it speeds up cooking sessions. Pre-grated cheese is usually covered in a gluten-free starch to stop the strands from sticking together, but double-check the ingredients on the packet to ensure it's not coated in wheat flour.
Use a large oven-proof dish to bake this. The larger your dish is, the more of the super crisp, cheesy top you'll get – and that might be the best part!
Spinach and Ricotta Pasta Bake Recipe
Spinach and ricotta pasta bake recipe – a super easy meat-free meal that requires just 15 minutes of prep. Nobody would ever know it's gluten-free and Coeliac-friendly! See the FAQ section for advice on making this dairy-free.
Ingredients
200

g

gluten-free dried pasta

250

g

ricotta

use mascarpone to keep it vegetarian

100

g

mozzarella or cheddar cheese

grated, plus extra to sprinkle on top

50

g

grana padano or parmesan cheese

grated (use grana padano to keep it vegetarian)

100

g

spinach

roughly chopped

400

g

passata

sieved tomatoes

2

tsp

dried oregano

1

tbsp

garlic-infused oil

1

tbsp

tomato puree

Salt and pepper to taste

handful of fresh chives

finely chopped to serve
Instructions
Preheat the oven to 200C fan / 220C.

Cook the pasta according to instructions in lightly salted water. Drain (keeping a little of the pasta water) and put to one side.

In a large bowl mix together the ricotta, mozzarella/cheddar cheese and grana padano (or parmesan).

Mix in the cooked pasta followed by a few tsp of pasta water. Then add your chopped spinach and season. If the mixture feels too thick just continue to add a little more pasta water.

For the tomato sauce, mix together passata, oregano, garlic oil, salt and pepper in a small bowl.

Put your pasta/ricotta/spinach mixture in a large oven proof dish (mine is 13x8in) then pour the tomato sauce on top, spreading it out.

Cover in more grated mozzarella cheese and bake in the oven till golden – about 20-25 mins. Serve up with some fresh chives on top, enjoy!
Thanks for reading all about my spinach and ricotta pasta bake recipe! If you make it, I'd love to see how it turned out so don't forget to take a snap of your creations and tag me on Instagram!
Any questions about the recipe? Please do let me know by following me on Instagram and leaving me a comment on a recent photo!
Thanks for reading,
Becky xxx
Don't forget to pin this for later!