Gluten-free chocolate banana cake recipe – another one to add to the list of '101 ways to use up ripe bananas'! Best of all, nobody would know it's Coeliac-friendly and wheat-free too.
Gluten-free chocolate banana cake recipe, anyone? It's super simple to make, indulgently chocolatey with a strong banana flavour and smooth, fluffy chocolate buttercream. A true chocolate masterpiece!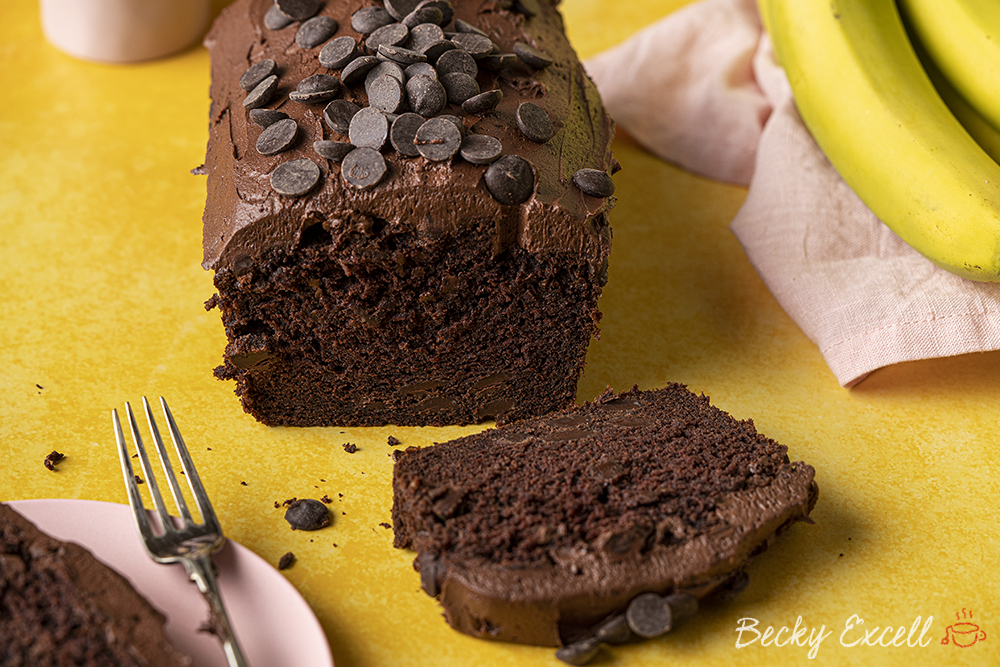 A question I often get asked is 'what can I bake with bananas that isn't banana bread?'
And in my opinion, this one is definitely more of a chocolate cake with a banana twist than a banana bread with a chocolate twist… if that makes sense!
As I always say – please make sure your bananas are super ripe before trying this recipe. The finished flavour of this cake will be totally different depending on how ripe they are.
How do you tell if your bananas are ripe or not?
Once the skin is starting to get a few black spots on the outside, then you know they're perfect for this recipe – not only will they taste a thousand times better, but they'll also be far easier to mash!
Gluten-free chocolate banana cake recipe: What you'll need…
Butter: Salted or unsalted is totally fine (I use unsalted), but whichever you go for, make sure it's softened first.
Light brown sugar: Sugar isn't just for sweetness – it helps to achieve a lovely crisp exterior and helps the to form a perfect cake crumb. Caster sugar works too, but is more neutral in flavour.
Medium Eggs: I use medium eggs for this recipe, but large works fine too. If you can't tolerate egg, check the vegan section of the FAQ for some simple swaps you can try.
Ripe bananas: Of course, the riper they are, the better your cake will taste! Please bear in mind that the weight of the bananas in the recipe is once they've been peeled.
Gluten-free plain flour:

I use a simple commercial blend from the free from aisle in the supermarket. If you can't find a blend like this where you live, you can always make your own using my gluten-free flour recipe.
Cocoa Powder: Ideally sieve before using or it can be quite lumpy and hard to mix in when forming the cake batter.
Xanthan gum: This helps to bind the cake crumb together so it doesn't become crumbly, replacing the gluten that would otherwise do the same job.
Bicarbonate of soda: This is also known as 'baking soda' and not to be confused with baking powder – bicarb is much stronger!
Dark or milk chocolate chips: Either is fine, but I used dark for this recipe – use whatever you prefer. I use Callebaut dark callets.
Icing sugar: You'll need this for the buttercream as light brown sugar won't work here.
Dark chocolate: Don't worry if you don't like dark chocolate, when mixed with the butter and icing sugar, it doesn't taste like dark chocolate at all! It just adds a more intense flavour.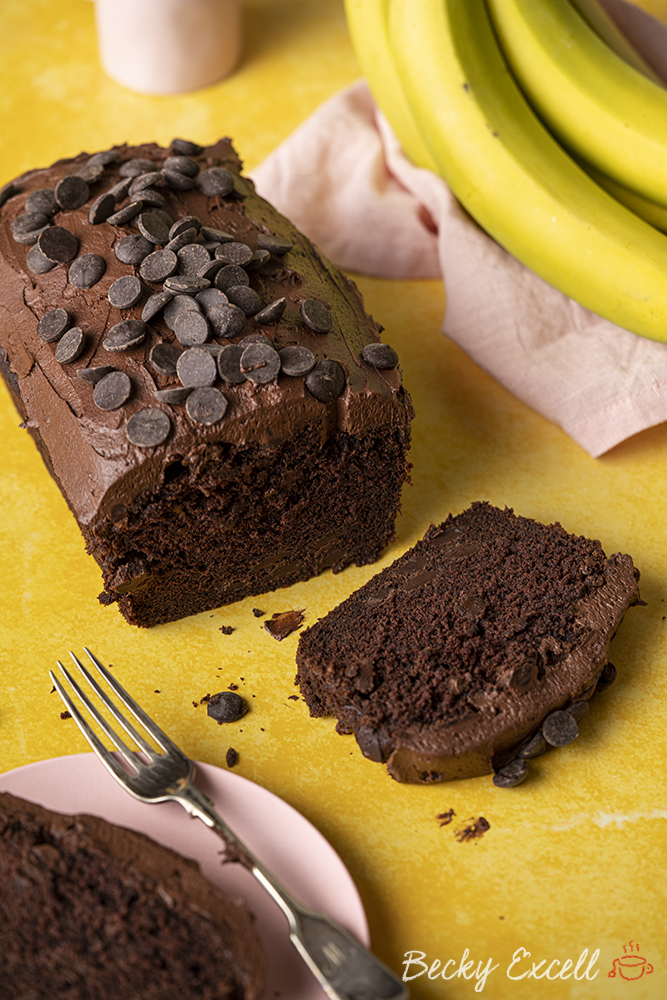 But what does my gluten-free chocolate banana cake taste like, I hear you ask?
The chocolate sponge cake itself is incredibly moist thanks AND it's packed with chocolate chips. It has an overall wonderful, rich chocolate flavour with a punch of banana (oh and each slice doesn't crumble into a million crumbs!)
If that wasn't good enough already, it's then topped with chocolate buttercream scattered with even more choc chips.
The icing and chocolate chips make this so much more than a 'chocolate banana bread' – this is a proper chocolate and banana cake of its own!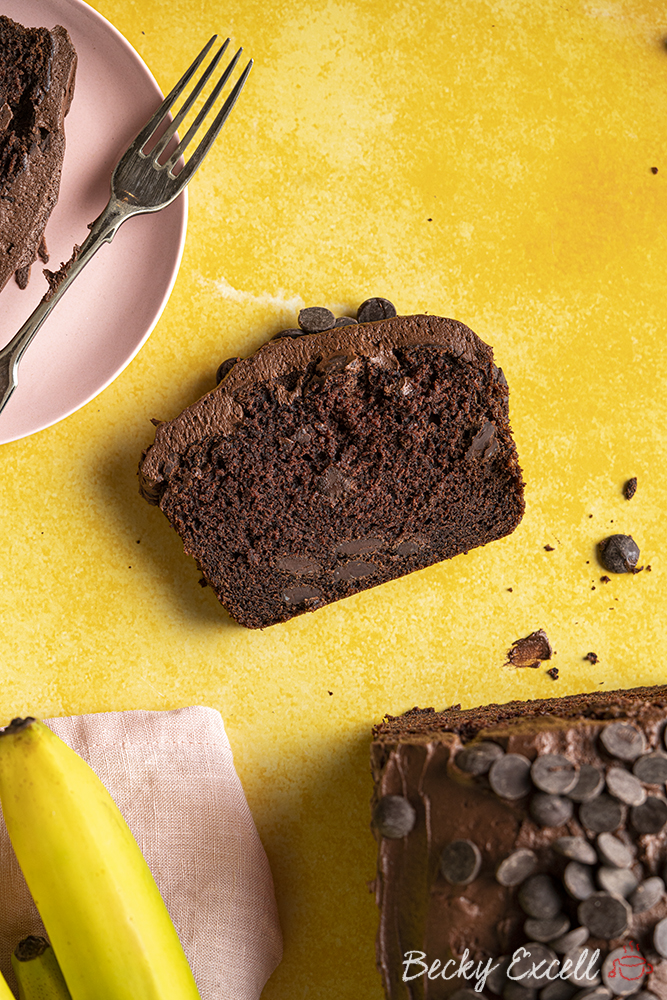 Gluten-free chocolate banana cake recipe: Frequently Asked Questions
Can I make this recipe gluten free? Is it suitable for Coeliacs?
It is gluten free, though nobody would know just by tasting it – trust me!
Bear in mind that minimising cross-contamination is hugely important if you're Coeliac or making this for someone who is. Here's some tips from Coeliac UK on minimising the risk of cross contamination:
Also, make sure that all ingredients used don't have any gluten-containing ingredients. Then make sure that they also don't have a 'may contain' warning for gluten, wheat, rye, barley, oats (which aren't gf), spelt and khorasan wheat (aka Kamut).
Here's some more info from Coeliac UK on identifying safe gluten free products.
Can I make your gluten-free chocolate banana cake recipe dairy free?
With a few simple swaps, you certainly can! To make the cake dairy-free:
Use hard dairy-free margarine instead of butter (I use Stork hard margarine).
Use dairy-free chocolate chips instead of regular chocolate chips.
Ensure your cocoa powder is dairy-free.
To make the icing dairy-free:
Use hard dairy-free margarine instead of butter (I use Stork hard margarine).
Use dairy-free dark chocolate.
That's it!
Can I make your gluten-free chocolate banana cake recipe vegan?
Yep! If you follow the instructions above to make this recipe dairy free, then all you've got left to contend with is the eggs.
Here's a few ideas you can use as egg replacements, so each of these = 1 egg.
3 tablespoons of aquafaba, pre-whisked until frothy. Aquafaba is simply the water from a can of chickpeas. Keep the chickpeas for a future dinner!
Egg replacement powder – I'd recommend using Orgran as it's gluten free.
1 tablespoon of chia/flax seeds mixed with 2 tablespoons of water and left for 10 minutes in the fridge.
3 tablespoons of applesauce.
So use one of those egg replacement options and you've got a gluten free AND vegan chocolate banana cake! I haven't tested all of these egg alternatives so let me know how you get on in the comments below.
Can I make this recipe low FODMAP?
Unfortunately, as ripe bananas are high FODMAP, this recipe isn't suitable for the elimination phase of the low FODMAP diet.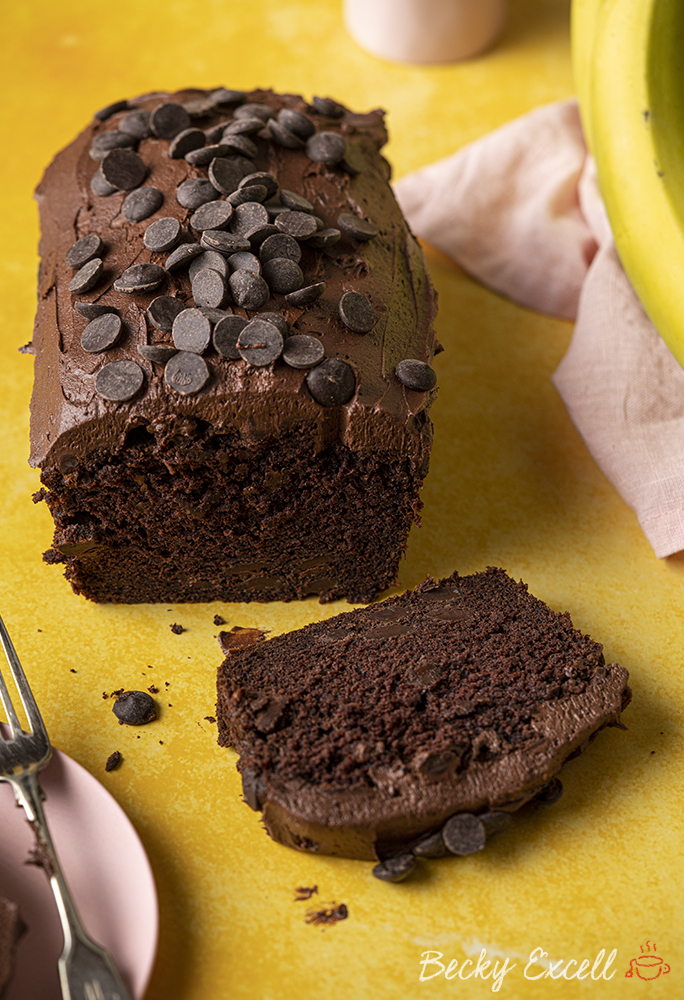 Can I make your gluten-free chocolate banana cake in a food processor or standing mixer? What about making it by hand?
Of course you can – and it'll save you on elbow grease! I don't use a standing mixer or food processor to make the cake mixture personally – I use an electric hand whisk like this.
However, I do prefer to use a stand mixer to make the buttercream as it requires extended periods of mixing.
But it's totally fine to make this by hand too. Just ensure everything is well-combined with lumps when mixing as you're far more likely to under mix when making cakes by hand.
Do I need any special equipment to bake your gluten-free chocolate banana cake recipe?
Certainly not! You will need a good quality 2lb loaf tin though, so here's a link to the one I use.
Can I bake this using the all-in-one method?
In case you didn't already know, the all-in-one method involves bunging all your sponge ingredients into a bowl at once and mixing them together. That's instead of adding them gradually.
As there's more dry ingredients than with your average Victoria sponge-style cake, I would always advise adding them gradually, instead of all at once.
Trust me, you'll thank me when you cake comes out and it's not a total disaster. So no, don't use the all-in-one method for this one!
Does this recipe need xanthan gum?
You'll see xanthan gum in a lot of my recipes as it's an essential ingredient in gluten free baking. And that's exactly the case here.
This recipe uses gluten-free plain flour and unlike plain flour, it has no added xanthan gum. So that makes adding it even more important!
So yes, if you can tolerate xanthan gum, please ensure that you use it. Otherwise the cake can risk having a crumbly, brittle texture.
Can I make this recipe using other gluten free flours like buckwheat flour or coconut flour?
There's a big difference between 'gluten free plain/self-raising flour' and a *singular* type gluten free flour. When I say 'gluten free plain or self-raising flour' in a recipe, I mean a BLEND of gluten free flours, not just one, singular flour.
Most gluten free flour you buy in the supermarket typically contains a blend of rice flour, potato flour, maize flour, tapioca flour AND buckwheat flour. That's a lot of different flours!
In gluten free self-raising flour, there's usually even a little baking powder and xanthan gum in it too which always helps. So to replace it with just one specific type of flour… that's not going to cut it at all. Definitely go for a gluten free flour blend.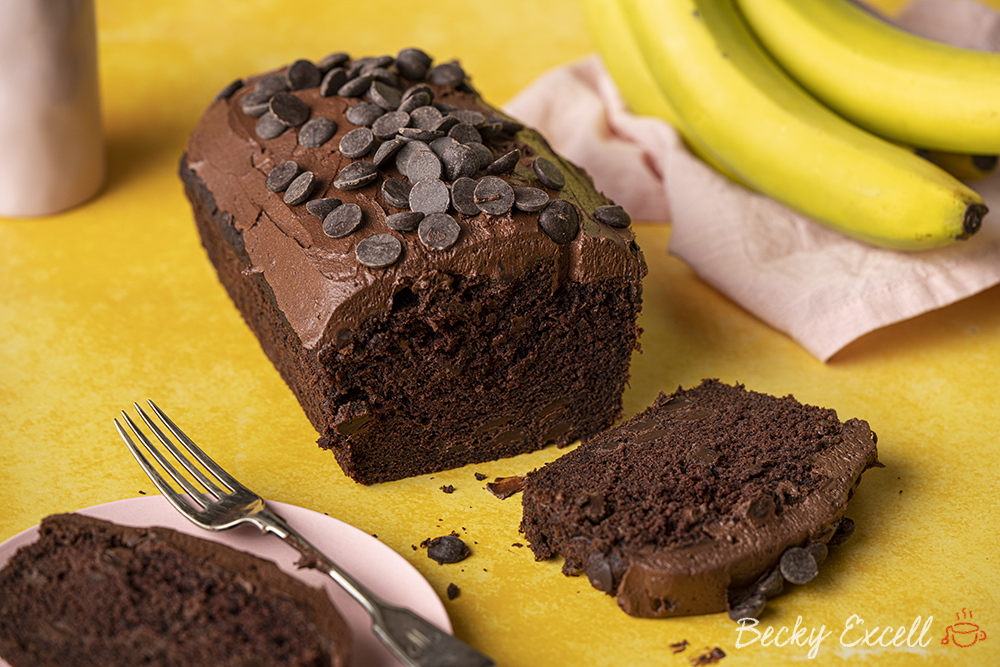 How long can I keep your gluten-free chocolate banana cake for?
I've kept my gluten free chocolate banana cake for 3-5 days in an air-tight container in the fridge with no problems.
If you need to keep it any longer than that, I'd highly recommend freezing it (see advice below for doing that).
When the sponge starts getting a little dry, it's probably starting to get past its best.
Can I freeze your gluten-free chocolate banana cake?
Of course! I've frozen it for up to 2-3 months no problem. Ideally, slice up the cake first before freezing. Then, you can easily defrost a few slices at a time instead of the entire thing.
When you want to eat it, each slice should take around 3 hours to defrost at room temperature.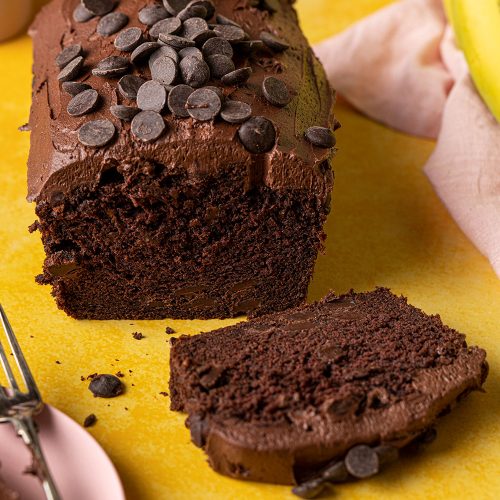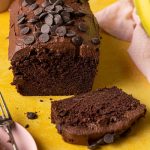 Gluten-free Chocolate Banana Cake Recipe
Gluten-free chocolate banana cake recipe – perfect for using up all those ripe bananas! Coeliac-friendly and wheat-free too.
Ingredients
For the cake:
115

g

butter

softened (use Stork hard margarine if dairy-free)

115

g

light brown sugar

2

medium eggs

beaten

400-500

g

ripe bananas

mashed (around 4 bananas when peeled)

210

g

gluten-free plain flour

40

g

cocoa powder

1/4

tsp

xanthan gum

1

tsp

bicarbonate of soda

150

g

chocolate chips

plus extra to decorate (dairy-free if necessary)
For the frosting
125

g

butter

softened (use Stork hard margarine if dairy-free)

90

g

icing sugar

25

g

cocoa powder

55

g

dark or milk chocolate

dairy-free if necessary
Instructions
For the cake:
Preheat your oven to 160C Fan / 180C and prepare a 2lb loaf tin.

Cream together the light brown sugar and butter until light and fluffy.

Next add your beaten eggs alongside your mashed banana (I tend to just mash mine with a fork!). Either by hand or with a whisk, mix your eggs and banana in until combined. At this stage you'll realise how important it is to have very ripe bananas – if they are underripe it's harder for them to combine.

Add your gluten free flour, sifted cocoa powder and bicarbonate of soda to the bowl and mix briefly just to combine and so that no dry flour can be seen. Fold in your chocolate chips at this point, if using.

Spoon / pour your mixture into a prepared 2lb loaf tin And place in the oven for about an hour.

Check that it's cooked by sticking a skewer into the centre and seeing if it comes out clean. Allow to cool fully.
For the chocolate frosting:
Melt your chocolate (I do this is the microwave in 20 seconds bursts), put to one side to cool whilst making the rest of the frosting.

Place your butter in a bowl and mix on its own on a high speed for about 3-5 minutes. The butter should change from a more yellow colour to being a lot more pale.

Add your icing sugar carefully to the butter and mix it in for a few minutes.

Sieve in your cocoa powder and then mix again until fully combined.

Add in your cooled melted chocolate and mix until dispersed evenly, the colour is a lovely rich chocolate colour and it's a nice thickness to spread. If too thick, add a drop of milk and mix.

Spread over the top of your cooled banana cake and finish with extra chocolate chips for decoration.
Thanks for reading all about my gluten-free chocolate banana cake recipe!
Any questions about the recipe? Please do let me know by following me on Instagram and leaving me a comment on a recent photo!
Thanks for reading,
Becky xxx
Don't forget to pin this for later!