Chinese takeout veggie curry recipe – a healthier, quick and easy meal in less than 30 minutes. Nobody would ever know its Coeliac-friendly and wheat-free either!
Chinese takeout veggie curry recipe – meet the veggie version of a very popular fakeaway recipe that made from my first ever cookbook. Perfect for when you need a speedy, meat-free weeknight meal!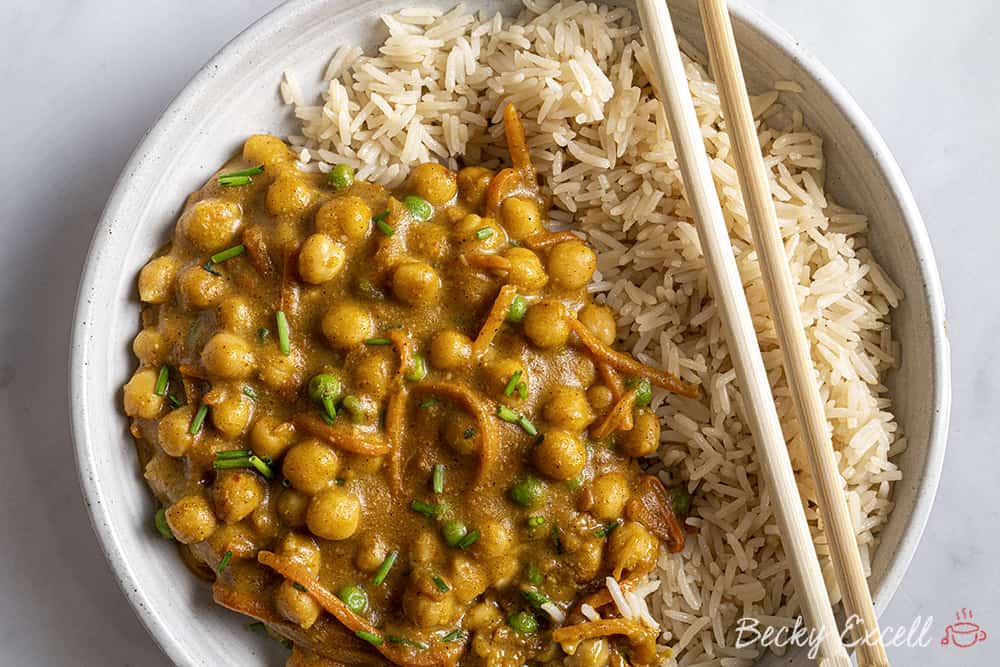 Here's a one-wok, quick and easy veggie dinner that can be on your plate in 25 minutes or less.
And no, I haven't gone completely veggie or vegan! But when you think about it… who really needs to eat meat every single day of their lives? Certainly not me – it's nice to mix it up a little, don't you think?
But not only that! Using chickpeas means no need to chop or cook chicken or beef (which I'd usually use in this recipe) and that means less prep and cook time.
Plus, you can always keep a can of chickpeas in the cupboard, ready to make this in case of emergency. Almost all of the ingredients are from the store-cupboard and freezer!
In case you didn't know, this is essentially a veggie remix of the Chinese Takeout curry in my first book 'How To Make Anything Gluten-free'.
Chinese takeout veggie curry recipe: What you'll need…
Garlic-infused oil: An instant injection of wonderful garlic flavour – no chopping or pre-frying of fresh garlic required. And if your garlic oil doesn't have any bits of actual garlic floating in it, then it's low FODMAP too.
Gluten-free vegetable or vegan stock: A simple gluten-free stock cube and boiling water will suffice here.
Carrot or button mushrooms: I used carrot in the photos, but I've included button mushrooms in the recipe as we sometimes use those too.
Gluten-free soy sauce: This is also called 'tamari' and is either found in supermarket free from aisles, or alongside all the regular soy sauce.
Creamed coconut block (optional): This adds a wonderful creamy texture/taste to the sauce, so I'd highly recommend using it. You'll usually find it in a small cardboard box, alongside all the canned coconut milk and Asian/Chinese ingredients in the supermarket.
Maple syrup (optional): Mark always adds a little for a sweet and salty flavour. You can either omit it, or just use caster sugar or honey if you don't have any.
Frozen peas: A must for any Chinese takeout curry – just chuck them into the wok straight from the freezer.
Canned chickpeas: Perfect for adding to any curry and cooks in next to no time – just make sure you drain them first.
Fresh chives: These add a lovely, sweet onion flavour and are so quick to just throw on at the end for the ultimate finishing touch. Don't forget these!
Gluten-free plain flour: This is to thicken the sauce, so don't skip this unless you like a very thin sauce.
Mild curry powder: Using a mild curry powder allows us to be completely control of the spice level, but feel free to use medium or hot if you'd prefer.
Dried chilli flakes: Perfect for adding a little warmth and punch to the dish, which it benefits so much from. If you use the amount in the recipe, you'll end up with a mild, subtle heat. Feel free to double for a medium heat.
Chinese five spice (optional): Whilst not mandatory, this adds an extra depth of flavour to the dish which I know you'll love! It's only optional in case you don't have it in your cupboards and you really want to make this!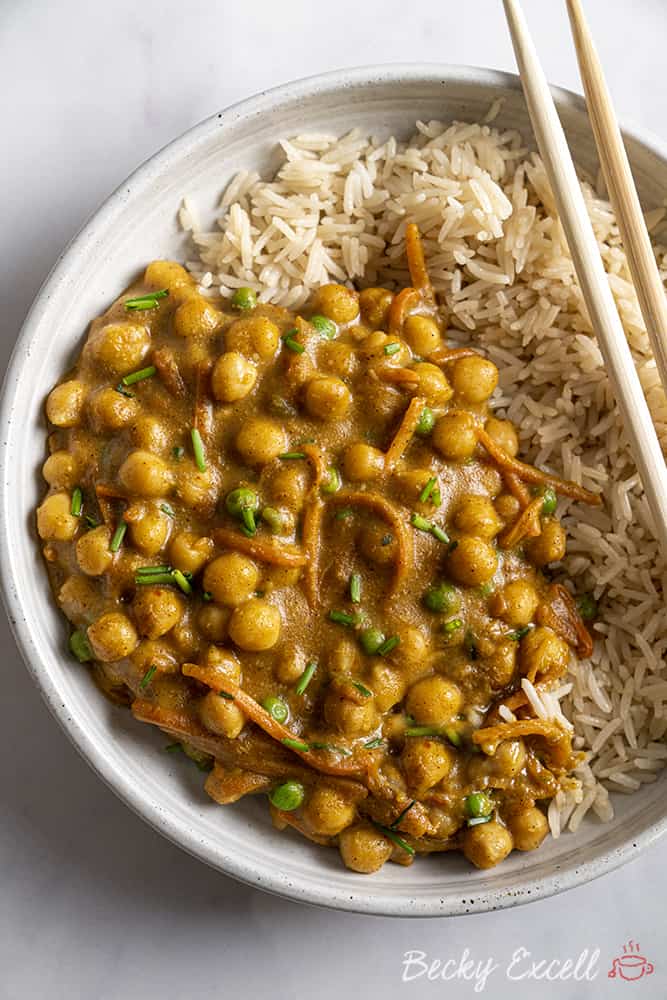 So, what does my Chinese takeout veggie curry taste like?
The sauce is warming with a mild spice and an authentic Chinese takeaway umami taste – even despite being a 'fakeaway'! If you add the creamed coconut, you'll also find a thick, creamy quality too.
The veg soaks up all that flavour and of course, the chickpeas are delightfully tender and add a welcome bite/chunky texture.
Perhaps best of all, it's ready before a regular takeaway would even arrive at your door!
Chinese takeout veggie curry recipe: Frequently Asked Questions
Can I make this recipe gluten-free? Is it suitable for Coeliacs?
It is gluten-free, though nobody would know just by tasting it – trust me!
Bear in mind that minimising cross-contamination is hugely important if you're Coeliac or making this for someone who is. Here's some tips from Coeliac UK on minimising the risk of cross contamination.
Also, make sure that all ingredients used don't have any gluten-containing ingredients. Then make sure that they also don't have a 'may contain' warning for gluten, wheat, rye, barley, oats (which aren't gf), spelt and khorasan wheat (aka Kamut).
Here's some more info from Coeliac UK on identifying safe gluten-free products.
Can I make your Chinese takeout veggie curry recipe dairy-free?
This one is dairy-free – no changes required.
Can I make your Chinese takeout veggie curry recipe vegan?
Use vegan stock to make it vegan-friendly – that's it!
Is this recipe low FODMAP?
It can be! Here's the changes you'd need to make..
Use low FODMAP stock
Use carrot instead of mushrooms and omit the frozen peas
Ensure your curry powder and five spice are low FODMAP (they commonly contain onion/garlic powder)
Use no more than 42g of chickpeas per person per serving (that would be 126g instead of 400g, assuming this recipe was to serve 3 people)
Make the changes above and 1/3 of the finished dish would be a safe serving size for the elimination phase of the diet.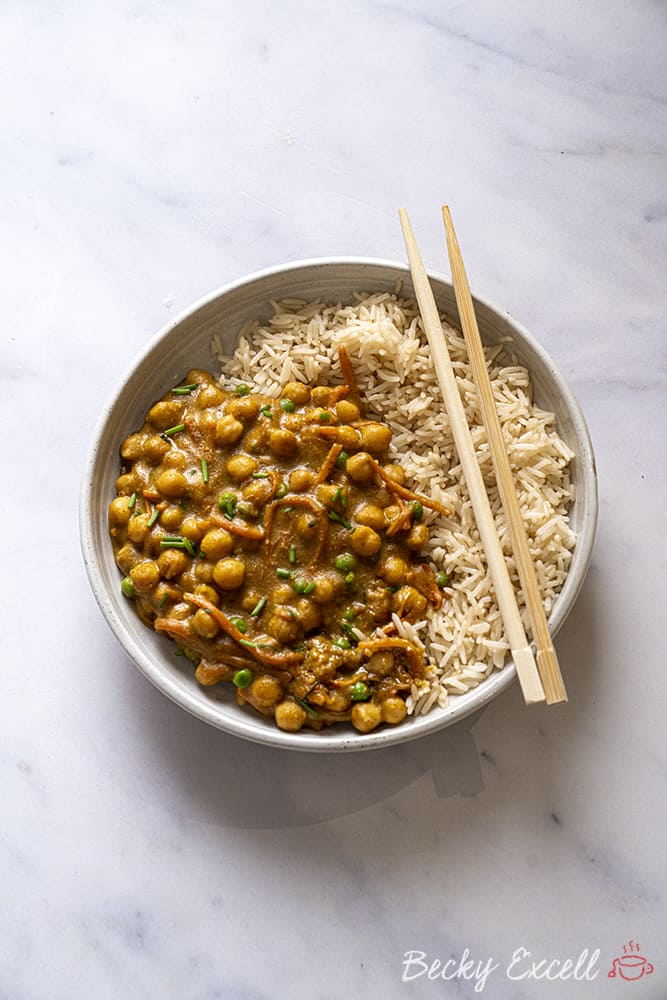 Can I use veg other than carrot or mushrooms?
Yes, as long as they can reasonably cook in time! Here's a few other veg swaps you could make, as long as they're all finely chopped:
Onion
Red, green or yellow pepper
Courgette
Can I make this using chicken breast?
Yes – simply fry the chicken until sealed (add to the wok after softening the veg) and of course, omit the chickpeas.
Is this a healthy recipe?
Yes! You guys requested more healthy, every day gluten-free dinner recipes so that's exactly what I'm going to make.
If you want to make it even healthier still, you can always:
Use a low calorie garlic-flavoured cooking spray instead of garlic oil
Omit the creamed coconut block
Can I freeze your Chinese takeout veggie curry recipe?
Yes! Once cooled, simply portion into airtight containers and freeze for up to 2-3 months.
To reheat from frozen, defrost in the fridge overnight then reheat in the microwave until piping hot in the middle.
You can also store this in the fridge for 3-4 days and microwave until piping hot too.
Ideally freeze the curry and any rice used separately.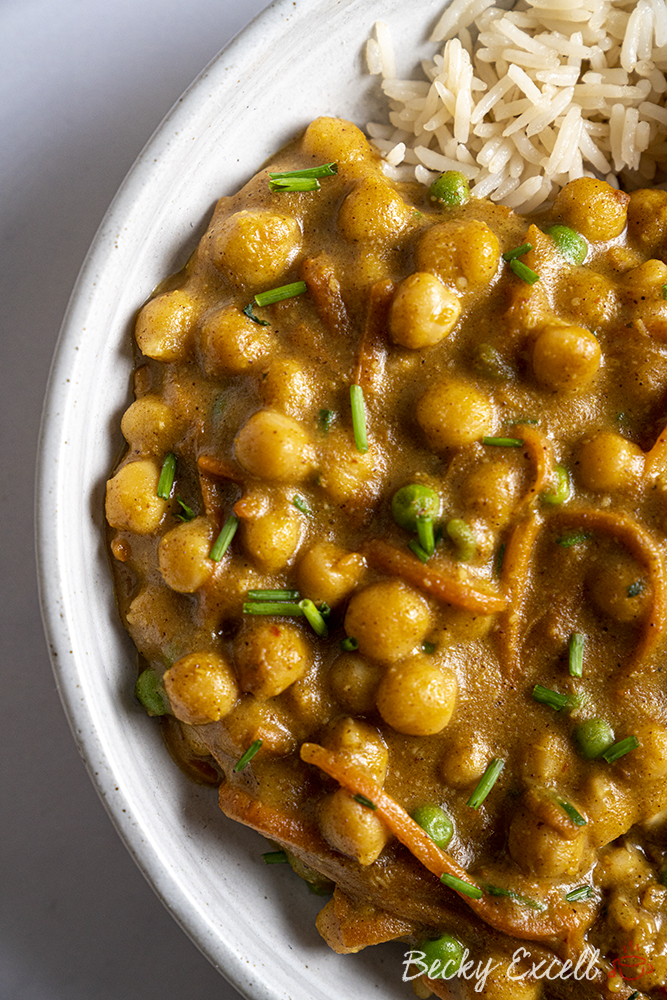 Chinese takeout veggie curry recipe: Tips for quick and easy prep + cooking
Create the spice blend, prepare the stock and drain the chickpeas before you start, so they're ready for when you need them. Trust me, it makes cooking feel a lot easier!
Chop the veg whilst the oil is heating. A little multitasking goes a long way in speedy cooking! Don't forget to get your stock ready before you need it too.
Use a large wok to make this, if possible. If there's more space in the pan, everything will cook quicker!
If the sauce isn't thickened to your liking after simmering, simply continue to simmer until it is. Remember – there's flour in this recipe, so it'll thicken the longer you simmer it.
Prepare your rice and any sides ahead of time. If serving with rice, put it on before you start cooking this. A microwave packet of rice makes this part even easier and quicker too, of course.
Chinese Takeout Veggie Curry Recipe
Chinese takeout veggie curry recipe – a fakeaway favourite that can be made in just 25 minutes. Nobody would ever know it's gluten-free, Coeliac-friendly and wheat-free too.
Ingredients
1

tbsp

garlic-infused oil

1

carrot or 100g button mushrooms

thinly sliced

400

ml

gluten-free vegetable stock

1

tsp

gluten-free soy sauce

40

g

creamed coconut block

optional but highly recommended

1

tsp

maple syrup

optional

2-3

tbsp

frozen peas

400

g

tinned chickpeas

drained

Handful of fresh chives

chopped
For the spice blend:
1 1/2

tbsp

gluten-free plain flour

2

tsp

mild curry powder

1/2

tsp

dried chilli flakes

1/2

tsp

Chinese five spice

optional
Instructions
In a large wok, add the garlic-infused oil and place over a medium-high heat. Once heated, fry the carrots or mushrooms until softened.

Add the gluten-free flour, curry powder, chilli flakes and five spice to the pan and mix to coat the veg. Keep stirring!

After about a minute, pour in the stock, soy sauce and maple syrup. Stir to combine.

Then add the creamed coconut block, allow it to break down and stir through so the curry becomes thickened and creamy.

Add in the frozen peas, followed by your chickpeas, stir through and allow to cook for around 5 minutes.

Remove from the heat, finish with chives and serve with rice.
Thanks for reading all about my Chinese takeout veggie curry recipe! If you make it, I'd love to see how it turned out so don't forget to take a snap of your creations and tag me on Instagram!
Any questions about the recipe? Please do let me know by following me on Instagram and leaving me a comment on a recent photo!
Thanks for reading,
Becky xxx
Don't forget to pin this for later!