One-pot paprika chicken recipe – a speedy crowdpleaser in less than 30 minutes. Nobody would ever know its healthy, Coeliac-friendly and wheat-free either!
One-pot paprika chicken recipe – this creamy, smoky, warming bowl of awesomeness couldn't be easier or quicker to make. Simply serve with pasta, rice, mashed potatoes or even in gluten-free wraps.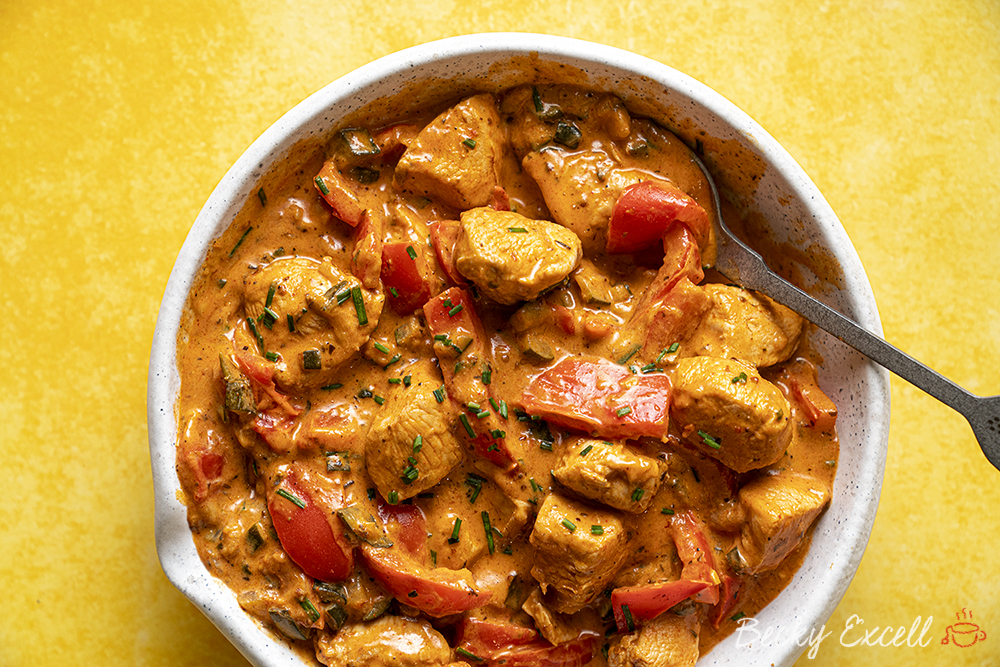 For the longest time, you guys have been asking me for more gluten-free dinner recipes… so that's exactly what I'm gonna give you more of this year!
Now, not all of these dishes will be my usual 'you usually couldn't eat this if you're gluten-free' type recipes.
Instead, like this one, they'll simply be the quick, easy and convenient meals that Mark and I cook and enjoy every day of our lives. But yes, they'll all be gluten-free (obviously)!
We love them, so maybe you will too? Scratch that – I know you will love them! So be sure to get this recipe into your meal plans and give it a go.
One-pot paprika chicken recipe: What you'll need…
Garlic-infused oil: An instant injection of wonderful garlic flavour – no chopping or pre-frying of fresh garlic required. And if your garlic oil doesn't have any bits of actual garlic floating in it, then it's low FODMAP too.
Red (bell) pepper: Any colour of pepper will do here, but red is my personal preference in terms of flavour and aesthetics in this dish.
Courgette (zucchini): This absorbs so much flavour and naturally vanishes into the thick and creamy sauce.
Chicken breast: This most certainly works best here as it cooks fast and emerges as being super tender.
Smoked paprika: This is the main flavour sensation of this dish, so don't scrimp on it! Smoked paprika is absolutely preferable to regular paprika or hot paprika here.
Dried oregano or mixed herbs: The choice is yours – I used oregano but whatever you have in the cupboard will do. Fresh herbs are also fine!
Salt and pepper: A little seasoning goes a long way when cooking from scratch, so please don't forget these!
Tomato puree: A super easy and convenient way to add a vibrant tomato tang which works so well with the smoked paprika.
Gluten-free stock: Use chicken or veggie stock – whatever you prefer, as long as it's gluten-free! I also love using a ham stock cube here too sometimes for an extra element of smoky flavour.
Lemon juice: Either fresh lemon or lemon juice from a bottle works fine.
Cream cheese: This is the secret ingredient to a super creamy sauce – full-fat or low-fat is fine here. It's a crucial ingredient as it'll thicken the sauce perfectly; otherwise it will be very watery.
Fresh chives: These add a lovely, sweet onion flavour and are so quick to just throw on at the end for the ultimate finishing touch. Don't forget these!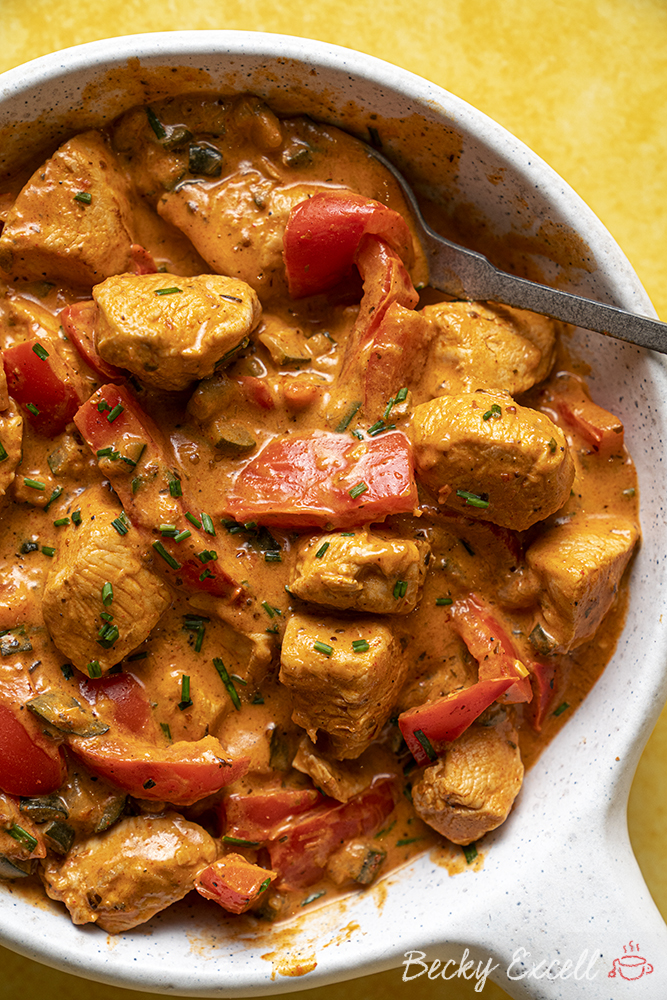 So, what does my smoky paprika chicken taste like?
The sauce is wonderfully creamy, with a depth of smoky, tomato flavour and a pang of oregano.
It coats tender chunks of chicken and perfectly cooked veg that soak up all that vibrant orange hued sauce.
Whatever you serve it up with, it's sure to be the star of your plate!
One-pot paprika chicken recipe: Frequently Asked Questions
Can I make this recipe gluten-free? Is it suitable for Coeliacs?
It is gluten-free, though nobody would know just by tasting it – trust me!
Bear in mind that minimising cross-contamination is hugely important if you're Coeliac or making this for someone who is. Here's some tips from Coeliac UK on minimising the risk of cross contamination.
Also, make sure that all ingredients used don't have any gluten-containing ingredients. Then make sure that they also don't have a 'may contain' warning for gluten, wheat, rye, barley, oats (which aren't gf), spelt and khorasan wheat (aka Kamut).
Here's some more info from Coeliac UK on identifying safe gluten-free products.
Can I make your one-pot paprika chicken recipe dairy-free?
Easily, with one simple swap:
Use dairy-free cream cheese
That's it!
Can I make your one-pot paprika chicken recipe vegan?
Follow the steps above to make this dairy-free, then all you've got to do next is substitute the chicken.
Simply substitute with a can of chickpeas (drained) and add 5 minutes after adding the stock.
Is this recipe low FODMAP?
If you use lactose-free cream cheese and low FODMAP stock, then yes! One serving of this recipe would then be suitable for the elimination phase of the low FODMAP diet.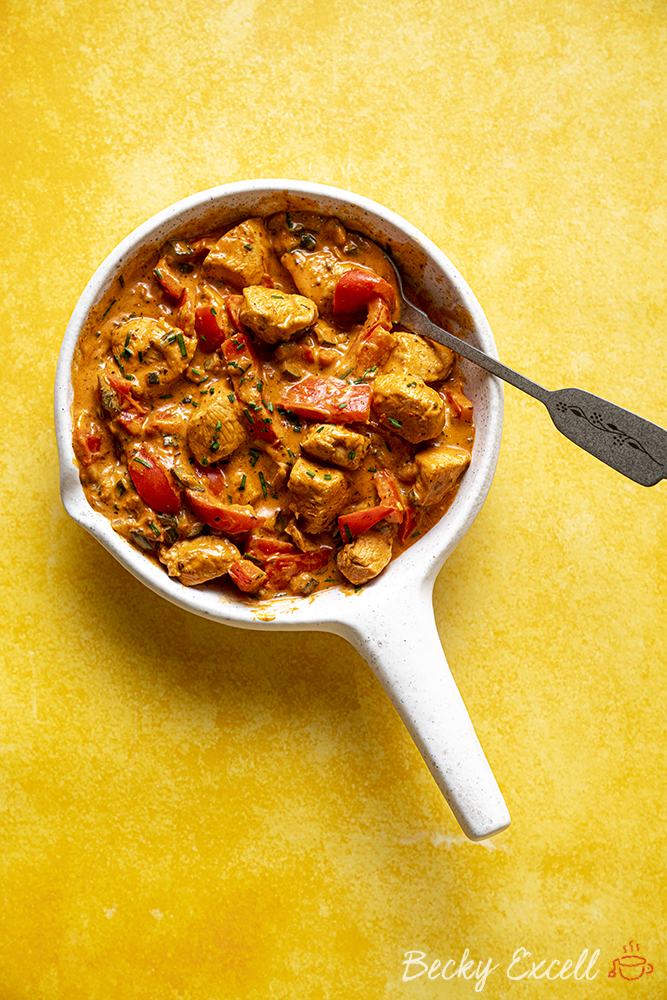 Can I use veg other than peppers or courgette?
Yes, as long as they can reasonably cook in time! Here's a few other veg swaps you could make, as long as they're all finely chopped:
Onion
Aubergine
Spinach
Carrot
Button mushrooms
Frozen peas (two handfuls added along with the stock)
Can I make this using chicken thighs?
Yes – as long as they're skinless, boneless and chopped into bite-sized chunks.
Then, I'd highly recommend simmering for a full 15 minutes once the stock has been added to ensure they're lovely and tender – not chewy!
Is this a healthy recipe?
Yes! You guys requested more healthy, every day gluten-free dinner recipes so that's exactly what I'm going to make.
If you want to make it even healthier still, you can always:
Use a low calorie garlic-flavoured cooking spray instead of garlic oil
Use low-fat cream cheese instead of full-fat cream cheese
Can I freeze your one-pot paprika chicken recipe?
Yes! Once cooled, simply portion into airtight containers and freeze for up to 2-3 months.
To reheat from frozen, defrost in the fridge overnight then reheat in the microwave until piping hot in the middle.
You can also store this in the fridge for 3-4 days and microwave until piping hot too.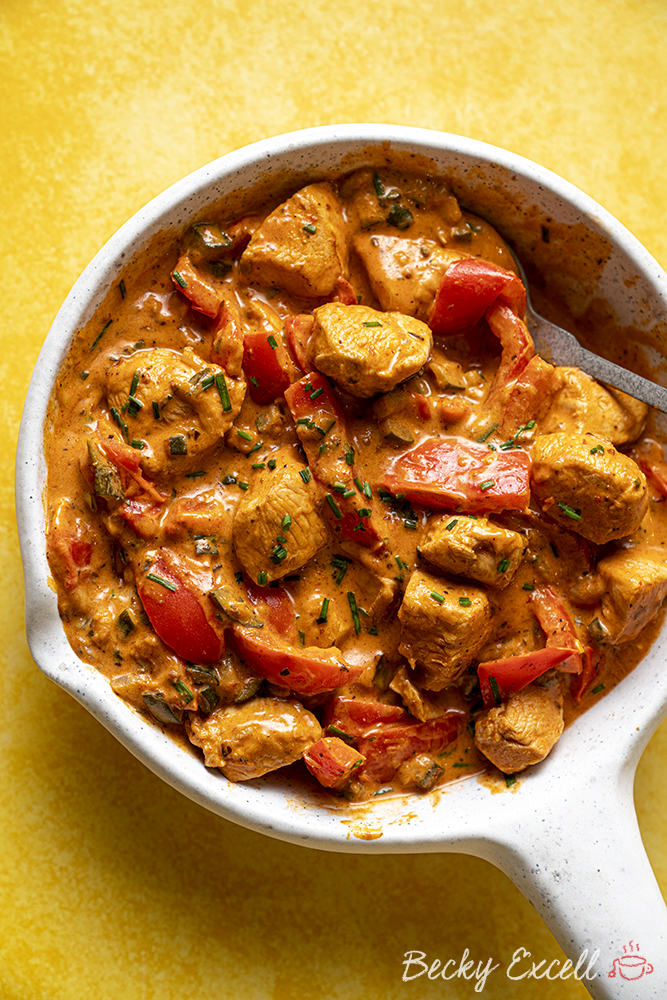 One-pot paprika chicken recipe: Tips for quick and easy prep + cooking
Get your spices and seasoning out before you start, so they're ready for when you need them. Trust me, it makes cooking feel a lot easier
Chop all the veg whilst the oil is heating and the chicken whilst the veg is frying. A little multitasking goes a long way in speedy cooking! Don't forget to get your stock ready before you need it too.
Only fry the chicken until it's sealed, not golden brown. 'Sealed' means that you fry it until it's completely white on the outside, but likely raw in the middle. If you cook it through too much when frying, it can become dry whilst simmering in the stock.
Use a large frying pan or pot to make this, if possible. Not only do you have a reasonable amount of veg to fry, but there's also chicken and stock too. If there's more space in the pan, everything will cook quicker!
Prepare whatever you're serving this dish with ahead of time. If serving with pasta, put it on before you start cooking this – the same goes for rice too. A microwave packet of rice makes this part even easier and quicker too.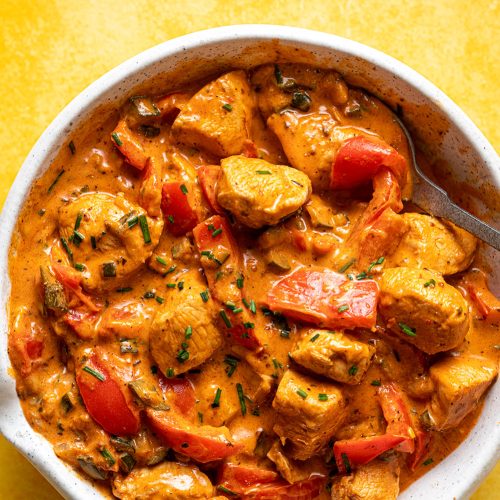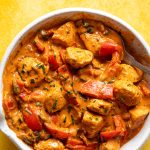 One Pot Paprika Chicken Recipe
One-pot paprika chicken recipe – ready in just 25 minutes and perfect with rice, pasta or mashed potatoes. It's also gluten-free and Coeliac-friendly too.
Ingredients
1

tbsp

garlic-infused oil

1

red pepper

chopped

1

courgette

diced

300

g

chicken breast

chopped

1

tbsp

smoked paprika

1

tsp

dried oregano or mixed herbs

pinch

of salt and pepper

1

tbsp

tomato puree

200

ml

gluten-free stock chicken or vegetable stock

low FODMAP if necessary

1

tbsp

lemon juice

2

heaped tbsp cream cheese

dairy-free if necessary or lactose-free if low FODMAP

handful of fresh chives

chopped
Instructions
Heat garlic oil in a pan over a medium heat, then add the red pepper and courgette. Fry for a few minutes until slightly softened.

Add the chopped chicken, cook until sealed.

Mix in the paprika, oregano, salt, pepper and tomato puree.

Pour in the stock and simmer to reduce, I left mine for 10 minutes.

Remove from the heat and stir in lemon juice and cream cheese.

Finish with freshly chopped chives.

Serve with rice, pasta, potato or even in gf wraps.
Nutrition
Serving:
1
g
|
Calories:
423
kcal
|
Carbohydrates:
15
g
|
Protein:
53
g
|
Fat:
17
g
|
Saturated Fat:
4
g
|
Polyunsaturated Fat:
11
g
|
Cholesterol:
137
mg
|
Sodium:
324
mg
|
Fiber:
4
g
|
Sugar:
7
g
Thanks for reading all about my one-pot paprika chicken recipe! If you make it, I'd love to see how it turned out so don't forget to take a snap of your creations and tag me on Instagram!
Any questions about the recipe? Please do let me know by following me on Instagram and leaving me a comment on a recent photo!
Thanks for reading,
Becky xxx
Don't forget to pin this for later!