No-Bake Millionaire's shortbread recipe! Yup, you can easily make these without even turning the oven on – no flour required. It's not magic, it's actually quite simple!
No-Bake Millionaire's shortbread recipe, anyone? I'm pretty sure I heard a big 'yes' (that may have been me) so I'm gonna show you exactly how to make the ultimate cheat's version of my classic no-bake millionaire's shortbread recipe.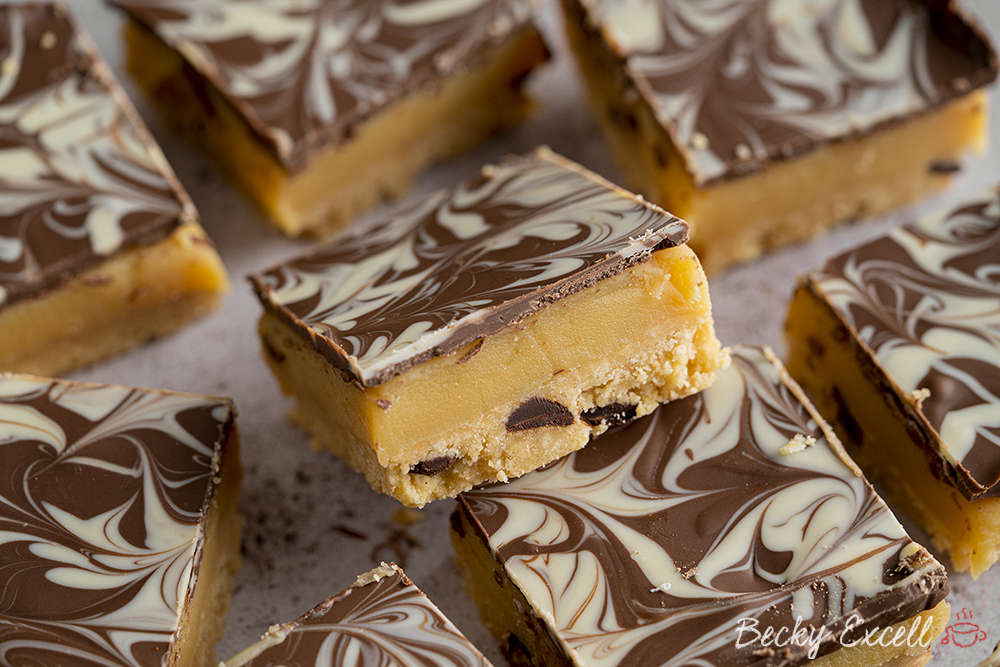 Yes that's right – I'm back with another millionaire's shortbread recipe! But this one might be my easiest ever version.
So what's the difference? Well, in my regular millionaire's shortbread recipe, you need to actually mix and bake shortbread for the base first – the 'proper' way to make these.
But with this cheat's version, you can easily make them by crushing up shop bought gluten-free shortbread biscuits and mixing with melted butter.
Honestly, it's very hard to even tell the difference! Here's a few reasons you need to make this if you weren't convinced already…
Why make my No-Bake Millionaire's shortbread recipe?
These are 100% no-bake so no need to even bake the base – just use use gluten-free shortbread to make a buttery biscuit base.
They don't taste gluten-free *at all* so be prepared to fight the muggles for these!
You can easily make these in under an hour – including chilling time.
You only need 7 simple ingredients to make these and they're completely beginner-friendly.
Either slice into 9 large slices or 16 large slices to serve a crowd.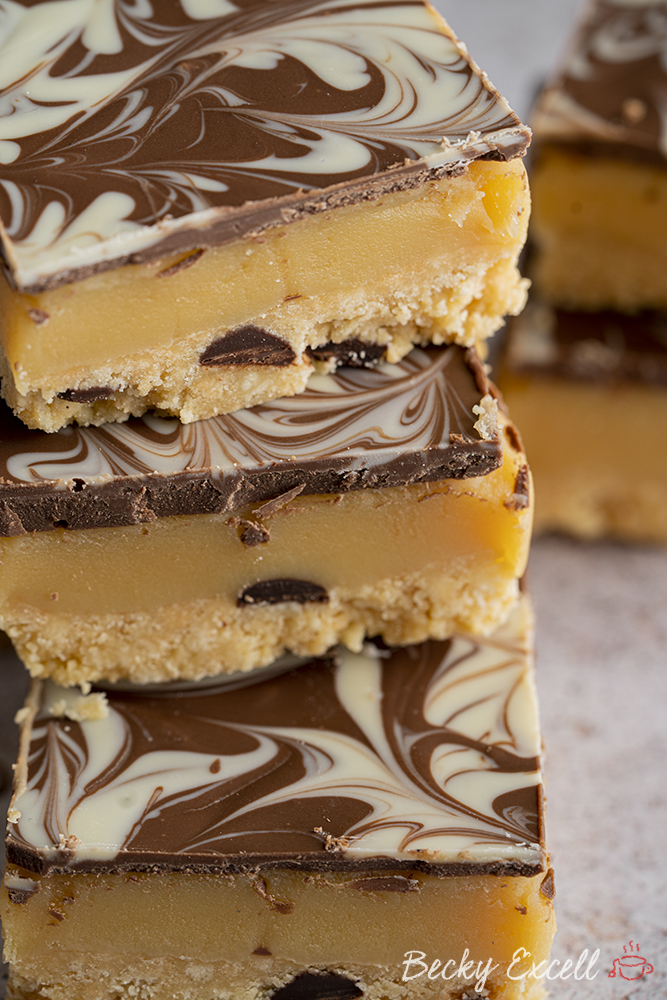 So what do my no-bake millionaire's shortbread recipe taste like? Well, just like you'd imagine!
The base is buttery shortbread that's not only tastes divine, but holds together exceptionally well.
Then, you've got a thick layer of my classic, sweet and sticky caramel that's perfectly set, yet still gooey.
Lastly, I've finished them with marbled milk and white chocolate – just as I always do!
Here's everything you'll need for this recipe, keep scrolling until you see the recipe card for the measurements and method…
No-Bake Millionaire's shortbread recipe: What you'll need…
Gluten-free chocolate chip shortbread
Butter
Golden caster sugar
Golden syrup
Condensed milk
Milk chocolate
White chocolate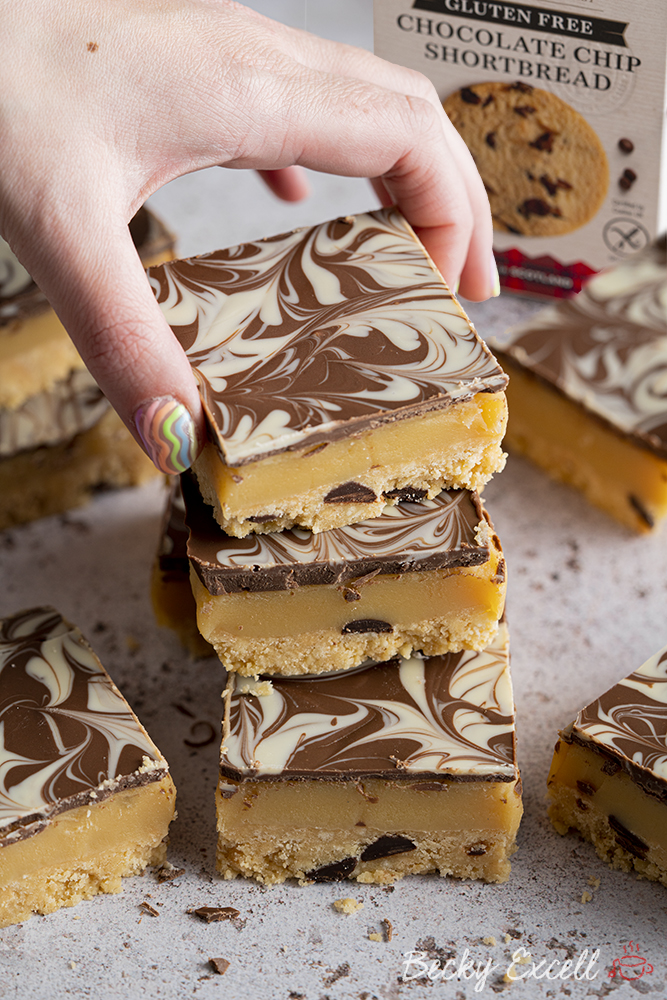 So I thought I'd kick things off with a little frequently asked questions section – if you just want the recipe, then keep scrolling.
But I've thrown in some tips here that will be really helpful if this is your first time making this, or you want to adapt it. So here they are!
No-Bake Millionaire's shortbread recipe: Frequently Asked Questions
Is this recipe gluten-free?
It is gluten-free, though nobody would know just by tasting it – trust me!
Bear in mind that minimising cross-contamination is hugely important if you're Coeliac or making this for someone who is. Here's some tips from Coeliac UK on minimising the risk of cross contamination.
Also, make sure that all ingredients used don't have any gluten-containing ingredients. Then make sure that they also don't have a 'may contain' warning for gluten, wheat, rye, barley, oats (which aren't gf), spelt and khorasan wheat (aka Kamut).
Here's some more info from Coeliac UK on identifying safe gluten-free products.
Can I make your No-Bake Millionaire's shortbread recipe dairy free?
Unfortunately, this is one of those recipes where, by the time you made all the swaps to make this dairy-free… it would be a different recipe entirely!
As this is the case, I'll be working on a separate millionaire's shortbread recipe that's totally dairy-free. So watch out for that one – I'm working on it and it's coming soon!
Can I make your No-Bake Millionaire's shortbread recipe vegan?
Sadly, the same goes for making this vegan, as I mentioned above.
My future dairy-free millionaire's shortbread will be vegan too!
Is your No-Bake Millionaire's shortbread recipe low FODMAP?
Unfortunately, this recipe contains a lot of dairy, so you won't be able to attempt this until you've successfully reintroduced dairy.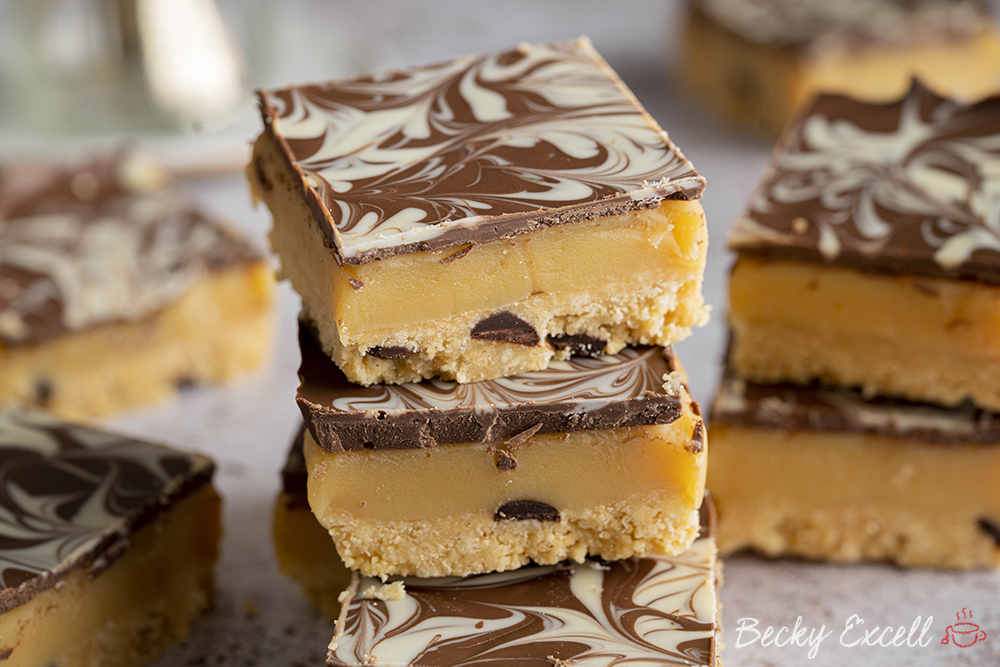 Can I make this using a tin of caramel?
No – tinned caramel will never set, even when chilled. When you go to cut these, you'll end up with a huge mess!
The caramel we're making in this recipe is one that completely sets and holds its shape once chilled. Unfortunately, you can't buy a caramel like that!
Can I use a food processor or stand mixer to make this?
You can happily use a food processor to blitz the shortbread for the shortbread base – just ensure you don't pulse them into a fine dust!
Can I make your No-Bake Millionaire's shortbread recipe completely by hand?
Yes of course! If crushing the shortbread by hand, I find that putting them into a sandwich bag and bashing them with a rolling pin, it can still be done in no time at all.
Do I need any special equipment to make your No-Bake Millionaire's shortbread recipe?
As I mentioned, you should definitely make this recipe by hand, so you certainly don't need any crazy appliances or anything like that.
What you will need however is a 9″ square baking tin – here's the one I use. Apart from that, you'll just need a little baking paper too!
How do I know when the caramel is done?
You're looking for a lovely, thick and golden caramel after you've turned up the heat and stirred it constantly.
If it's thin and like the consistency of caramel you'd get into a chocolate bar, it's not thick enough.
See the video at the top of this post for a visual indicator of how thick it should be and what it should look like!
Can I use caster sugar instead of golden caster sugar for the caramel?
Yes, of course! It doesn't have quite the same flavour and the caramel will come out looking a lot more yellow and pale.
To be honest, it's mostly the colour of the caramel that made me use golden caster sugar. So if you don't mind the change in colour, go for it!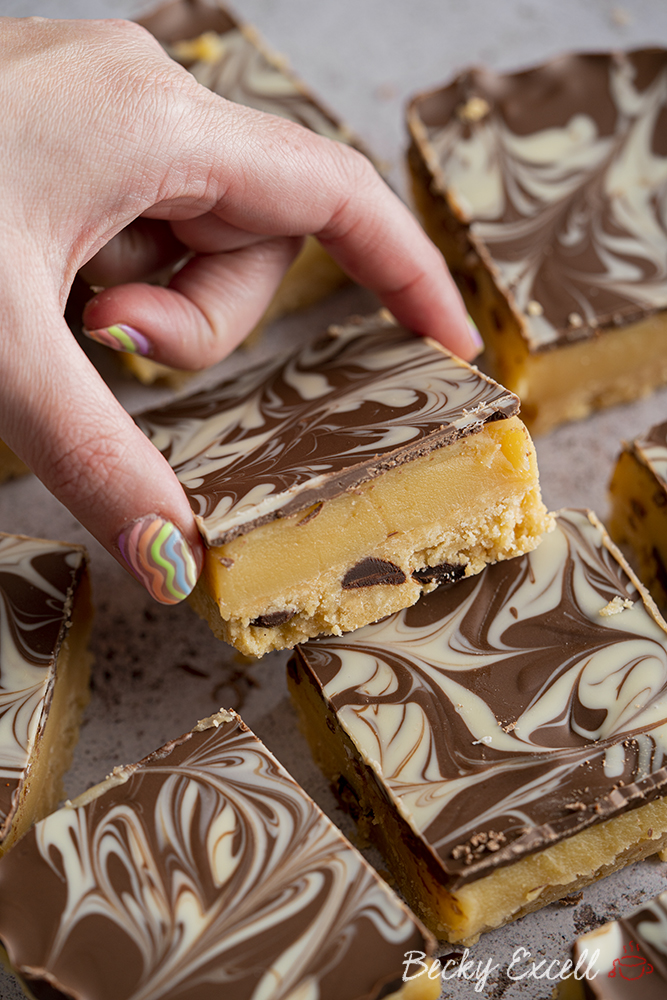 Do I need weighing scales to make your no-bake millionaire's shortbread recipe?
In short… yes, yes and yes! And I wouldn't advise attempting any my recipes without them.
A lot of work went into fine tuning ratios and quantities and for me, baking is all about consistency and precision. I want you to make this recipe and for it to turn out EXACTLY like mine did.
I'd recommending using digital cooking scales like these so you know you're getting an accurate measurement and replicating my recipe as accurately as poss.
How can I tell when my no-bake millionaire's shortbread recipe are ready to cut?
Once the chocolate has set, they're ready to cut.
The caramel should have completely set before you poured on the chocolate, so no need to wait any longer for the caramel or anything like that!
How long can I keep my no-bake millionaire's shortbread recipe for?
I've kept them for about 4-5 days in an air-tight container with no problems. If you need to keep them any longer than that, I'd highly recommend freezing them (see advice below for doing that).
Can I freeze my no-bake millionaire's shortbread recipe?
Of course! I've frozen them for up to 2-3 months no problem. Slice them up before freezing – that way you can simply defrost slices as and when you need them.
Plus, they'll thaw a lot quicker. When you want to eat one, each slice should take around 3 hours to defrost at room temperature. You'd never know they were frozen!
No-Bake Millionaire's shortbread recipe
: Method
Oh and here's a printable version of my No-Bake Millionaire's shortbread recipe. Please remember to give it 5 stars if you tried it and enjoyed it as it helps people know it's worth trying too! ⭐️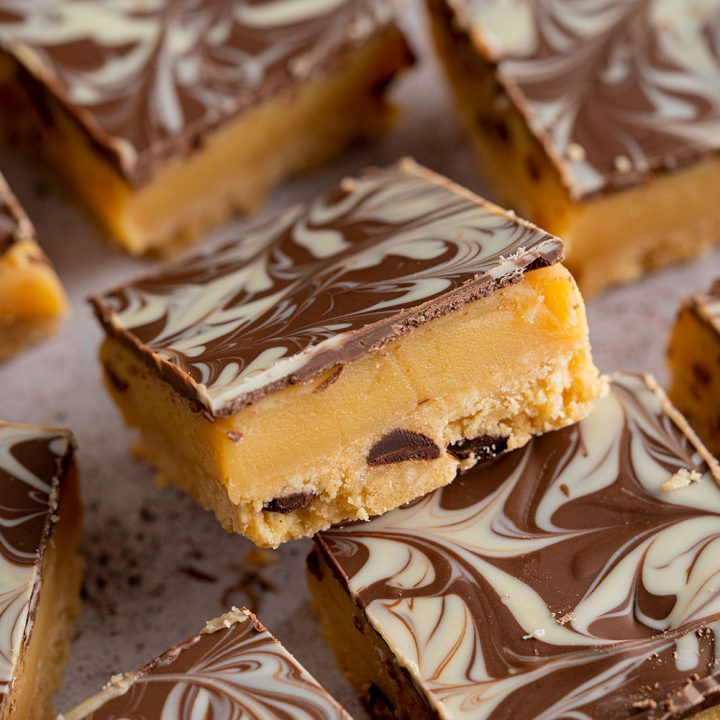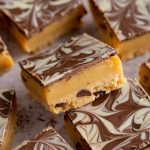 No-Bake Millionaire's Shortbread Recipe
No-bake millionaire's shortbread recipe - no flour required and no need to turn the oven on! The easiest way to make millionaire's hands down!
Ingredients
For the base:
350

g

gluten-free chocolate chip or plain shortbread

find them in the free from aisle in supermarkets

100

g

butter

melted and cooled
For the caramel:
185

g

butter

35

g

golden caster sugar

65

g

golden syrup

397

g

condensed milk

1 tin
For the top:
200

g

milk chocolate

80

g

white chocolate
Instructions
Firstly, line a 8in (20cm) square tin with non-stick baking paper, make sure you have excess baking paper coming up over the sides of the tin to make it easier to lift out later.

Crush your gluten-free chocolate chip shortbread. I usually place mine in a sandwich bag and hit them with a rolling pin or pulse them in a food processor. You can make them quite small or have some chunkier bits.

Melt your butter in the microwave in short bursts, mixing in between.

Pour your melted butter into your crushed shortbread gradually and mix together, either in a large mixing bowl, or in the bowl of your food processor. Stop adding the melted butter if it starts to look wet, it should be just enough to coat the shortbread crumbs.

Press the mixture into your prepared tin and place in the fridge for around 30 minutes.

To make your caramel, place all your caramel ingredients into a saucepan on a low/medium heat. Allow the butter to melt and the sugar to dissolve. Mix well to ensure it doesn't stick to the bottom and is combined.

Turn the heat up so the mixture starts to bubble a little. Keep stirring continuously for 5-8 minutes, the mixture should have thickened and also developed into a darker golden colour.

Pour the caramel carefully and evenly over the chilled shortbread base and place in the fridge for about 2 hours to set.

Once your caramel is set, melt your milk and white chocolate in separate bowls. Pour the milk chocolate over the caramel, spreading it to the sides. Drizzle over the white chocolate and drag a skewer through it to make a pattern. Place in the fridge to set for another hour or two, just until it's set.

Remove from the tin (I leave it out for about 20 minutes before slicing to warm up or else the chocolate can be hard to cut), cut into slices/squares using a warm knife (this helps the top not crack) and enjoy!

Thanks for reading all about my No-Bake Millionaire's shortbread recipe! If you make it, I'd love to see how it turned out so don't forget to take a snap of your creations and tag me on Instagram!
Any questions about the recipe? Please do let me know by following me on Instagram and leaving me a comment on a recent photo!
Thanks for reading,
Becky xxx
Oh and don't forget to pin this for later!