Gluten-free Christmas cookies recipe, anyone? Super simple to bake and transform into cute, little festive treats that nobody would know were Coeliac-friendly and wheat-free.
Gluten-free Christmas cookies recipe – the ULTIMATE festive baking project that's so satisfying and fun to do whilst blasting out all your favourite Christmas songs! Best of all, these are low FODMAP and easily dairy-free too using one simple swap.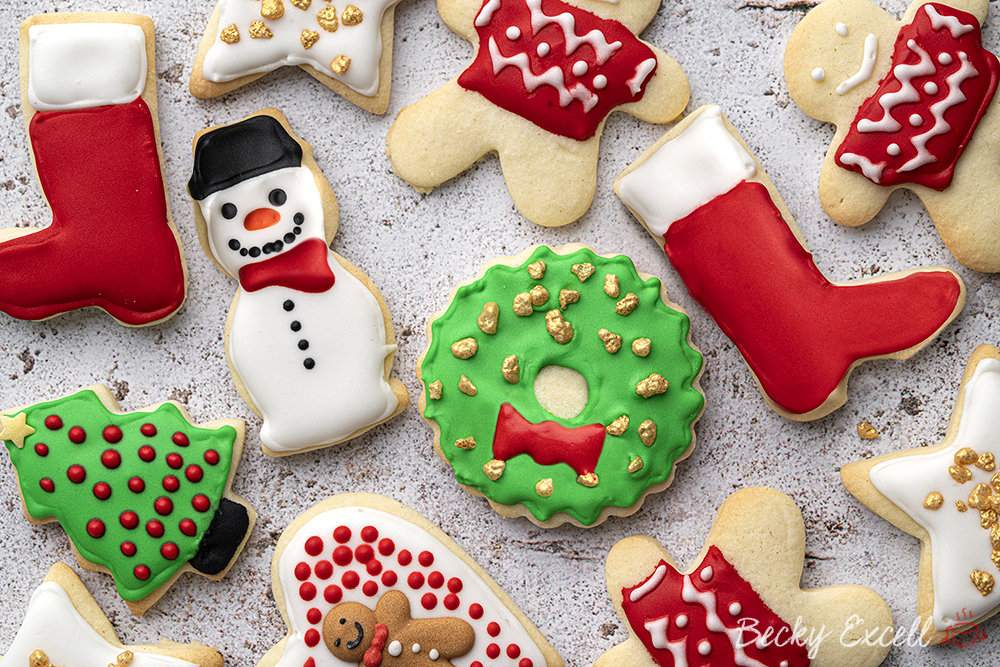 As you might have seen when I made my gluten-free gingerbread men in jumpers last year… I absolutely love icing Christmas biscuits!
(granted, that doesn't mean that I'm the best at doing it, but that doesn't stop me trying. And nor should it stop you either!)
And whilst iced gingerbread men are great, sometimes I just fancy buttery biscuit instead. Which is exactly what my gluten-free Christmas cookies are!
But if you're adverse to piping icing (for skill or time reasons, maybe?) you can always just enjoy these cookies with a little coloured glacé icing instead.
Just add a little water at a time to icing sugar until it's lovely and thick, then spoon it on instead. Easy!
Why make my gluten-free Christmas cookies recipe?
You can make these lovely, buttery, sweet cookies in 30 minutes.
It's up to you whether you pipe a fancy decoration on top or not. Use either royal icing for detail or simply spoon glacé icing on top instead!
Nobody would ever know these cookies/biscuits are gluten-free, Coeliac-friendly and wheat-free. Muggles would never notice the difference!
This recipe is incredibly easy to make dairy-free too using one simple swap.
Learn how to pipe beautiful flood icing so you can impress everyone with your mad creative skills!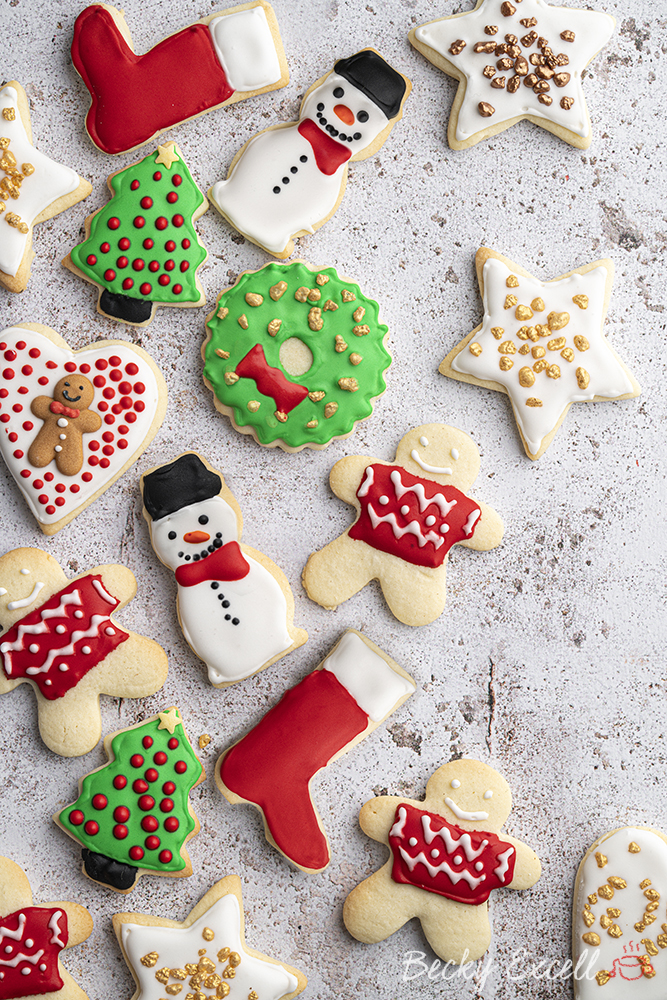 Each Christmas cookie is sweet, buttery and with a lovely snap to them. The icing on top is crisp and firm, sweet to taste and best of all – they just look so darn cute!
Feel free to use whatever shape Christmas cookie cutters you have lying around – I used a Christmas tree, star, gingerbread man, heart, snowman, stocking and small, circular, patterned edge biscuit cutters like these.
They were all around 6-7cm at their longest point FYI – so quite small. Oh and if you're new to piping royal icing like this, I'd recommend sticking to two colours of icing at first – potentially just white and red.
More colours means more bowls, more piping bags and potentially more work if you're going to be making biscuits that end up featuring multiple colours. Like my snowman for example which had white, black, red and orange.
Here's everything you'll need for my gluten-free Christmas cookies recipe. Keep scrolling until you see the recipe card below if you're looking for the measurements and method…
Gluten-free Christmas cookies recipe: Ingredients
butter (or a hard dairy free alternative – linked in FAQ section)
caster sugar
large egg
vanilla extract
gluten-free plain flour
xanthan gum
royal icing sugar
cold water
food colouring gel (linked in FAQ section)
any extra sprinkles, if using (ensure gluten-free)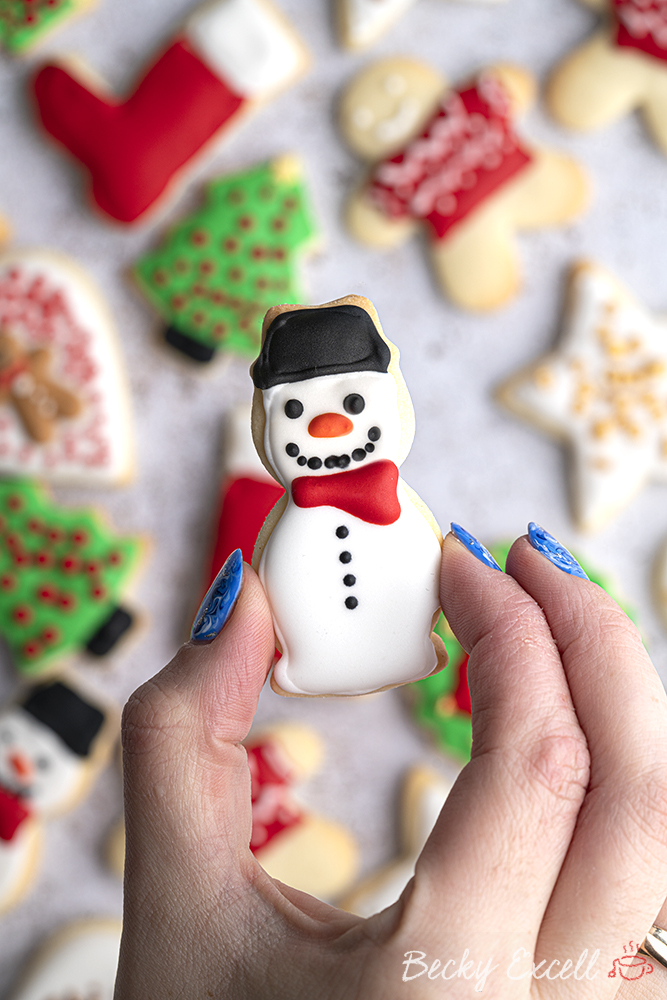 So I thought I'd kick things off with a little frequently asked questions section – if you just want the recipe, then keep scrolling.
But I've thrown in some tips here that will be really helpful if this is your first time making this, or you want to adapt it. So here they are!
Gluten-free Christmas cookies recipe: Frequently asked questions
Can I make this recipe gluten-free? Is it suitable for Coeliacs?
It is gluten-free, though nobody would know just by tasting it – trust me!
Bear in mind that minimising cross-contamination is hugely important if you're Coeliac or making this for someone who is. Here's some tips from Coeliac UK on minimising the risk of cross contamination:
Also, make sure that all ingredients used don't have any gluten-containing ingredients. Then make that that they also don't have a 'may contain' warning for gluten, wheat, rye, barley, oats (which aren't gf), spelt and khorasan wheat (aka Kamut).
Here's some more info from Coeliac UK on identifying safe gluten-free products.
Can I make your gluten-free Christmas cookies recipe dairy free?
Yes, you can with one simple swap! All you need to do is use a block of hard dairy-free margarine like a Stork baking block or Flora Plant Butter.
Definitely do NOT use any ol' dairy-free margarine – like the kind you'd spread onto bread. It's too soft for making biscuits, so ensure you use a hard block of margarine. That's it!
Can I make your gluten-free Christmas cookies recipe vegan?
If you follow the steps above to make this recipe dairy free (using Stork instead of butter) then all you've got left to contend with is one egg.
Here's a few ideas you can use as egg replacements, so each of these = 1 egg.
3 tablespoons of aquafaba (whisked until frothy) – water from a can of chickpeas. Keep the chickpeas for a future dinner!
Egg replacement powder – I'd recommend using Orgran as it's gluten-free.
1 tablespoon of chia/flax seeds mixed with 2 tablespoons of water and left for 10 minutes in the fridge.
3 tablespoons of applesauce.
I haven't tried all of these egg replacements myself, so let me know how you get on in the comments below this post.
Can I make this recipe low FODMAP?
Yes – this recipe is low FODMAP and safe for the elimination phase of the diet.
However, I can't speak for ALL the food colouring gels and different sprinkles out there – so make sure you check the ingredients to ensure they don't contain high FODMAP ingredients.
Is your gluten-free Christmas cookies recipe nut-free?
Yep, this is a nut-free recipe as far as ingredients go, BUT make sure you check the ingredients label on ALL the products you use just to be safe.
Even if the products don't contain nuts, they may have a 'may contain nuts' warning due to being produced in a factory that handles nuts.
You can never be too careful so always read the labels on everything first.
What food colouring should I use for the icing in this recipe?
I would only recommend using food colouring gels like this instead of the stuff that you can buy in the supermarket. For starters, it contains all the colours I used in the photos, but that's not the only reason I recommend these so firmly.
These food colouring gels are highly concentrated and you don't need to put much in to achieve a really, nice vibrant colour. The tubes of food colouring in the supermarket on the other hand…
You often need an entire tube or multiple tubes to achieve the same result. Which can not only muck up the consistency of your icing by making it really wet, but also, it costs a lot more.
So save yourself the grief, money and use what I used, or just stick with a nice, classic white icing instead!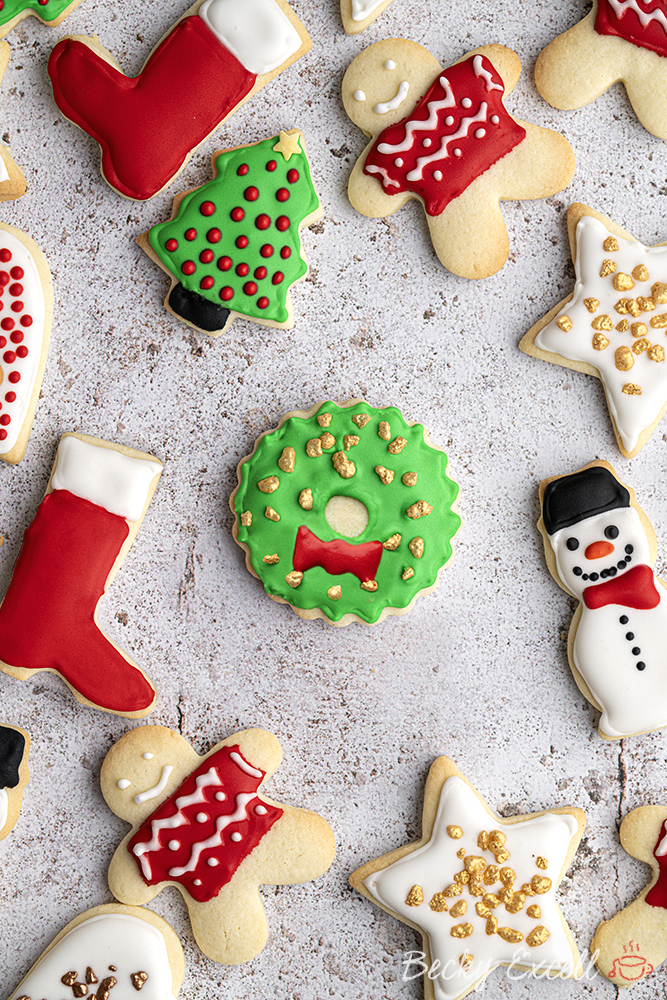 Can I make your gluten-free Christmas cookies in a food processor or standing mixer?
You're more than welcome to use either for both the biscuits and for the icing in this recipe.
(obviously, wash the bowl out in between!!)
I use an electric whisk to make the biscuits – here's a link to the electric whisk I use – and a stand mixer to make the icing.
As the icing needs to be mixed for quite a while, I use a stand mixer to save myself from getting arm ache! Of course, you could use an electric whisk for both otherwise.
Can I make your gluten-free Christmas cookies by hand?
Of course! It obviously still works fine, but you'll need a lot more elbow grease to get the job done.
Just make sure everything is well mixed as you're much more likely to under mix if making the biscuit dough and icing by hand.
Do I need any special equipment to bake your gluten-free Christmas cookies recipe?
Here's a few essentials that you'll need to get the job done:
Does this recipe need xanthan gum?
You'll see xanthan gum in a lot of my recipes as it's an essential ingredient in gluten-free baking.
Without gluten to bind the biscuit together, you can be left with a much looser texture which can be crumbly and easily fall apart. So for that reason, I wouldn't recommend trying this recipe without it!
This recipe needs gluten-free plain flour which doesn't have any xanthan gum added – hence the need for additional xanthan gum.
Some people have asked if they can use psyllium husk powder instead of xanthan gum and you could definitely give it a try in this recipe – though I don't recommend using it for cakes.
Can I make this recipe using other gluten-free flours like buckwheat flour or coconut flour?
There's a big difference between 'gluten-free plain/self-raising flour' and a *singular* type gluten-free flour. When I say 'gluten-free plain or self-raising flour' in a recipe, I mean a BLEND of gluten-free flours, not just one, singular flour.
Most gluten-free flour you buy in the supermarket typically contains a blend of rice flour, potato flour, maize flour, tapioca flour AND buckwheat flour. That's a lot of different flours!
In gluten-free self-raising flour, there's usually even a little baking powder and xanthan gum in it too which always helps. So to replace it with just one specific type of flour… that's not going to cut it at all. Definitely go for a gluten-free flour blend.
Do I need weighing scales to bake your gluten-free Christmas cookies recipe?
In short… yes, yes and yes! And I wouldn't advise attempting any of my recipes without them.
A lot of work went into fine tuning ratios and quantities and for me, baking is all about consistency and precision. I want you to make this recipe and for it to turn out EXACTLY like mine did.
I'd recommending using digital cooking scales like these so you know you're getting an accurate measurement and replicating my recipe as accurately as poss.
How long can I keep your gluten-free Christmas cookies for?
I've kept these for 4-5 days in an air-tight container with no problems. Once they start going soft, they're probably past their best.
Can I freeze your gluten-free Christmas cookies?
Of course! Once fully cooled, I've frozen them for up to a month (wrapped in foil, then placed into an airtight container) and after allowing them to fully thaw, you'd can enjoy them once they reach room temp.
Whilst you can freeze the biscuits after baking, ideally, you'd freeze the dough at step 4.
Then you can continue from the step 5 (rolling out the dough, cutting, baking etc) after allowing the dough to fully defrost in the fridge.
Doing so will ensure the biscuits are as fresh as possible, whilst still reducing the amount you waste overall.
How can I tell when my gluten-free Christmas cookies are done?
They should be a little pale with the slightest sign of turning golden at the edges. You definitely don't want the entire biscuit to be golden – that means they're over-done and will likely be very dry and crumbly.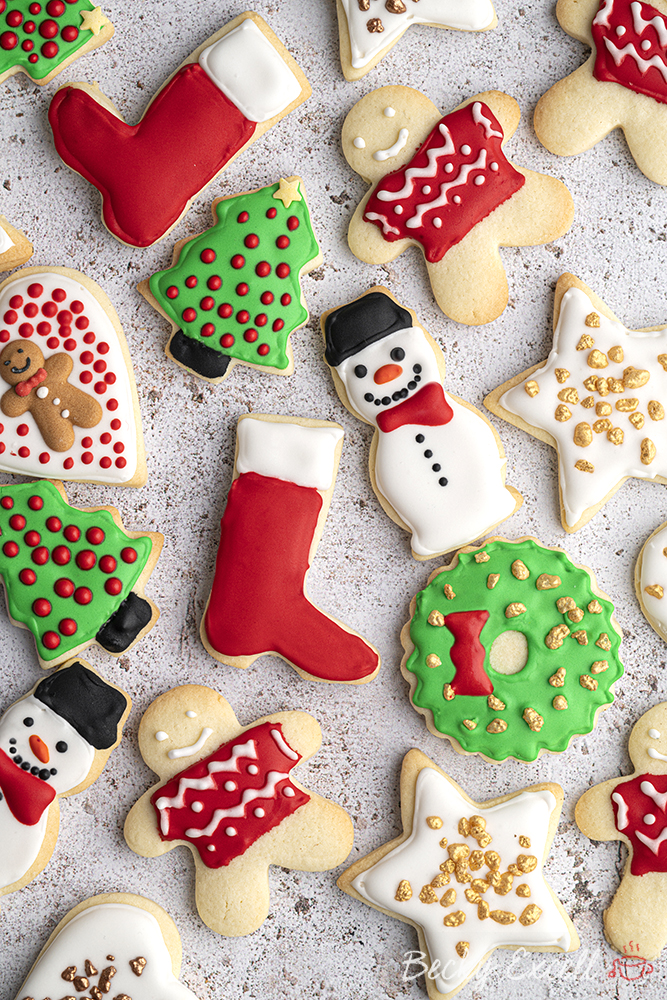 How do I pipe royal icing to create detailed designs like in the photos?
Whilst I've made sure my written recipe is as clear as possible, you just can't beat a video showing you, can you?
(this is particularly helpful from step 8 onwards of the icing section)
Here's a video showing you exactly how to do it, using line icing and flood icing you'll create in my recipe.
I can't find royal icing sugar – can I just use icing sugar instead?
Not by using the measurements in the recipe card – it won't be pipe-able at all! Royal icing sugar has egg in it which helps it to set and keep its shape.
See the question below on how to make royal icing using icing sugar. Then you can use it in place of a bag of royal icing.
If you don't fancy all the faff of piping decoration onto your biscuits, you can also do this:
Mix 200g of icing sugar with a little cold water until it becomes a thick spreadable, consistency, then colour it and spoon it onto your biscuits. You won't be able to pipe this like royal icing.
How do I make royal icing?
The recipe card below assumes that you have a bag of royal icing sugar. However, if you can only find icing sugar, here's how to use it to make royal icing:
You'll need:
3 egg whites
675g icing sugar
Add your egg whites and icing sugar to a large mixing bowl. Starting on a low speed, use an electric whisk or stand mixer and mix for 5 minutes until well-combined. Make that 8-10 minutes if using silicone spatula or wooden spoon.
The mixture should be thick and smooth when it's done. Definitely not runny or the opposite: clumpy. You can now continue with the recipe from step 2 of the icing section.
Gluten-free Christmas cookies recipe: Method
Ok, so here's a printable version of my gluten-free Christmas cookies recipe. Please remember to give it 5 stars if you tried it and enjoyed it as it helps people know it's worth trying too! ⭐️ Feel free to leave your written reviews in the comments below this post.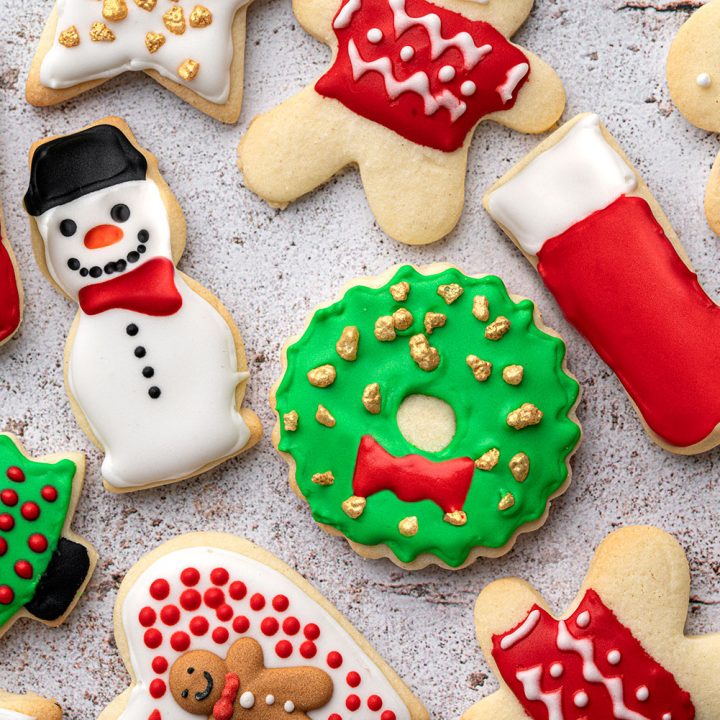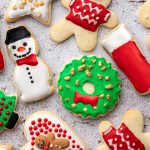 Gluten-free Christmas Cookies Recipe (low FODMAP + dairy-free option)
Gluten-free Christmas cookies recipe - the PERFECT baking project for the festive season. It's Coeliac-friendly and wheat-free too. See the FAQ section above for a video showing you the icing technique.
Ingredients
For the biscuits/cookies
100

g

butter

softened (or hard dairy free alternative to butter - linked in FAQ section)

100

g

caster sugar

1

large egg

beaten

1.5

tsp

vanilla extract

270

g

gluten-free plain flour

1/2

tsp

xanthan gum
For the icing
500

g

royal icing sugar

buy in the supermarket or see bottom of FAQ section for how to make it from icing sugar

80

ml

cold water

plus more for the flood icing

food colouring gels

linked in FAQ section

any extra sprinkles

if using (ensure gluten-free)
Instructions
For the cookies:
Preheat your oven to 170C Fan / 190C. Prepare a large baking tray with non-stick baking paper.

Cream together your softened butter and sugar until light and fluffy. (I use an electric hand mixer)

Gradually add your beaten egg and vanilla extract and mix to combine.

Add in your flour and xanthan gum and mix until combined and a dough is formed.

Lightly flour a surface (I lightly flour some non stick baking paper) and roll out your dough to just over half a cm thick. Cut out your shapes with whatever cookie cutters you have!

Bake in the oven for 8-10 minutes until the edges are very, very slightly going golden.

Leave on the tray briefly and then remove to fully cool on a cooling rack.
For the icing:
In a stand mixer, add your royal icing sugar and water into the bowl. Mix on a slow speed for 5 minutes, then a high speed for about 8 minutes. You could do it with an electric hand mixer or by hand in a large bowl - making this by hand would of course take longer.

Split your icing into bowls - you'll need the same amount of bowls as the amount of different colours you intend to use. If you're just doing white and red, you'll need two bowls, with half the icing in each. More colours = more bowls, dividing the icing between them as necessary. For example: I only intended to use a little black icing on my cookies, so I only put a small amount of icing in that bowl.

Mix your chosen food colouring gels into each icing bowl. Make sure you mix your colour in thoroughly so it's evenly throughout the batch until you achieve your desired colour.

Now your icing is coloured, grab more bowls and spoon a third of each icing colour into fresh bowls.

To the bowls with the larger amount of icing, add around 1 tsp of cold water (less if you only have a small amount in a bowl) and mix thoroughly until you have a slightly runnier mixture. We'll call that bowl your 'flood icing'.

For the bowls containing the flood icing, spoon into individual piping bags and seal them at the top using an elastic band or a peg so that they don't dry out - place them to one side as we won't need those for a while.

With the bowls containing the smaller amount of icing, spoon those into individual piping bags too - we'll call these your 'outline icing'. Make sure you don't confuse these with the flood icing piping bags of the same colour. It's easily done!

Snip off the end of your outline icing bags so it leaves a hole that's roughly 1-2mm. For the next part, I've added a video above the recipe card showing you the technique - definitely watch this first if you've never done this before!

Carefully pipe a line all around the edge of your Christmas cookies in your colour of choice. TIP: Don't use it like a pen! Start with the piping bag touching the cookie and as soon as the first little blob of icing makes contact and sticks, then raise your piping bag slightly above the cookie for the rest of the outline. Continue that line, allowing it to constantly fall into place as you move the piping bag around the edge of the cookie. Repeat for all of your outlined cookies and allow to set for 5 minutes.

Grab your flood icing piping bag (using the same colours to match the outlines), snip off the end (leaving a slightly bigger hole than your outline icing bags) and pipe a generous amount right into the middle, leaving a 1/2cm gap from your piped outline.

Using a cocktail stick, now swirl/spread the icing so that it meets the line, but be careful not to go over it. Repeat using all the colours you've prepared until all of your Christmas cookies are flooded. If adding sprinkles to the top of some of the cookies like I did, add these now.

You can either allow the flood icing to air dry for an hour in a warm place or place them onto a baking tray and pop them back in the oven at 55C for 20 minutes.

Once the icing is really nice and set, grab your outline piping bags once again. Use these to pipe detail onto the flooded cookies in contrasting colours. For the snowman/wreath, I piped a red outline for the scarf/bow, then used a teeny bit of my flood icing to flood the shape. The same goes for the snowman's nose. For other cookies, I simply piped dots on the trees for baubles and a pattern on my gingerbread men's jumpers.

Allow them to set for 20 minutes and enjoy!

Notes
You can also use a different icing too if you don't want to use a royal icing or pipe a design on them. A simple glace icing using icing sugar, a few drops of water and some colour gels would work well - you can just spread it straight on 🙂
Nutrition
Serving:
1
g
|
Calories:
206
kcal
|
Carbohydrates:
40
g
|
Protein:
2
g
|
Fat:
4
g
|
Saturated Fat:
3
g
|
Polyunsaturated Fat:
1
g
|
Cholesterol:
20
mg
|
Sodium:
37
mg
|
Sugar:
30
g
Thanks for reading all about my gluten-free Christmas cookies recipe! If you make it, I'd love to see how it turned out so don't forget to take a snap of your creations and tag me on Instagram!
Any questions about the recipe? Please do let me know by following me on Instagram and leaving me a comment on a recent photo!
Thanks for reading,
Becky xxx
Don't forget to pin this for later!