Gluten-free Nutella banana muffins recipe – probably the easiest, simplest and quickest way to muffins with a gooey, chocolate hazelnut centre! Believe it or not, these are easy to make dairy-free too – see the FAQ section to find out how.
Gluten-free Nutella banana muffins recipe, anyone? You wouldn't believe how easy they are to make – fool-proof in fact – AND how good they taste. Give it a try and see for yourself!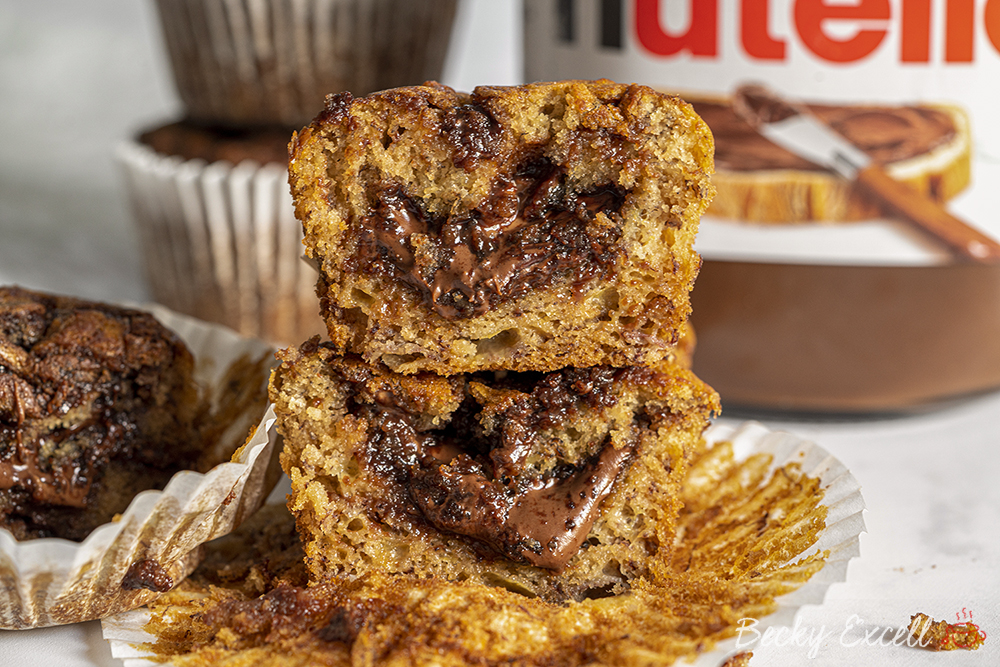 I'm sure you've all been there.
(no, I'm not talking about the free from aisle for once!)
You bought bananas with good intentions, but didn't end up using them. Now they're super ripe and need to be used ASAP, but *shock horror* you don't feel like making gluten-free banana bread.
Because of course, there's no such thing as using bananas in baking if it's not a banana bread, right? Wrong! Just make these instead!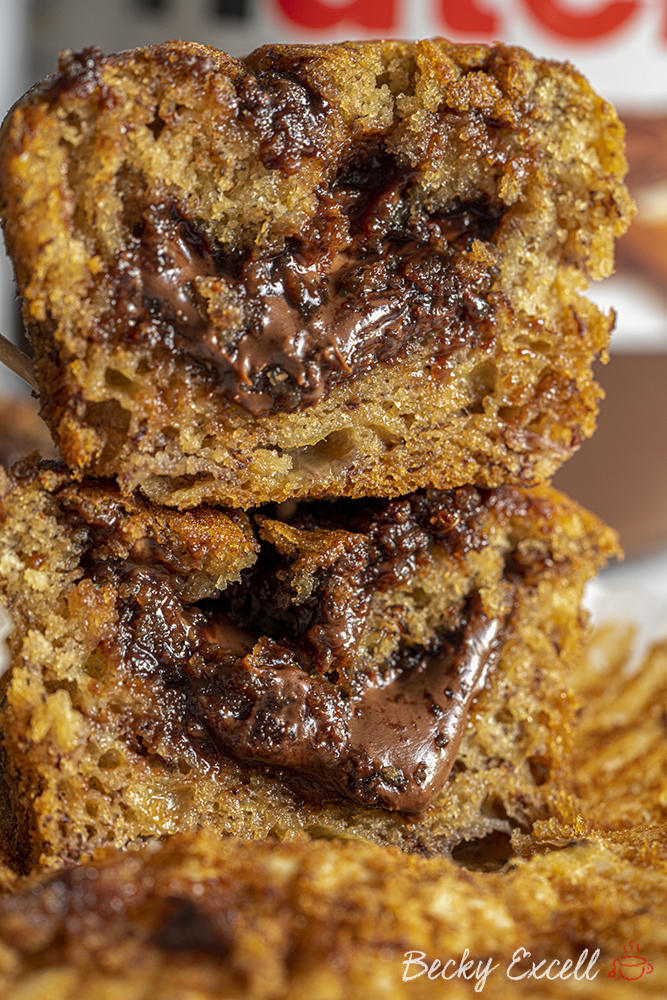 So what do my gluten-free Nutella banana muffins taste like?
The sponge cake is super moist and packed with banana flavour as you'd expect – a lot lighter and fluffier in texture than banana bread.
Then you've got that super gooey melting middle, filled with Nutella and *even more* Nutella swirled into the top.
Banana and Nutella just go so well together (I learned this with pancakes – it's my fave topping!) so why not throw them both into these muffins?
Here's everything you'll need for this recipe, keep scrolling until you see the recipe card for the measurements and method ??
Gluten-free Nutella banana muffins recipe: Ingredients
bananas
butter
light brown sugar
gluten free plain flour
bicarbonate of soda
eggs
chocolate chips
Nutella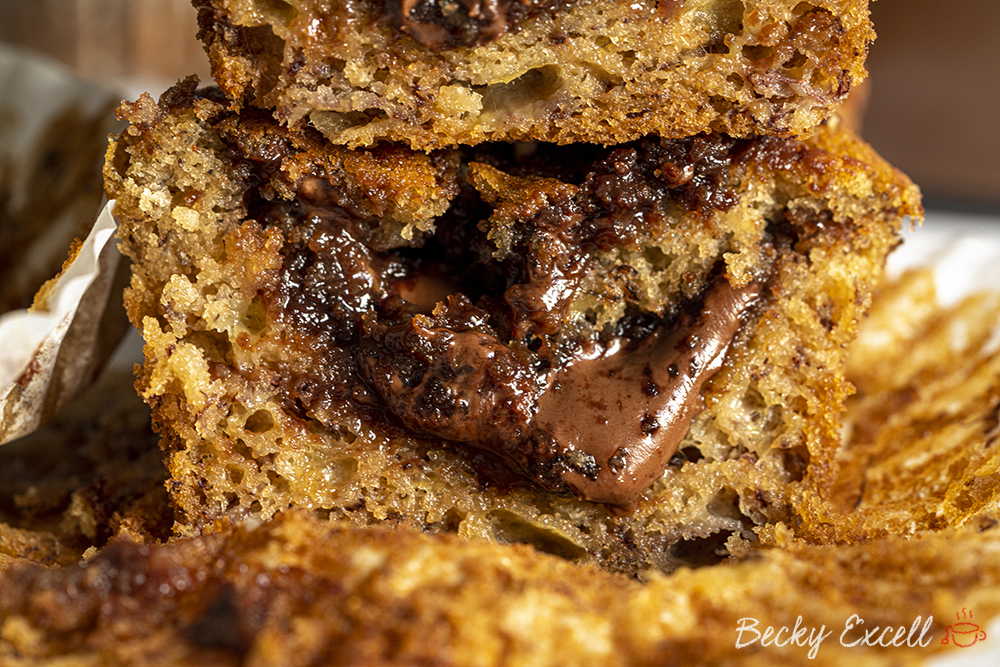 So I thought I'd kick things off with a little frequently asked questions section – if you just want the recipe, then keep scrolling.
But I've thrown in some tips here that will be really helpful if this is your first time baking this, or you want to adapt it. So here they are!
Gluten-free Nutella banana muffins recipe: Frequently asked questions
Can I make this recipe gluten free? Is it suitable for Coeliacs?
It is gluten free, though nobody would know just by tasting it – trust me!
Bear in mind that minimising cross-contamination is hugely important if you're Coeliac or making this for someone who is. Here's some tips from Coeliac UK on minimising the risk of cross contamination:
Also, make sure that all ingredients used don't have any gluten-containing ingredients. Then make that that they also don't have a 'may contain' warning for gluten, wheat, rye, barley, oats (which aren't gf), spelt and khorasan wheat (aka Kamut).
Here's some more info from Coeliac UK on identifying safe gluten free products.
Can I make your gluten-free Nutella banana muffins recipe dairy free?
Yes you can! Firstly, use any kind of dairy-free margarine instead of butter and dairy-free chocolate chips too.
Whilst Nutella definitely is NOT dairy-free, there are dairy-free alternatives to Nutella available out there.
But please beware – most vegan alternatives to Nutella may have no dairy-containing ingredients, but the one commonly available in the free from aisle comes with a nasty 'may contain traces of dairy' warning.
HOWEVER, this specific chocolate hazelnut spread in particular is dairy-free. But watch out! The jarred version by the same brand has a 'may contain dairy' warning, so please be careful!
You can find it in Asda and Sainsbury's free from aisle too.
Can I make your gluten-free Nutella banana muffins recipe vegan?
Yep! If you follow the instructions above to make this recipe dairy free, then all you've got left to contend with is the eggs.
Here's a few ideas you can use as egg replacements, so each of these = 1 egg.
3 tablespoons of aquafaba – water from a can of chickpeas. Make sure you whisk it up until frothy before adding.
Egg replacement powder – I'd recommend using Orgran as it's gluten free.
1 tablespoon of chia/flax seeds mixed with 2 tablespoons of water and left for 10 minutes in the fridge.
3 tablespoons of applesauce.
I haven't tested all of these egg alternatives so let me know how you get on in the comments below.
Can I make this recipe low FODMAP?
This recipe isn't suitable for the elimination phase of the diet. Nutella contains lactose for starters and the quantity of ripe bananas will be way too high to be suitable.
You can potentially give this recipe a try once you've successfully reintroduced dairy products and banana.
Is your gluten-free Nutella banana muffins recipe nut free?
Sadly not as Nutella isn't nut-free. If you know of any suitable nut-free alternatives to Nutella then let me know in the comments below and I'll link it here.
Is Nutella gluten-free?
Yes, in the UK, Nutella is gluten-free! But don't take my word for it (you never know when things might change after all), here's a link to it so you can check it for yourself.
According to Coeliac UK, if a product has no gluten-containing ingredients and no 'may contain' warning for gluten, wheat etc. then that makes it safe for Coeliacs and those on a gluten-free diet.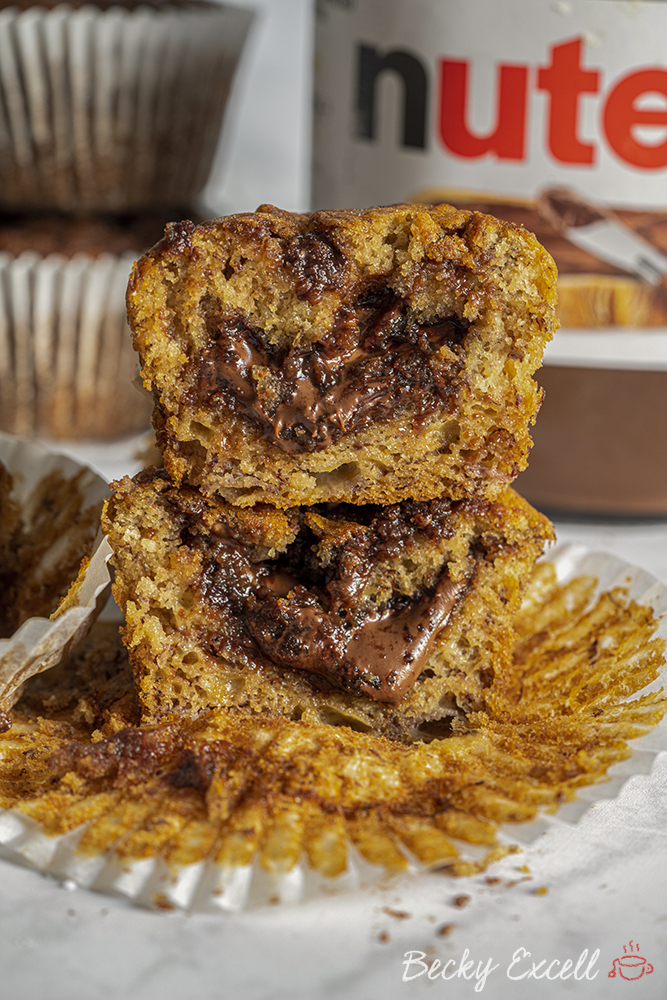 Can I make your gluten-free Nutella banana muffins in a food processor or standing mixer?
You definitely can. If using a food processor, just make sure you keep scraping down the sides periodically to ensure everything gets mixed in evenly.
However, you certainly don't need either for this recipe.
Can I make your gluten-free Nutella banana muffins recipe by hand?
You can of course, bake this without any assistance from any appliance – just a good ol' fashioned silicone spatula will do.
Just make sure you give it a lot of welly, otherwise your mixture won't be consistent and might not bake properly.
Do I need any special equipment to bake your gluten-free Nutella banana muffins recipe?
Certainly not! Just a muffin tray and that's it.
Does this recipe need xanthan gum?
You'll see xanthan gum in a lot of my recipes as it's an essential ingredient in gluten free baking. But not with this one, it's not required!
Can I make this recipe using other gluten free flours like buckwheat flour or coconut flour?
There's a big difference between 'gluten free plain/self-raising flour' and a *singular* type gluten free flour. When I say 'gluten free plain or self-raising flour' in a recipe, I mean a BLEND of gluten free flours, not just one, singular flour.
Most gluten free flour you buy in the supermarket typically contains a blend of rice flour, potato flour, maize flour, tapioca flour AND buckwheat flour. That's a lot of different flours!
In gluten free self-raising flour, there's usually even a little baking powder and xanthan gum in it too which always helps. So to replace it with just one specific type of flour… that's not going to cut it at all. Definitely go for a gluten free flour blend.
Do I need weighing scales to bake your gluten-free Nutella banana muffins recipe?
In short… yes, yes and yes! And I wouldn't advise attempting any my recipes without them.
A lot of work went into fine tuning ratios and quantities and for me, baking is all about consistency and precision. I want you to make this recipe and for it to turn out EXACTLY like mine did.
For example, adding too much flour can make things dry and crumbly, whereas not adding enough sugar means it'll lose its crisp exterior. I don't want you to be disappointed, so please weigh your ingredients!
I'd recommending using digital cooking scales like these so you know you're getting an accurate measurement and replicating my recipe as accurately as poss.
How long can I keep your gluten-free Nutella banana muffins for?
I've kept these for 3-5 days in an air-tight container with no problems.
Can I freeze your gluten-free Nutella banana muffins?
Of course! I've frozen them for up to 2-3 months no problem.
When you want to enjoy one, each slice should take around 3 hours to defrost at room temperature.
Can I print your gluten-free Nutella banana muffins recipe?
Yes! Just hit the print button located on the recipe below ?? (otherwise you might end up printing this entire post which would probably make your printer go into early retirement)
Gluten-free Nutella banana muffins recipe: Method
Ok, so here's a printable version of my gluten-free Nutella banana muffins recipe. Please remember to give it 5 stars if you tried it and enjoyed it as it helps people know it's worth trying too! ⭐️ Feel free to leave your written reviews in the comments below this post.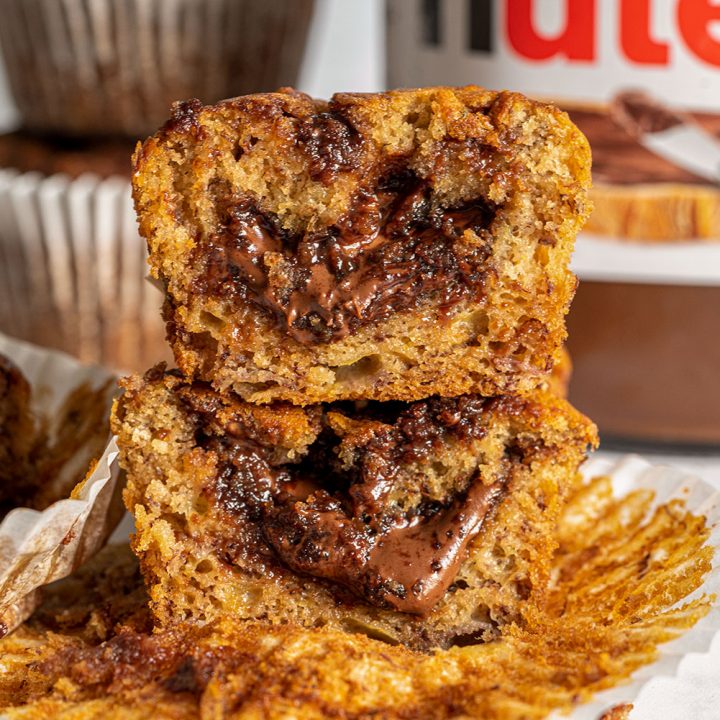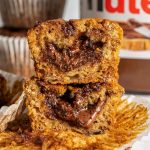 Gluten-free Nutella Banana Muffins Recipe (dairy-free option)
Gluten-free Nutella banana muffins recipe - SUPER EASY to make and you'd never know they were Coeliac-friendly and wheat-free too. See the FAQ section above for advice on making this dairy-free too.
Ingredients
500

g

bananas

mashed (if you don't have enough banana a little less isn't the end of the world!)

115

g

butter

softened

115

g

light brown sugar

250

g

gluten free plain flour

(I've also made this with gluten free self raising flour and it works really well, I didn't notice too much difference)

1

tsp

bicarbonate of soda

2

medium eggs

beaten

70

g

chocolate chips

Nutella

you will need a tsp or so for the centre of each muffin and a little extra to swirl on the top of each
Instructions
Preheat your oven to 180C (160C fan).

Cream together the light brown sugar and butter until light and fluffy.

Next add your beaten eggs alongside your mashed banana (I tend to just mash mine with a fork!). Either by hand or with a whisk, mix your eggs and banana in until combined. At this stage you'll realise how important it is to have very ripe bananas - if they are underripe it's harder for them to combine.

Add your gluten free flour and bicarbonate of soda to the bowl and mix briefly just to combine and so that no dry flour can be seen.

Mix in your chocolate chips.

Put muffin cases into a muffin tray and then spoon in your mixture just under half way.

Then add about a big tsp of Nutella to the centre.

Spoon in more mixture to cover the Nutella.

Get a small amount of Nutella and place it on the top of each muffin. Using a skewer swirl it all around to make a marbled swirly pattern.

Place in the oven for 20-25 minutes until cooked through.

Cool briefly in the tin before cooling further on a cooling rack. (I actually like to eat these when they are still slightly warm - they are the best then!!)

Enjoy!
Nutrition
Serving:
1
g
|
Calories:
273
kcal
|
Carbohydrates:
41
g
|
Protein:
4
g
|
Fat:
11
g
|
Saturated Fat:
7
g
|
Polyunsaturated Fat:
4
g
|
Cholesterol:
48
mg
|
Sodium:
77
mg
|
Fiber:
2
g
|
Sugar:
19
g
Thanks for reading all about my gluten-free Nutella banana muffins recipe! If you make it, I'd love to see how it turned out so don't forget to take a snap of your creations and tag me on Instagram!
Any questions about the recipe? Please do let me know by following me on Instagram and leaving me a comment on a recent photo!
Thanks for reading,
Becky xxx
Don't forget to pin this for later!