Oven-baked chip shop chips and curry sauce recipe? What a beautiful combo! These fat chips taste like they're fried, but they're actually just parboiled and baked in the oven ? Of course, they're both gluten free, vegan and low FODMAP too!
Oven-baked chip shop chips and curry sauce recipe – hopefully it couldn't come at a better time. At the time of writing, it's a bit hard to pop to the fish and chip shop right now!!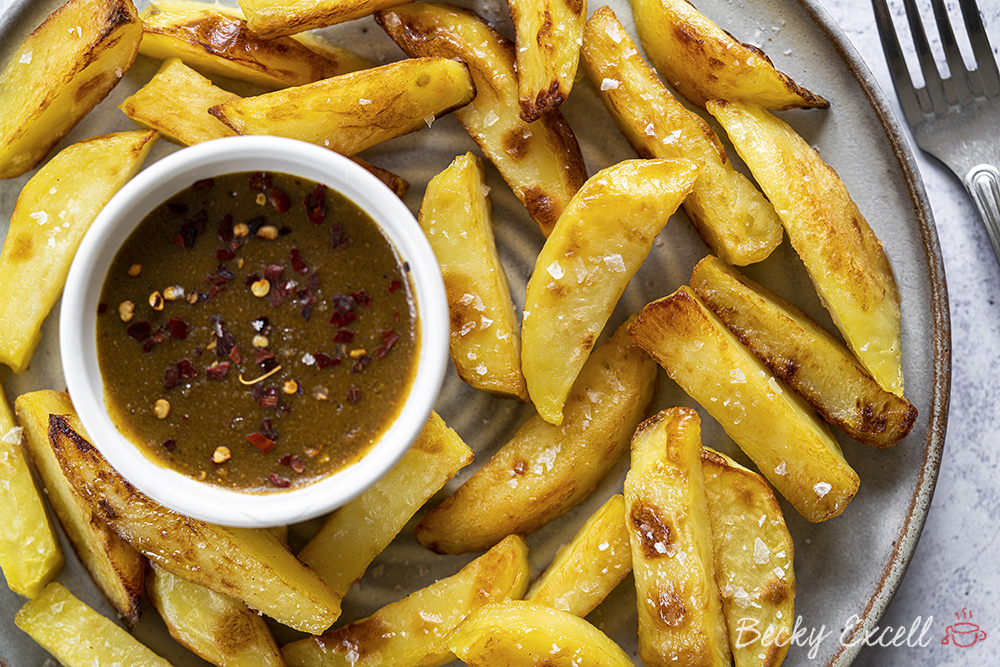 For me, a good fish and chip shop chip is crisp on the outside and thick, yet with a lovely soft and fluffy middle. But what if you could make them at home?
Of course you can! I even posted how to do it my gluten free beer-battered fish and chips recipe and they are just like what you'd get from your local chippy.
But it involves a deep-frying which I'm happy to do, but for many reasons I can understand why you wouldn't want to do that on a daily basis. For me, it's mainly because of the amount of oil you end up having to throw away!
So instead, I decided to make my own chip shop ships that you can bake in the oven. Interested? Well you're in the right place!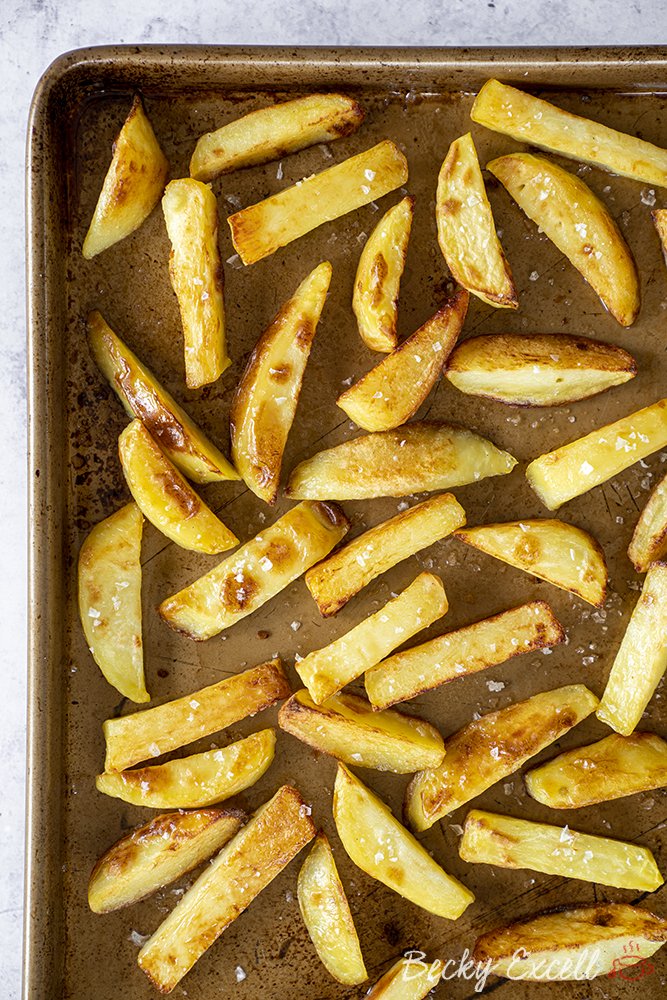 But you know what would go really well with my oven-baked chip shop chips recipe? A fish and chip shop-style curry sauce recipe!
It's mildly spicy, warming, but lovely and thick – sooooo perfect for dipping your fat chips into! You can skip the chilli flakes if you don't like it too spicy.
Oh and you can easily make this in one saucepan on the hob and it probably only takes around 10 minutes.
If you're low FODMAP here's the curry powder we usually use from Sainsburys, or you can make your own here. And here's a link to low FODMAP stock cubes.
Ok so here's my fish and chip shop curry sauce recipe…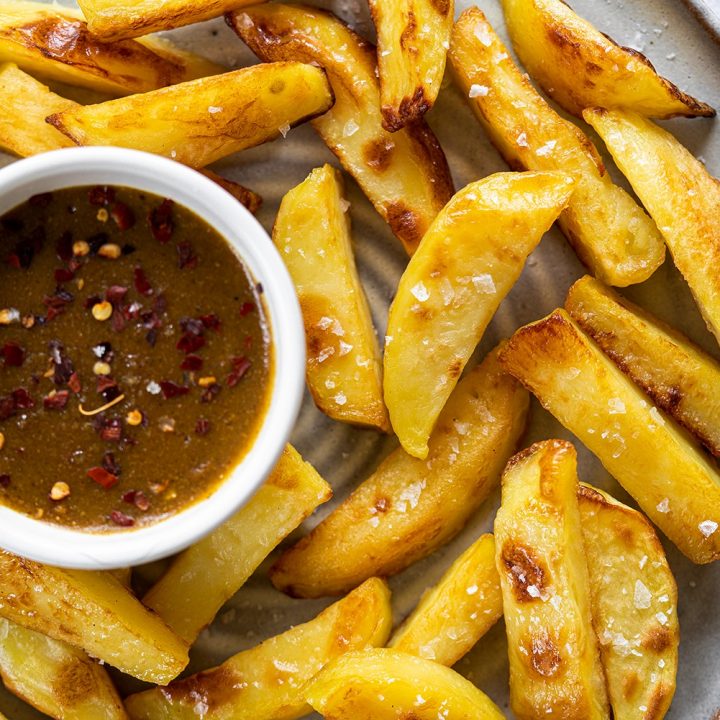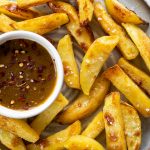 Chip Shop Curry Sauce Recipe
Here's the recipe for my mildly spicy chip shop-style curry sauce recipe. It's gluten free, low FODMAP and vegan too.
Ingredients
1

tbsp

butter

you could use coconut oil or dairy free spread

1 1/2

tbsp

cornflour

also known as cornstarch (always ensure it is gluten free)

1-2

tsp

curry powder

for low FODMAP check the post for options

1/2

tsp

ground ginger

1/2

tsp

chinese 5 spice

1/2

tsp

chilli flakes

change spice levels depending on what you like

300

ml

stock

for low FODMAP check the post for options

2

tsp

gluten free soy sauce

1

tsp

lemon juice

1

tsp

dried or fresh chives

chopped (optional)
Instructions
Mix together your curry powder, ginger, 5 spice and chilli flakes in a small bowl.

Melt your butter (or alternative) in a saucepan.

Add your spices to the pan and mix for about a minute.

Pour in your stock, keep stirring and then allow to simmer gently for a few minutes.

Mix your cornflour with 2 tbsp water and then add to your pan. Simmer for about 5 minutes, stirring all the time until it has thickened. If you don't stir it might go lumpy!

Stir in your gluten free soy sauce, lemon juice and chives and cook briefly for a little longer.

Remove from the heat and enjoy with your chips!
Notes
You can increase the quantities of this sauce and then freeze it.
If you are not going to use it right away, keep it in the fridge.
It will solidify as it cools if you leave it for a while, so just heat it up again on the hob and stir it.
You can change the spice levels in this curry by altering the chilli flakes or also by adding chilli paste.
If the sauce thickens too much just add a little liquid.
If the sauce isn't thick enough, add a little extra flour (always mix this with a little water first rather than spooning dry flour it)
If you don't have cornflour (cornstarch), you can use gluten free plain flour, but, you might need a little bit more and to cook it for slightly longer.
But of course, the main event here is my oven-baked chip shop chips recipe!
And you'll only need some potatoes, oil and a little salt and pepper ? How simple is that?
The magic is all in the method – yep, it's down to you to create those fat chips with a crispy exterior and a light and fluffy middle.
But don't worry, it's actually incredibly quick and simple!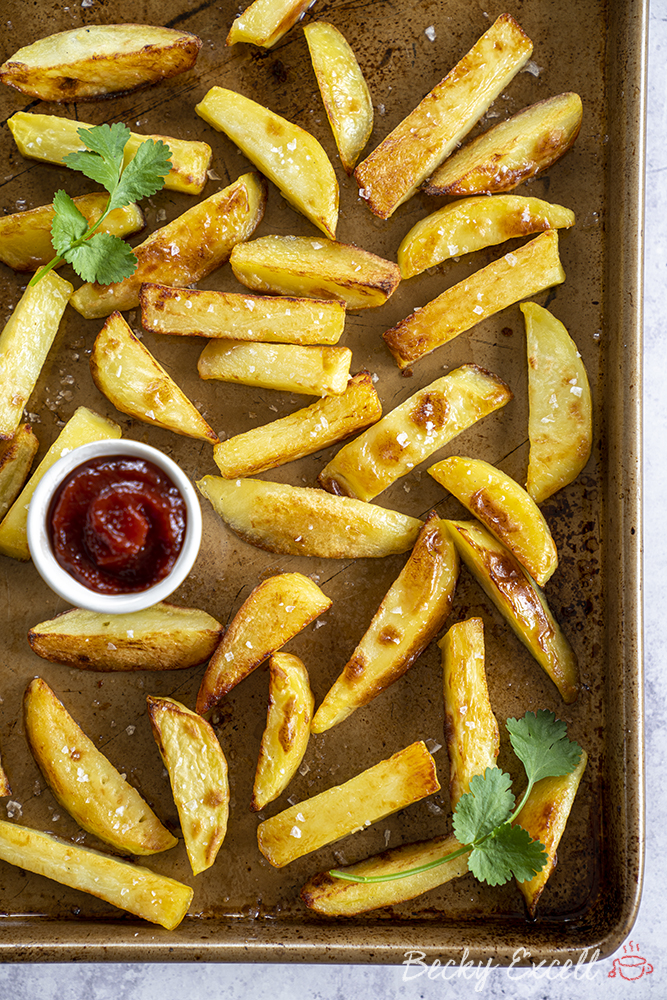 The first important step is when you slice up your potatoes into chips. I didn't use any fancy chip slicing gadget or anything – just a sharp knife and chopping board.
You want to cut your chips around 1cm thick, 1cm wide and then anywhere from 4-8cm long. The thickness really is key to make sure they all cook at the same speed.
Next, the real magic comes from parboiling your chips. If you just whack your chip-shapes into the oven without parboiling them, you won't get that lovely fluffy middle at all.
So simply parboil your chips for 3 minutes and drain them, allowing them to dry out as much as possible. Now all you have to do is spread them onto a baking sheet, cover in oil and you're done!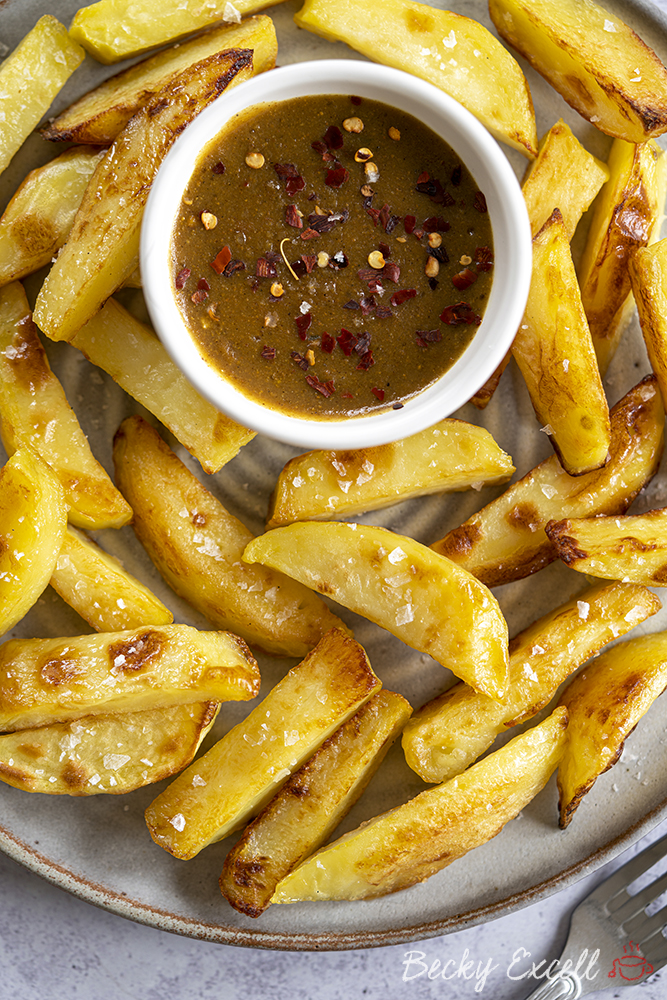 And the results of my oven-baked chip shop chips recipe really blew my mind. How was it even possible to get chips that genuinely tasted like chip shop chips?!
Just as a little note – after cooling, we froze our leftover chips which meant that when we next wanted to eat them, it was simply a case of popping them into the oven on a baking tray straight from frozen.
They were like the best frozen oven chips ever! Just put them in again at 220C until they're crisp and golden once again.
Ok here's how to make them! Please leave me a 5 star rating if you liked them as it really helps to let other people know it's a recipe worth trying!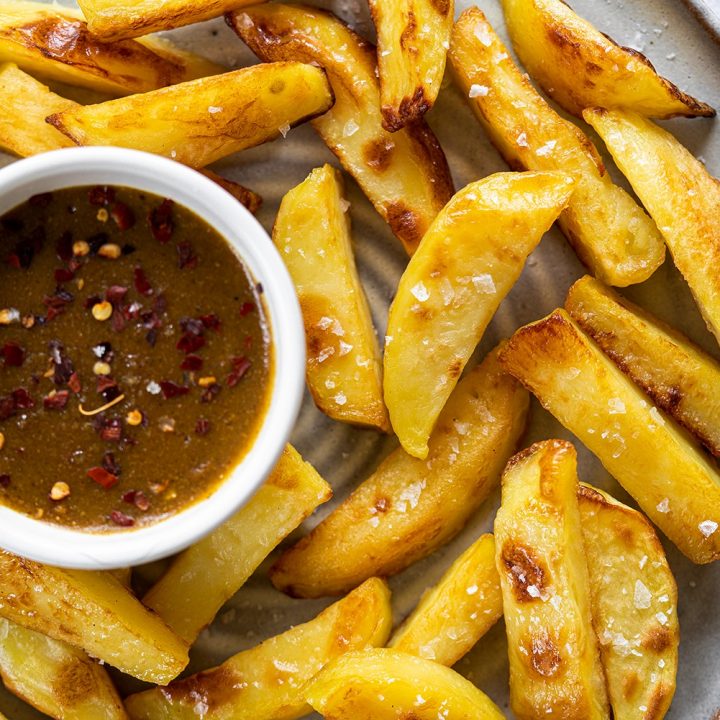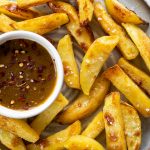 Oven-baked Chip Shop Chips Recipe
Oven-baked chip shop chips recipe - super easy to make with only 3 ingredients. Totally gluten free, low FODMAP and vegan of course too!
Ingredients
1

kg

of potatoes

oil

salt and pepper
Instructions
Preheat your oven to 220C (a little hotter wouldn't hurt if yours goes higher!)

Peel your potatoes. Cut them into even chunky sticks (basically how you cut them is up to you but I'm thinking chunky chip shop chips, so don't make them thin!)

Place the chips into boiling water on the hob for around 3 minutes, then remove and drain.

Put all your blanched chips onto a large baking tray, coating them in oil and salt and pepper. Make sure they are well coated in oil so they don't stick.

Place in the oven for around 15 minutes. Monitor your chips so they don't get too brown on any side. I like a turn them over once or twice during cooking time. Cook until lightly browned, cooked through and crisp on the outside, but fluffy within! Enjoy!
Thanks for reading all about my oven-baked chip shop chips recipe! If you make it, I'd love to see how it turned out so don't forget to take a snap of your creations and tag me on Instagram!
Any questions about the recipe? Please do let me know by following me on Instagram and leaving me a comment on a recent photo!
Thanks for reading,
Becky xxx
Oh and don't forget to pin this for later!