I'm gonna start this by apologising for taking so long to finally create this… but the wait is finally over! Here's my 5-ingredient gluten free sausage rolls recipe which is also dairy free and low FODMAP.
If you're from the UK, you'll know just how iconic a sausage roll is! Then… how come they're so hard to come by if you're gluten free?! Well, hopefully they won't be for much longer if you've got my gluten free sausage rolls recipe to hand…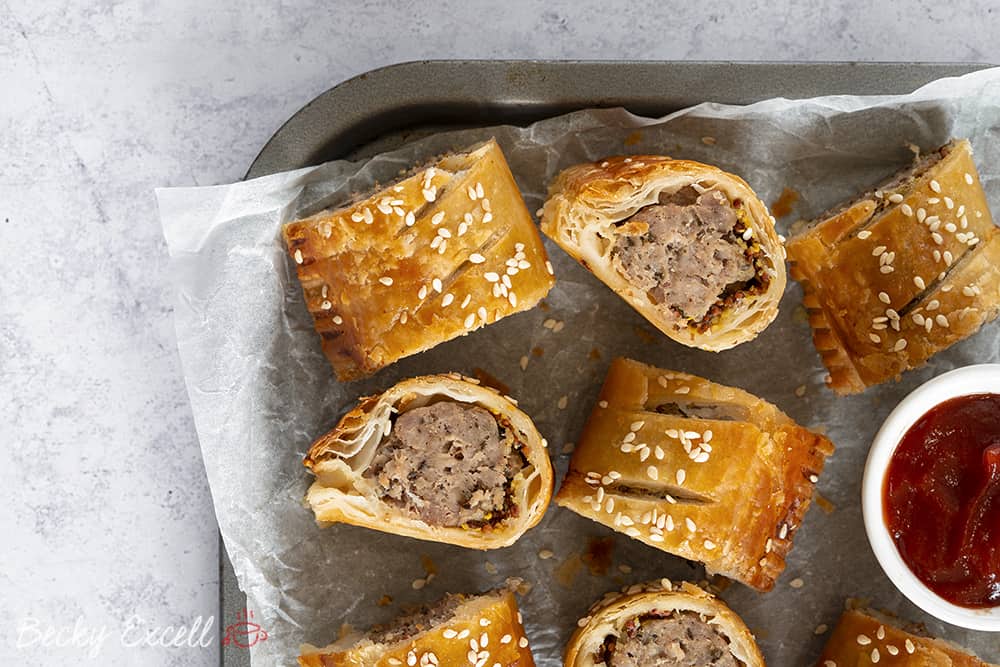 I mean, c'mon. Greggs are literally shovelling sausage rolls out of their doors, but the last time I ate a sausage roll was about 6 or 7 years ago!
(I think they do/used to do gf sausage rolls in M&S? Please let me know in the comments if they still do?)
And for me, that's a great injustice for all of us gluten free folks. After years of missing out on food, I can't believe that 2019 hasn't brought us a gf sausage roll that's as good as and as readily available as they are for muggles in Greggs!
Speaking of which, if you could eat *anything* in Greggs, what would you eat? I think I'd go for an iced finger personally! Is that boring?!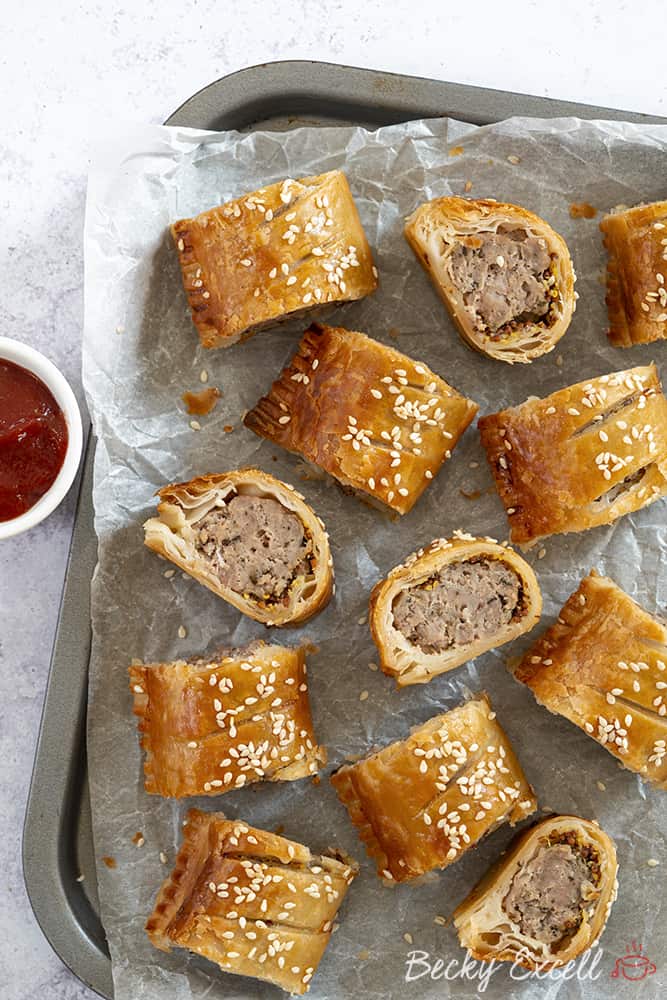 So I did what I always do in those situations. I went home, put my apron on and got creative in the kitchen!
(and when I say apron, what I really mean is that I wear a nice, new, white top, don't wear an apron and then get splatter stains on it that never come out in the wash. oops!)
But you know what? I think we can do even better than a Greggs sausage roll! I mean… I don't have the MOST fond memories of eating a Greggs sausage roll waaaay back when I could eat gluten. Does anyone remember when Greggs was still Bakers Oven?! Now I do feel old!
So I decided instead to add a few finishing touches to make my gluten free sausage rolls recipe a little bit special.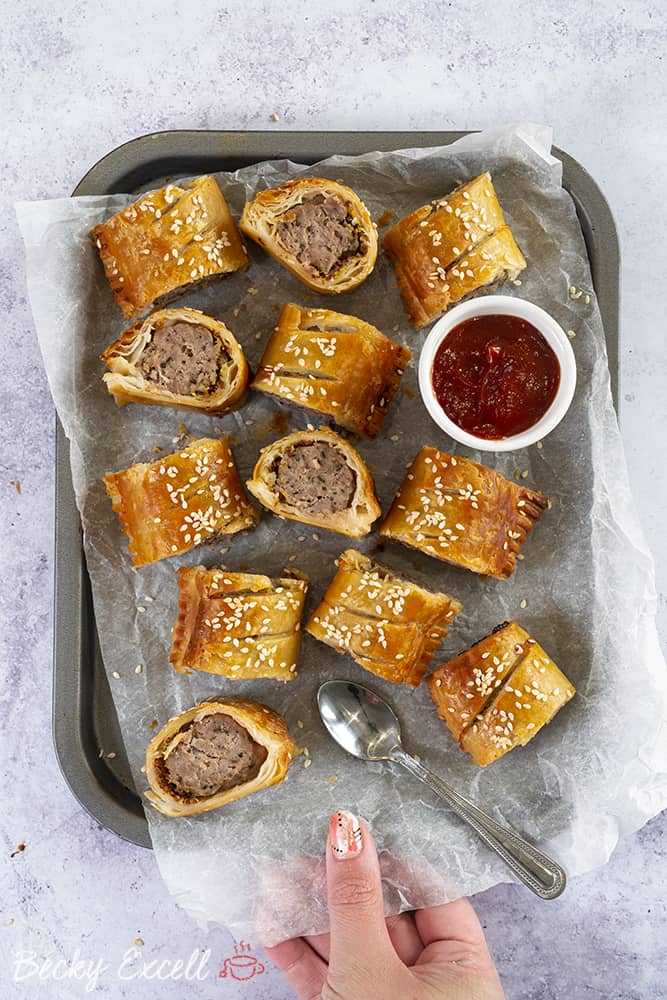 So yeah, they are the beautiful little bites of light, flaky pastry with a meaty filling that you've been missing all these years.
But I also added a little wholegrain mustard *inside* the pastry which is AWESOME along with the sausage meat – it also adds a little extra texture to each bite.
Plus. I added sesame seeds on top which not only act as a finishing touch visually, but also taste lovely when they're toasted. Trust me, those little extra touches make all the difference!
Oh and who could forget a little ketchup for dipping too?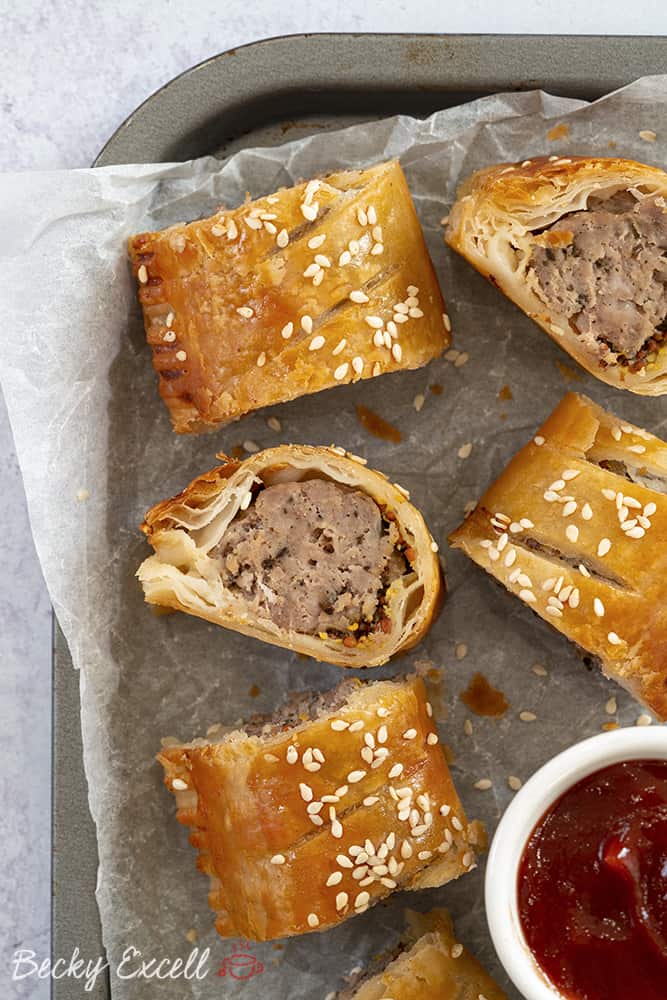 So yeah, I think you're now ready to take on my gluten free sausage rolls recipe! Any questions?!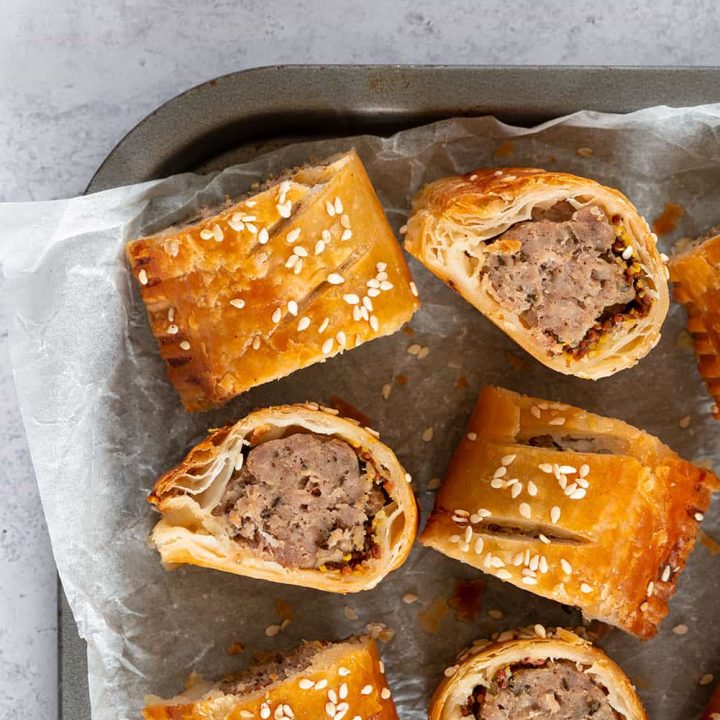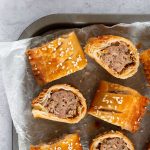 5-Ingredient Gluten Free Sausage Rolls Recipe (dairy free, low FODMAP)
Here's my gluten free sausage rolls recipe that's super easy to make with just 5 ingredients. It's dairy free and low FODMAP too.
Ingredients
400

g

gluten free sausages or sausage meat

(if avoiding onions and garlic etc, ensure your sausages don't contain these)

1

packet of gluten free puff pastry

(I use the Jus-Rol gluten free)

wholegrain mustard

(you could use any mustard as long as it's gluten free)

1

egg, beaten

sesame seeds
Instructions
Preheat your oven to 180C (200C Fan). Place some parchment / baking paper on a large baking tray and set aside until later.

If you are using sausages, peel the meat out of the skins. Then place your sausage meat in a bowl and make sure it's mushed together! You can add additional seasoning to it if you wish at this point - I don't find it necessary!

Unroll and place your pastry sheet on a flat surface and fold it in half (the way like you are closing a book!). Cut it in half along the fold line.

With your first pastry half ready and the shortest side closest to you, spread your mustard down the centre from top to bottom (about an inch wide). Spread as much or as little as you like depending on how much you like mustard!

Then get your sausage meat and lay it on top of the mustard in a long line from top to bottom. Use about half as you will need the other half for you other piece of pastry.

Brush one side of the pastry with egg and then fold over the other side of the pastry over onto the egg-washed edge. Cut any excess, but leave a little so you can then seal up the pastry by using a fork to press it together.

Use a sharp knife to cut diagonal slashes in the pastry like I have in the photos. You don't need to go too deep with the cuts! Then egg wash the outside of the pastry - this will make it golden when it's cooked.

Then sprinkle sesame seeds all over your sausage roll.

Repeat this step with the other side of your pastry so you have two, long sausage rolls. Pop it in the oven for about 25-35 minutes or until the pastry is lovely and golden.

Once cooked, remove from the oven and place the sausage rolls on a cooling rack to cool. Then cut them into smaller sausage rolls.

Eat them hot or cold and enjoy!
Thanks for reading all about my gluten free sausage rolls recipe! If you make it, I'd love to see how it turned out so don't forget to take a snap of your creations and tag me on Instagram!
Any questions about the recipe? Please do let me know by following me on Instagram and leaving me a comment on a recent photo!
Thanks for reading,
Becky xxx
Oh and don't forget to pin this for later!