My gluten free Prosecco and strawberry cake recipe is yet another boozy bake that you need to try! It's also totally dairy free too if you want it to be.
It might look just like an epic strawberries and cream cake… but those are actually Proescco infused strawberries AND there's a Prosecco-infused syrup soaked into every layer of the cake 😍 Sold? Here's my gluten free Prosecco and strawberry cake recipe…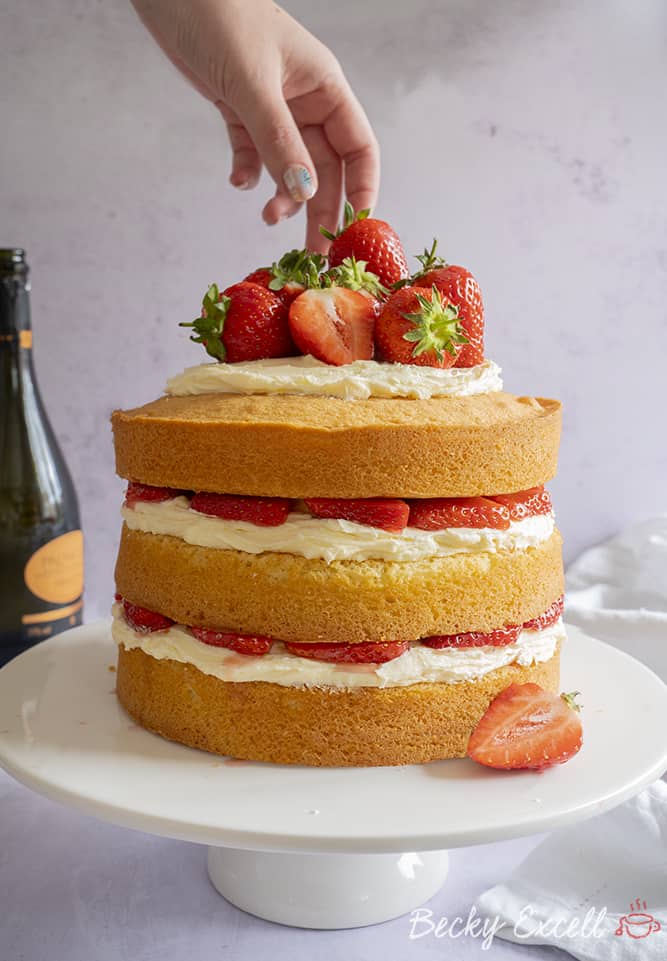 Since you guys loved my gluten free gin and tonic loaf cake so much, I absolutely had to create a boozy baking sequel!
And when it comes to flavour combos, you just can't beat the match made in heaven that is Prosecco and strawberry, wouldn't you agree?!
But this time, I wanted to create something with a little added wow factor that was still really easy to throw together.
(you guys know I'm not a master cake decorator or anything!!)
So that's why I made this a layer cake with three layers – it just has that added height that looks really impressive, even though it's not that difficult to recreate!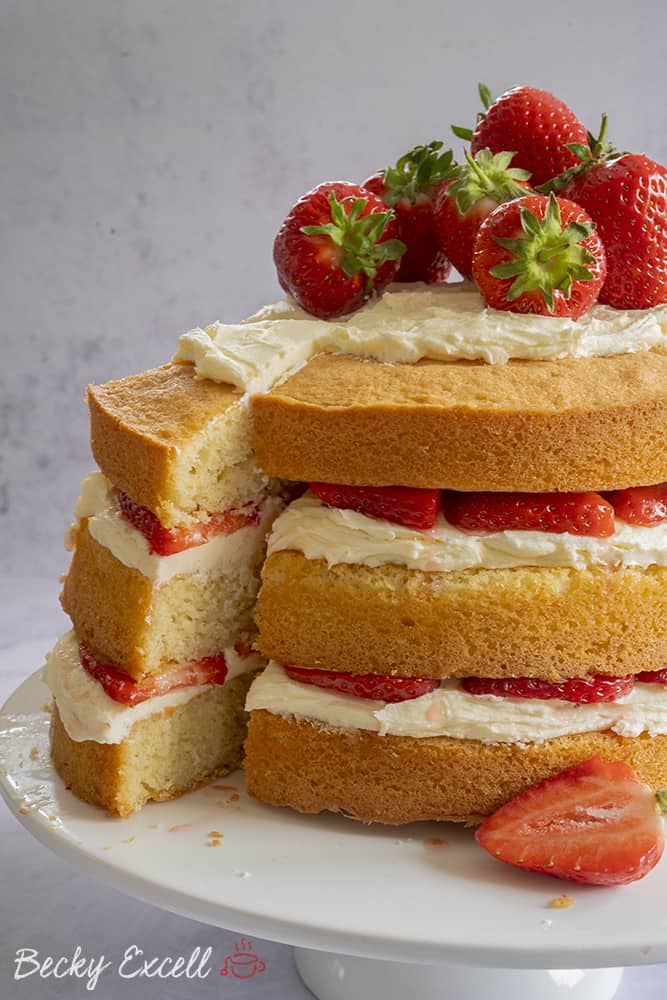 Oh and as you can see above, it means that each slice looks absolutely mind-blowing!!
With boozy baking, the biggest disappointment is always that 'well… it actually just tastes like a cake' reaction, when you can't actually taste the alcohol.
That's why in my G&T cake, I made the icing with actual gin and tonic water – trust me, you can't miss that taste, it's pretty strong!
So with my gluten free Prosecco and strawberry cake, I created a syrup using Prosecco to infuse each layer of sponge.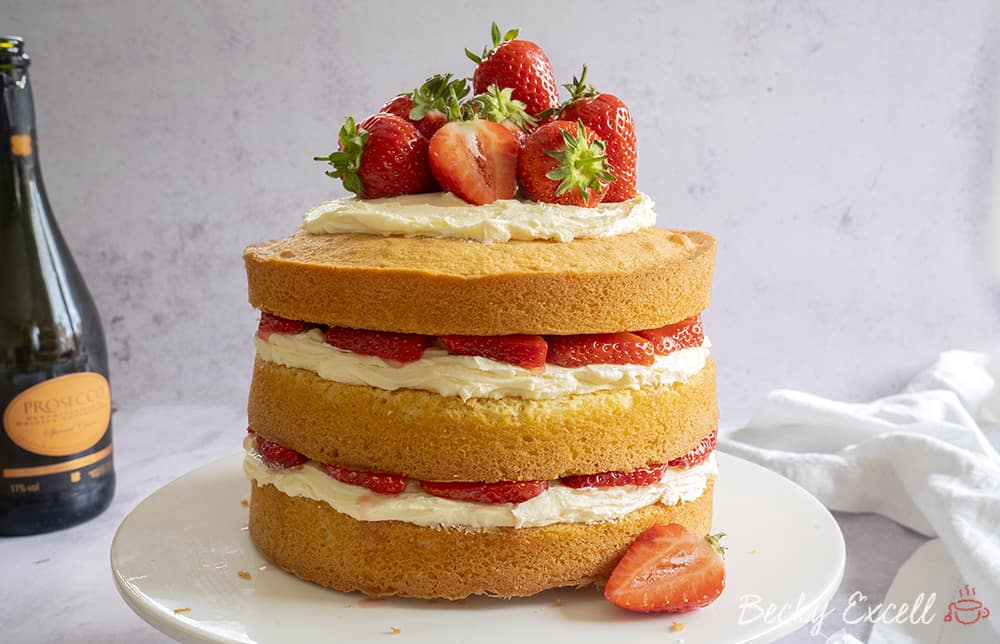 But ALSO, I soaked my strawberries in Prosecco for a few hours, just to ensure they had that undeniable Prosecco taste and well…
You can definitely taste it now! 😂
It's such a lovely way to get that refreshing Prosecco flavour throughout the cake and it works so well against the strawberries and sweet buttercream.
And honestly… that's it!! It's such a modest cake, but it still manages to look beautiful and taste equally as beautiful too. That's my kinda baking!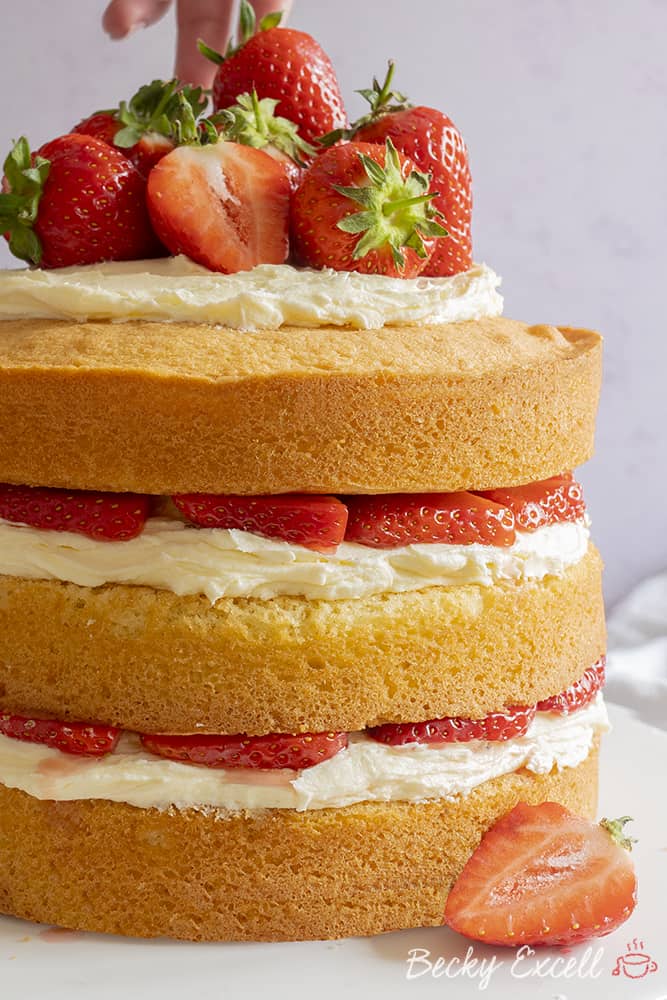 If you fancy making this recipe dairy free, it's simply a case of using dairy free margarine instead of butter for the sponge cake and the buttercream icing. Easy peasy!
Ok, so here's my gluten free Prosecco and strawberry cake recipe 👇🏻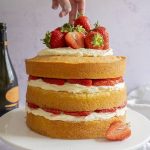 Prosecco and Strawberry Cake
Ingredients
For the cake
340

g

gluten free self raising flour

1

tsp

baking powder

340

g

caster sugar

1 1/2

tsp

vanilla extract

340

g

butter or dairy free margarine, softened to room temp

6

large eggs

1

lemon, zest
For the Prosecco syrup
180

ml

prosecco

75

g

caster sugar
For the butter cream icing
285

g

butter or dairy free margarine

500

g

icing sugar, sifted
For the strawberries
fresh strawberries

prosecco

(for soaking the strawberries!)
Instructions
If you want to infuse your strawberries with prosecco, place fresh strawberries in a bowl, pour prosecco over the top so they are mainly submerged and allow them to sit in it for at least a couple of hours. This is optional, but I love the taste!

Prepare 3 circular baking tins with parchment paper in the bottom. Preheat your oven to 160C Fan.

Put all your cake ingredients into a large mixing bowl and mix. I just used an electric hand whisk for this. Mix until combined and smooth. (Make sure your butter is softened before you start or else it will just be lumpy!)

Spoon / pour your cake mix into the tins and place in the oven for about 25 minutes. (I always ensure the cake tins are on the middle shelf so if you have to do two tins first and then the third tin afterwards, that's fine).

Whilst your cakes are in the oven make your syrup. Place your Prosecco and caster sugar into a saucepan and heat until the sugar dissolves. Bring it to the boil and allow to simmer for about 3-5 minutes until the mix is slightly more syrupy. Put to one side.

Remove your cakes from the oven, they should be lovely and golden. Allow to cool briefly in their tin (5-10 minutes) before turning out onto a cooling wrack. Whilst the cakes are still warm, spread a little of the Prosecco syrup on each - I used my silicone pastry brush. You can gently prick the cakes and then drizzle the syrup on but I find just carefully brushing them with the syrup is enough. You only need to use a tbsp per layer I find. Leave them to completely cool.

Make your buttercream. In a mixer or with your electric hand whisk cream until your butter is light and creamy. Then gradually add your icing sugar, mixing in between until it's fully combined. Add 2 tbsp on the prosecco syrup and mix again until combined. (If you've made your butter cream dairy free I would place it in the fridge to firm up, otherwise it's read to use).

Finely slice your strawberries for each layer. If they have been soaking in prosecco, remove and lightly dry them before slicing. Keep a few nice ones whole for the top.

Place your bottom cake layer on your cake stand. Add a good amount of the buttercream and spread it. Place a layer of sliced strawberries on top - make sure you have plenty right round the edges so you can see them! Repeat this until all 3 tiers are on. On the top of the cake spread a little more icing, more centrally only this time. Then place your whole strawberries on top.
Recipe Notes
Making this a two tiered cake:
You could make this just a two tiered cake if you prefer. Either by reducing the main ingredients to 225g instead of 340g and the eggs to 4 instead of 6. Keep the rest the same. The cooking time would be 25-30 minutes.
You could make this a two tiered cake by keeping the same measurements of ingredients but then cook the cake for 35-40 minutes instead.
Reduce the icing to 200g butter and 350g of icing sugar if you are making it two tiered.
No alcohol:
If you would prefer no alcohol you can make this cake into a strawberries and cream cake. Remove the prosecco from the recipe and in the icing add a few drops of vanilla extract instead.
Thanks for reading all about my gluten free Prosecco and strawberry cake recipe! If you make it, I'd love to see how it turned out so don't forget to take a snap of your creations and tag me on Instagram!
Any questions about the recipe? Please do let me know by following me on Instagram and leaving me a comment on a recent photo!
Thanks for reading,
Becky xxx
Oh and don't forget to pin this for later!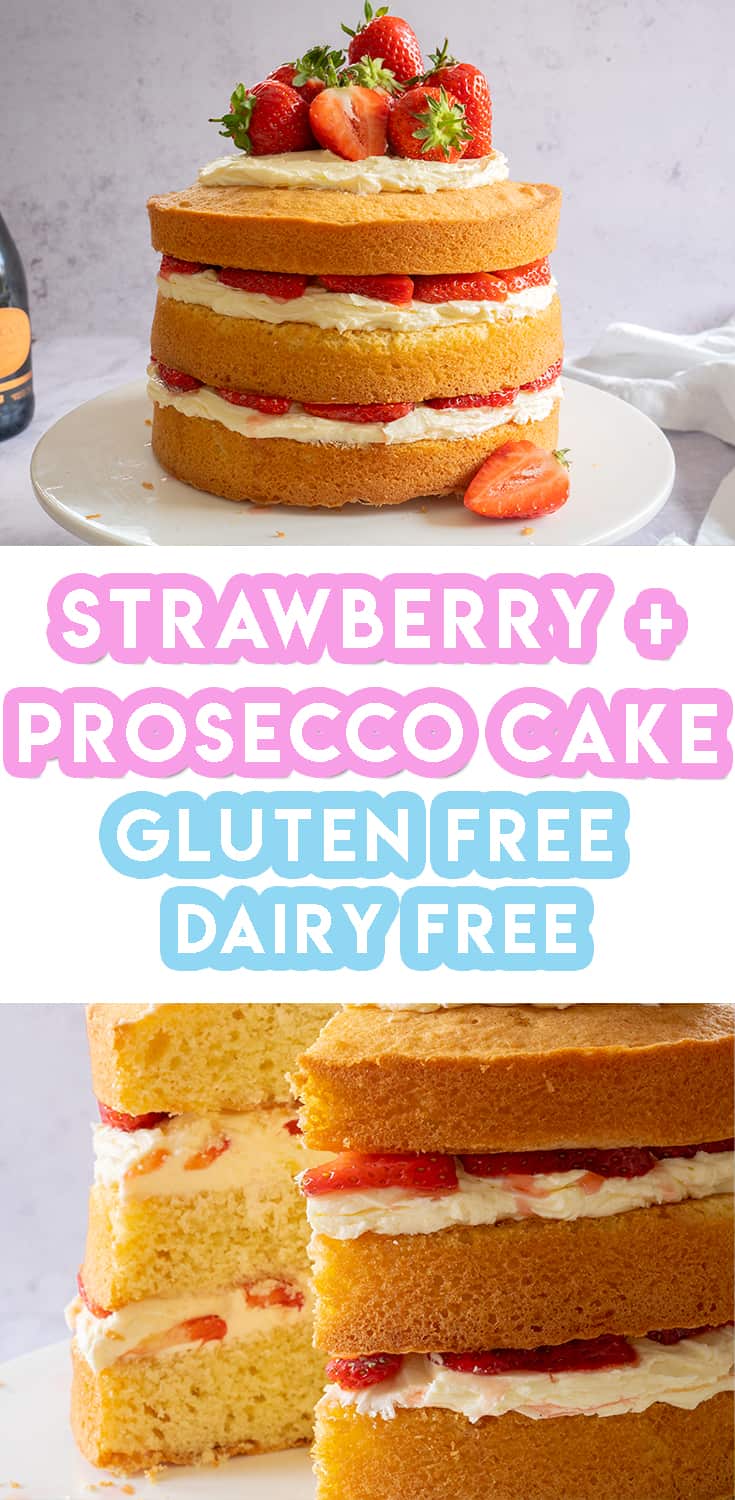 Comments