My gluten free and vegan sweet potato satay curry recipe is creamy and spicy with beautiful sweet potato hiding in there too. But best of all? You can cook it in just 15 minutes!
Yep, it's Veganuary and even if you're a meat-eater at heart, I think we can all appreciate a hearty, warming meal that cooks in under 15 minutes, can't we? Time saved on cooking just makes everything taste better in my opinion! But I promise you this: whether you're meat-eater or not, you'll love my gluten free and vegan sweet potato satay curry recipe…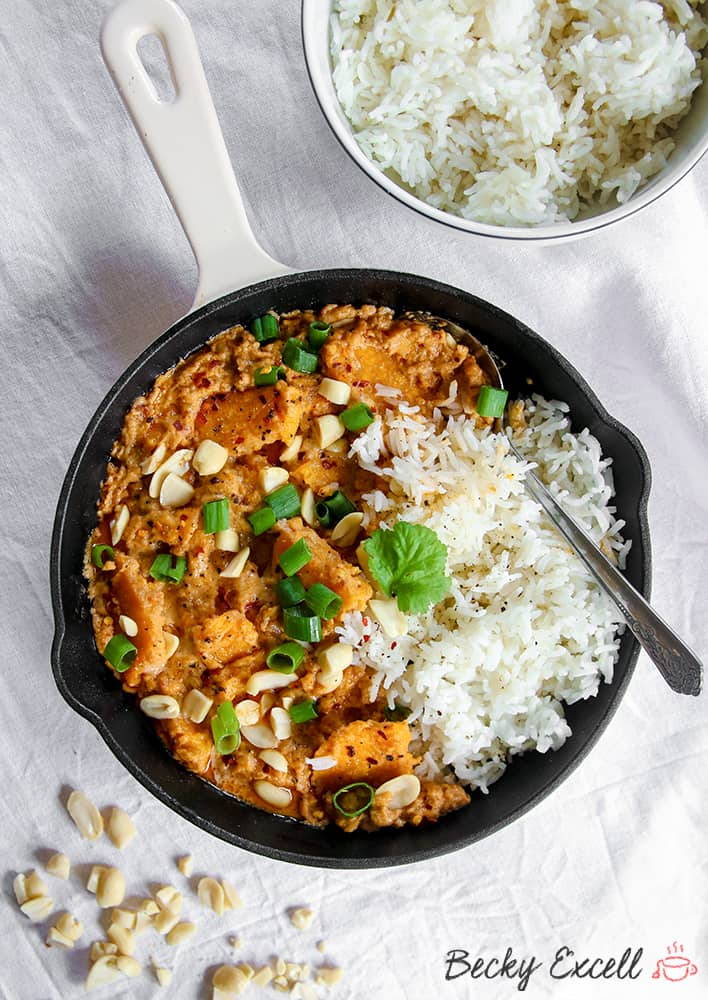 So what's the secret to rustling up this recipe so quickly? Well, it's mainly because there's no meat to cook!
(that basically removes an entire 5 minutes of cooking time and prep time too)
So for someone like me with multiple food intolerances who has to cook from scratch every single night… this recipe is pure gold.
All you need to do is just make your sauce, simmer it, cook your sweet potato in the microwave, throw them together and you're done. It really is that simple and you won't even care it's 100% meat free.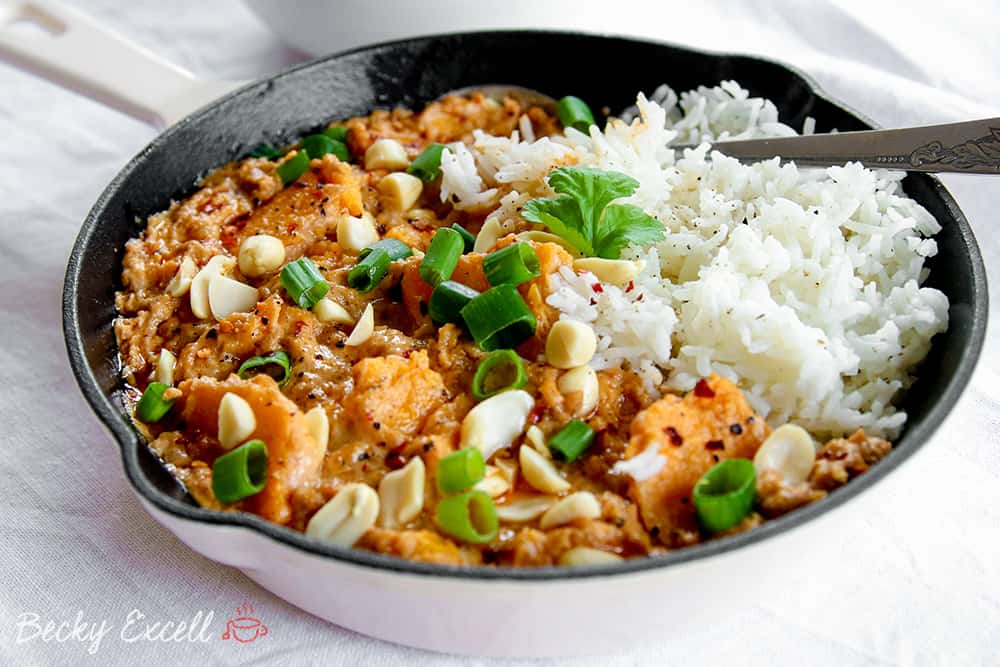 Oh and yes – I did say microwave!
People often turn their noses up at the idea of microwaving veg from raw to cooked in the microwave. But it turns out that there really is no good reason to be so against it according to these really smart people from Harvard.
I mean, boiling veg is the most common method, but nobody complains that you clearly must lose some of the nutrients into the water, do they?
So actually, the cooking method that best retains nutrients will be the one that cooks the quickest, for the shortest amount of time, and uses as little liquid as possible…
Ding! Yes, that's the microwave.
Obviously if the idea of cooking your veg in the microwave bothers you that much, you can always just steam or boil your sweet potato.
(it'll take you like 20 minutes or so extra)
But I mean, at the end of the day, eating veg is just good, full stop, isn't it?
But defo don't knock veg in the microwave until you've tried it. It'll save you so much time and it might even be better for you!
Looking for more gluten free Chinese takeaway recipes? Check out this blog post here: 10 gluten free Chinese takeaway recipes you won't believe you can eat.
Anyway, here's my gluten free and vegan sweet potato satay curry recipe in all of it's glory…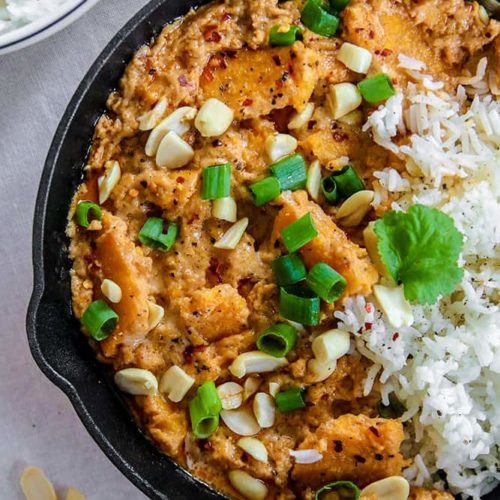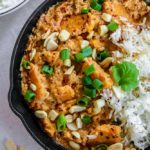 My Gluten Free and Vegan Sweet Potato Satay Curry Recipe (dairy free)
My gluten free and vegan sweet potato satay curry recipe is so quick and easy to make in a hurry! Plus it's dairy free too.
Ingredients
_empty_
200

g

sweet potato

(peeled, halved and chopped into thin discs)
For the sauce
150

g

crunchy peanut butter

(the cheaper peanut butter is usually better)

400

ml

coconut milk

2

tbsp

garlic infused olive oil

1/2

tsp

chilli puree

(for a mild heat)

2

tsp

lime juice

2

tsp

gluten free soy sauce

1/4

tsp

salt
To serve
handful spring onion greens

handful crushed peanuts

(optional)
Instructions
To create your satay sauce, add all of your sauce ingredients to a saucepan and give it a good mix. Place this on a medium heat until it starts to bubble a little, then turn the heat down and simmer for 10-15 minutes.

Once you've peeled, halved and chopped your sweet potato into 5mm thick discs, place them in a bowl with 5 tbsp of water and a side plate on top of it. Microwave this for 7 minutes at full power (900W).

Once your sweet potato is cooked, put them into the frying pan with your sauce. Mix around until well-coated.

Serve with boiled rice and garnish with spring onion greens. You can optionally add some crushed peanuts on top if you like.

Enjoy!
Thanks for reading how to make my gluten free and vegan sweet potato satay curry recipe! If you make it, I'd love to see how it turned out so don't forget to take a snap of your creation and tag me on Instagram!
Plus, I'm giving away a £50 supermarket voucher every month to my fave pic – result.
Any questions about the recipe? Please do let me know by following me Instagram and leaving me a comment!
Thanks for reading,
Becky xxx
Oh and don't forget to pin this for later!