You just can't miss a Perkier product in the free from aisle, can you? They're vibrant, colourful and full of energy… a lot like Ann Perkins herself! So I thought I'd take 15 minutes to ask her how Perkier first got it's perky on…
You might have enjoyed one of Perkier's gluten free quinoa bars, oaty quinoa porridge pots or new Perkier Bites, but did you ever wonder how it all started? I caught up with Ann to ask her 8 burning questions about Perkier and how it went from Ann's kitchen to free from aisles across the UK. Let's dive right in!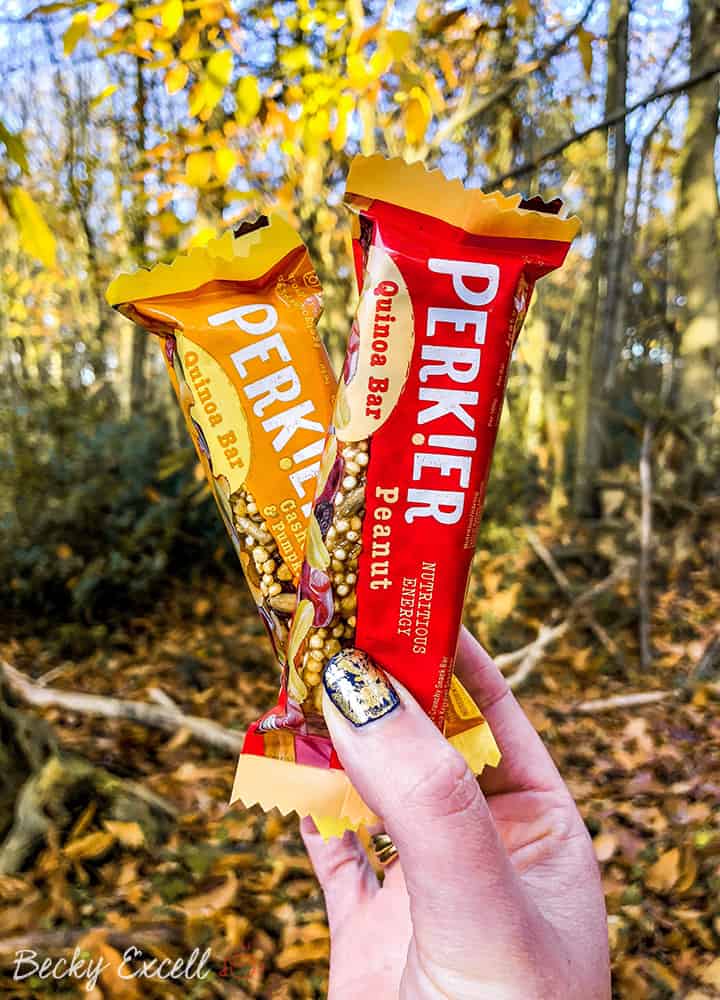 What's the story behind Perkier? How did you go from an idea to an all-singing brand with products?
I was diagnosed with coeliac disease and need to be free-from dairy too, and I just got really frustrated with the limited foods available in the supermarkets… so I decided to quit my job and create my own! I've always loved food, and creating new recipes, so it made sense to have a go!
Some people thought I was crazy! But loads of my family and friends were super supportive. So first I got busy chatting to other free-from'ers to understand their frustrations, and then started creating new recipes in my kitchen and sharing them with friends and family.
"We honestly have no interest in doing the same stuff as other companies, it would be so DULL!!!"
Steve, my partner, got excited about what I was doing and decided to join me, and we created our brand name (a mashup of our surnames, Perkins and Turner!). Once we had some recipes we loved, we met with Wholefoods Market in London – and started producing PERK!ER in our kitchen and shipping it to Wholefoods twice a week. Now we're lucky to sell in leading supermarkets including Sainsbury's, ASDA and Morrisons! It's been a crazy journey!
We love what we do, and I can honestly say every day I get up happily knowing I'm on a mission to help everyone feel a bit perkier! We are still a small team, just 4 of us in the company. Everything we do is gluten, wheat and dairy free, palm oil free and suitable for vegans. Our range of healthy snacks and porridges provide lots of health benefits including nutritious energy, high fibre, protein and they're rich in vitamins too!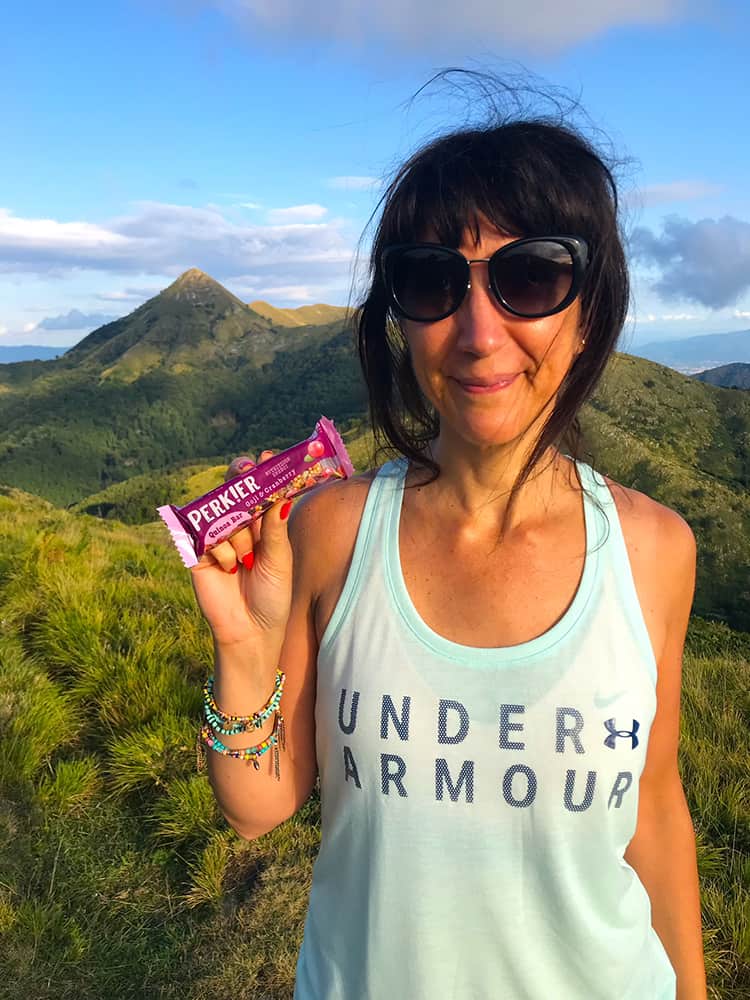 I always think of Perkier as an exciting and innovative brand! (Overall and visually!) What drives and inspires you to create new products that are unique?
Aww thank you! We honestly have no interest in doing the same stuff as other companies, it would be so DULL!!! I think because I live free from gluten and dairy myself I'm always thinking about what else we can do to help others enjoy their food, but have something that's healthy too.
We get inspiration from loads of places! We watch out for key trends and we're a bit spoddy, reading scientific papers to understand the latest thinking on health. We LOVE chatting to people on social media and meeting up to understand what they need.
What's behind Perkier's love affair with Quinoa? It's something I've never seen in many products like yours!
It's a great question, as many people have tried Quinoa now, and know it's good for them, but not always sure why. We're crazy for Quinoa as it's a great quality protein (it has all 9 essential amino acids the body needs to thrive) and is rich in vitamins and minerals too.
It's our hero in our bars and porridges… but we do love many other ingredients too for their taste and excellent health benefits. Like Cacao which is the raw form of cocoa, rich in antioxidants and guaranteed to boost your mood!

Your products are so handy when you're out and about. What made you focus on creating products that you can eat on the go?
I've always found it hardest to find tasty and healthy free-from food on the go, at home it's so much easier as you can stock up at a good supermarket or buy online
So, I always have a stash of food in my handbag and car – just in case! Which is pretty much every day!! Sound familiar?!
Yes, that sounds like me! I so wish that more cafes stocked Perkier bars and the new Perkier bites as well as places like hotels and airlines… there's often so few options in those scenarios. Why do you think that is? Is there any chance this could happen one day?!
Haha me too!! If only Perkier was available EVERYWHERE!! We're working on it!! I think it's getting better, but in the past because free-from wasn't in such high demand I think the buyers in cafes, hotels etc were really looking to sell products with mass appeal and they probably thought with limited space, that if they had a free-from product instead, it wouldn't sell as well.
"The Palm industry causes significant habitat destruction impacting indigenous people and wildlife which is why we NEVER use Palm Oil."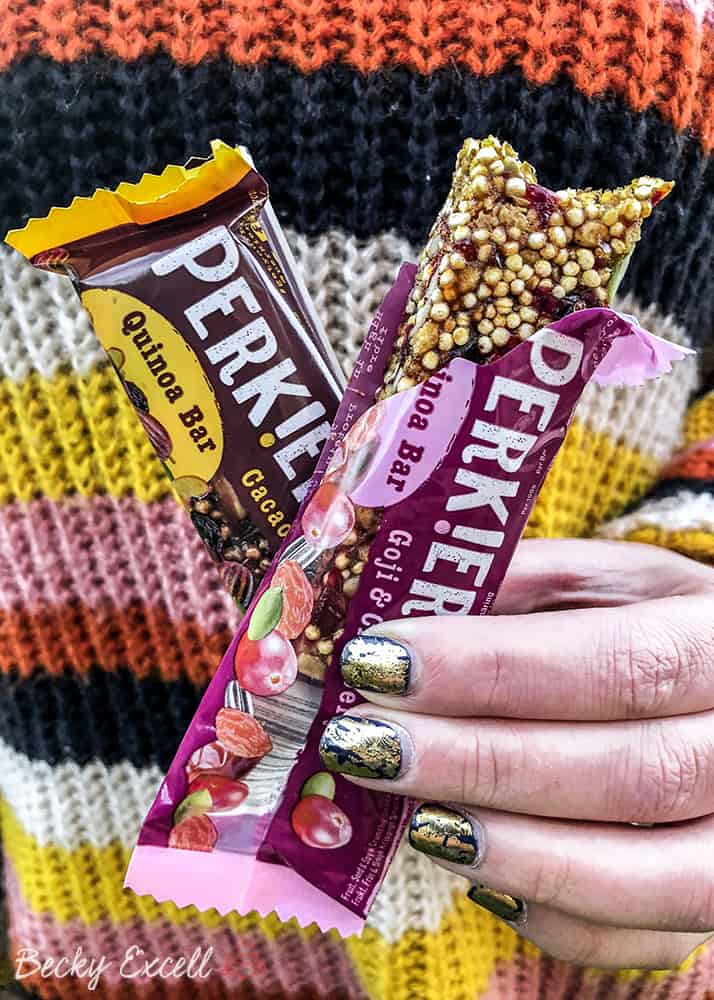 Good news is free-from now doesn't mean taste-free and poor branding, and buyers are definitely getting more savvy to our needs. We have lots of chats with buyers in these 'food to go' businesses and they know that there are lots of us free-from'ers to cater for so fingers crossed availability of good quality free-from food on-the-go continues to increase. I'd say from personal experience hotels are some of the hardest places for breakfast and snacks in particular.
Your new Perkier bites look AMAZING. What was the inspiration behind them? How are they different to other competitor products?
YAY! Thank you! The inspiration is to create a snack that's a lot more treaty in taste but is super healthy too! So, you feel like you're indulging, innocently, as they are less than 150 calories, high fibre and have 6g protein per bag! They are also free-from gluten, wheat & dairy; palm oil free and 100% vegan!
They are launching in 3 delicious flavours 'Salted caramel', 'Cacao & Orange' and 'Cacao & Peanut'… we're addicted!!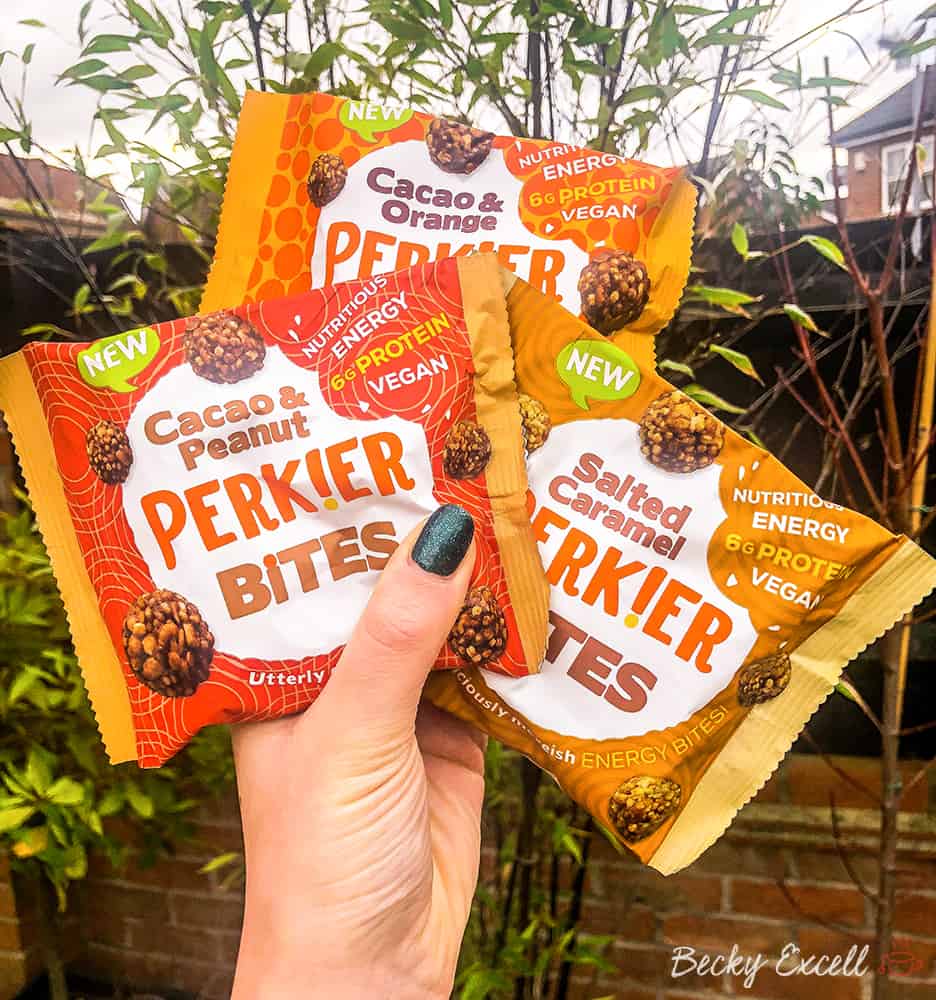 I also saw they don't contain any palm oil – something I see in products down the free from aisle fairly regularly. Why do you think we see it so often? Why was it an important ingredient to avoid when creating Perkier bites?
We are PROUDLY palm oil free. The Palm industry causes significant habitat destruction impacting indigenous people and wildlife which is why we NEVER use Palm Oil. Did you know 25 Orangutans die every day due to the palm industry and are now an endangered species? It honestly breaks my heart.
Other companies use palm oil because it's cheap, and solid at room temperature- but there are so many other options – get creative – you don't need to use an ingredient that causes death and devastation. We're so passionate about this.

What's around the corner for Perkier? What are you looking forward to?
Oh, so many things!! Launching BiTES is super exciting, we can't wait to launch them in stores! Watch this space! AND we have some more NEW delicious snacks coming early in 2019 which we can't wait to share with you! Becky you'll be first to know!!
And finally getting Perkier into more and more places is my mission!
Thanks so much for taking time to chat with me Ann!
Want to continue following Perkier's journey? You can find them on Instagram, Facebook and Twitter – or head over to their website too.
Not sure where you can pick up your next Perkier fix? You can find them in Asda, Morrisons, Sainsburys, Ocado and tons more places too!
Thanks for reading,
Becky xxx
Comments