It may not be long until Christmas, but there's still time to give my gluten free Lebkuchen recipe a go! It's dairy free and low FODMAP too. But wait, what on Earth is a 'Lebkuchen'?!
Well, I only know how to pronounce it because you kind folks on Instagram spelt it out phonetically for me! It's basically a sweet, spiced cookie – a bit like gingerbread, but sooo much more chewy and sweet. Read on about my gluten free Lebkuchen recipe and you'll soon know all about it…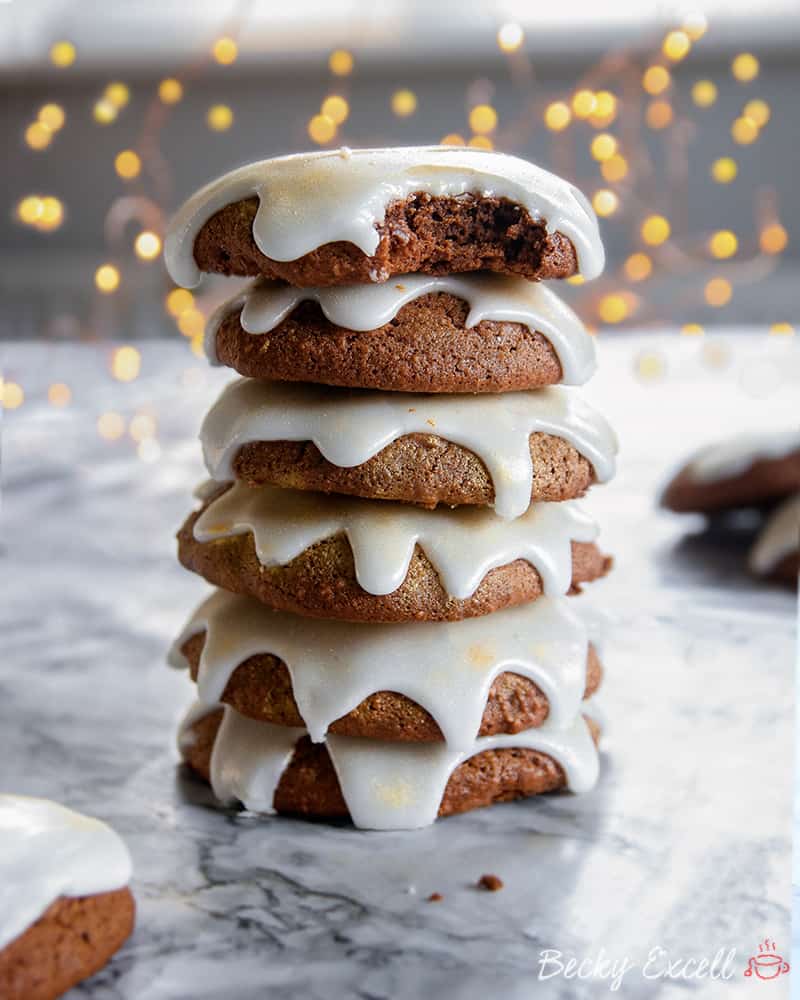 I've seen Lebkuchen in the supermarkets so much more recently and obviously, my first reaction is always 'I can't eat that, so I must make my own version instead!'
(yep, it was the same with my French Fancies, Yule Log and Spring rolls recipes too!)
I must admit, I felt a little bit of a fraud for trying to make something I couldn't even pronounce the name of, but I guess I'll just have to deal with it!
They turned out to be sooo amazing and they really aren't all that hard to whip up at all. Plus, icing these is a complete doddle.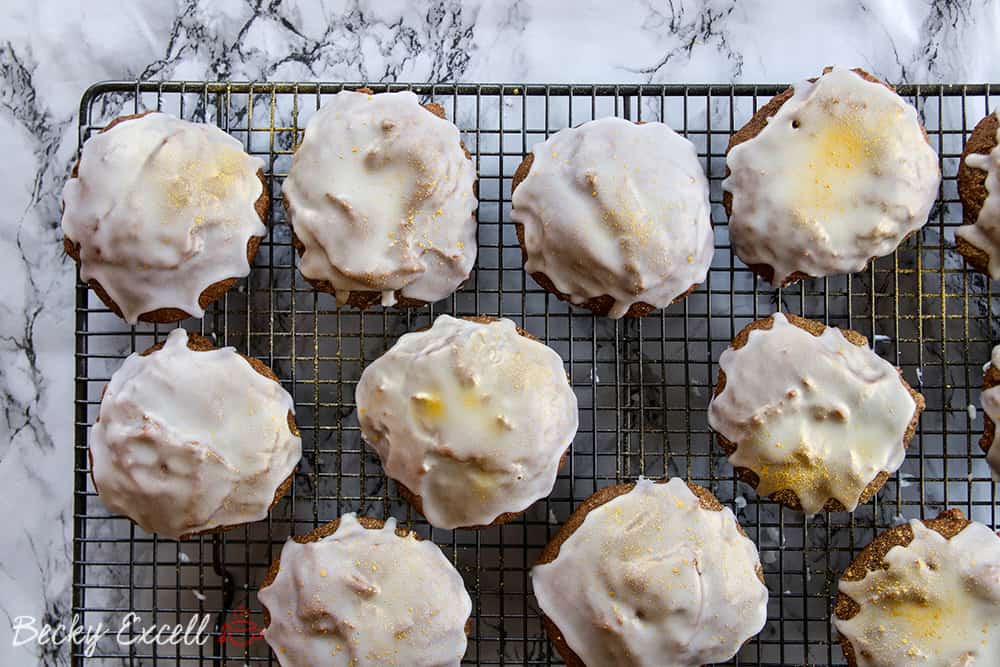 I mean, after trying my gluten free Lebkuchen recipe, I hope you'll agree that there's so much more to Christmas biscuit baking than just gingerbread!
(but if you disagree, you can always try my gluten free mini gingerbread house recipe :))
You've got ground almonds, hazelnuts, maple syrup, citrus zest, cocoa powder and aaaaall that lovely Christmas spicing. Oh and don't forget the lovely lemon glacé icing too!
So when I said 'it's a bit like gingerbread' I guess that was a massive lie! But trust me, one bite and you'll be converted.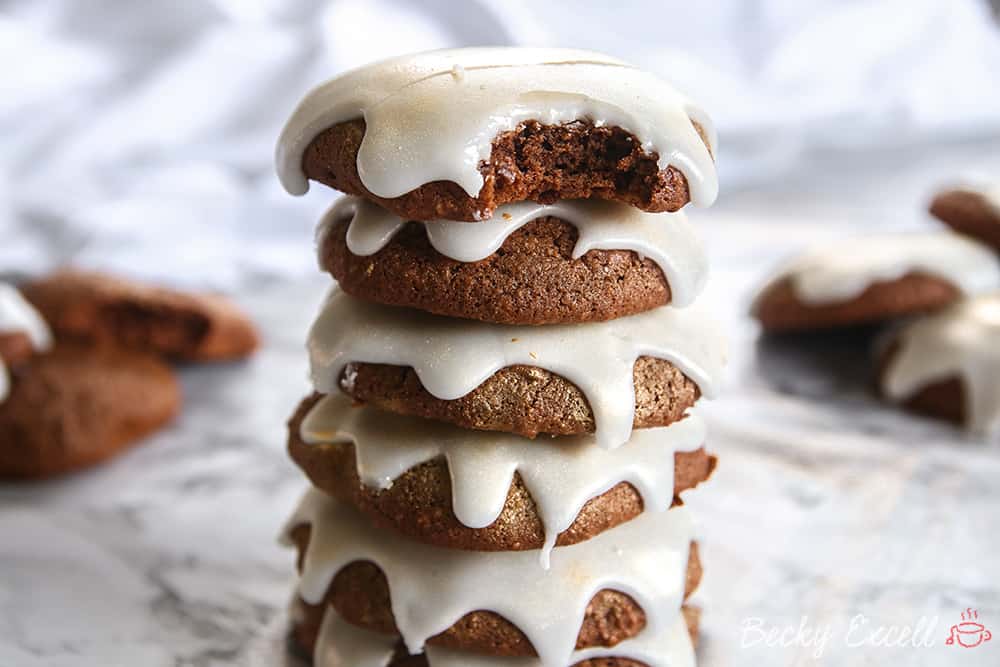 Of course, my Lebkuchen recipe is dairy free and low FODMAP too. Traditionally, Lebkuchen uses honey (which is high FODMAP) so I swapped it out for maple syrup instead and opted for dairy free margarine instead of butter.
If you're not dairy free or low FODMAP, feel free to use honey or butter as desired.
So anyway – here's my gluten free Lebkuchen recipe!
My Gluten Free Lebkuchen Recipe (dairy free, low FODMAP)
My gluten free lebkuchen recipe is sooo easy to make at home! It's dairy free and low FODMAP too, so now everyone can enjoy them!
Ingredients
For the Lebkuchen
65

g

ground almonds

90

g

hazelnuts, blanched

(you can buy them blanched in the supermarket)

300

g

gluten free plain flour

1/2

tsp

baking powder

(ensure that it is gluten free)

1/4

tsp

xanthan gum

(optional - but helps with the structure of the Lebkuchen)

1/4

tsp

bicarbonate of soda

3

tbsp

cocoa powder

(ensure that it is both gluten and dairy free)

2

tsp

ground cinnamon

1

tsp

ground ginger

1/2

tsp

ground cloves

175

g

dark brown sugar

170

g

maple syrup

50

g

dairy free margarine

(I use Pure)

zest of an orange

(or a lemon if you'd prefer)

2

large eggs
For the icing
400

g

icing sugar

lemon juice

edible gold glitter spray

(optional)
Instructions
Prepare two baking sheets with baking paper and also preheat your oven to 160C Fan.

In a blender (needs to be capable of blending down nuts - I use my Magimix), place your hazelnuts, ground almonds and half (150g) of your gluten free flour. Pulse until the hazelnuts have broken down.

Add the rest of your gluten free flour, cinnamon, cloves, ginger, cocoa powder, baking powder and bicarbonate of soda into the mixer. Pulse once more so everything is mixed together.

In a separate bowl cream together your dairy free spread, brown sugar, maple syrup and orange zest until completely smooth. I use an electric hand whisk for this.

Beat your eggs in one at a time and then gradually add your dry mixture into the bowl - using your electric hand whisk to combine it fully.

Then place your mixture into the fridge for 15 minutes to cool and come together more.

The dough is fairly sticky so I use an ice cream scoop to transfer the mixture to the baking sheet - one large scoop per cookie. Also make sure you leave gaps between each dollop on the baking sheet as they will spread a bit.

Pop them in the oven for about 12 minutes. They are quite cake-like cookies so you can check they are cooked by inserting a skewer and seeing if it comes out clean.

Once cooked, allow to cool on the baking sheet for a short while before transferring to a cooling rack to completely cool.

To make your icing, sift your icing sugar into a bowl and then gradually stir in lemon juice. Mix thoroughly, continuing to add more juice until the right consistency icing is formed. You don't need a lot of lemon juice, so take it slowly. If it becomes too runny just sift in more icing sugar.

Once your icing is ready, spoon icing into the centre of each of your cookies. It should run very slowly towards the edges and spread all over the cookies. Once iced leave the icing to set / harden for a few hours.

As a final optional extra, spray your Lebkuchen with edible gold glitter spray for a festive touch. Enjoy!
Notes
Ground almonds have a low FODMAP serving size of 24g so with only 65g in the entire mixture a few of my Lebkuchen would be low FODMAP.
Hazelnuts have a low FODMAP serving size of 15g so with only 90g in the entire mixture a few of my Lebkuchen would be low FODMAP.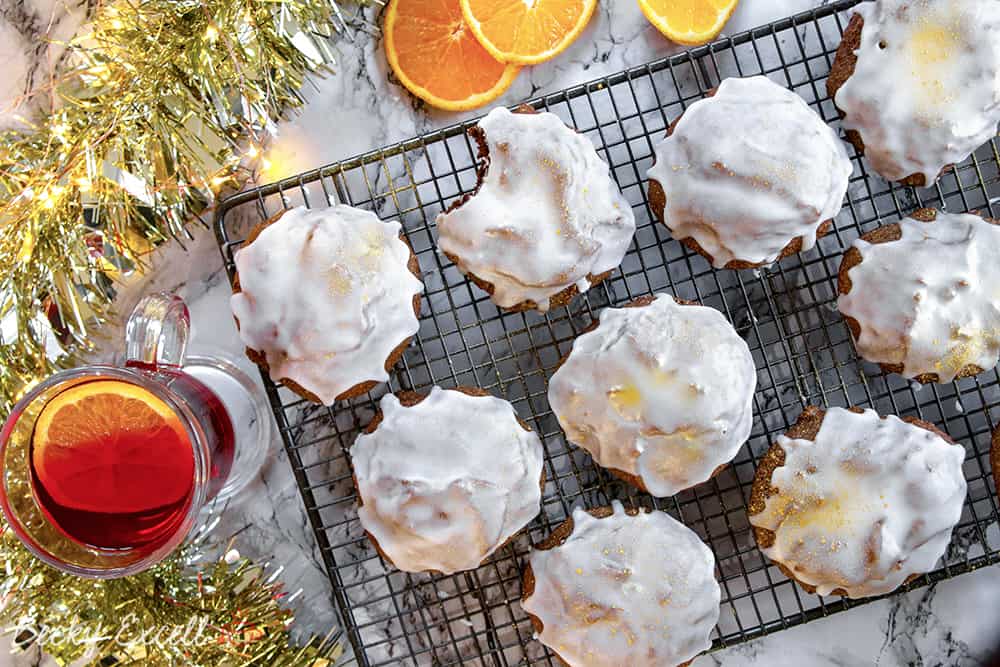 Thanks for reading how to make my gluten free Lebkuchen recipe! If you make them, I'd love to see how they turned out so don't forget to take a snap of your creations and tag me on Instagram!
Plus, I'm giving away a £50 supermarket voucher every month to my fave pic, so get baking!
Any questions about the recipe? Please do let me know by following me on Instagram and leaving me a comment!
Thanks for reading,
Becky xxx
Oh and don't forget to pin this for later!