If you want all those cosy Autumn vibes, then starting off the season with my one pan roasted chicken and veggies recipe isn't a bad idea! This recipe is gluten free, dairy free and low FODMAP too.
I really wanted to make a recipe that was just like putting on that warm, furry coat for the first time again. So cramming all those Autumn vibes into my one pan roasted chicken and veggies recipe was a top priority!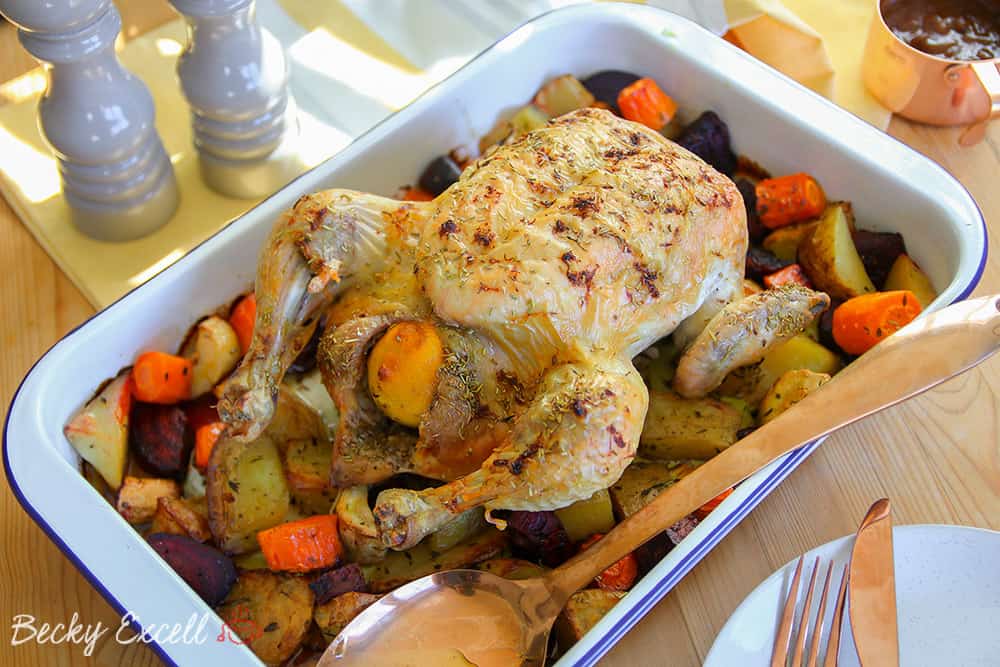 And what could be more cosy than a warming roast chicken dinner, served with chunky roasted root veggies?
The veg just soaks up all that wonderful chicken flavour whilst acting as a striking backdrop of Autumn colours.
The chicken is not only seasoned with lemon zest and rosemary, but it also has a lemon inside it. It's not just for flavour either, the lemon steams the chicken a little from the inside out, making the meat super soft and tender.
(The only way you can get more Autumnal than that is by diving into a pile of leaves in a bobble hat and scarf!)
And because it's a one pan recipe, you can make it all in one big roasting tray – not bad, hey?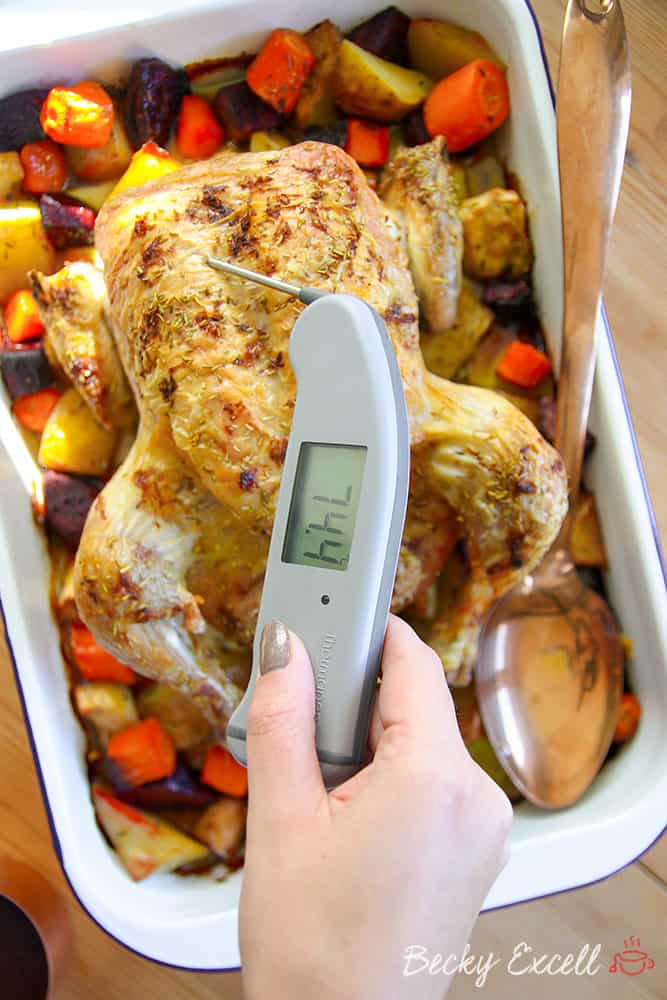 But if there's one thing you buy this Autumn other than a nice, big cosy coat, it has to be a Thermapen. Trust me on this one!
Since I got one a few months ago, I've realised just how integral this little digital food thermometer really is. I'd go as far to say that it's my new best buddy in the kitchen!
(I feel like I need to name my Thermapen now, so any suggestions welcomed in the comments! How about Thelma?)
It's totally eliminated that annoying game of "is this cooked yet?" where we had two choices: destroy our meal to check the middle and see if it's cooked, or serve it up anyway because it probably should be done by now.
Thermapen completely eliminates the probably should factor and replaces it with the definitely, positively factor instead. Without fail, it'll tell you whether your food is cooked or not within 0.1 of a degree after just 3 seconds of probing.
You can also use it to check the temperature of hot oil too, which is another guessing game I hope I never have to play ever again. I honestly couldn't live without it anymore!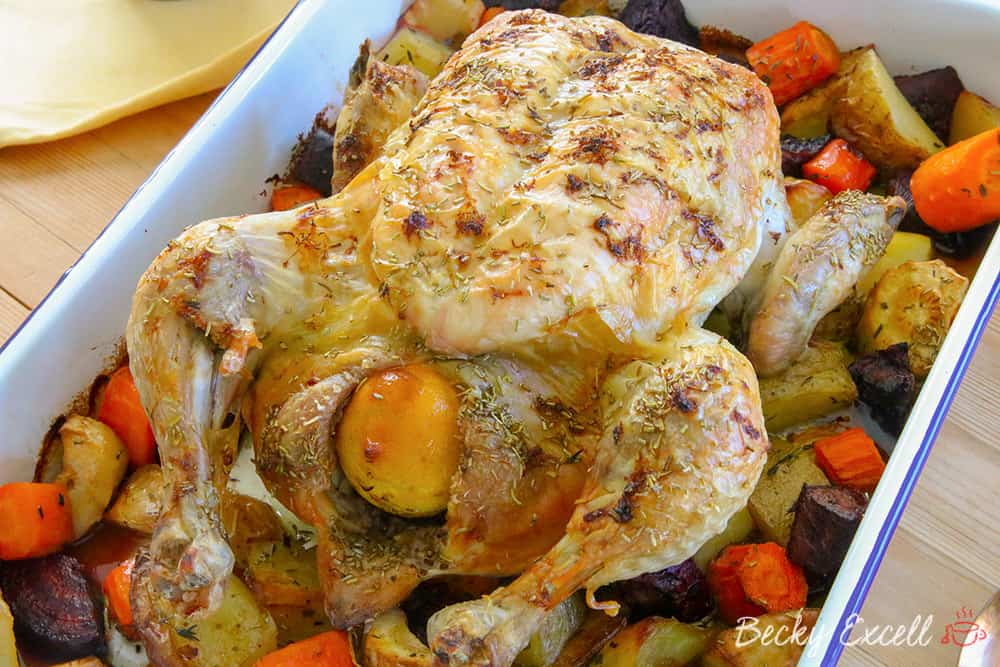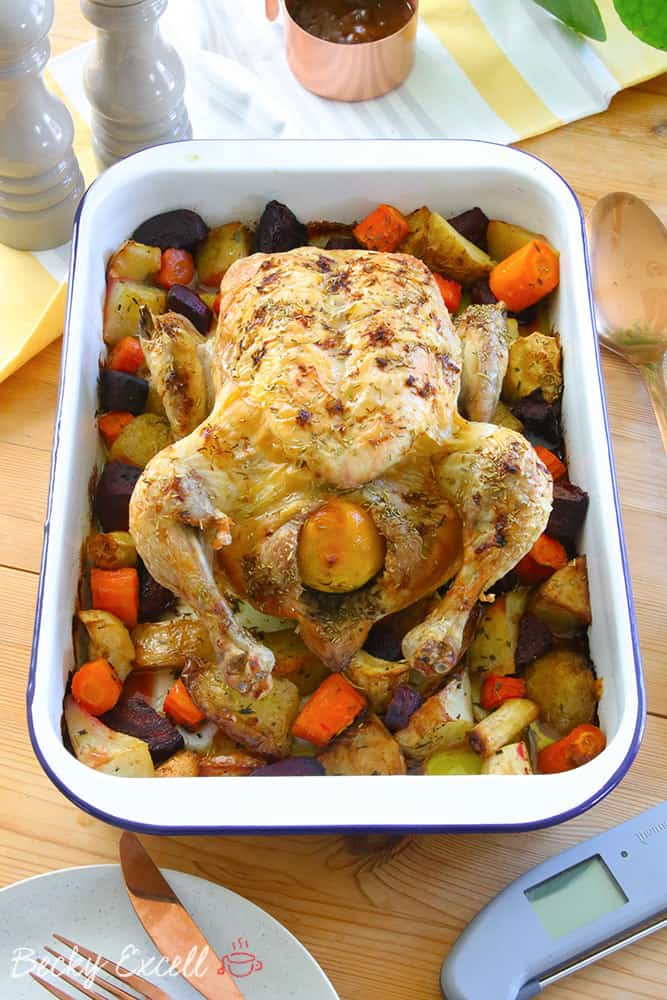 So as you probably know, I'm a big fan of one pan recipes.
(and accidentally rhyming my sentences by the looks of it)
Normally, I'd expect a roast dinner to end with a mountain of washing up – but not this one! Just a sharp knife, a couple of chopping boards and one roasting tray is all you'll need to prep your food and well… that's it.
Not bad for a meal that easily serves 4!
So without further ado, here's my one pan roasted chicken and veggies recipe…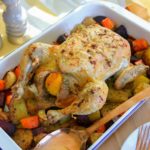 My One Pan Roasted Chicken and Veggies Recipe (gf, df + low FODMAP)
My one pan roasted chicken and veggies recipe is so easy to make, plus it's gluten free, dairy free and low FODMAP too. Get those Autumnal vibes!
Ingredients
For the chicken
1

whole chicken

(mine was 2kg)

3

tbsp

dairy free spread

(butter is fine to use if you can have dairy)

2

lemons

3

tbsp

dried rosemary
For the veggies
800

g

potatoes

(i left mine unpeeled - it was 2 large potatoes)

4

carrots, chunkily chopped

2

parsnips, peeled and chopped

1

beetroot, peeled and chopped

(optional - colour wise it looks fab!)

garlic infused oil

fresh thyme, just the leaves

fresh rosemary, just the leaves

salt and pepper

1

lemon
Instructions
Turn your oven on to 180C Fan.

Chop up all your vegetables and place them in a large roasting tin. Add in your fresh thyme, rosemary and then mix up and coat with garlic infused oil. Season with a little salt and pepper.

Chop a lemon into quarters and add one to each corner of your roasting tin.

Prepare your chicken. Rub your spread under the skin of the chicken and on top of the skin too. Sprinkle the dried rosemary and lemon zest on top of the chicken.

Place a whole lemon in the cavity and place it in the centre of your roasting tin with the veg surrounding it and beneath it.

Place in the oven for about 80 - 90 minutes (I check mine after 60 minutes using my Thermapen to see whether it is cooked through and then every 10 minutes after till it's done! It needs to be 74C or above to be cooked through.)

Once the chicken is cooked and nicely golden on top, remove it from the roasting tray and place under some foil to rest for 10 minutes.

Pop the veggies back in the oven to finish crisping up for up to 10 minutes.

Finally carve the chicken and serve up with the vegetables and juices. Enjoy!
Recipe Notes
You can use any vegetables that you like to roast - sweet potatoes, butternut squash, swede all work really well too.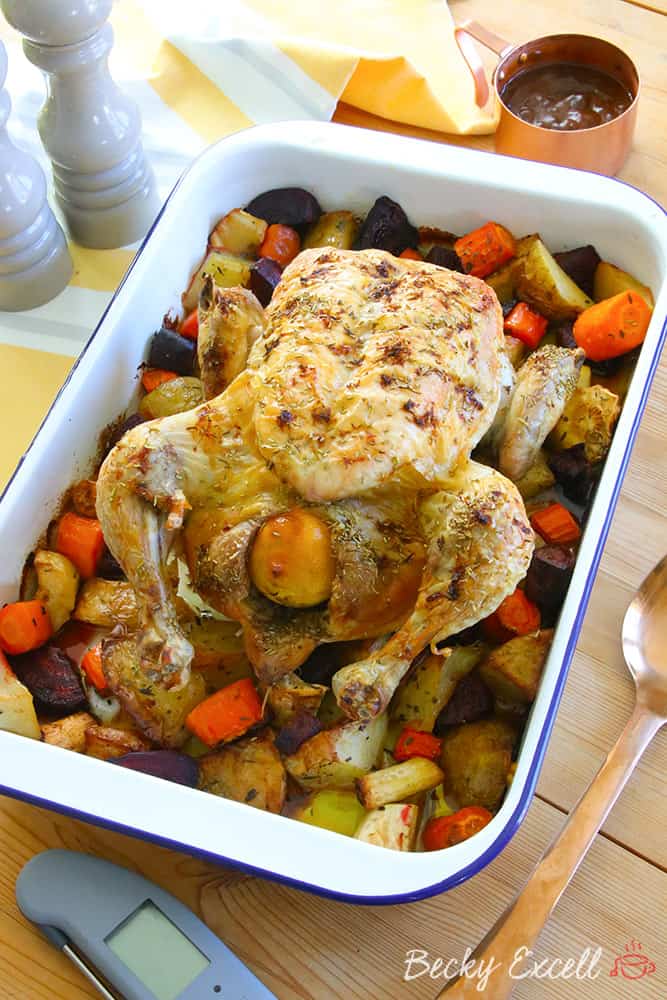 Thanks for reading how to make my one pan roasted chicken and veggies recipe! If you make it, I'd love to see how it turned out so don't forget to take a snap of your roasts and tag me on Instagram!
Plus, I'm giving away a £50 supermarket voucher every month to my fave pic – it could be yours!
Any questions about the recipe? Please do let me know by following me Instagram and leaving me a comment!
Thanks for reading,
Becky xxx
This is a sponsored post with Thermapen.
Oh and don't forget to pin this for later!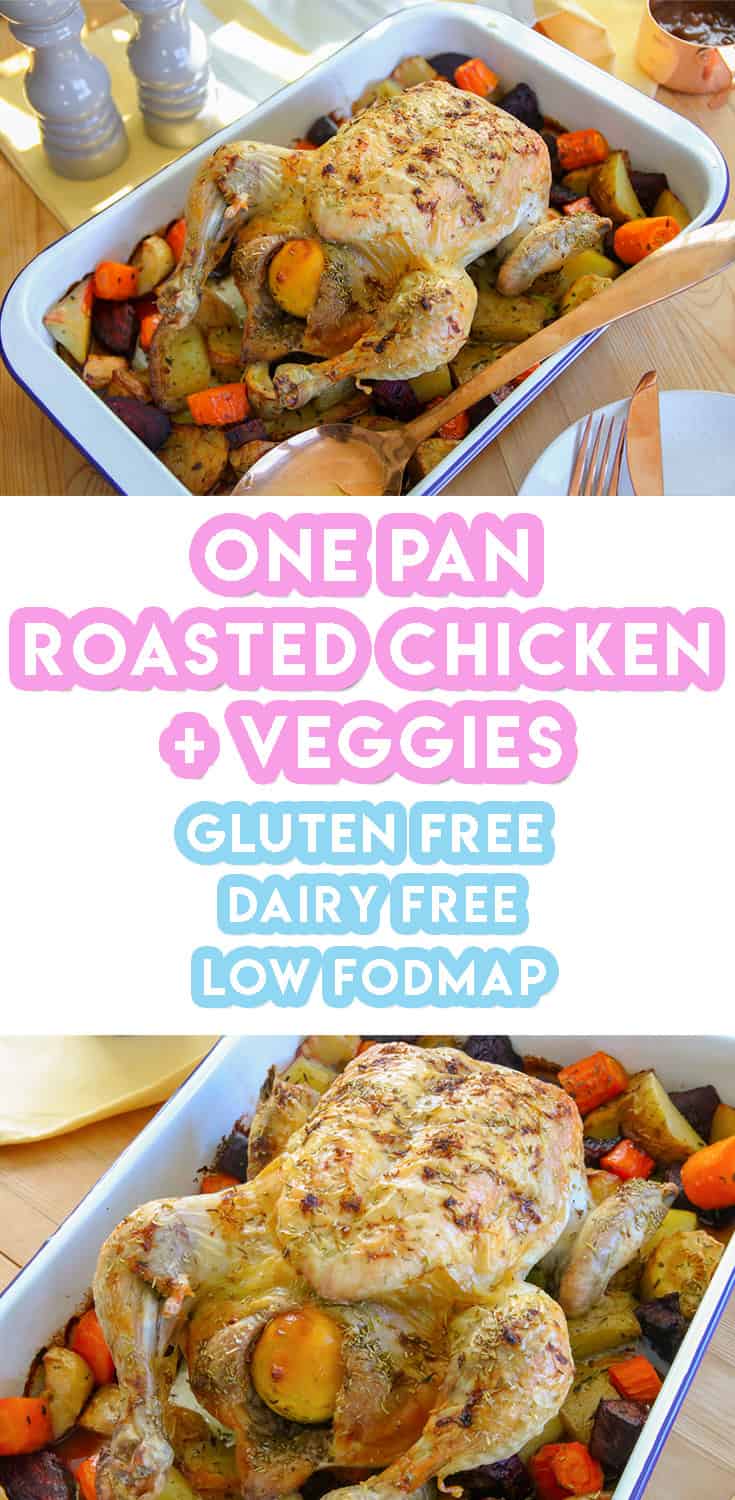 Comments