If my 4 ingredient gluten free waffle recipe doesn't change your life, you're probably just in denial because you don't want us to find out you don't own a waffle maker. Oh and, it's dairy free and low FODMAP too!
But there's no need to be ashamed if you don't own a waffle maker when you can just pick up an awesome one up here for £25. Ok, so waffle makers at the ready? Here's my 4 ingredient gluten free waffle recipe…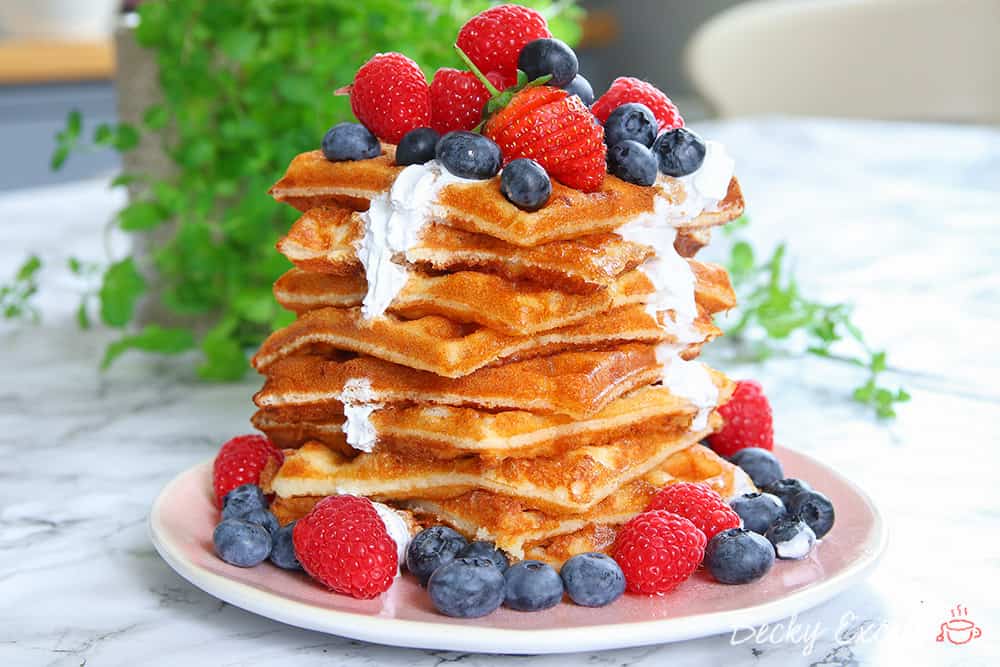 Ok, well it's not my gluten free waffle recipe, it's actually Mark's! And oddly enough, he actually makes these waffles on our BBQ…
(I know I say a lot of weird things, but this is actually true).
He makes them using this, which fits our Weber BBQ. It's like a beastly cast iron thing which totally isn't necessary, but try telling him that!
Something like the one I linked above is perfect and fortunately for you, it's the same shape our waffle maker, so you'll end up with waffles that look identical to ours anyway.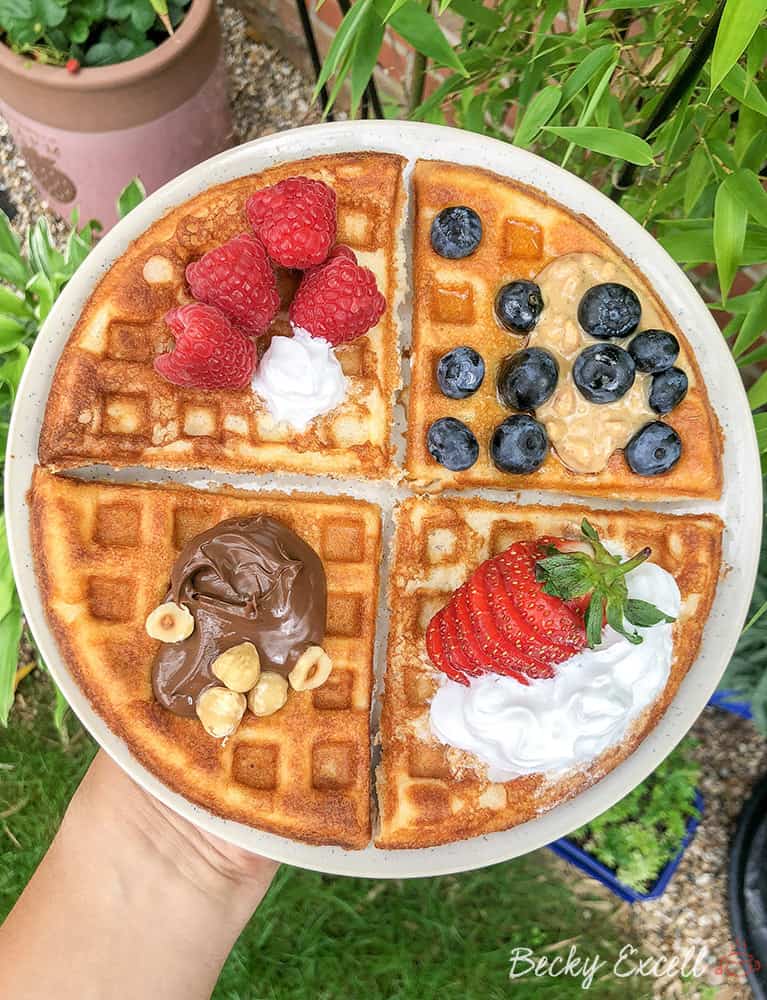 Now not a lot of people are really aware of this, but waffles are great for sweet or savoury dishes.
Obviously maple syrup, fruit, Nutella and all those sorts of toppings taste awesome but more and more I've seen stuff like roasted duck, fried chicken and brunchy stuff served on waffles.
And you know what? It's an insanely awesome combo!
The waffle soaks up stuff like egg yolks, meat flavour and all that goodness and it's such a nice light and fluffy base for pretty much anything.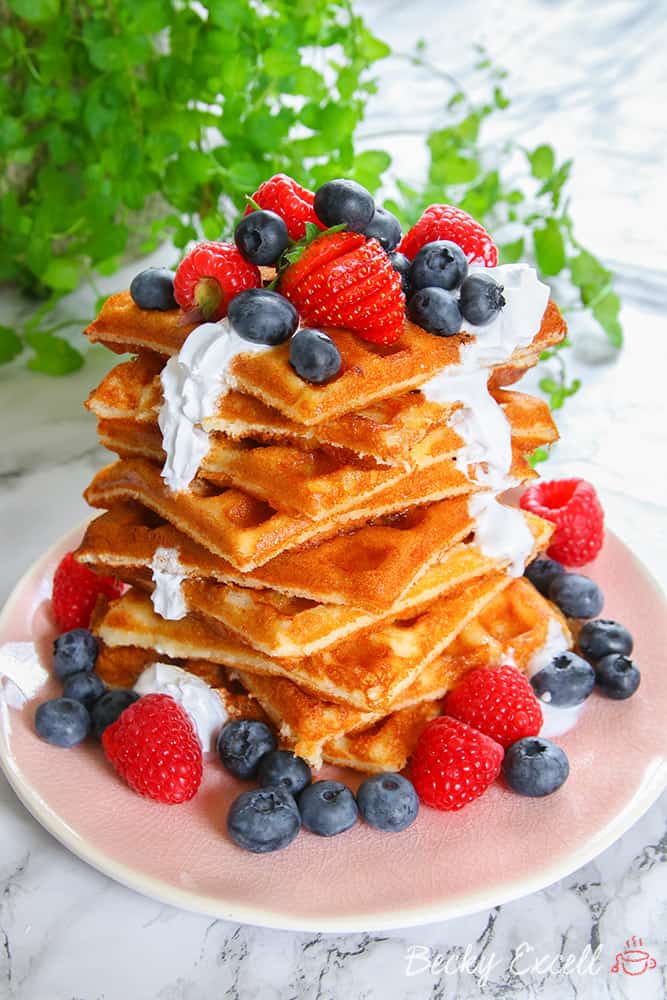 There's actually zero sugar in the actual waffles because in my mind, if you're piling on tons of fruit and maple syrup, there's really no need to add sugar into the actual mix.
Then, if you're opting for savoury toppings too, there's no need for it either. Plus, it means you only need 4 ingredients and that is just plain awesome!
Anyway, here's how to make my (Mark's!) 4 ingredient gluten free waffle recipe…
Mark's 4 ingredient gluten free waffle recipe (dairy free, low FODMAP)
This 4 ingredient gluten free waffle recipe makes waffles with a light and crispy exterior with a lovely fluffy centre. Perfect for sweet or savoury toppings - plus it's dairy free and low FODMAP too!
Ingredients
300

g

gluten free self-raising flour

500

ml

milk

dairy free or lactose free if needed (we used lactose free)

2

tsp

gluten free baking powder

2

large eggs
Instructions
Start by combining all your gluten free self-raising flour and gluten free baking powder in a large mixing bowl.

Crack in your eggs, pour in your milk and whisk by hand. The batter should become smooth and without lumps.

It's time to heat up your waffle maker! It's best to follow the instructions that came with your waffle maker from this point, but I'll share ours in case you've misplaced yours...

Our waffle maker asks us to brush oil into the waffle moulds first so it doesn't stick. Once heated up, ladle in your batter - but make sure you don't put in so much that it spills over the edge of the waffle maker. Close the lid.

At this point, our waffle maker instructions ask us to cook them for 7-10 minutes (we also flip the entire waffle maker in between but this is unlikely to apply to a plug in waffle maker).

Once golden on the outside, remove and enjoy. Check out the rest of the blog post above for a few serving suggestions!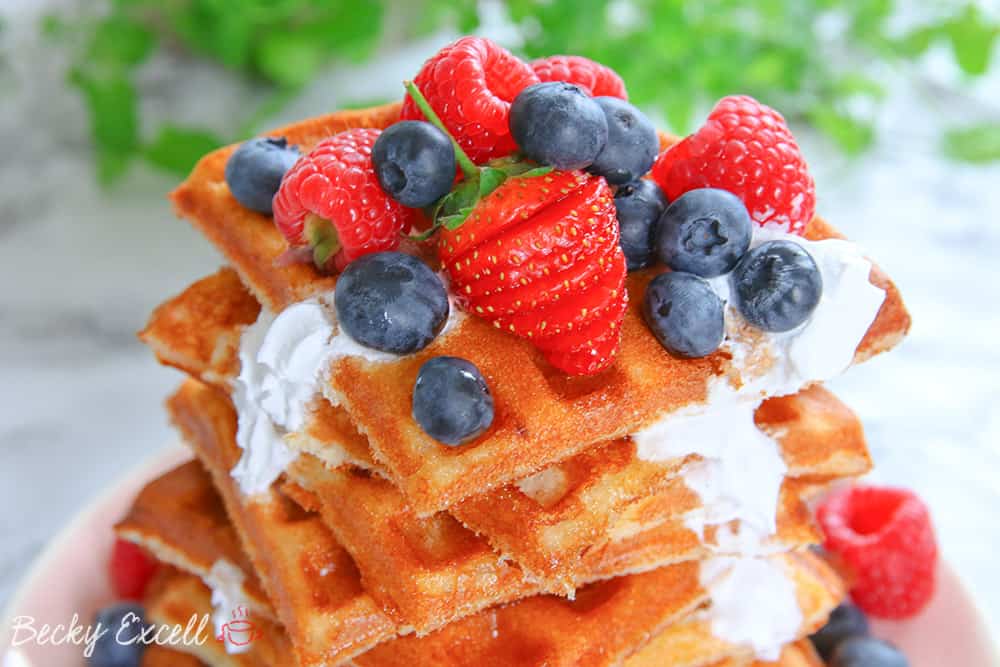 Thanks for reading how to make Mark's 4 ingredient gluten free waffle recipe! If you make them, we'd love to see how they turned out so don't forget to take a snap of your stack and tag me on Instagram!
Plus, I'm giving away a £50 supermarket voucher every month to my fave pic – so you actually earn money from eating waffles. What a dream job!
Any questions about the recipe? Want more gluten free/dairy free/low FODMAP recipes on tap? Please do let me know by following me Instagram, leaving me a comment or just stopping by to say hello!
Thanks for reading,
Becky xxx
Oh and don't forget to pin this for later!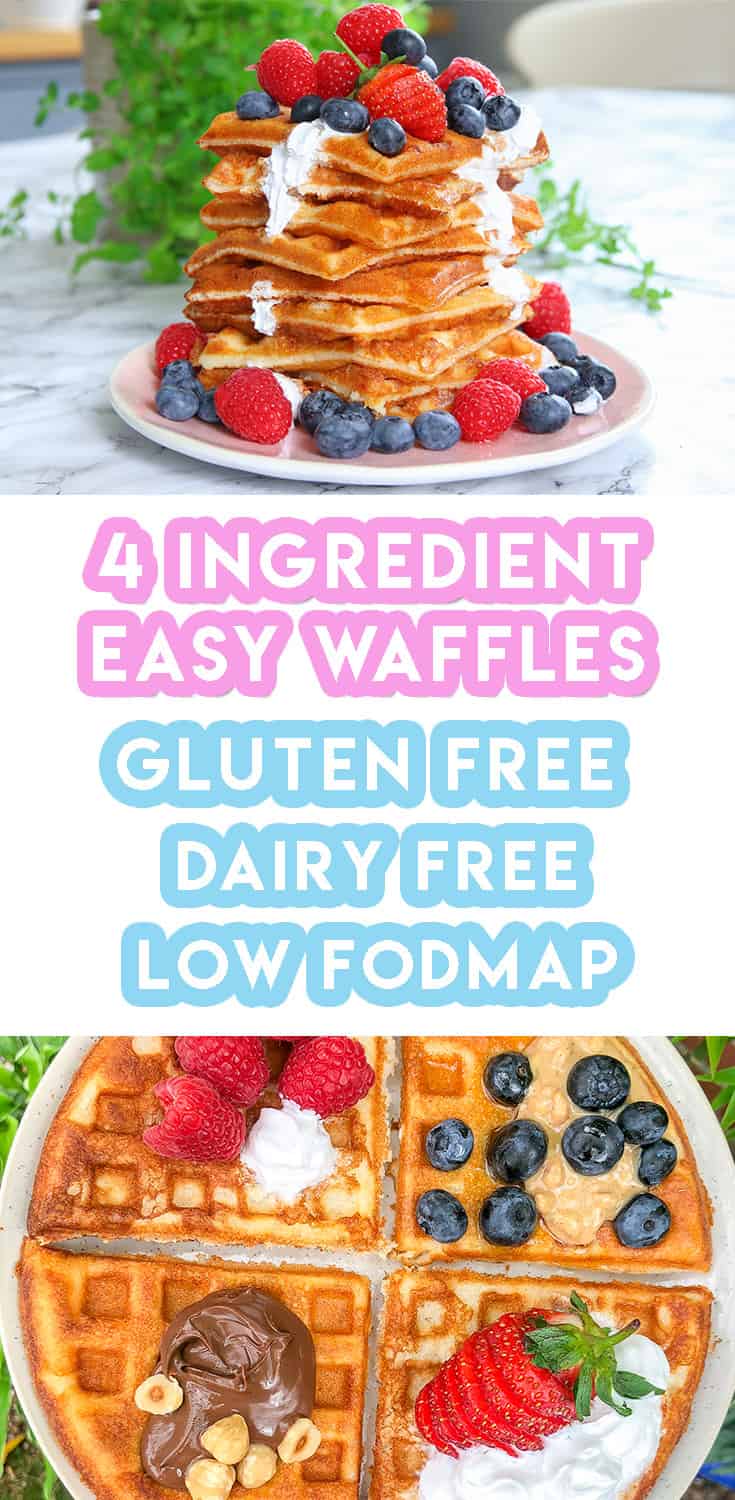 Comments