Please join me in raising a glass for my no-bake gluten free gin and tonic cheesecake recipe! Yep, I've only gone and done it again…
It all started with my gluten free gin and tonic drizzle cake, but I couldn't stop there, could I? I absolutely had to make a gluten free gin and tonic cheesecake next!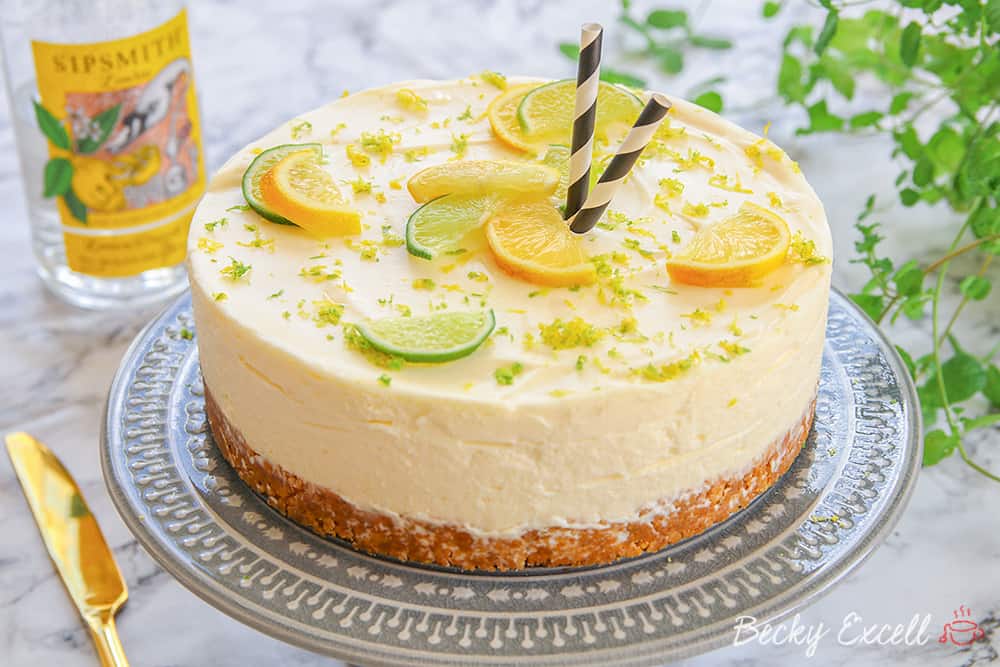 So I did!
I think it turned out pretty well! It's got a strong gin taste throughout and you can even pick up a subtle tonic taste if you nail it right…
and you should, because it's 100% no-bake and easy-peasy, lemon… cheesey… cake.
(just pretend that didn't happen)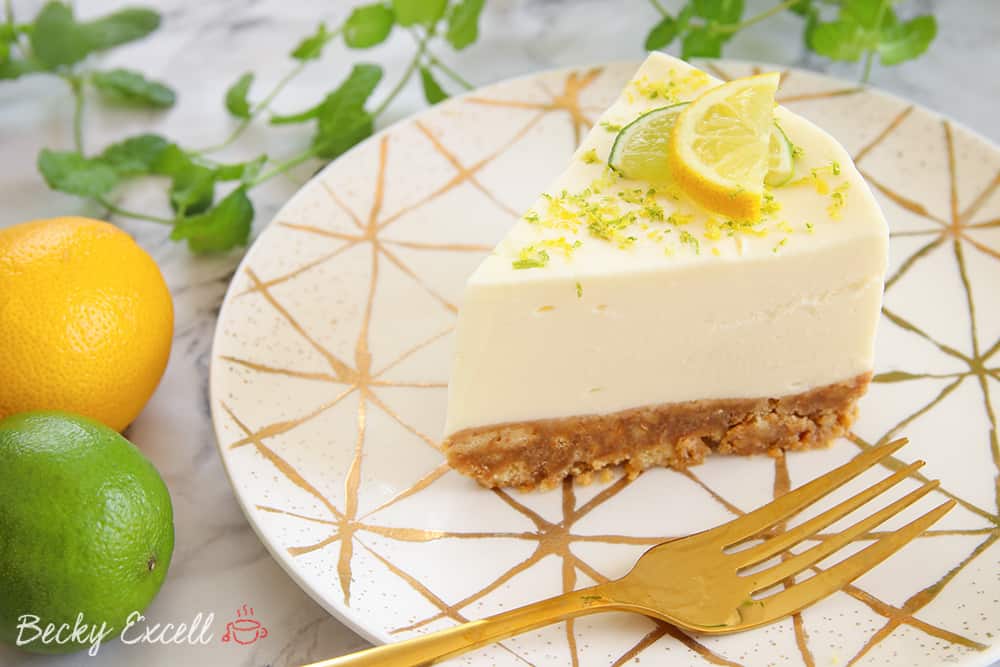 For me, G+T is up there with PB+J or chocolate and hazelnuts when it comes to flavour combos. So why not bring that into my baking a little more?
(not sure if this even counts as baking, so we'll have to call it 'no-baking')
And wow. The taste of good gin certainly isn't wasted in a cheesecake! The taste is sooo clear and sharp against creamy cream cheese and that buttery biscuit base.
As far as I'm concerned, it's a match made in heaven!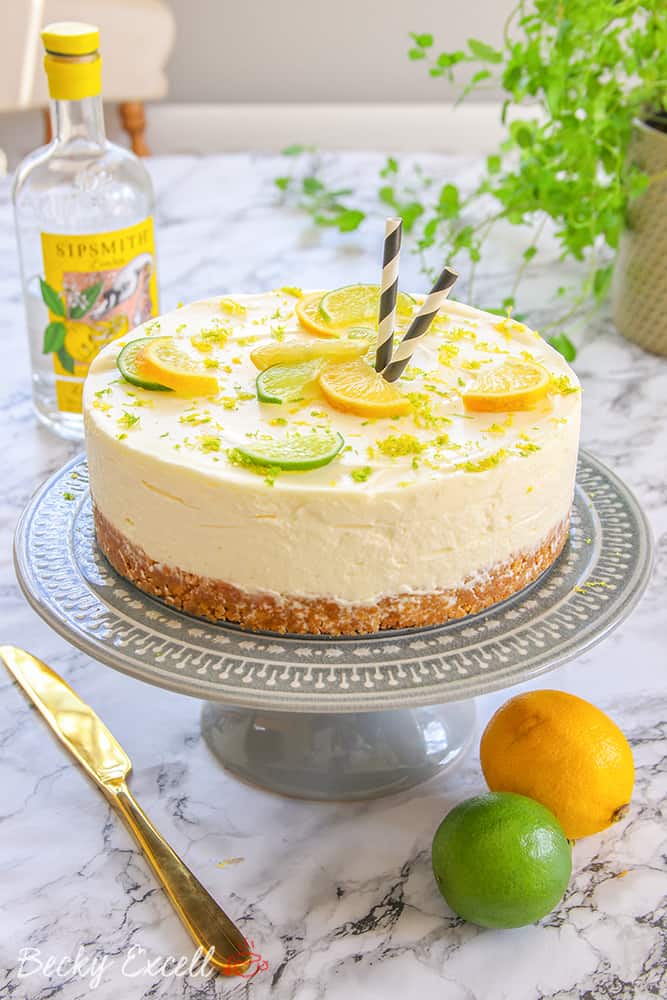 This is one of the first cheesecakes where I've ever used gelatine – I actually hadn't ever thought about using it before.
And it actually worked out really well! I mean, when you're adding more liquid to cheesecake than you normally would, it's a really good way to help things set.
(Instead of having it all turn into an cream cheese-gin volcano eruption when you remove it from the tin)
It's actually really easy to use gelatine (I used the gelatine leaves) and you basically can't go wrong. You can also use vege-gel instead if you prefer, but I haven't tried it personally but let me know how it goes!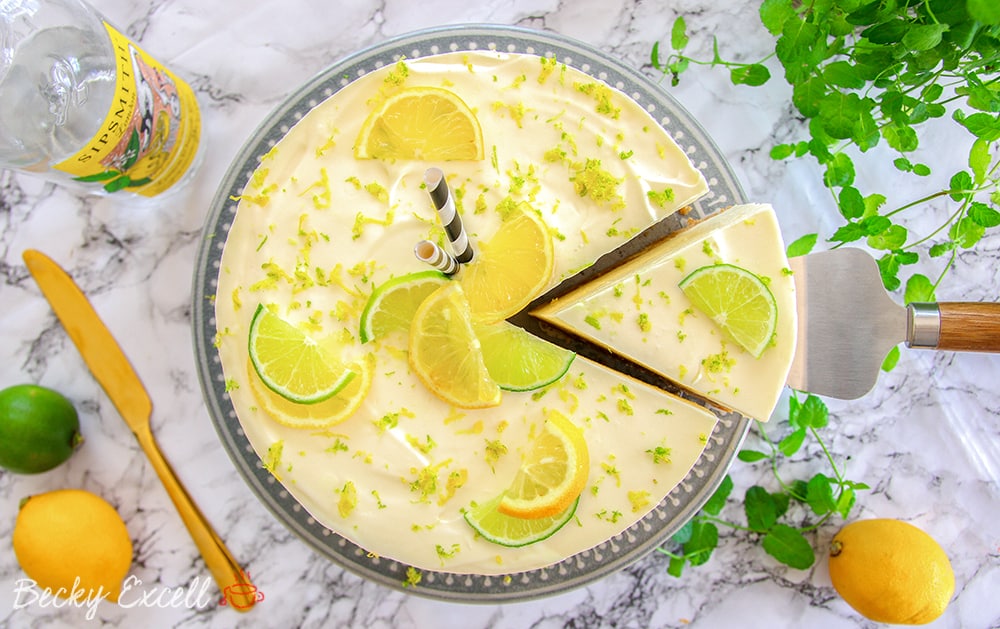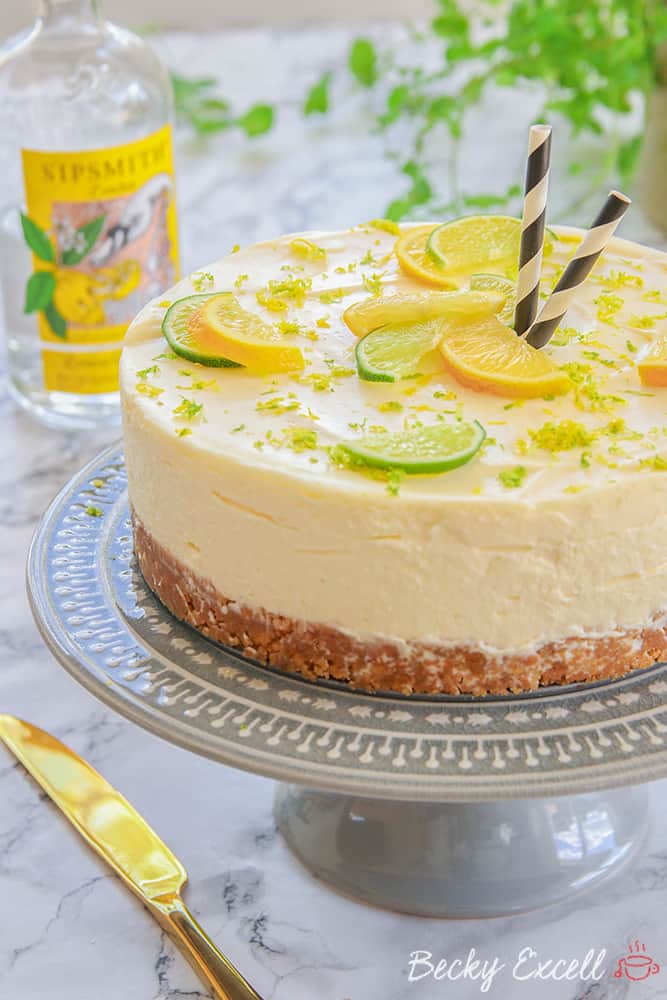 So that's that! If I had to give you a tip
You always read on recipes 'leave it set for 5 hours or ideally overnight'. Please ignore the 5 hours part and just be patient and let it set overnight!
It's just so much more firm and the topping won't just slide off the base or collapse when you cut it. You'll get a perfectly clean cut like in my photos and no smearing when you do.
Just trust me, it's worth it!
Ok, here's my gluten free gin and tonic cheesecake recipe…
My Gluten Free Gin and Tonic Cheesecake Recipe (No-Bake)
Say hello to my gluten free gin and tonic cheesecake recipe! It's 100% no bake, so it's super simple and just needs chilling in the fridge.
Ingredients
For the biscuit base
320

g

gluten free digestive biscuits

150

g

hard margarine / butter
For the cheesecake
5

gelatine leaves

(I use the Dr. Oetker Platinum Grade Leaf Gelatine)

70

g

caster sugar

150

ml

gin

50

ml

tonic water

600

g

cream cheese

(For this I used full fat Philadelphia for this one)

100

g

icing sugar

1

lime, juiced

300

ml

double cream
Instructions
Crush your gluten free digestives. I place mine in a sandwich bag and hit them with a rolling pin. You can make them quite small or have some chunkier bits.

Melt your margarine or butter - I do this in the microwave.

Pour your melted margarine/butter into your crushed biscuits and mix together.


Press your biscuit mixture into the tin you are going to be making your cheesecake in. Press it down nice and firmly.


Place it in the fridge to chill whilst you make your cheesecake top. (I leave mine in the fridge for at least 30 minutes)


Soak your gelatine leaves in a bowl of cold water for about 5 minutes.

Add your caster sugar, gin and tonic to a small saucepan and heat until the sugar completely dissolves. Remove from the heat

Then take your gelatine leaves out of the water, squeeze each one of them out and add to the gin mixture. Stir them in to combine.

To make your cheesecake filling mix together your cream cheese, icing sugar and lime juice. I use my KitchenAid to do this on a low/medium setting for only about 10-20 seconds until smooth. You could you an electric hand mixer too.

Add your gin mixture in whilst having your mixer mixing slowly. Do this until smooth.

Add in the double cream and keep mixing until it firms up a little. Remember it won't firm up as much as some of my other cheesecakes because of the liquid content, but it will when it chills in the fridge thanks to the gelatine (I had the KitchenAid on a medium setting for just under 2 minutes for this - try not to over mix though... don't let it split!).


Spread your mixture on top of the biscuit base and place in the fridge to chill overnight. The gelatine should give it a really nice hold.


To decorate grate some lemon and lime zest on top and randomly place some slices of lemon and lime on top.

Keep refrigerated until serving and if you have leftovers. Enjoy!

Notes
I use a 20cm loose bottom deep tin, but you could also use a springform tin.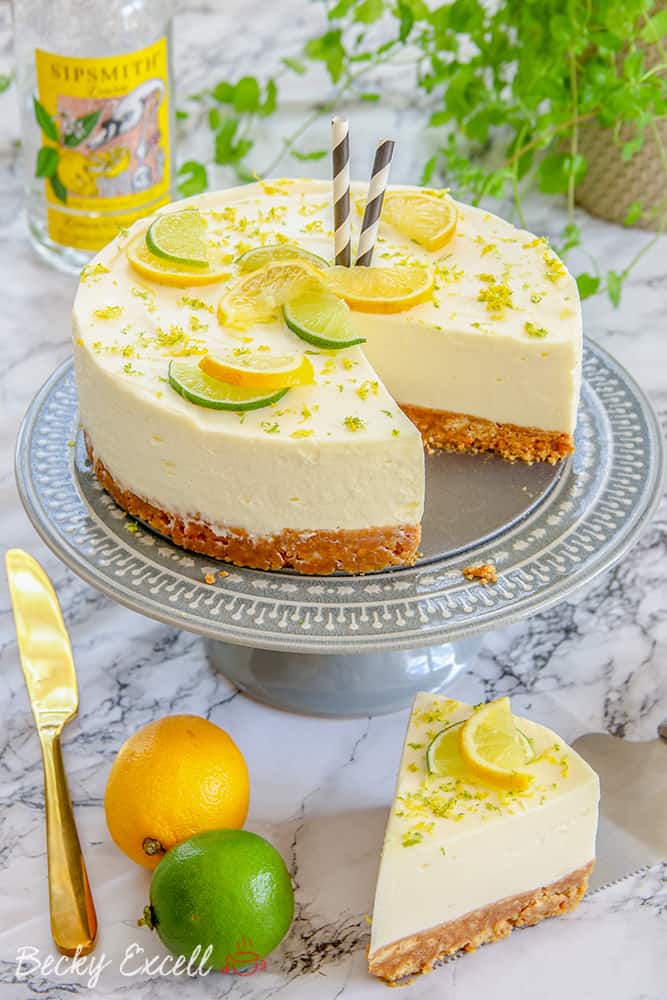 Thanks for reading how to make my gluten free white chocolate and raspberry cheesecake recipe! If you make it, I'd love to see how it turned out. So absolutely make sure that you send me a pic using my social media links below…
Any questions about the recipe? Please do let me know by leaving a comment below or on Facebook / Twitter / Instagram!
Thanks for reading,
Becky xxx
Oh and don't forget to pin this for later!