Sooooo many of you have asked me to make gluten free doughnuts… so this one is for you guys! My gluten free cinnamon sugar baked doughnuts are dairy free and low FODMAP too.
Gluten free doughnuts are like the holy grail of gluten free food. Sometimes I'm not sure if it's because we just love doughnuts to death, or if it's just because it's so rare to find a good gluten free one. Either way, my gluten free cinnamon sugar baked doughnuts recipe are what you've always been dreaming of!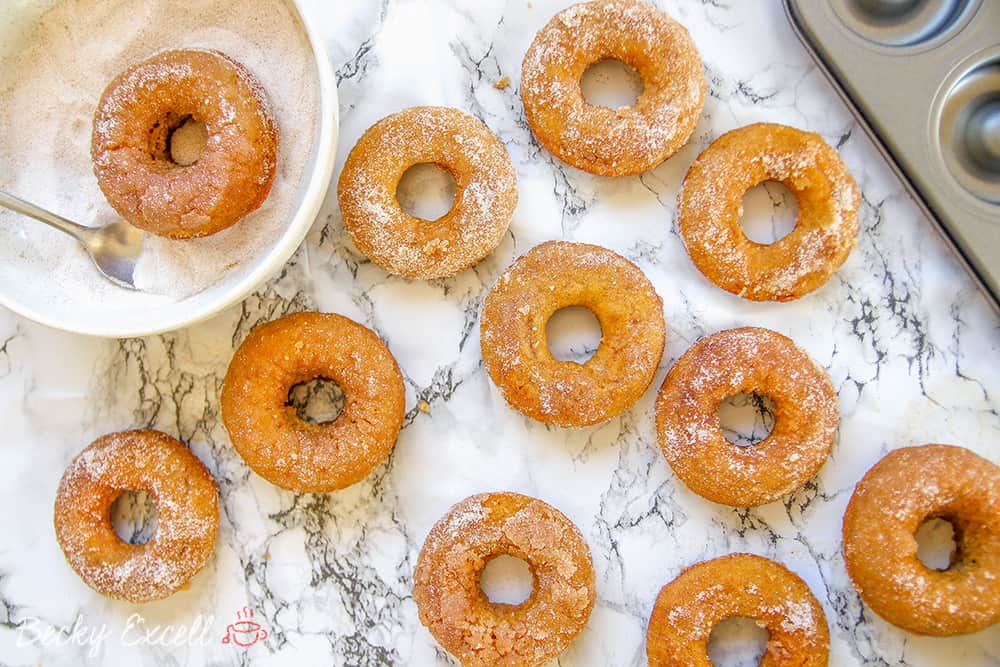 But why on Earth have I called them my '30k' doughnuts, I hear you ask?
No, that's not how many one batch makes (though it probably isn't far off how many I could eat in one go) it's how many followers I have on Instagram!
Yep, that's right, I finally hit 30k last month and I thought I'd create a special recipe to say thanks to everyone who has supported me on Instagram, here on my blog and every other channel too!
I only started blogging to help other people find products they can eat and share recipes that people really miss. I never knew it would become my job 5 years later!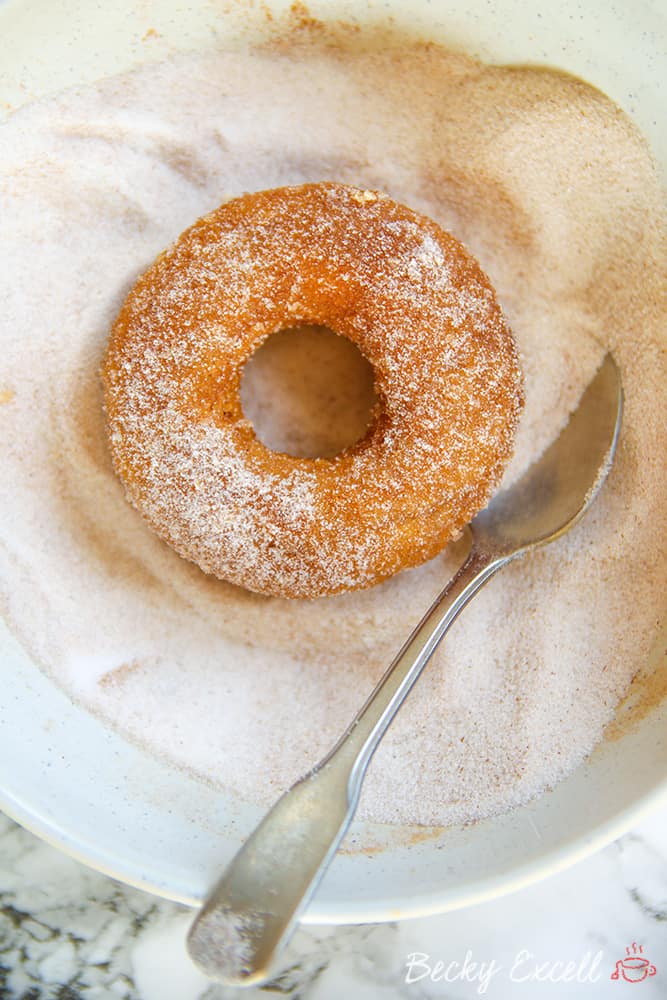 Before you start getting your ingredients out of the cupboard, you are gonna need one thing you might not already have… a doughnut tray! Click here to check out the one I used from Amazon.
I have seen them on sale in Sainsbury's too but the holes for the doughnuts were much smaller. Bear that in mind when baking as smaller ones will cook faster.
It really is worth the few quid investment as I've used mine tons of times since buying one. I'm actually going to buy another one soon so I don't have to bake just six at a time!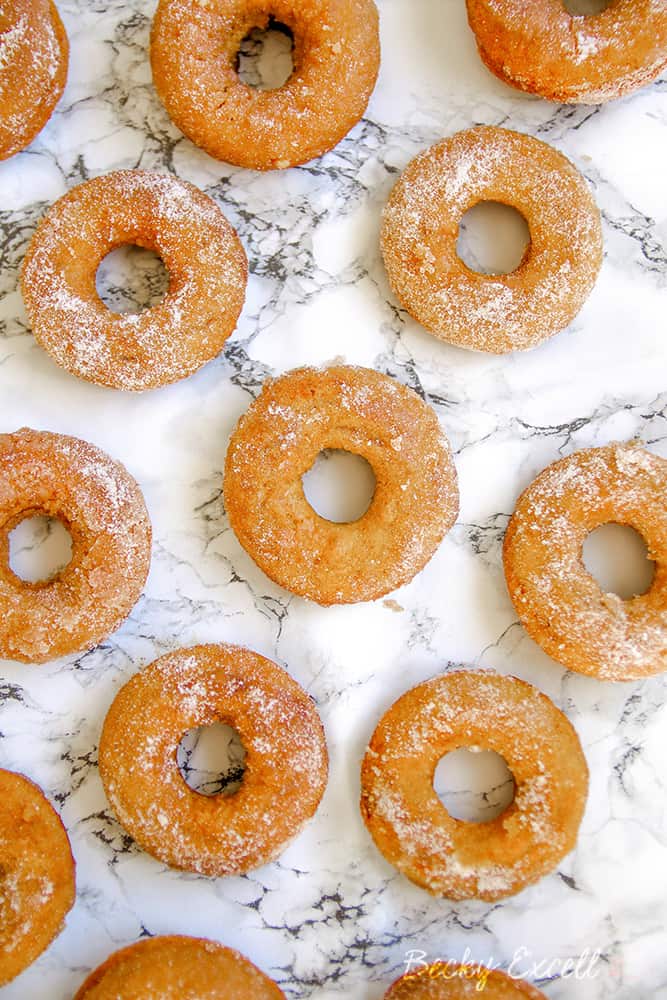 So how do my gluten free doughnuts taste?
They're incredibly light and airy – like biting into the softest doughnut you've ever tasted. Baked doughnuts are less 'bready' than deep-fried, jam doughnuts (plus they're a lot more pleasant to make) and so much lighter.
The cinnamon and sugar coating is the icing on the cake (or the sugar on the doughnut) and gives them that unmistakable donut taste.
If you've not had a good doughnut in years, then be prepared to have your mind blown!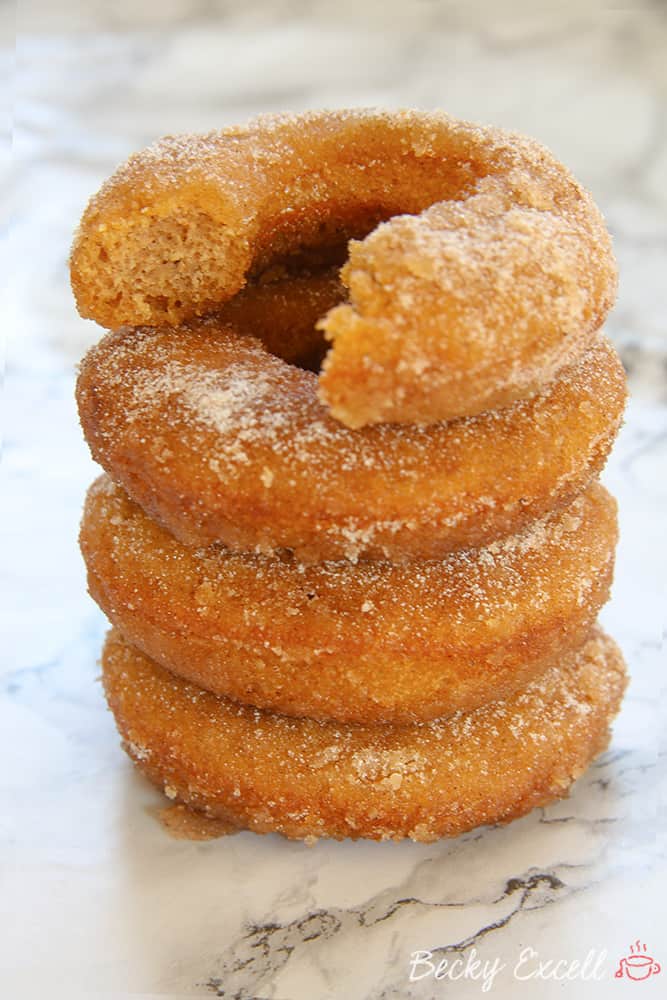 My best advice would be not to overfill your doughnut tins with your doughnut batter.
They should rise twice as high so if overfilled, you might lose the hole in your doughnut as it rises above the tray!
(it's not a big deal if you do, you can sort of just make a hole again after they're baked and cooled – no one would ever know)
I think you're now ready and prepared to make my gluten free cinnamon sugar baked doughnuts!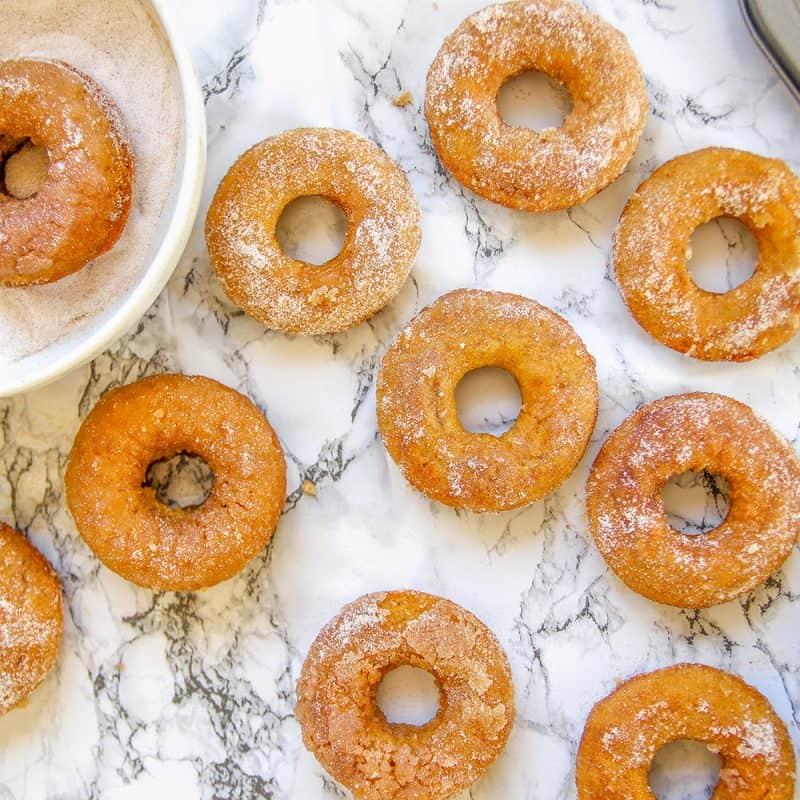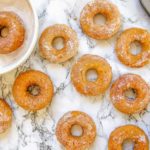 Gluten Free Cinnamon Sugar Baked Doughnuts Recipe (dairy free, low FODMAP)
Ingredients
For the doughnuts
250g gluten free plain flour

2 tsp baking powder

1/2 tsp bicarbonate of soda

1/4 tsp xanthan gum

1/2 tsp salt

1 tsp cinnamon

1/2 tsp ground nutmeg

120g plain yoghurt

dairy free or lactose free if necessary - lactose free for low FODMAP

120ml milk

dairy free or lactose free if necessary

2 large eggs

130g light brown sugar

60g dairy free margarine/spread

melted (you can use if dairy isn't an issue, butter is also low FODMAP)

3 tsp vanilla extract
For the cinnamon sugar
300g caster or granulate sugar

2 tsp cinnamon

175g dairy free margarine/spread

melted (you can use if dairy isn't an issue, butter is also low FODMAP)
Instructions
Prepare your doughnut tins (I just grease mine with a little spread or oil) and preheat your oven to 180C.

Combine your gluten free flour, baking powder, xanthan gum, bicarbonate of soda, cinnamon, nutmeg and salt. Put to one side.

In a separate bowl whisk together your eggs, brown sugar, yoghurt and milk until smooth.

Then add your spread/margarine and vanilla and give a further whisk.

Spoon / pour your wet ingredients into your dry ingredients and mix together until combined. I do use my electric whisk here, but only briefly as you don't want to over whisk.

Spoon the mixture into the doughnut holes. I did this by just using a teaspoon and taking my time but you could pipe the mixture in too. Only fill each doughnut hole just over half full.

Place in the oven for 10 minutes. The doughnuts should be nicely golden when done.

Cool in their tins for a while and then gently remove onto a cooling rack. (I found I needed to ease mine out with a knife)

For the cinnamon sugar, combine the cinnamon and sugar in a bowl. In a separate bowl have your melted spread/margarine.

Either dunk or brush your doughnuts in the spread/margarine and then immediately dunk or sprinkle them in the cinnamon sugar. Enjoy!
Notes
* This amount will make quite a lot of doughnuts, so I would recommend if you only have one tin to half the ingredients 🙂
* As always with doughnuts they are best served on the day they are made but I find these still to be quite good for a few days!
* You can also top these with whatever you like, it doesn't have to be cinnamon sugar!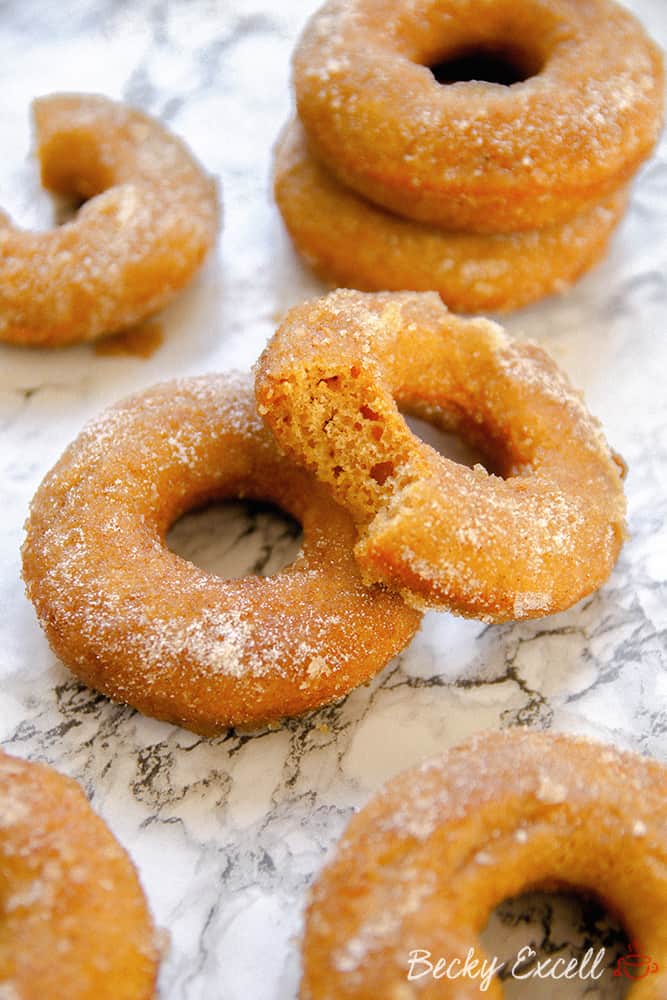 Thanks for reading how to make my gluten free cinnamon sugar baked doughnuts recipe! If you make them, I'd love to see how they turned out. So absolutely make sure that you send me a pic using my social media links below…
Any questions about the recipe? Please do let me know by leaving a comment below or on Facebook / Twitter / Instagram!
Thanks for reading,
Becky xxx
Oh and don't forget to pin this for later!