It's time to shake things up with my gluten free Shakshuka recipe! It's not only easy to make, but it's also the perfect light lunch or dinner you've been searching for. This recipe is low FODMAP and dairy free too.
What on Earth is a Shakshuka you might ask? Well, it starts with a beautiful, chunky base of spiced tomatoes and ends with perfectly poached eggs cooked right in the middle of it. It's such an easy way to turn a few basic ingredients into something mind-blowing in no time!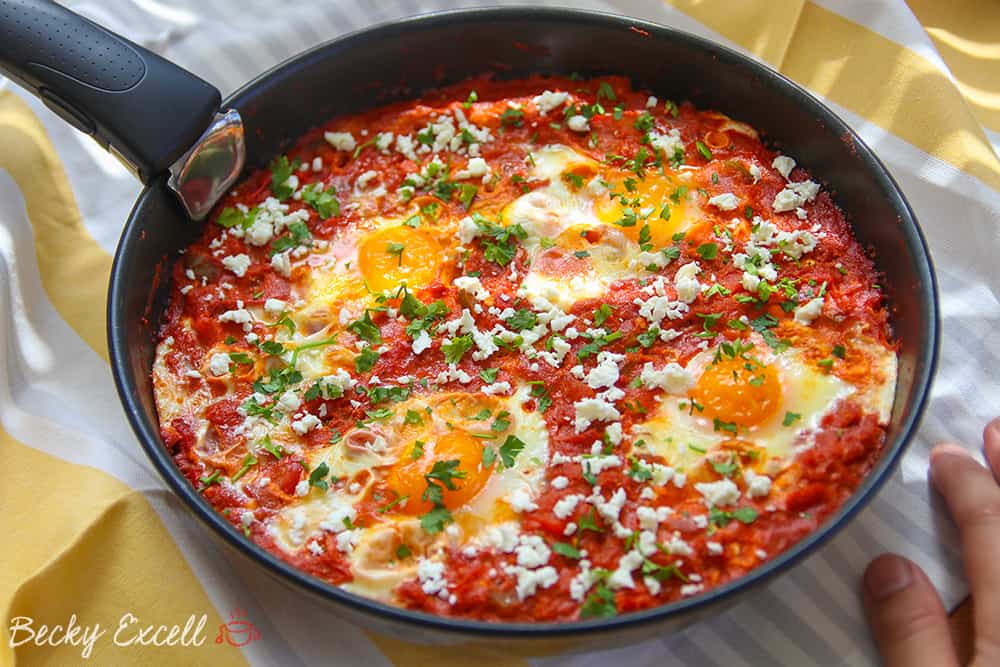 To add a little twist (but whilst still keeping it dairy free) I threw in dairy free feta cheese in and top of my gluten free Shakshuka. Trust me – it's the icing on the cake!
(or the slightly lesser used idiom – the dairy free Feta on the Shakshuka. I think it could really catch on!)
Having been regular buyers of dairy free cheese for several years now, there's one mega-important thing we look for apart from taste – meltability.
(is that a word? I just can't imagine a serious scientist saying it with a straight face)
Back in the day, Mark and I used to look on with disappointment as our vegan cheese actually became crispy instead of melting. We felt cheated!
But these days, dairy free cheese has come a long way and comes in all different shapes and sizes – even Feta!
So I melted some into my tomato base for some added depth of flavour – just like you would with dairy cheese! It might sound silly, but being able to use dairy free cheese like you would with dairy cheese is actually quite big ask apparently!
Of course, I couldn't resist crumbling some on top as a finishing touch too. Pure perfection on a plate.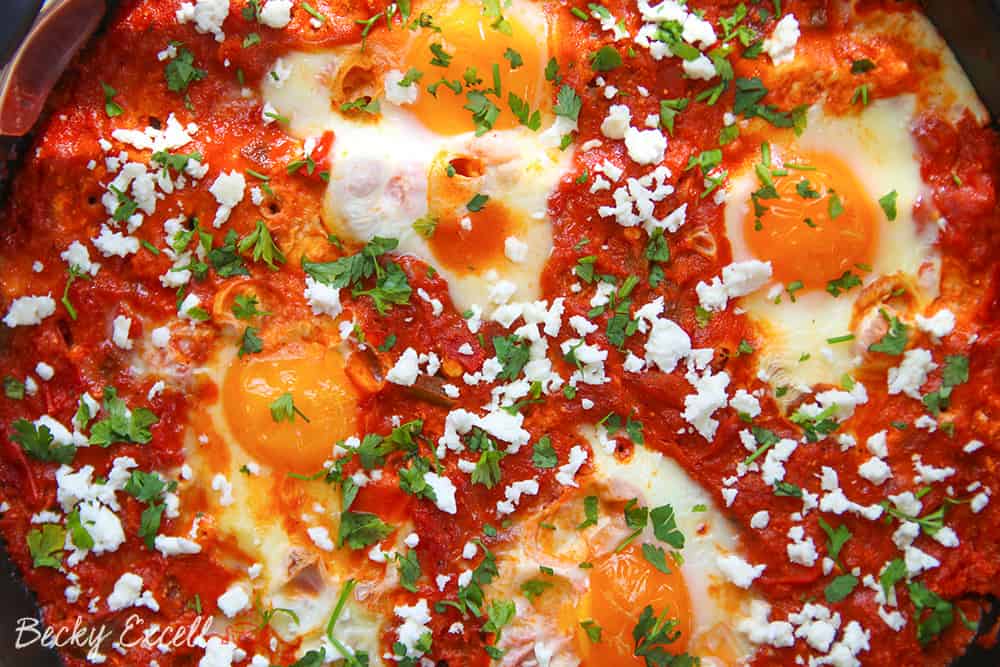 So… how do you eat your gluten free Shakshuka? Well, you can just serve it up as is and eat it – it's so easy to reheat too and take around with you in a little lunchbox.
When I'm at home, I love eating it with toasted gluten free pitta bread so I can dip them in the sauce! Trust me, it's oh so goooooooood.
Mark loves having his on toast or with toasted ciabatta, it looks absolutely insane when he serves his up. It's probably like the best brunch/lunch/dinner you can imagine.
But in reality, anything goes – so be creative and send me a pic of how you eat yours!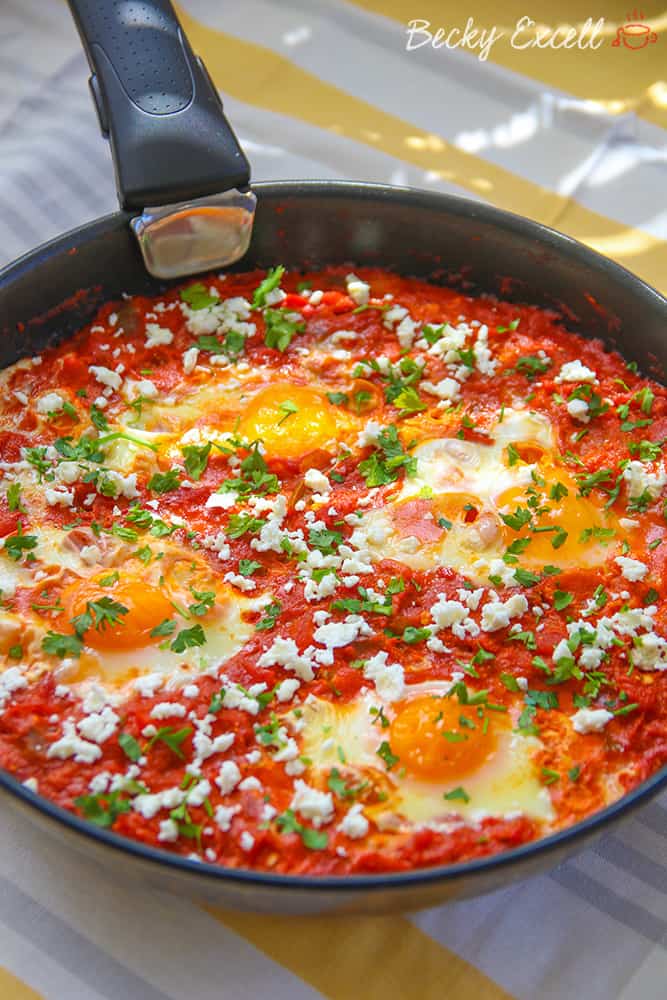 Right, so I think it's about time I shake things up with my gluten free Shakshuka recipe. Of course, it's dairy free and low FODMAP too!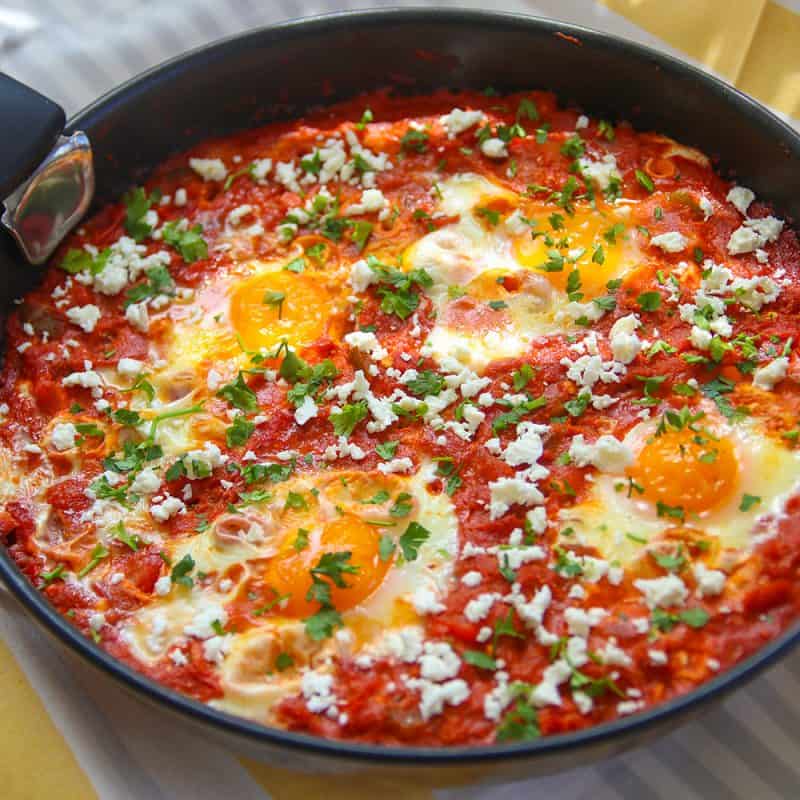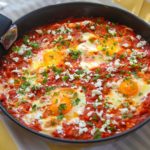 Gluten Free Shakshuka Recipe (low FODMAP, dairy free)
Say hello to my gluten free Shakshuka recipe! It's so easy to make at home and it's dairy free and low FODMAP too. This one has added Feta for a little extra kick!
Ingredients
1 red pepper

1 green pepper

garlic infused oil

for frying

1 tsp cumin

1 tsp paprika

1/2 tsp cayenne pepper

1/2 tsp asafoetida

make sure it's gluten free

800g chopped tomatoes

2 tins

1 tsp sugar

50g feta cheese

dairy free or lactose free if required

4 eggs

fresh parsley

chopped

a little extra feta cheese

dairy free or lactose free if required

salt and pepper
Instructions
Chop both your peppers into small chunks and fry in garlic infused oil until slightly softened.

Add your cumin, paprika, cayenne pepper, asafoetida, chopped tomatoes and sugar to the pan.

Stir them all in and reduce your heat to a simmer (no lid) for around 10-15 minutes or until the mixture has thickened up. Season with salt and pepper.

Crumble in your dairy free feta cheese and stir again. Allow to cook for a few minutes.

Crack your eggs one at a time into a jug and before pouring your egg into your Shakshuka, make a little well in the mix for each egg.

Carefully pour each egg into it's well.

Allow to cook for about 7 minutes, until the egg whites are not translucent but the yolks are not overdone. (Tip - if your egg whites are not 100% cooked you can either keep cooking on the hob or very briefly place under the grill (for less than a minute!)

Remove from the heat. Finish with a sprinkling of fresh parsley and some crumbled dairy free feta cheese.

Serve up with fresh gluten free bread (pitta breads work well too) and enjoy!
Notes
If you want to make this ahead of time, you can make the tomato part. Then when you want to eat it, reheat the tomato sauce and crack the eggs in at this point.
A low FODMAP portion size serving would be about an 1/8th of the sauce, but you can have as many eggs as you like! We always serve this up with a few other things and lots of gluten free bread so it's more than enough 🙂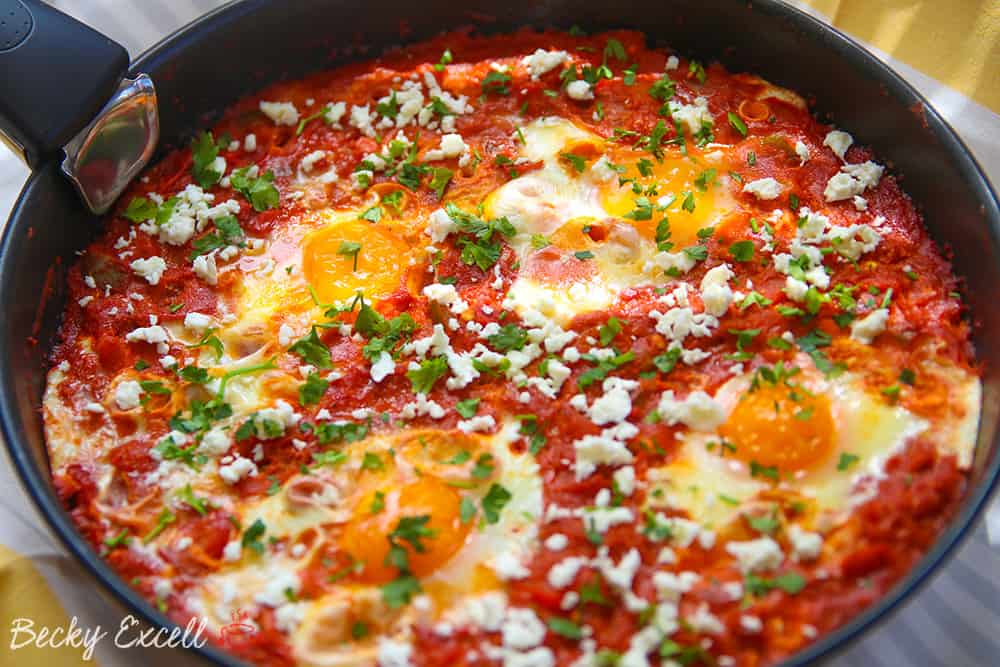 Thanks for reading how to make my gluten free Shakshuka recipe! If you make it, I'd love to see how it turns out. So absolutely make sure that you send me a pic using my social media links below…
Any questions about the recipe? Please do let me know by leaving a comment below or on Facebook / Twitter / Instagram!
Thanks for reading,
Becky xxx
Oh and don't forget to pin this for later!