My gluten free cheesecake brownie recipe is so incredibly fudgy, gooey and it's packed with fresh raspberries. What more could you want? It's dairy free and low FODMAP too!
Remember when I said I was trying to restore the name of gluten free brownies? Well, I'm still at it! Next up is my raspberry gluten free cheesecake brownie recipe and I'm definitely not holding anything back now.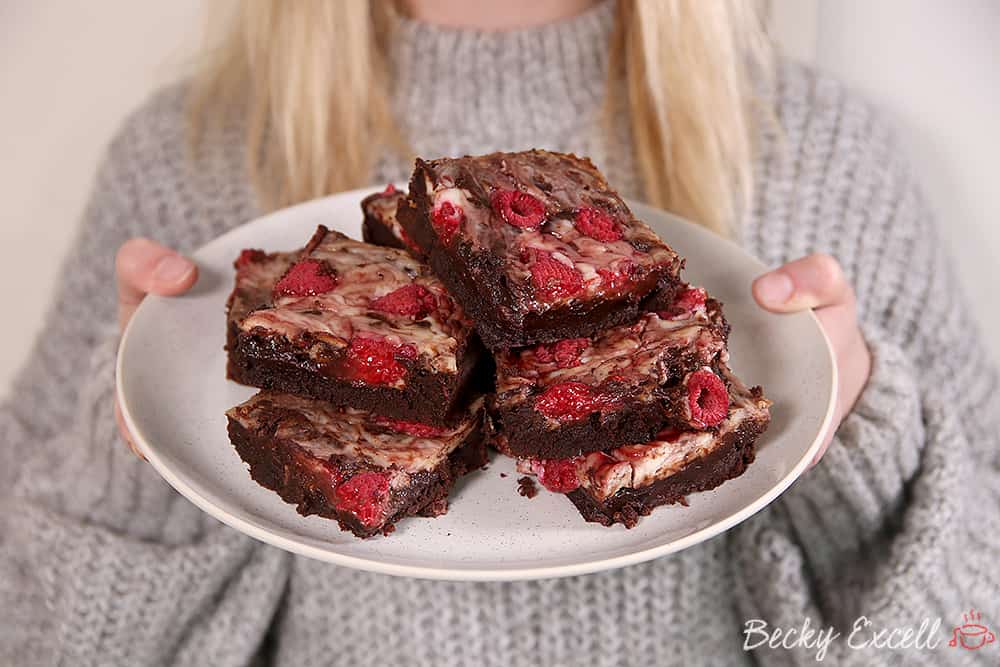 I could have just stopped at gluten free brownies, but where's the fun in that? My gluten free cheesecake brownie recipe is a luxurious, decadent way to elevate the humble brownie to the heights of dessert perfection. Ooh, that sounded good didn't it?!
The dairy free cheesecake layer is light, sweet and almost fluffy. It works so well against the rich, intense, chocolatey brownies hiding beneath. It's one of my all time fave combos.
And we haven't even talked raspberries yet!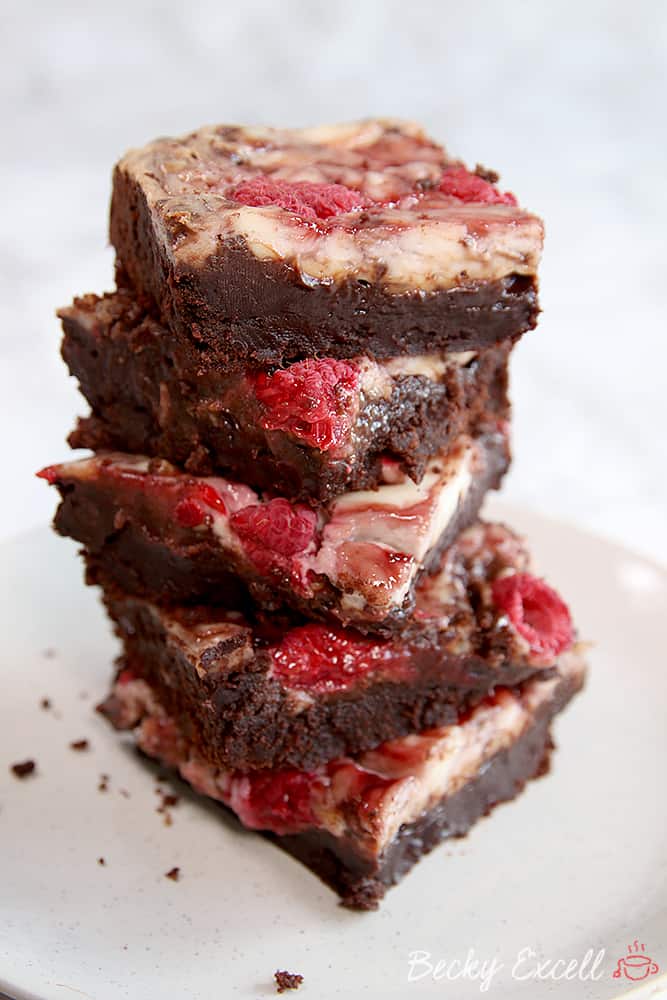 I absolutely love the injection of colour that fresh raspberries give and the instant zing that raspberry coolis brings to the 9 inch, square party. My raspberry gluten free cheesecake brownie recipe just wouldn't be the same without a good raspberry.
So, has the good name of the much maligned gluten free brownie been restored yet?! No? I guess I'll continue then…
I guess I just really wanted to show you guys how simple it is to take my original gluten free brownie recipe and mix it up any way that you wish. That's exactly what I did with my gluten free peanut butter brownie recipe recently too.
There really is no limit to my gooey, fudgy brownies (apart from the limit of how many you can eat in one go).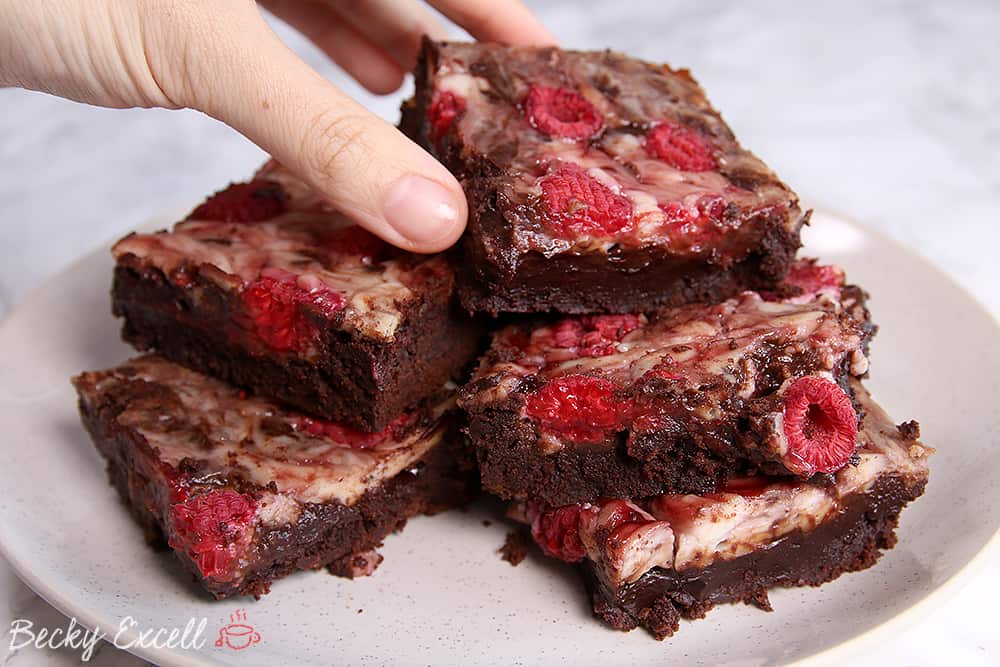 If I had to choose one recipe to prove that gluten and dairy free food kicks ass as much as anything else, I think this would have to be it. My raspberry gluten free cheesecake brownie recipe just doesn't need gluten or dairy to be awesome. A bit like me and Mark!
My go-to dairy free cream cheese for baking is Tofutti as it never fails to nicely firm up and the texture is brilliant. If you experiment with different dairy free cream cheeses, do let me know how they turn out.
Most people might see losing the dairy as a compromise, but after one bite of these brownies… you'll believe me when I say that it definitely isn't!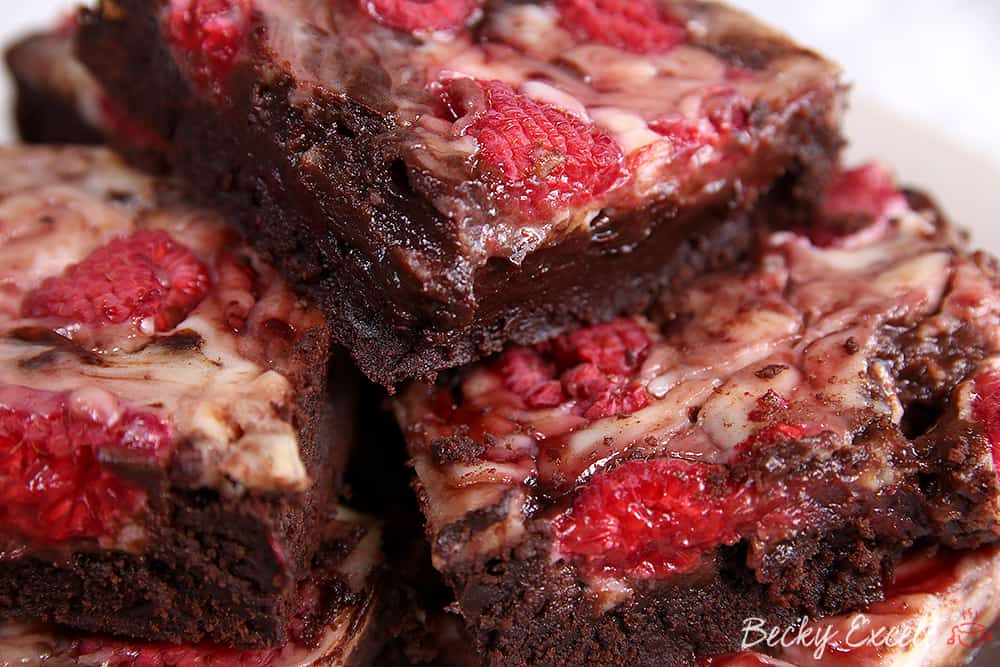 I hope we're now past the era where gluten free baking was always thought of as being dry, crumbly and stodgy. It really doesn't need to be, so please don't accept anything less in 2018.
You only have to look at the photos to see how insanely gooey and fudgy my raspberry gluten free cheesecake brownies are. That's definitely not something that Mark thought he would ever be able to eat again!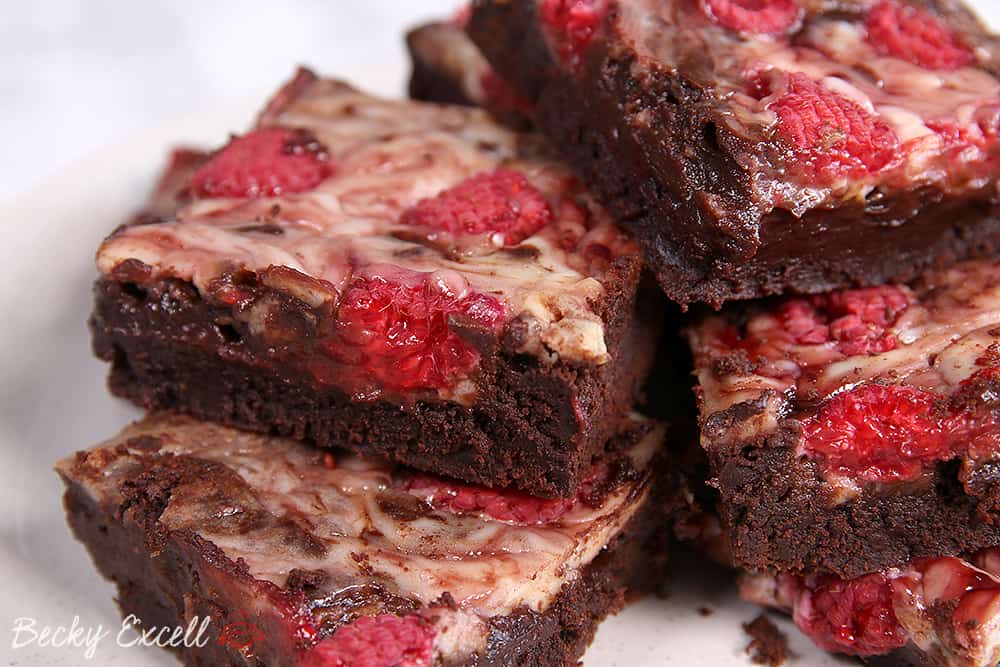 Well, it sounds like you're ready to give my raspberry gluten free cheesecake brownie recipe a try for yourself. So here it is!
Raspberry Gluten Free Cheesecake Brownie Recipe (dairy free & low FODMAP)
Ingredients
For the brownie layer
90g gluten free plain flour

50g cocoa powder

200g dairy free hard margarine

200g dairy free dark chocolate

3 eggs

280g golden caster sugar
For the cheesecake layer
225g of dairy free cream cheese

I use Tofutti

55g of granulated sugar

1 large egg white

1/2 tsp vanilla extract
For the raspberry coolis
225g raspberries

2 tbsp granulated sugar

1 tbsp lemon juice
Last but not least
2 handfuls of raspberries
Instructions
Melt together your dairy free hard margarine and dairy free dark chocolate over a bain marie until completely melted. Mix together and leave out to cool down to room temp.

Sieve together your cocoa powder and gluten free flour in a bowl. Mix briefly until combined, put to one side.

In another bowl, crack 3 eggs and pour in your golden caster sugar. Beat together (I use an electric hand whisk) until pale in colour and almost a little frothy.

Once the chocolate and margarine mixture is cooled to room temp, pour it into your egg/sugar mixture. Fold it in, it will initially marble and then turn super chocolatey.

Next fold in the your gluten free plain flour and cocoa powder mix. Ensure it's fully folded in.

Pour/spoon your brownie mixture into a prepared tin, smooth it over so it's even and level. (I used a 9" square loose bottom tin with a little parchment/baking paper in the bottom)

In a separate bowl, add all your cheesecake layer ingredients and whisk together until well combined and fluffy. Put this to one side while you make your coolis.

Add your raspberry coolis ingredients to a blender and blend until consistent. Then strain the mixture through a sieve into a bowl.

Start to dollop your cheesecake mixture on top of your brownies in heaped tablespoons (I managed about 9 even dollops). Then add multiple teaspoons of raspberry coolis on top too (about 9 teaspoons).

Lastly, swirl the mixture around using a chopstick or a knife into a beautiful pattern. Then add your fresh raspberries as a finishing touch.

Bake for about 40 mins at 175C. Cooking for this amount of time at this temp should create incredibly fudgy brownies.

Important!! Allow to cool completely before touching them!! Slice them up and enjoy!
Notes
Make sure it's a loose bottom tin or you won't be able to get your brownies out without destroying them!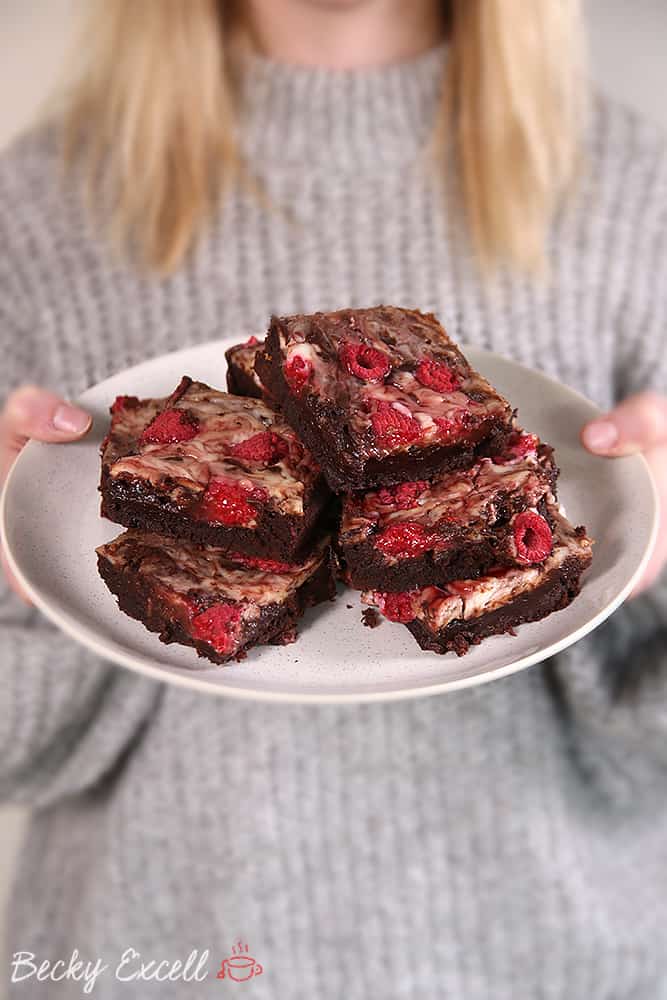 Thanks so much for checking out my raspberry gluten free cheesecake brownie recipe! After years of being tired of the sight of gluten free brownies, I'm now an absolute addict. I intend to make as many different brownie variations as I possibly can!
Any questions about the recipe? What different types of gluten free brownies would you like to see next? Cheesecake? Orange? Mint? Please do let me know by leaving a comment below or on Facebook / Twitter / Instagram!
Thanks for reading,
Becky xxx
Oh and don't forget to pin this for later!