Nothing gets me up and out of bed in the morning faster than the thought of my gluten free and vegan blueberry porridge recipe. Well, my alarm does an ok job too I guess. It's low FODMAP FYI (the recipe, not my alarm).
I always see beautiful bowls of porridge goals on Instagram, but whilst my stomach says "mmm, I'd eat that", my brain replies "if you eat that, you'll end up with a stomach ache." So that's how my gluten free and vegan blueberry porridge recipe came to exist!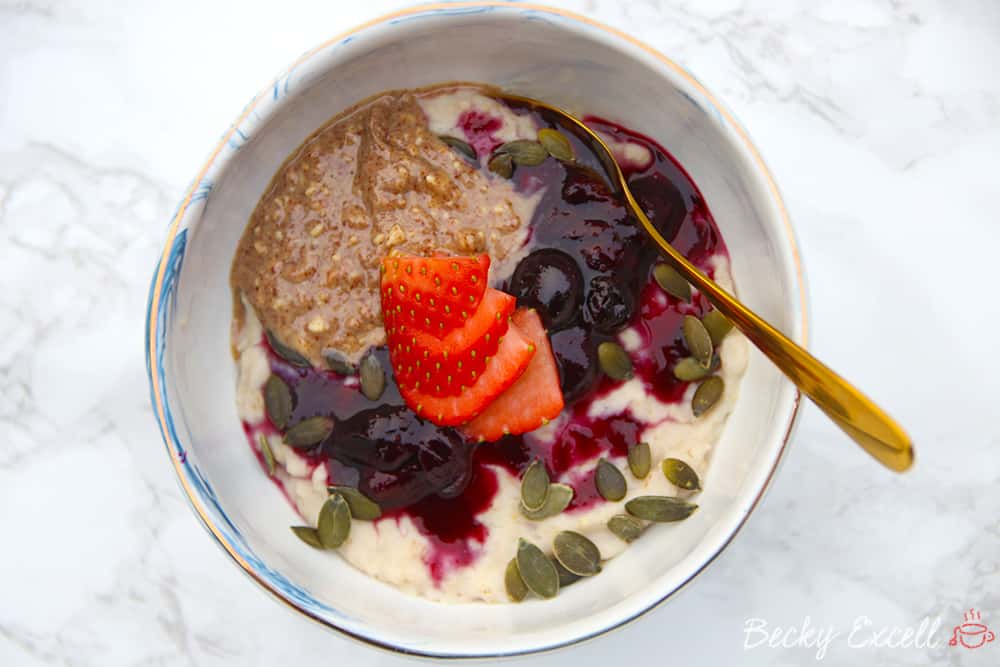 Let's be real here. If you can tolerate oats, porridge is like one of the most kickass breakfasts you could possibly have. Its slow releasing energy keeps you perky throughout the day and stops you getting hungry about 5 minutes after breakfast.
But even though I used to love plain, steaming hot porridge with a splash of cold milk as a kid, porridge is a wonderful blank canvas. It's so easy to throw fresh fruit, seeds and other awesome toppings like peanut butter on top, but today, I thought I'd push the boat out.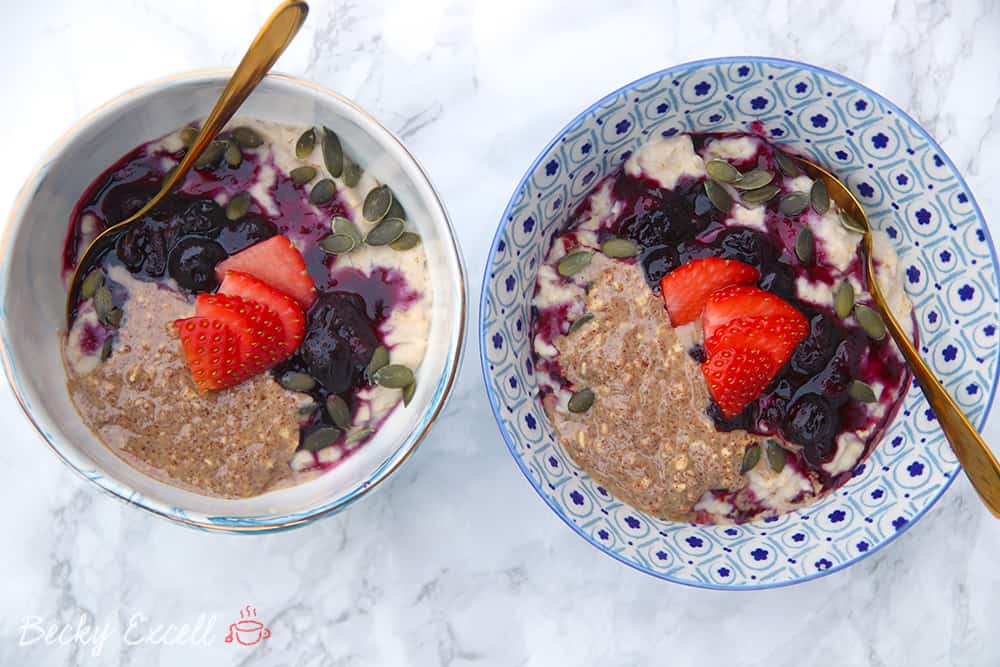 My boat pushing came in the form of a lovely, stupidly simple blueberry compote topping! Being honest, I'm usually so hangry in the mornings that I can barely wait long enough to heat my porridge, let alone make something else too.
But don't worry! The compote takes about the same time to whip up as the porridge takes to cook, so if your multitasking is on point then it won't even take any longer. Bish bash bosh.
The rest of my gluten free and vegan blueberry porridge recipe then just relies on your ability to arrange it all nicely in a bowl. Nobody's judging you but… I will be judging you.
(but not if you don't send me a photo, because I'm not telepathic.)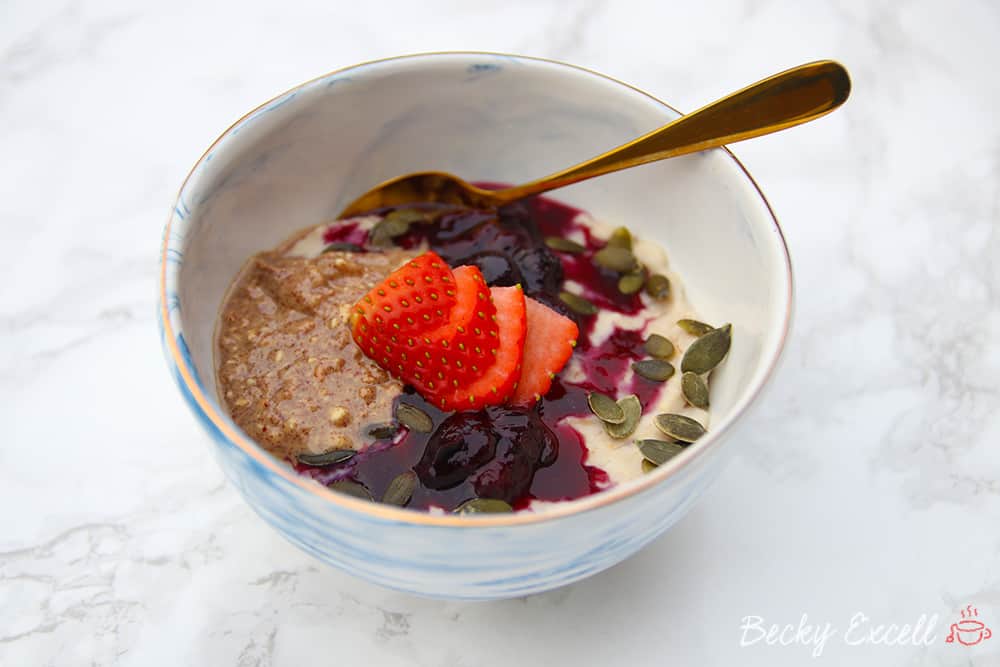 If you're quite well organised, I'd always recommend giving your gluten free oats a little soaking time in water for at least 20 minutes in advance too. It makes them easier to digest and my stomach needs all the help it can get!
Before we get to the actual recipe, here's a few tips for the FODMAPers among us…
If you're following the low FODMAP diet, be careful of how many blueberries you put in. A safe low FODMAP serving size of blueberries is 28g, or around 20 blueberries.
Throwing the strawberry on top might push your berry allowance over the limit, so I wouldn't go for more than one.
Now we're all straight with that, here's my gluten free and vegan blueberry porridge recipe!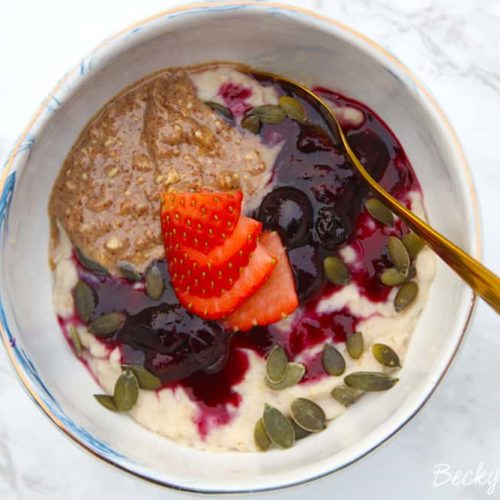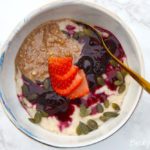 My Gluten Free and Vegan Blueberry Porridge Recipe (low FODMAP)
Ingredients
For the blueberry compote
28

g

blueberries

less than 28g if following low FODMAP

1

tsp

maple syrup

1

tsp

lemon juice

1

tsp

water
For your oats
50

g

gluten free oats

125

ml

water

125

ml

unsweetened almond milk
Toppings
Pumpkin seeds

Peanut butter

Strawberries

only one if you're following low FODMAP
Instructions
Add your oats and water to a saucepan and leave to soak for at least 20 minutes.

After 20 minutes, add your unsweetened almond milk to the pan and cook on a medium heat for 5 minutes.

In a second saucepan, add your blueberries, maple syrup, lemon juice and water. On a low heat, allow the berries to become soft and gooey and the liquid to reduce to be more like a syrup. This should take around 10 minutes.

Once your porridge is nice and thick and creamy, spoon it into your fave porridge bowl. Add your blueberry compote on top, sprinkle on some pumpkin seeds and finish with a strawberry.
Notes
It's a really easy recipe to scale up for extra people without any extra effort. Just double or triple the ingredients!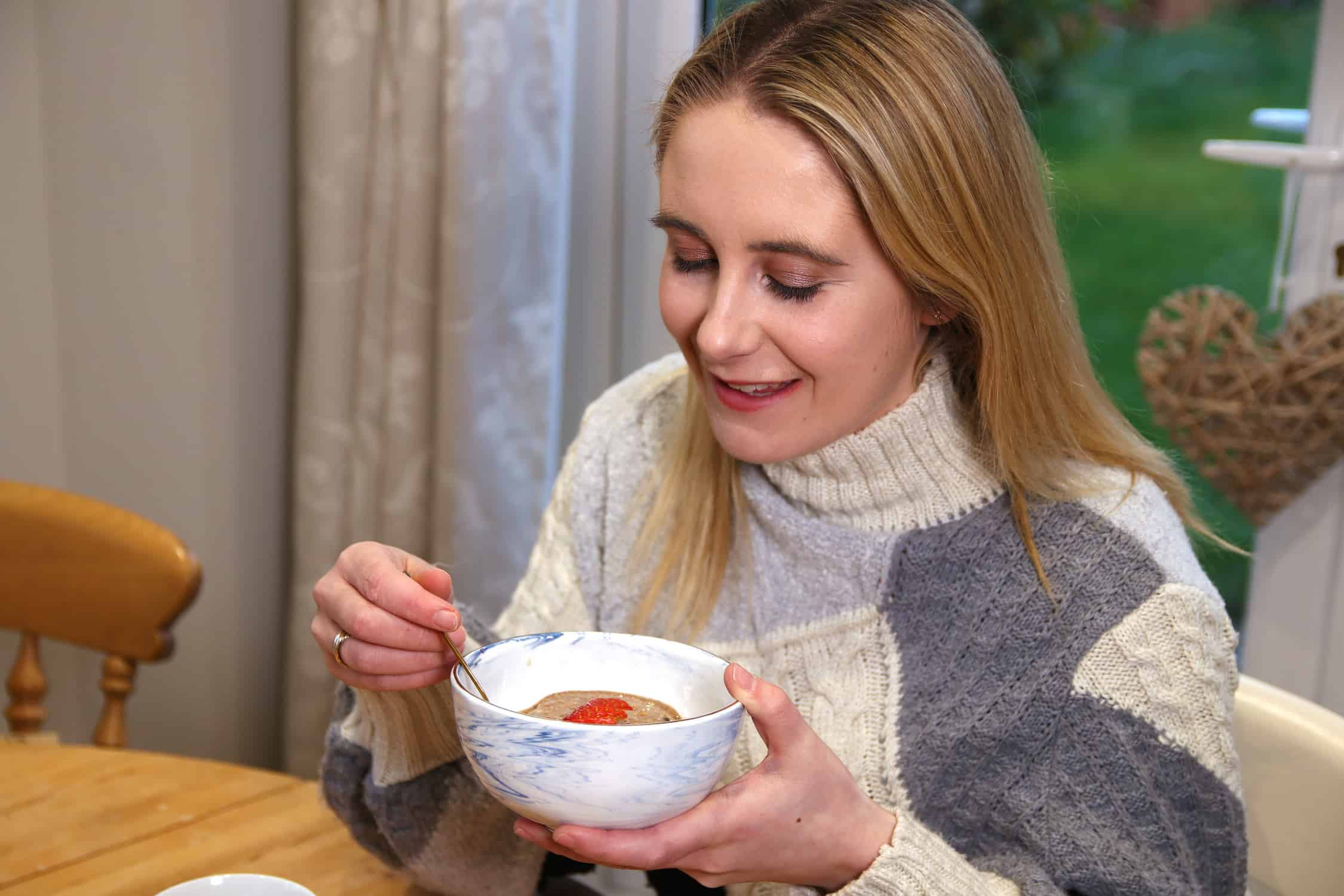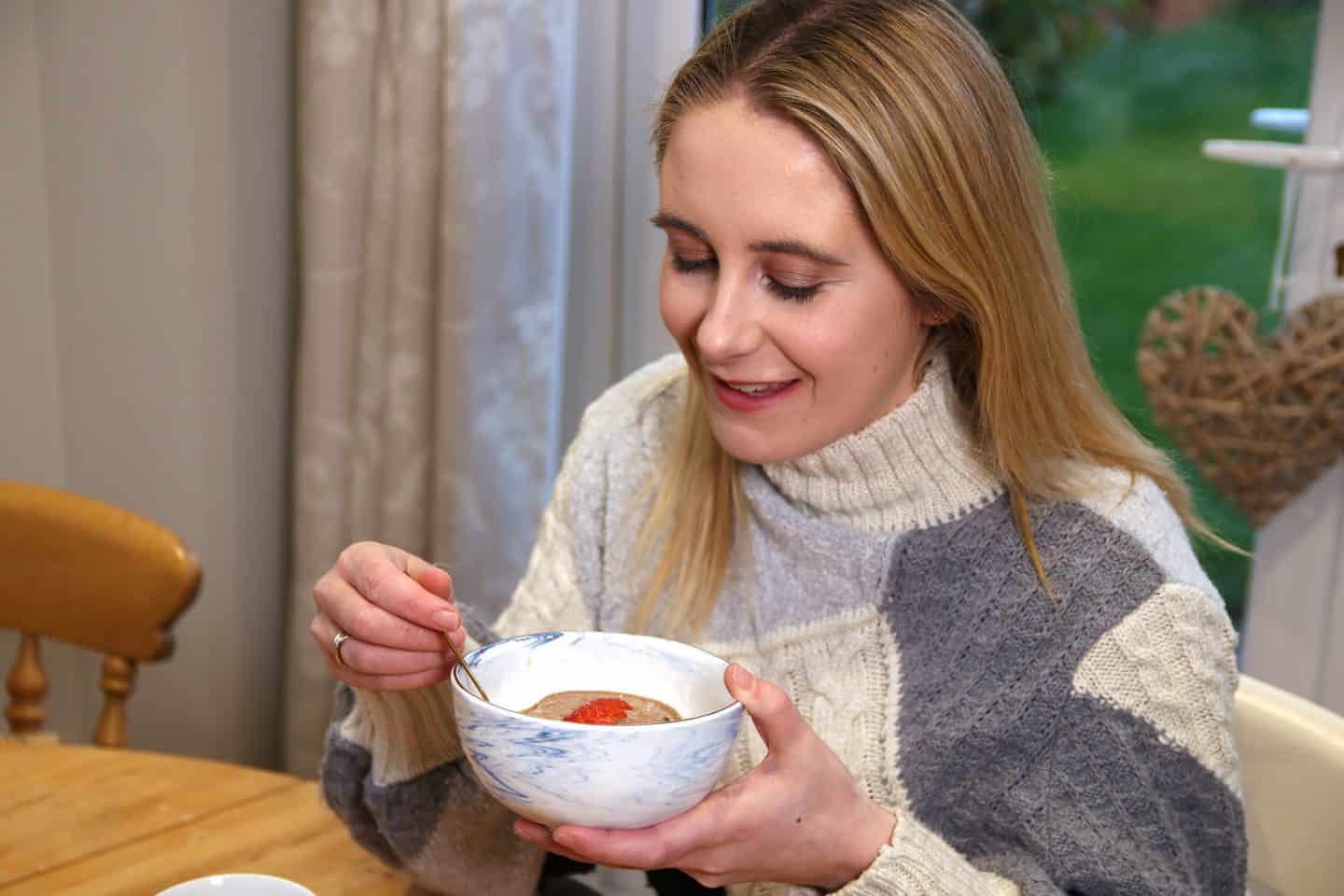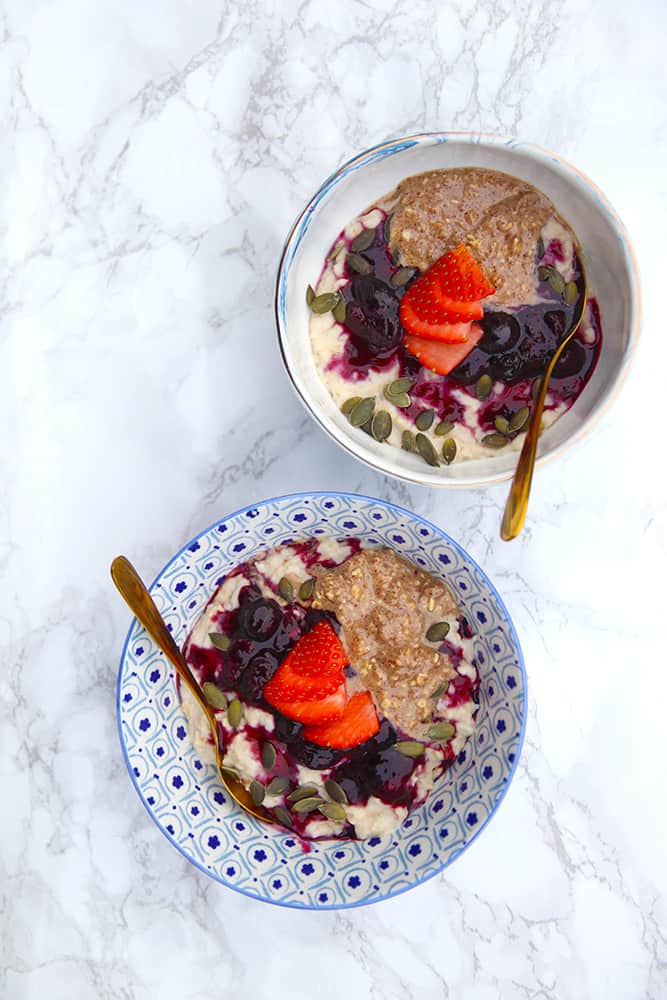 Thanks so much for checking out my gluten free and vegan blueberry porridge recipe!
Any questions about the recipe? How did yours turn out? Any tips on porridge topping inspo? I'm always looking for new flavour combos! I'd also love to see a photo of your blueberry porridge if you make it btw, so don't hesitate to get in touch on Facebook / Twitter / Instagram.
It seriously makes my day when I see that you guys have made my recipes so pleeeeeease share them!
Thanks for reading,
Becky xxx
Oh and don't forget to pin this for later!