Why is my no-bake, gluten free Chocolate O's cheesecake recipe so daring? Well, because it has real dairy in it of course! (get it? Daringly dairy?) So, apologies in advance Mark, but hands off this one!
Now I know a lot of my readers avoid gluten and are on quite good terms with dairy, yet a lot of free from products/recipes are often both gluten and dairy free. So when Schär handed me a pack of Chocolate O's, I knew that this recipe would be perfect for you guys! Their Chocolate O's are just another great example of Schär's wide variety of ever-expanding gluten free range. Quality and quantity I guess!
Say hello to my no-bake, gluten free Chocolate O's cheesecake recipe.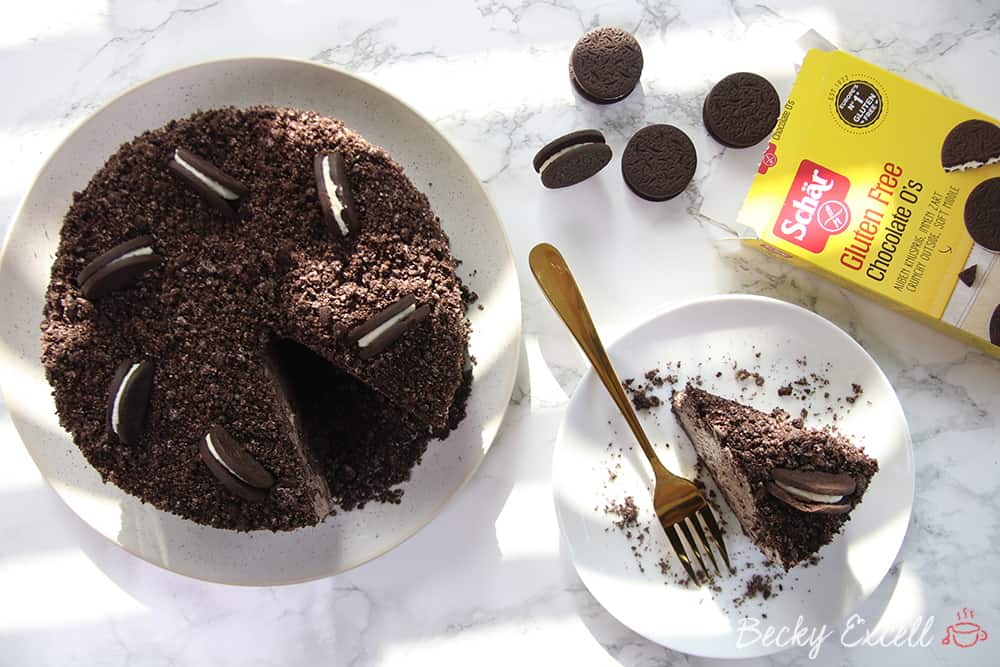 Now, I personally don't have much of a problem with dairy (it's one of the few things that doesn't seem to bother my stomach) but I often end up eating dairy free because Mark and I always eat the same meals. But every once in a while, you just can't help but crave a real, daringly dairy cheesecake and trust me, this is exactly what you need when those cravings kick in!
It's so decadent, creamy and smooth with the crushed up Chocolate O's in every layer. That's right. Every. Single. Layer! It's oh so chocolatey and the Chocolate O's give this cheesecake a wonderful crunch like you wouldn't imagine. I hope Mark isn't reading this right now as he's going to get serious food envy!
It reminds me of my many trips to the US on family holidays and with Mark. New York especially, just knows how to do cheesecakes better than any place on the planet. Once you've got a craving for one of those… well, there's just no going back! My gluten free Chocolate O's cheesecake was inspired by one I had in New York a few years ago. But no need to book your flights to NY just yet, I think I've nailed it guys!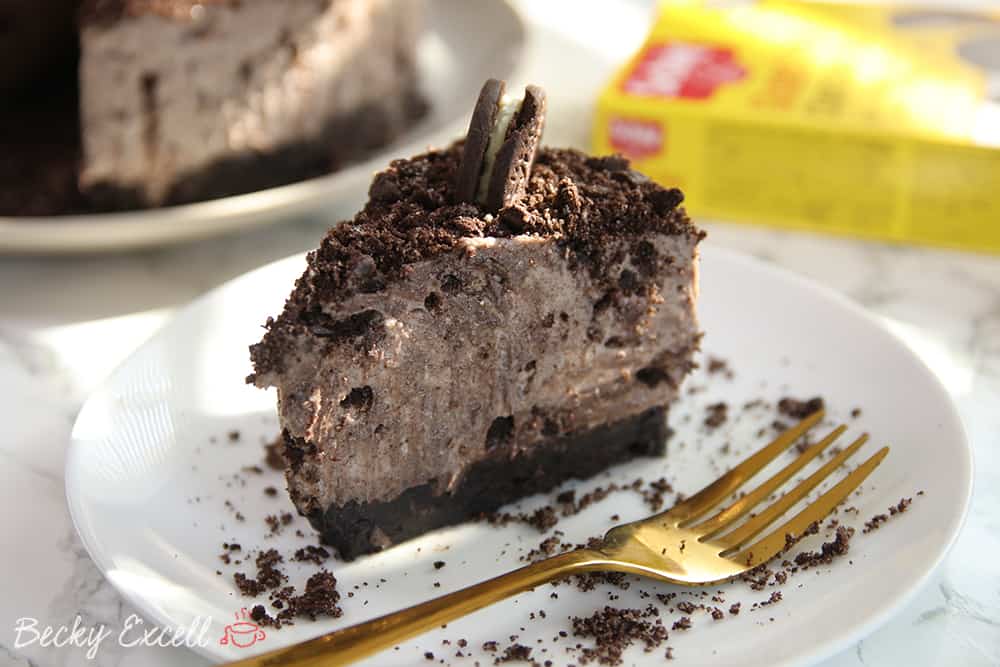 I've tried so hard to make a cheesecake without dairy that tastes this damn good, but to be honest guys, I'm struggling. Real dairy is so smooth and creamy and it whips up an absolute treat – you just can't beat it. I might feel like I'm cheating when I use dairy now, but this recipe really shows how quick, simple and easy baking should be!
I actually genuinely forgot that baking could be this easy since I'm so used to experimenting with dairy free alternatives – with and without success! I've tried to make a dairy free cheesecake out of blended cashew nuts, coconut milk, tofu cheese, soy cheese but I've never ended up with a recipe that I'm 100% pleased with. One day I'll get there, but this recipe is a shining example of what I'm truly trying to aim for!
Anyway, I guess it's time I introduced you to my no-bake, gluten free Chocolate O's cheesecake recipe…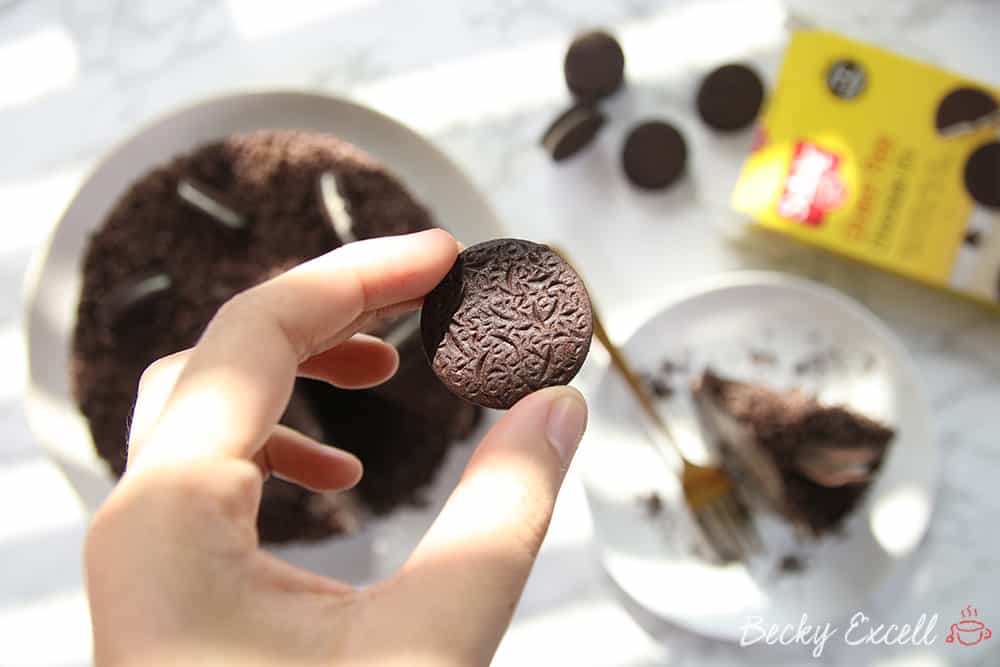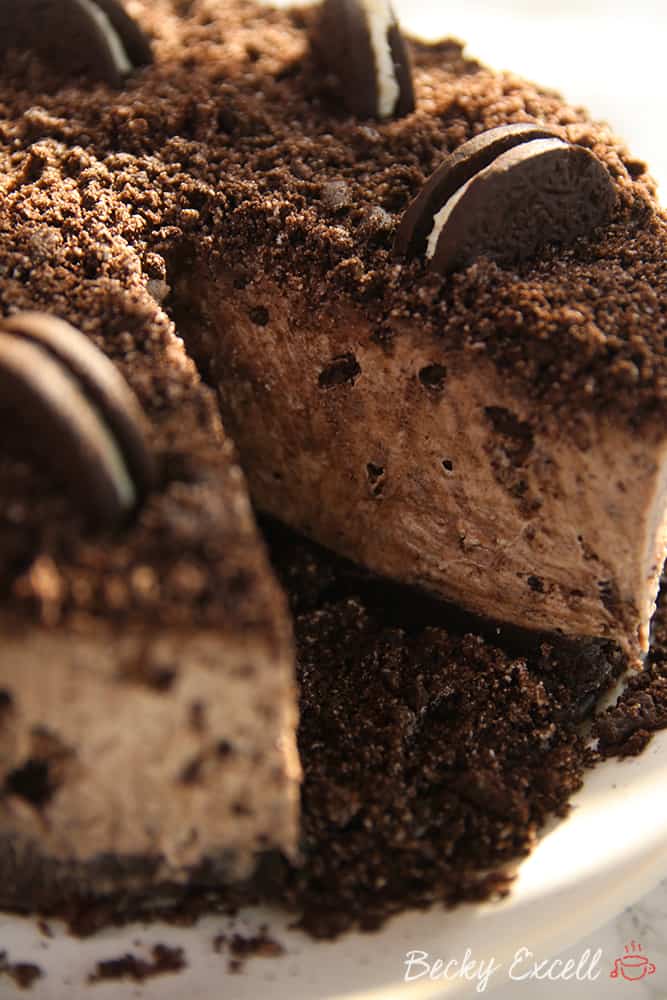 The biscuit base is made from crushed Chocolate O's and melted butter, which in my opinion is a worthy treat in itself. I'd quite happily have a bowl of ice-cream with that scattered on top if we're going full-on dairy here! But then, for the middle layer, you've got whipped double cream and cream cheese mixed with more crushed Chocolate O's. I'll give you a second to stop drooling… ok, let's continue.
Then you've got more crushed Chocolate O's on top with a few halved O's on top for daring decoration. Phew. Is anybody else getting hungry while reading this? The result is a cheesecake that's gluten free and truly zero compromise on flavour. Zero. I hope all you gluten free dairy addicts are already midway through making this recipe right now!
In case you were wondering, Chocolate O's liken a little to a certain American cookie brand – two chocolate biscuits with a cream filling in the middle. But of course, these are 100% gluten free thanks to Schär! I picked mine up in my local Waitrose.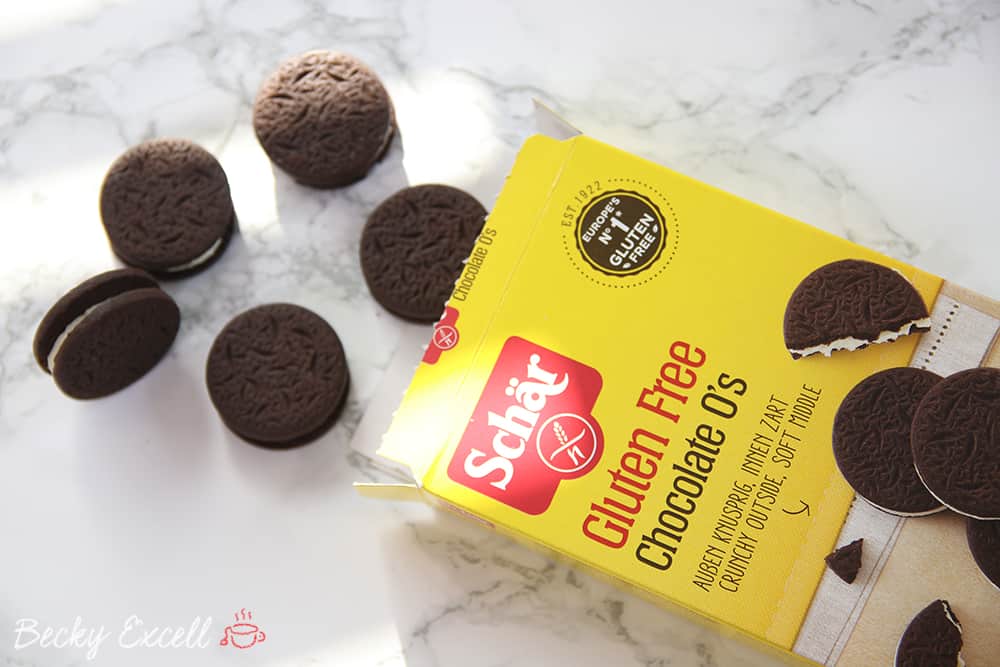 Since my gluten free Chocolate O's cheesecake is no-bake, all you need is a mixer and a fridge (as well as strong muscles to crush some Chocolate O's!) to prepare it. Make sure you've got a good Springform cake tin to hand too or you'll never be able to get your cheesecake out without destroying it! Of course, I would never do that now would I… oops.
All you need is a little patience between chill sessions and a little self control not to eat a Chocolate O every time you look at them (I failed here) and you'll be done in no time. I'd ideally leave your cheesecake to chill overnight though so you can make sure it's set nicely before you serve it up. Now that is a real test of self restraint.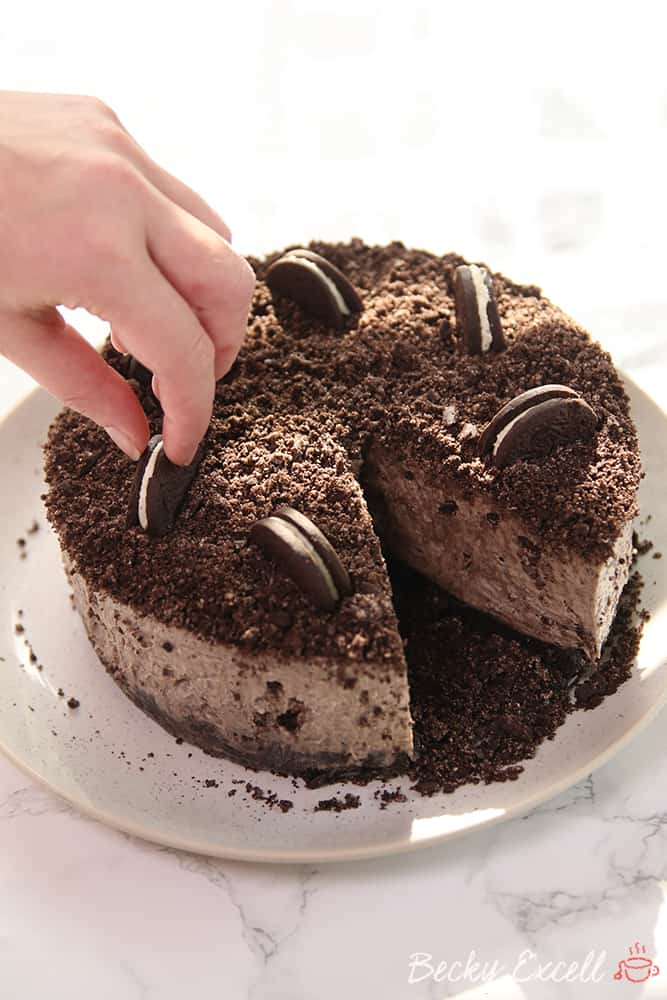 One piece of advice: don't under estimate how many packs of Chocolate O's you'll need. Maybe even consider picking up an extra pack in case you eat too many while baking! Well, without further ado, here's my no bake, gluten free Chocolate O's cheesecake recipe!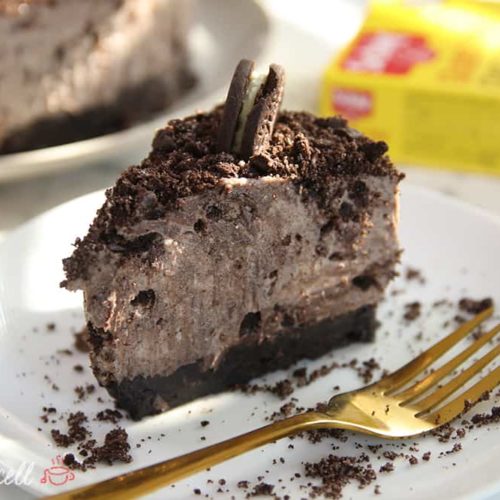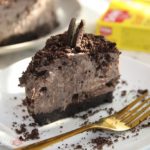 Gluten Free Chocolate O's Cheesecake Recipe
The most deliciously rich gluten free cheesecake. This one does have lots of dairy in it and it benefits all the more for it!
Ingredients
For the base
2 packets of Schär's Chocolate O's

that's about 330g

100g butter

melted
For the filling
750g Full fat cream cheese

125g Icing sugar

1 tsp Vanilla extract

300ml Double cream

1.5 packets of Schär's Chocolate O's

that's about 250g
For the topping
0.5 packet of Schär's Chocolate O's

that's about 80g

a few extra Chocolate O's just to finish off
Instructions
Firstly make the base. in a bowl crush 2 packets of your Schär Chocolate O's using a rolling pin. Crush both the biscuits and the filling can be crushed all together.

Add the melted butter to the crushed biscuits, mix together and then press into a deep loose bottom tin or ideally a spring form tin. (Mine was 8inches wide) Place in the fridge whilst you make your filling to chill.

For the filling start by mixing together your cream cheese, vanilla extract and icing sugar until smooth. (I used my KitchenAid for this but you could do it with an electric hand mixer or by hand if you fancy a workout!)

Add in the double cream and keep mixing until it firms up a little. (I had the KitchenAid on a medium setting for just under 2 minutes for this - try not to over mix though!)

Next crush 1.5 packets of your Schär Chocolate O's and fold them into the filling.

Spread your filling on top of the base and leave to chill in the fridge for around 5 hours but I like to make mine the day before and leave it to chill fully overnight.

Remove your cheesecake from the fridge and crush about half a packet of your Chocolate O's. Sprinkle them on top of the cheesecake whilst still in tin so they completely cover the top. Then remove the cheesecake from the tin and finish the decorating with some Chocolate O's cut in half on top!

Keep refrigerated until you are ready to serve!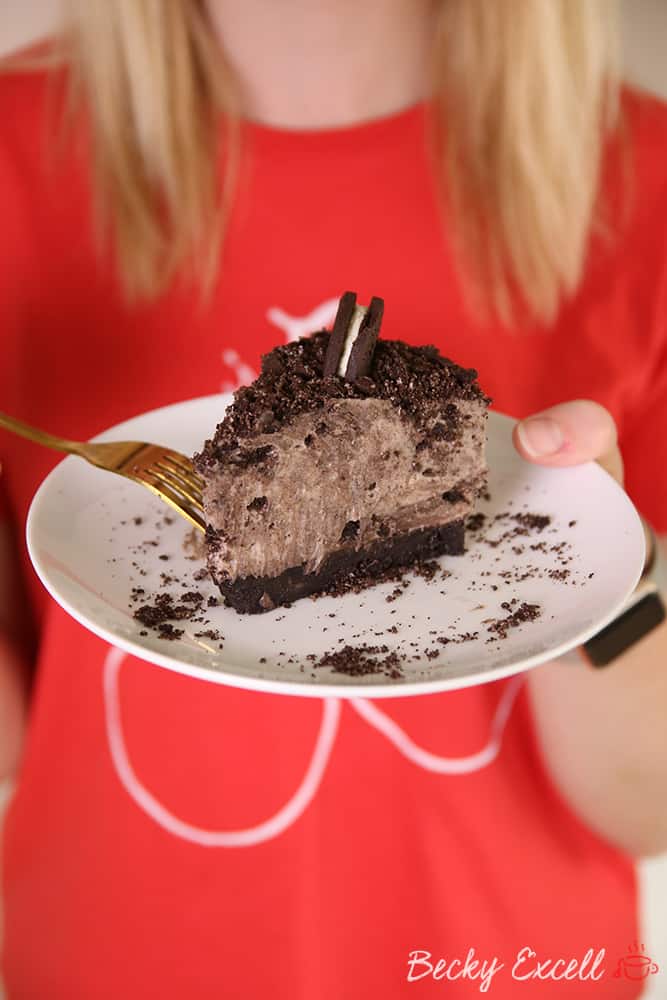 Thanks so much for checking out my gluten free Chocolate O's cheesecake recipe and thanks to Schär for making it possible. Schär is a company that's inspired by expert bakers with quality ingredients, so it's an honor to do a recipe collab with them!
For me Schär are the kings and queens of gluten free biscuits. I love how their range features so many of my childhood classics. Biscuits I never thought I would eat again are definitely back on the menu. As you can see the Chocolate O's rank highest for me. Creating this delicious gluten free Chocolate O's cheesecake was a joy, I mean, I had to keep tasting it to check it was ok the whole way through right?!
Did you try this recipe? Any questions? Please do let me know by leaving a comment below or on Facebook / Twitter / Instagram!
Thanks for reading,
Becky xxx
This is a sponsored recipe with Schär UK. Schär's Chocolate O's RRP £2.10.
Oh and don't forget to pin this for later!