Say howdy to my weekly meal prep recipes! Meal prep can be a massive lifesaver, time saver and if you've got allergies or intolerances, it's absolutely essential. That's why all of my meal prep recipes are 100% gluten free, dairy free and low FODMAP.
In case you didn't know, meal prep just means (partially or entirely) preparing your forthcoming meals of the week, ahead of time. This not only saves you time after a long day at work, but it can also save you money and take away the stress of eating on the go with dietary restrictions. If you've never meal prepped before then my weekly meal prep recipes are a great place to start, I promise!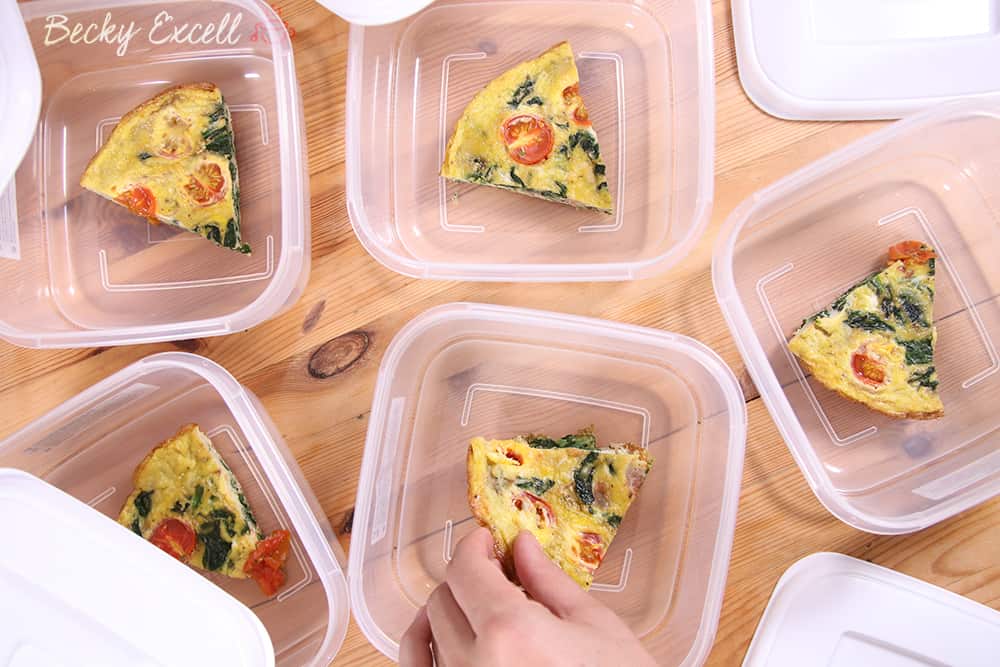 As we all know, eating out with food allergies or intolerances can be an absolute nightmare. Leaving the house unprepared (with only a pair of crossed fingers and a prayer that your dietary restrictions will be catered for) is a risk I'm no longer willing to take. I struggle to tolerate onion and garlic as well as gluten too, so eating out without meal prep is nearly impossible for me!
This is my rule on eating out: unless I've thoroughly researched where/what I'm going to eat when I'm out and about, I just bring food with me. It just gives me the security that I have something 100% safe. Then, I don't have to make food the centre of my universe that day. It negates all stress at meal times and that's priceless for me – then I can focus on work, or enjoying myself or whatever the reason was for leaving the house! But bringing food with you can often feel like a necessity rather than a choice and sadly, that's not a good feeling.
But my weekly meal prep recipes make me more than happy to bring my own food with me and people are often envious of what I pack in my lunchbox! With a little creativity, you can meal prep all of these recipes ahead of time and have the convenience of prepared food that's 100% safe and tailored to your diet. Meal prep is my hero.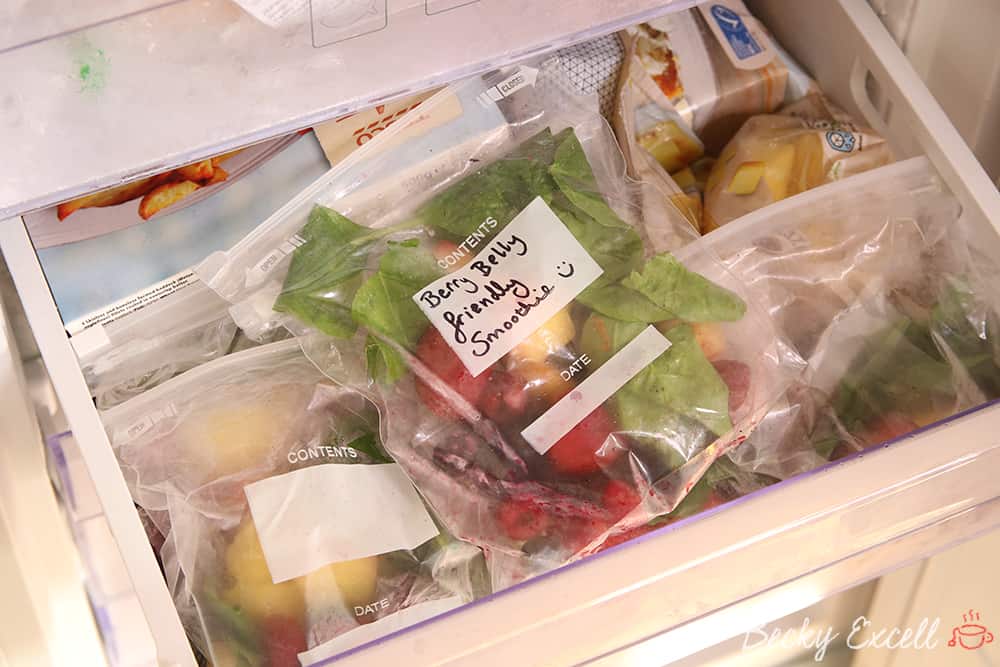 So, all of my weekly meal prep recipes are split into different sections for different meals of the day – breakfast, midday smoothies, lunch and dinner. They all have an element of doing some or all of the preparation ahead of time, so that you can either take the end result with you, or just save you time later in the week (or both).
I usually do all of this on a Sunday afternoon with a mountain of lunchboxes, zip-lock bags and empty jars ready for the week ahead. Cooking food when there's no pressure to get it immediately on the table is actually quite relaxing on a lazy day!
Plus, I've tried my best to use some of the same ingredients in multiple recipes so you don't even up buying a million ingredients. I've used spinach in nearly every recipe and a lot of the leftovers can be used to serve up with your dinner, midweek (eggs, kale, cherry tomatoes, carrot, courgette, prosciutto etc).
So get your lunchboxes ready, it's time for my weekly meal prep recipes!
How do you like your eggs in the morning? I like mine on the go! My frittata is basically like a nice, thick omelette, packed with nutritious goodness. If you like a cooked breakfast in the morning, but you don't actually have time to cook breakfast (or just want to eat it whilst commuting to work) this recipe is perfect for you and so easy to make.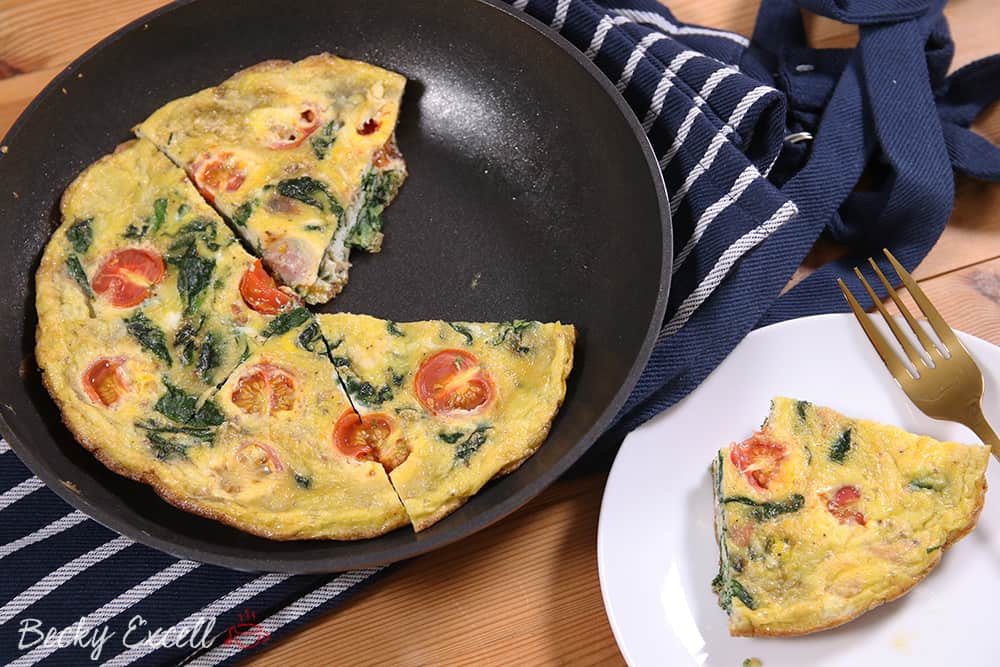 Believe it or not, a frittata tastes even better cold and it's so easy to cut it into slices, pack away in a lunchbox and enjoy wherever you please. Of course, it's gluten free, low FODMAP and dairy free too. Click here for the full recipe.
These smoothies were made especially for weekly meal prep. You basically measure out your frozen fruit into zip-lock bags and store in the freezer until the day you need them. When the day comes and you know you'll need a midday pick me up, simply head to the freezer and choose your flavour of smoothie pack. Are you feeling tropical, berry adventurous or green and mean today?!
Add the contents of the bag to a blender, add dairy free milk/any extras and you've got a nice fresh smoothie to enjoy right there on the spot, or on the go. Having these smoothie packs in the freezer are absolutely priceless and so convenient.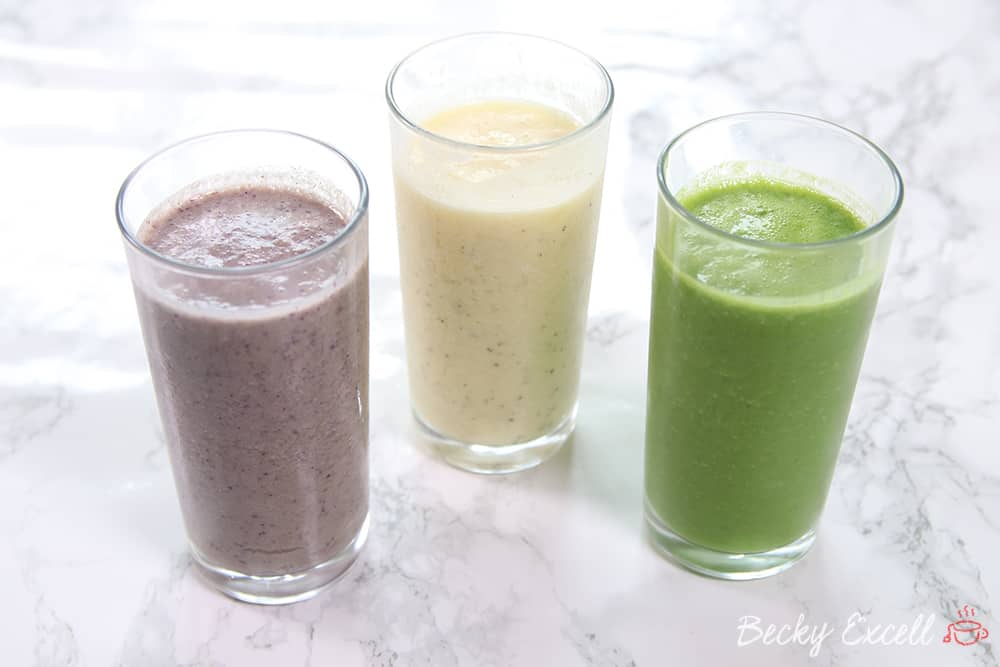 Making low FODMAP smoothies can be really tough, so Mark and I endeavored to create our favourite flavours that are 100% IBS friendly. They're packed with goodness and certainly fill that midday gap! Click here for the full recipe.
The word 'convenience' is a word you often have to abandon with food allergies and intolerances. Traditional noodle pots are the ultimate convenience food, so I decided to create my own fresh, healthy version that you can enjoy anywhere alongside a little boiling water.
As it's a Pho noodle pot, it has an authentic Vietnamese style broth that's so easy to make at home with a bunch of spices and store cupboard items. After you've added all your ingredients to your heatproof jar, replace the lid and pop in the fridge for up to a week. Then at lunch, all you need to do is remember to bring it with you, (the only hard part about this recipe!) add hot water and enjoy.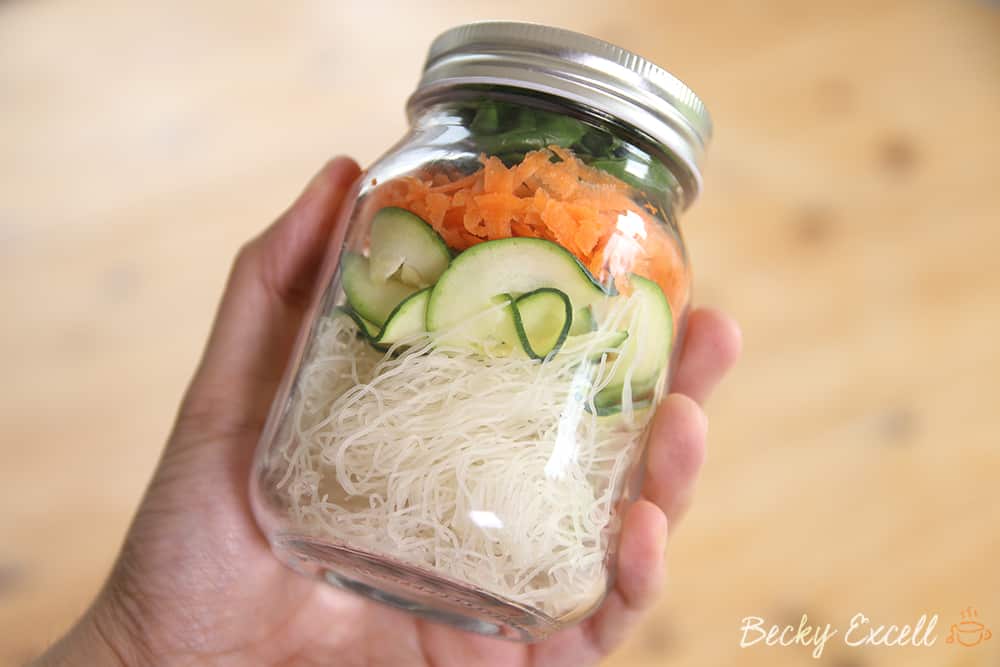 Low FODMAP can make it so difficult to create convenient, simple recipes. But I really feel like I nailed this one and I'm super proud of it – plus you can make a few jars in a flash and they look so awesome. Can you tell I'm proud of these babies? Click here for the full recipe.
Dinner is a hard time of day to create meal prep recipes for. When searching for meal prep inspiration, there's so many meal prep recipes that advocate eating basically the same dinner every day of the week, or the same carb every day of the week. It's convenient and easy, yes, but I don't think I could go more than two days of eating the same dinner over and over again!
That's why I decided to create 5 simple chicken breast marinades that are all gluten free, low FODMAP and dairy free too. You just simply add your chicken breast to a zip-lock bag, add your herbs/spices and mix it all up. Next, add your zip-lock bag of marinated chicken to the fridge or freezer.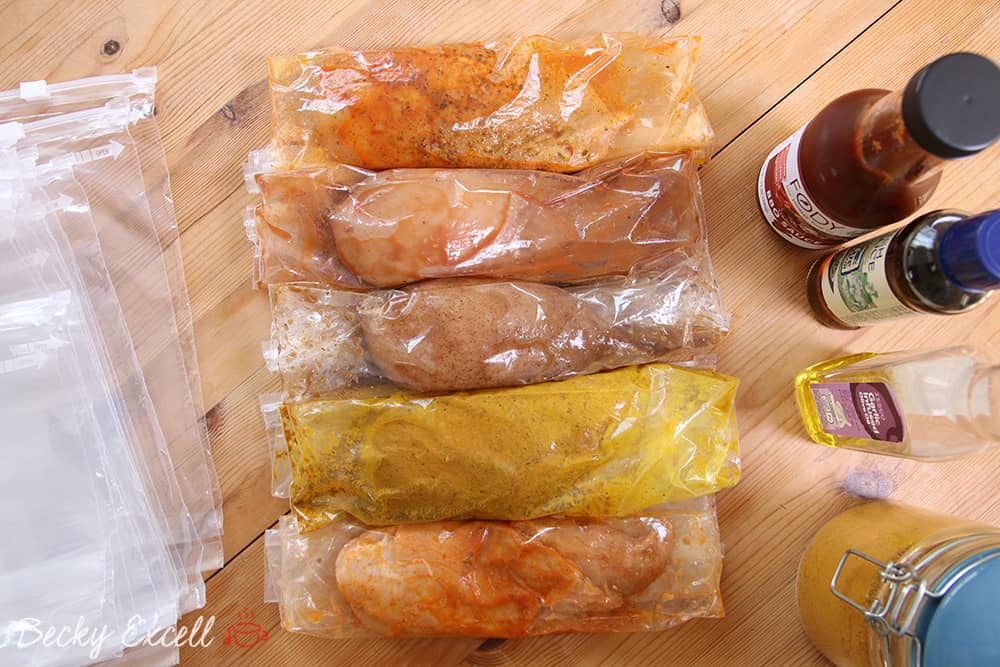 Then, when dinner time comes around, you've got a choice of different pre-marinated chicken that's already prepared for you, by you! Using your leftover meal prep ingredients and a few other additions as accompaniments, there's endless possibilities here. Click here for the full recipe.
High five! You're all meal prepped and ready for the working week!
So that's my weekly meal prep recipes done and dusted! Are you feeling prepared now? Because I know I am! I actually made a vlog of me making all of this one Sunday, so check it out if you want to see how I got on. It really is possible to single handedly sort your meal prep for the week ahead in one afternoon.
What was your favourite recipe? Any questions about meal prep or my recipes in general? Please do let me know by leaving a comment below or on Facebook / Twitter / Instagram!
Thanks for reading and have a great week,
Becky xxx
Oh and don't forget to pin this for later!